How else would EPCOT kick off the new year than with another festival? The International Festival of the Arts is back for its fifth year – this time, with the "Taste of" prefix that indicates trimmed-down festival offerings. (The "Taste of" amendment was first introduced for EPCOT's International Food and Wine Festival last July, which began as soon as Walt Disney World Resort reopened to guests following its COVID-19 closure.)
The good news? There's still a ton to enjoy – and devour. The most obvious difference in the events is that they now take place almost exclusively in World Showcase, with little to no event-exclusive excitement happening in Future World. However, once you step into World Showcase, you'll hardly notice a difference. Tons of spectacular food studios – over 15 this year! – surround the loop, complete with artfully presented food and beverages that taste just as good as they look.
Today, the full list of food studios and their corresponding menus have been released, which means we need to dive into what to expect and highlight the items we're most excited for from each. Spoiler alert: there's a bunch of new, exciting options!
The Artist's Table – The American Adventure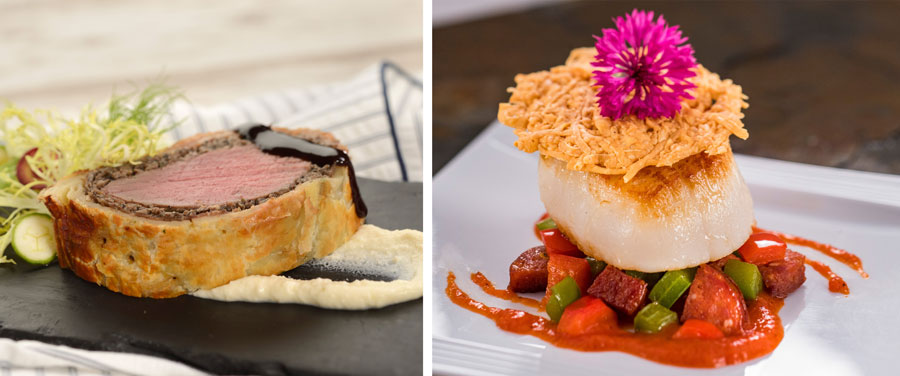 In true American fashion, The Artist's Table will treat your taste buds to savory plates prepared using stove-top and oven techniques.
Food highlight: pan-seared Scallop with chorizo, roasted red pepper coulis, and parmesan crisp
Beverage highlight: white, milk, and dark chocolate sipping flight
Citrus Blossom – Showcase Plaza
Bright, fruit flavors are the main event at this beverage-only location.
Highlight: orange cream shake in a souvenir Orange Bird sipper cup
Cuisine Classique – Germany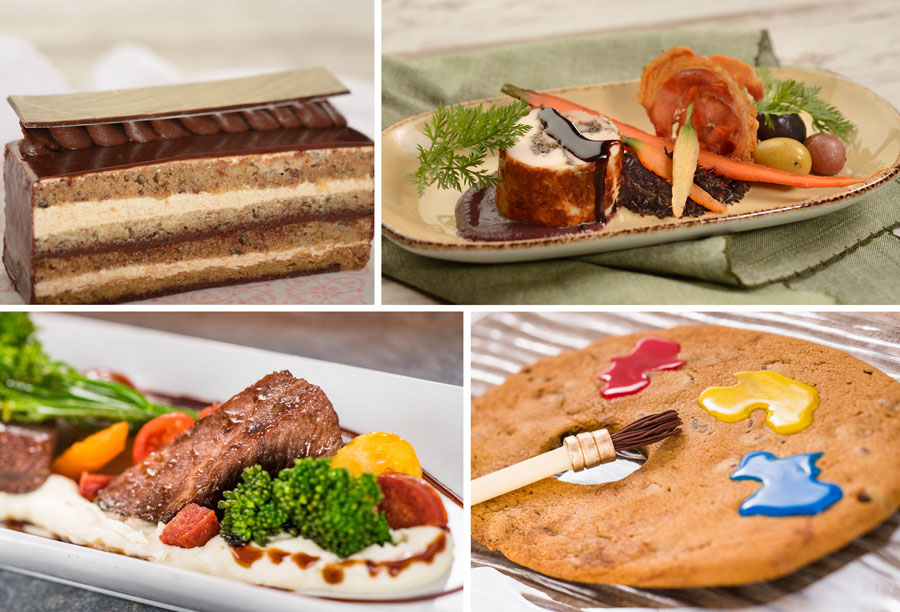 This food studio does Germany proud with Old World delights and hearty, braised bites.
Food highlight: red-wine braised beef short rib with parsnip purée, broccolini, baby tomatoes, and aged balsamic
Beverage highlight: frozen rosé
Decadent Delights – Promenade Refreshments
Decadent Delights pays tribute to the underrated combination of sweet, tasty treats and refreshing beer.
Food highlight: raspberry and lemon soft-serve ice cream
Beverage highlight: Saugatuck Brewing Co. Peanut Butter Porter
The Deconstructed Dish – Showcase Plaza
Just as its name indicates, this studio commits to serving delicious dishes in a unique, deconstructed format.
Food highlight: Deconstructed BLT with crispy pork belly, soft-poached egg, brioche, watercress espuma, and tomato jam
Beverage highlight: Deconstructed Breakfast chai tea shake with cream bourbon, garnished with a waffle crisp and candied bacon
El Artista Hambriento – Mexico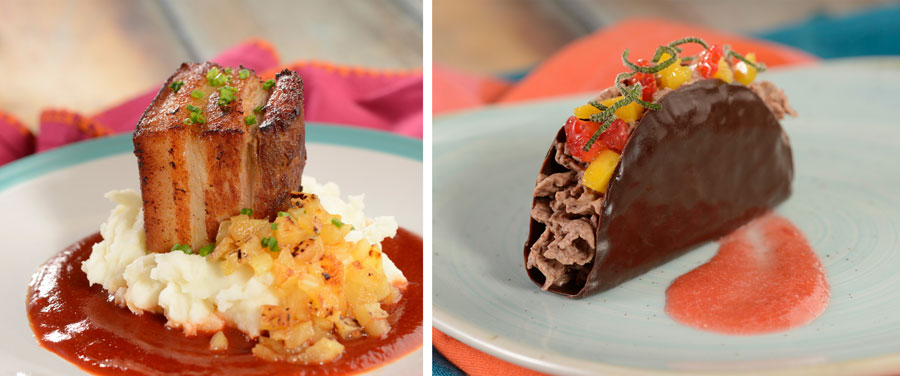 We would expect nothing less than for "The Hungry Artist" to take us on a journey south of the border for marvelous Mexican cuisine.
Food highlight: Taco de Chocolate, a chocolate candy shell filled with Mexican chocolate mousse, topped with a touch of chile and tropical fruit
Beverage highlight: Frida Carrot Margarita with Casa Noble Blanco tequila, carrot juice, ginger cordial, lime juice, and agave nectar
Festival Favorites – World Showplace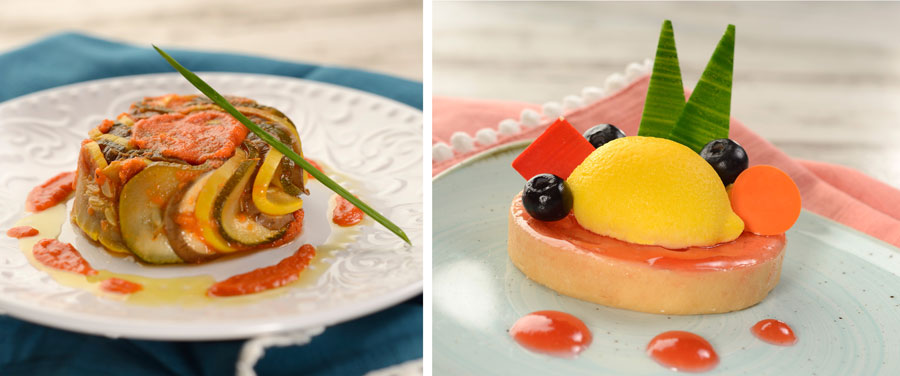 You can head straight to World Showplace to enjoy guest-favorite dishes and microbrew beers.
Food highlight: Remy's Ratatouille with eggplant, zucchini, yellow squash, tomatoes, and red pepper piperade
Beverage highlight: Blue Sky Black Cherry Boba Freeze
Goshiki – Japan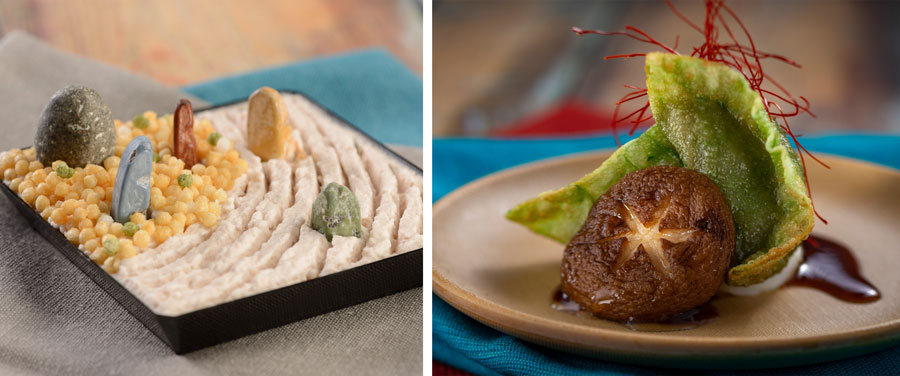 Japan's food studio has a menu loaded with items that are almost too beautiful to eat.
Food highlight: Stone Garden with red bean mousse, chocolate rocks, and rice cracker pebbles
Beverage highlight: Pink Snow with sake, peach schnapps, cranberry juice, and Calpico dusted with snowflake confetti
L'Art de la Cuisine Francaise – France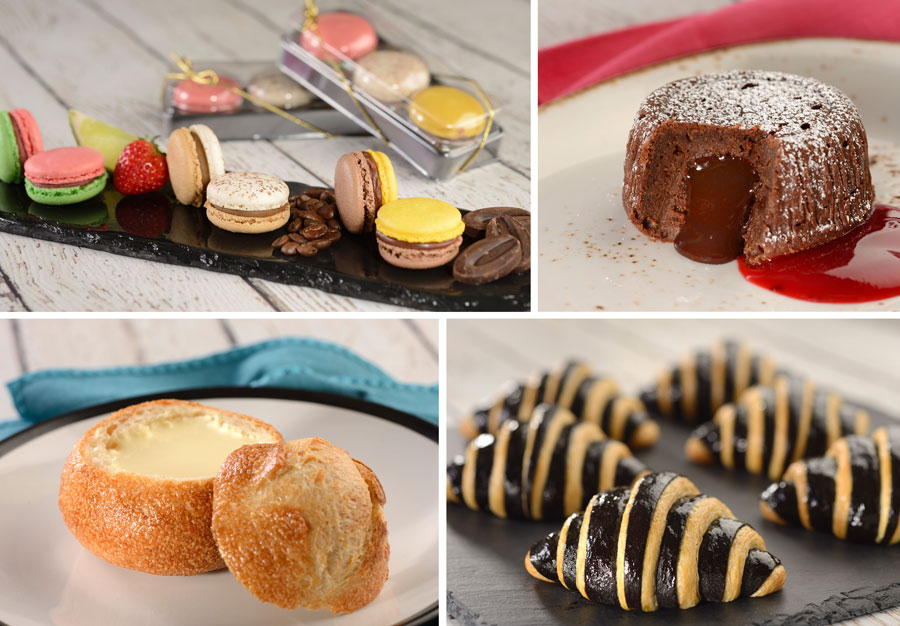 You can't combine "France" and "food" without drooling over baked goods – and L'Art de la Cuisine Francaise fits the bill.
Food highlight: Croissant à la Truffle Noir d'Hiver, a black winter truffle croissant
Beverage highlight: Frozen French Martini with Grey Goose vodka, Chambord liqueur, pineapple, orange, and grape juice, topped with lemon-lime foam
L'Arte di Mangiare – Italy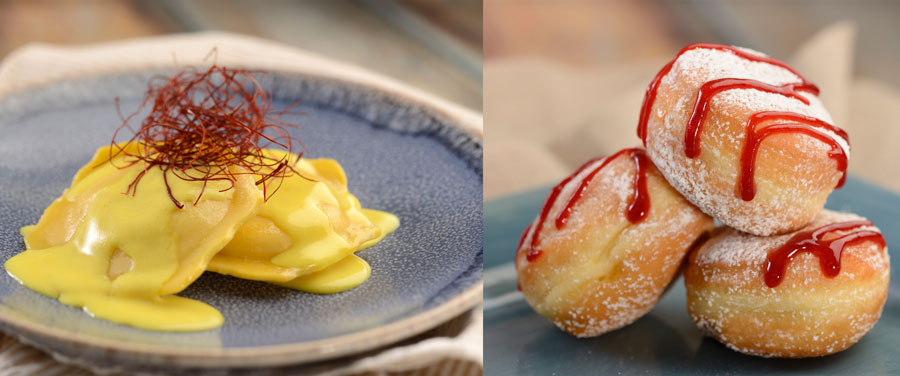 Lovers of Italian food, rejoice! The taste of Italy is alive and well with imaginative bites at this food studio.
Food highlight: L'Aragosta, a lobster ravioli with vanilla-saffron cream sauce and shredded chili peppers
Beverage highlight: an Amaretto Bellini with white peach puree and prosecco
Masterpiece Kitchen – Canada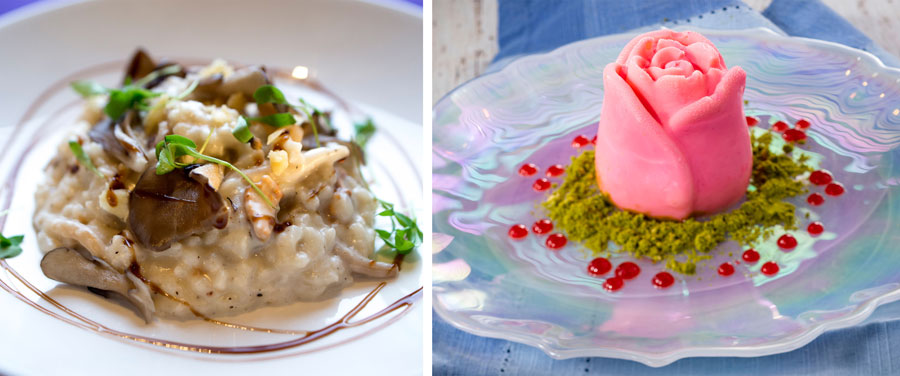 With some of the most intricate items in the Festival of the Arts lineup, Canada's selection will wow you.
Food highlight: Vanilla, Rose Water, and Pistachio Panna Cotta
Beverage highlight: classic sidecar with a chocolate twist
Mosaic Canteen – Morocco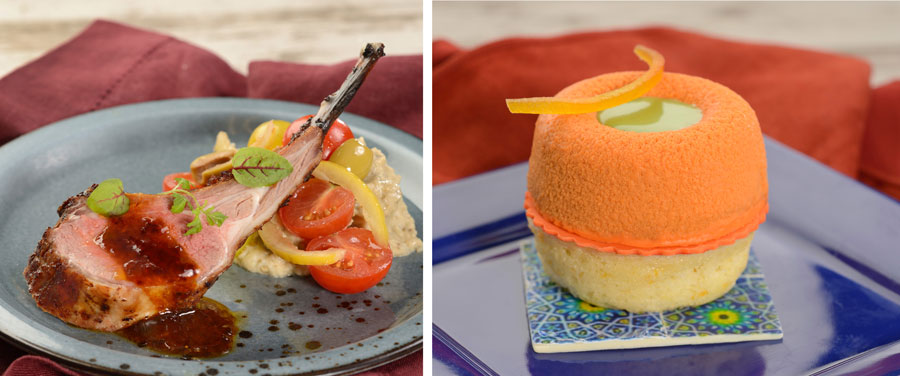 Delectable dishes and luscious desserts are here to satisfy those visiting with an adventurous palate.
Food highlight: Harissa-roasted rack of lamb with baba ganoush, picholine olives, toybox tomatoes, preserved lemons, and pomegranate
Beverage highlight: Maeloc Blackberry Hard Cider
The Painted Panda – China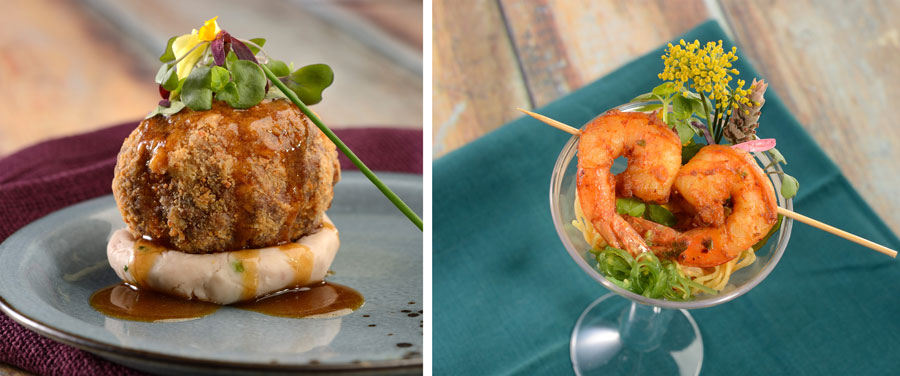 China's food studio presents a colorful twist to the standard local offerings.
Food highlight: Sichuan red-hot Mala shrimp
Beverage highlight: the Sea Butterfly, a Butterfly pea flower-infused cocktail with lychee syrup, vodka, light rum, and magic boba pearls
Painter's Palate – World Showplace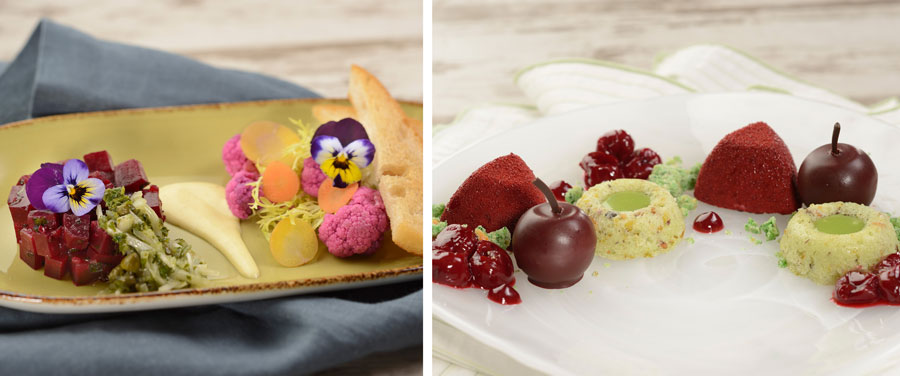 Your plate is a blank canvas for chefs to decorate with delicacies at the Painter's Palate in World Showplace.
Food highlight: salt-roasted beet tartare with pickled vegetables, parsley salad, and Béarnaise aïoli
Beverage highlight: the frozen Rusty Nail cocktail
Pop Eats – Showcase Plaza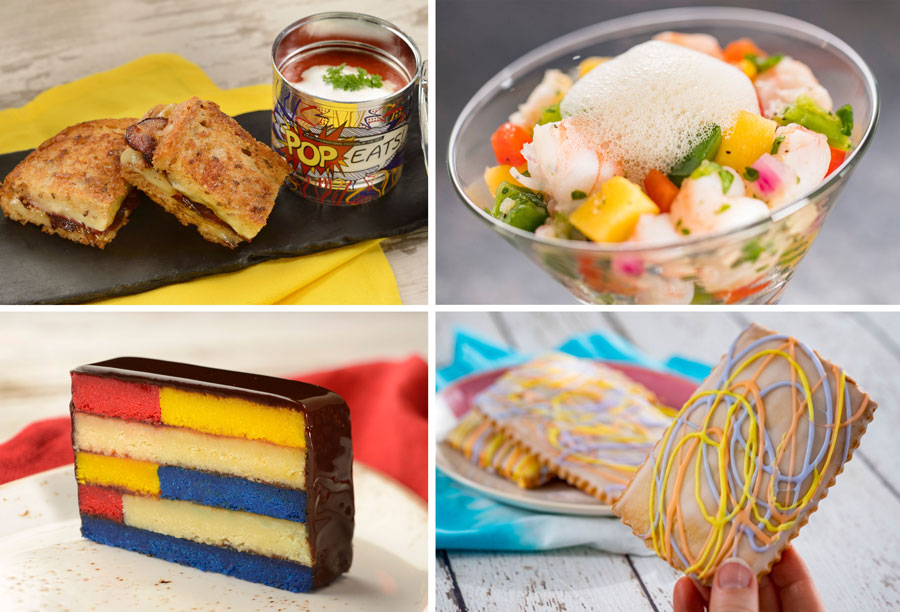 Bold flavors and tantalizing textures join forces for these modern art-inspired eats.
Food highlight: tomato soup with French onion and bacon grilled cheese
Beverage highlight: Tomato Soup Can Bloody Mary
Vibrante & Vívido – between Morocco and France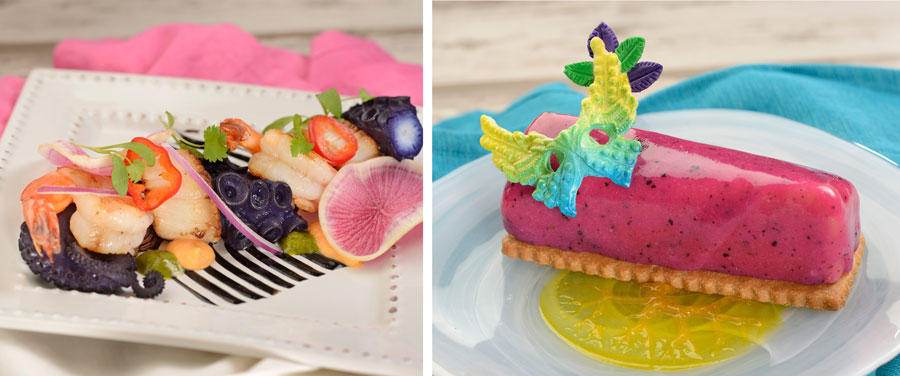 The only all-new food studio of this year's festival has sweet and savory Latin tastes presented in artfully plated dishes.
Food highlight: passionfruit mousse with dragonfruit jam
Beverage highlight: coconut and passionfruit smoothie
The best of the rest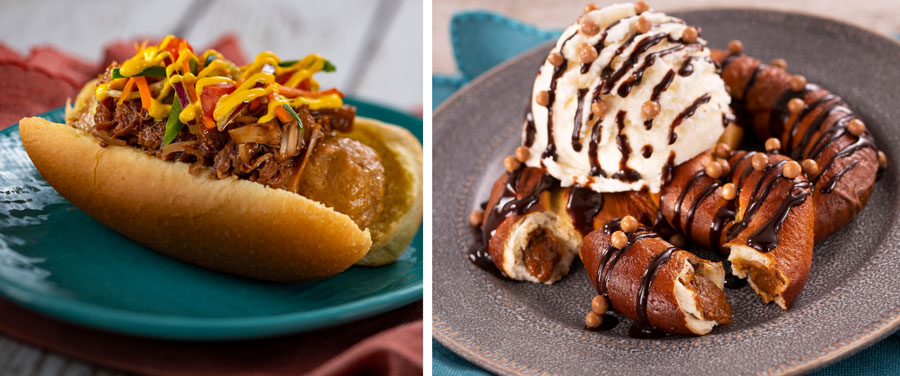 In addition to the food studios representing the different locales of World Showcase, there are also select additions to standard locations for the occasion. Refreshment Port boasts a brand-new Lobster Poutine, Refreshment Outpost has a plant-based bratwurst with barbecue jackfruit, and Joffrey's Coffee & Tea Company is introducing a new array of candy-centric coffees.
---
What food studio has piqued the interest of your palate? Be sure to share what your taste buds are most lookin forward to in our Orlando Informer Community on Facebook – and follow us on Facebook, Twitter, and Instagram to feast on the latest deets.