It may have been three-and-a-half years ago that Universal first (officially) announced that Mario Kart would be Super Nintendo World's headlining attraction, but a number of its specifics have remained unknown all throughout this time – until today, that is. At a Japanese-only media event at Universal Studios Japan, we finally managed to get at least a few of these facets filled in, including the central question of how the ride mechanics will operate – along with the confirmation that Koopa's Challenge will, indeed, be the official subtitle of the experience.
But today's mini-deluge of information wasn't just contained to Mario and his karts: we also received the first details on the land's second, more kid-friendly attraction, Yoshi's Adventure, and a couple of other, more general nuggets, such as Nintendo World's opening date – Thursday, February 4, 2021. In fact, the current plan is to have the grand opening kick off a year-long 20th anniversary celebration at the theme park, but the exact date sounds as if it may be a bit on the malleable side; it could be pushed back yet again, depending on just how hard Osaka, where the park is located, continues to be hit by the COVID-19 pandemic. (For the other updates, such as the little tidbit regarding the themed area's interactivity, please see our guide page.)
Let's dive into all this and continue to see how Super Nintendo World can quite possibly paint the future of theme parks, their rides, and their burgeoning interactivity.
Mario Kart: Koopa's Challenge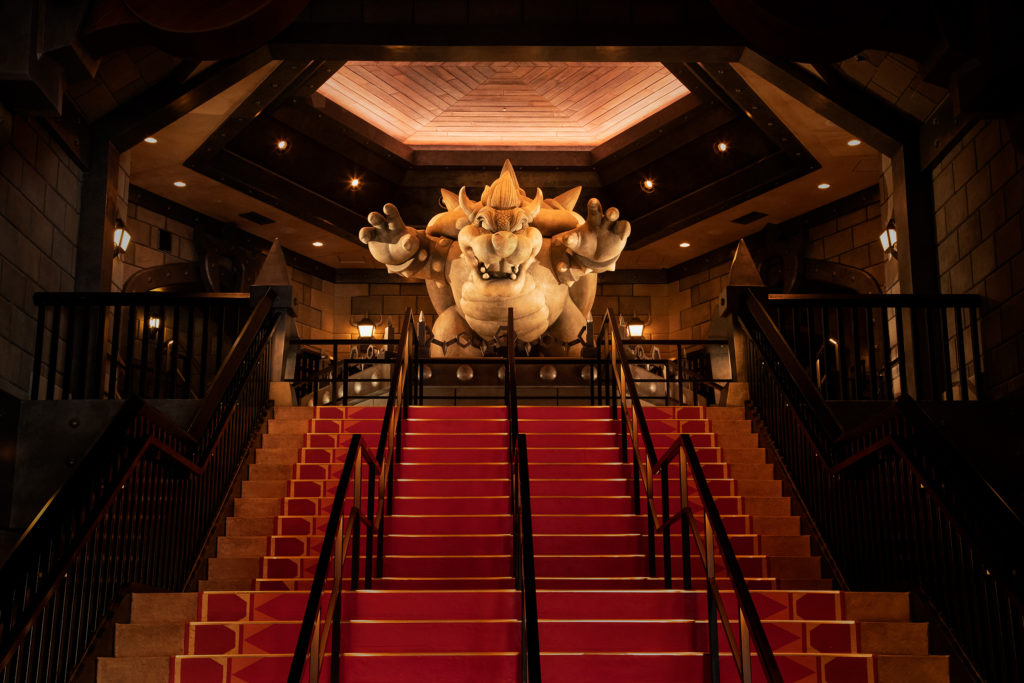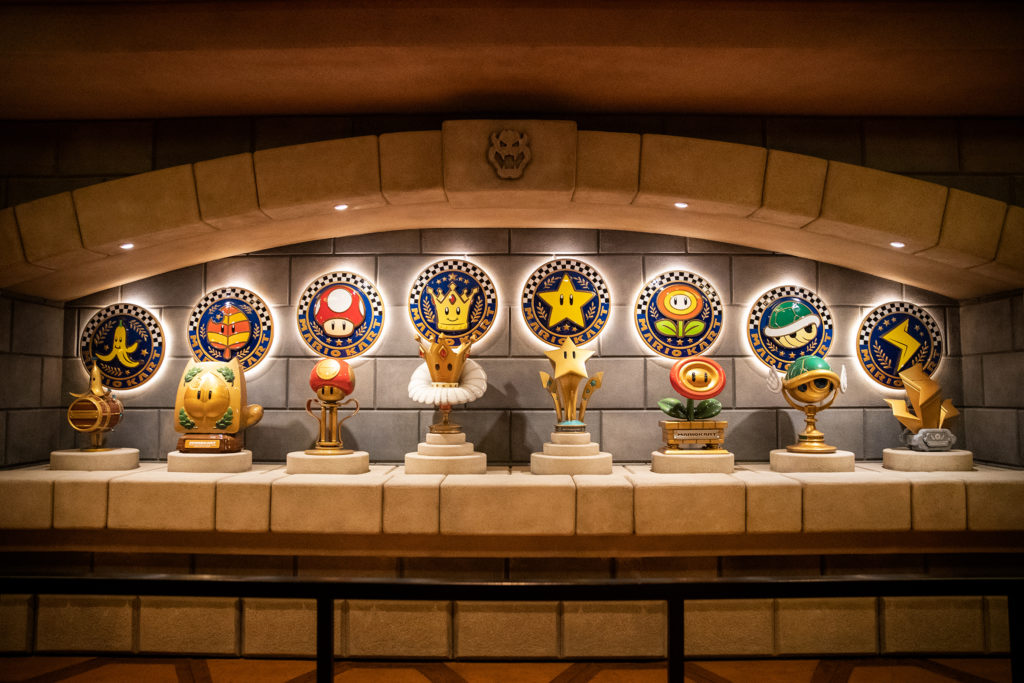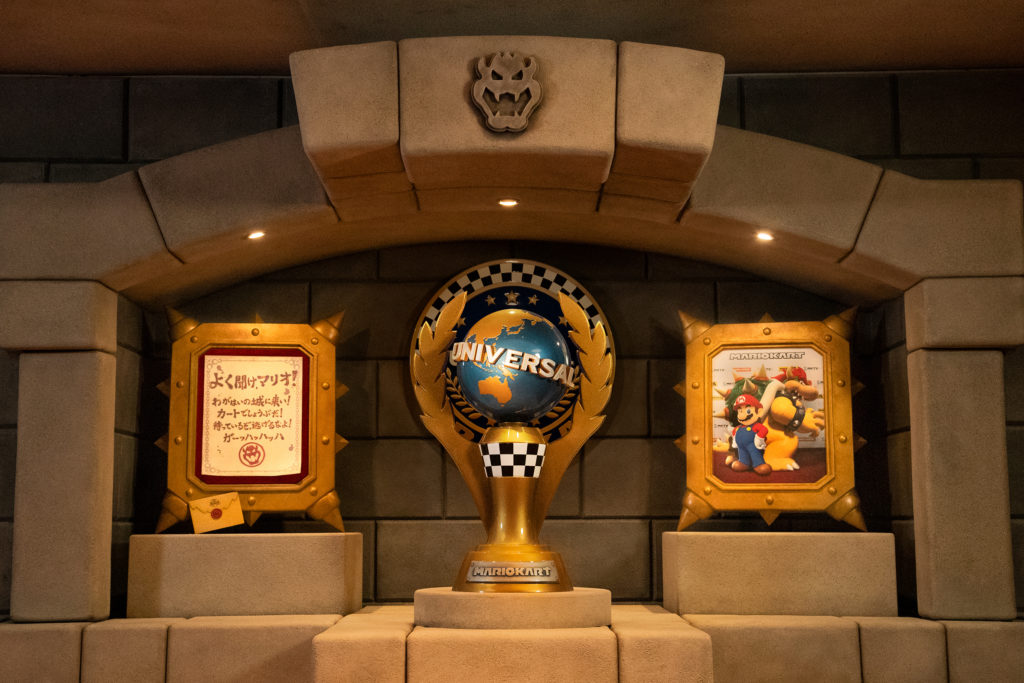 Universal Studios Japan's new headlining attraction will possess a grand façade, an intriguing (if not necessarily game-changing) queue, and a ride experience that promises to be both fun and incredibly repeatable.
This is how it works: after walking into Bower's Castle – which, along with Peach's Castle, dominates the whole land – visitors will travel up a sweeping staircase, past an even more impressive statue of King Koopa himself (which isn't to mention all of his giant portraits on the walls and his silhouettes perched above "heavy iron doors"), and through a Trophy Room (which contains a nice reference to all of the various race courses in the Mario Kart series of videogames) before arriving at Mario Kart Station, which doubles as the ride's loading platform. The amount of detail here isn't as total as what you'd find in, say, Harry Potter and the Escape from Gringotts's queue, but it's more than enough to convince your brain that you are truly in Mario's zany, cartoony world; the loading station, for instance, features a veritable maze of pipes and cogs, along with the occasional giant green warp pipe sprouting from the ceiling. (Other favorite little touches thus far include a handwritten note from Koopa challenging Mario to a race and the façade of Lemmy's Tire Service repair shop, which, apparently, is owned by one of Bowser's innumerable children.)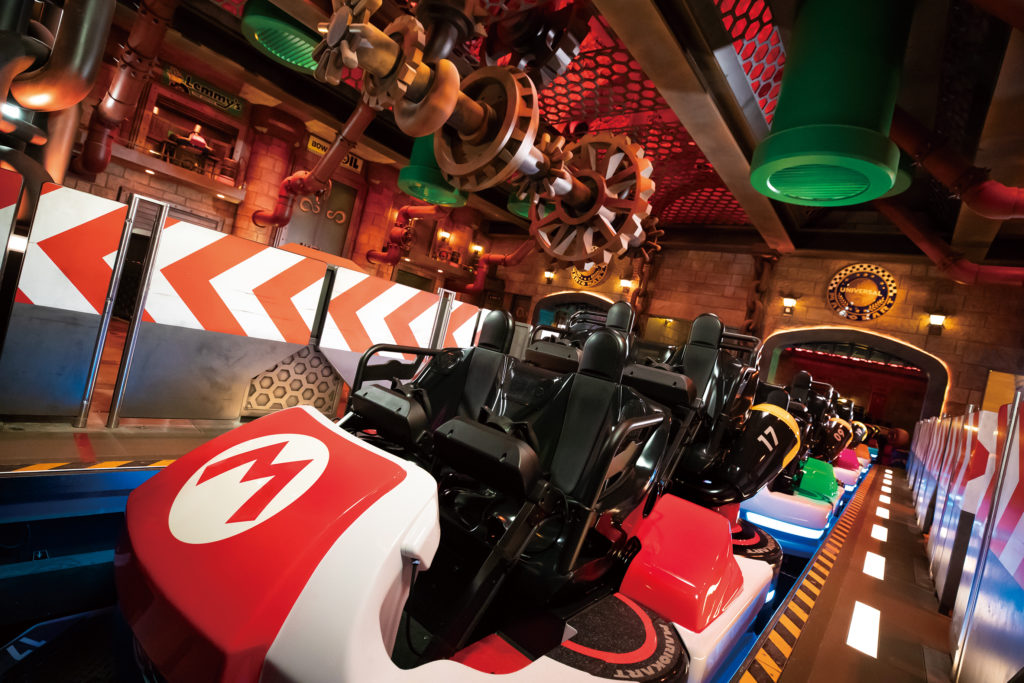 And then there's the ride vehicles themselves. Each of them brandishes four seats, and each of these, in turn, comes equipped with a steering wheel, suggesting that each passenger will get a chance at steering the kart during the big race. There are also augmented-reality goggles – presumably the way that such Mario Kart staples as turtle shells and banana peels will be realized on the various courses – that come connected to (what else?) a Mario hat. Although there is, indeed, a track for the vehicles to zoom across, Universal has promised that there will be some amount of control for the riders to exert – and that, furthermore, losing the race is a definite possibility. When combined with the fact that projection-mapping, video projections, and physical sets will be employed, there really is the possibility for each ride-through being a unique experience – or, as Universal itself puts it, "Win or lose, every race is a brand-new, life-sized Mario Kart experience."
The race course itself will feature several different sections, including lava, underwater, and "spooky" ones, along with the iconic Rainbow Road from many a Mario Kart installment; through them all, items will absolutely need to be collected, making the videogame experience truly come to life. The total ride time will be about five minutes, and the height restriction is 48 inches (the same as Revenge of the Mummy and Hagrid's Magical Creatures Motorbike Adventure here in Orlando).
Yoshi's Adventure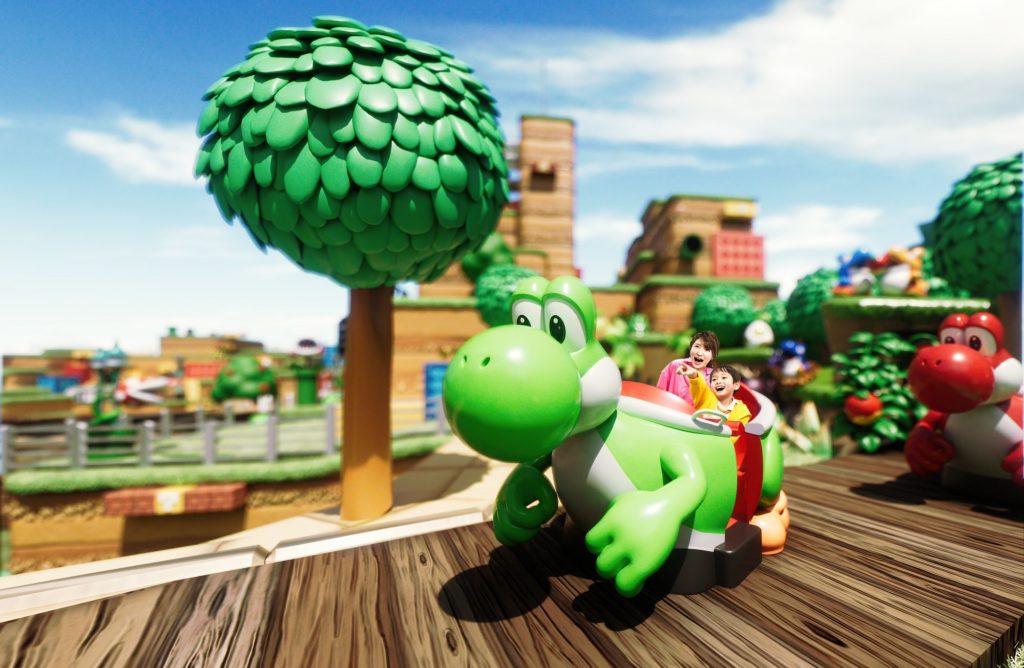 There's a lot less to say about the secondary, more family-focused attraction at Super Nintendo World, but considering that next to nothing was previously known about Yoshi's Adventure, we'll take whatever morsels we can get.
And, actually, those morsels are still substantive, if not bountiful. This also-five-minute ride has guests following Captain Toad on a "treasure-hunting adventure" as he seeks the Golden Egg; however, in typical Universal Studios fashion, something goes awry – in this case, specifically, the good captain forgets his map. Now, guests must hop on the backs of their trusty, multi-colored Yoshis and hunt for the three colored eggs that will still lead to the ultimate treasure – and, along the way, take in some seriously impressive views of Super Nintendo World as they venture outside and all across Mount Beanpole.
The Yoshi ride vehicles will fit two riders and similarly carry a height restriction of 48 inches.
Power Up Band Key Challenge
There is even less new to say about Super Nintendo World's Key Challenges, those – well – challenges which will have guests walking around the land, collecting virtual keys in order to unlock various experiences. However, what is new is rather captivating: a piece of concept art showing the boss battle against Koopa, Jr., Bowser's son and the only Key Challenge that was previously announced. (This particular scenario, in case you're curious, has Junior robbing a golden mushroom and stashing away the three keys it was holding.)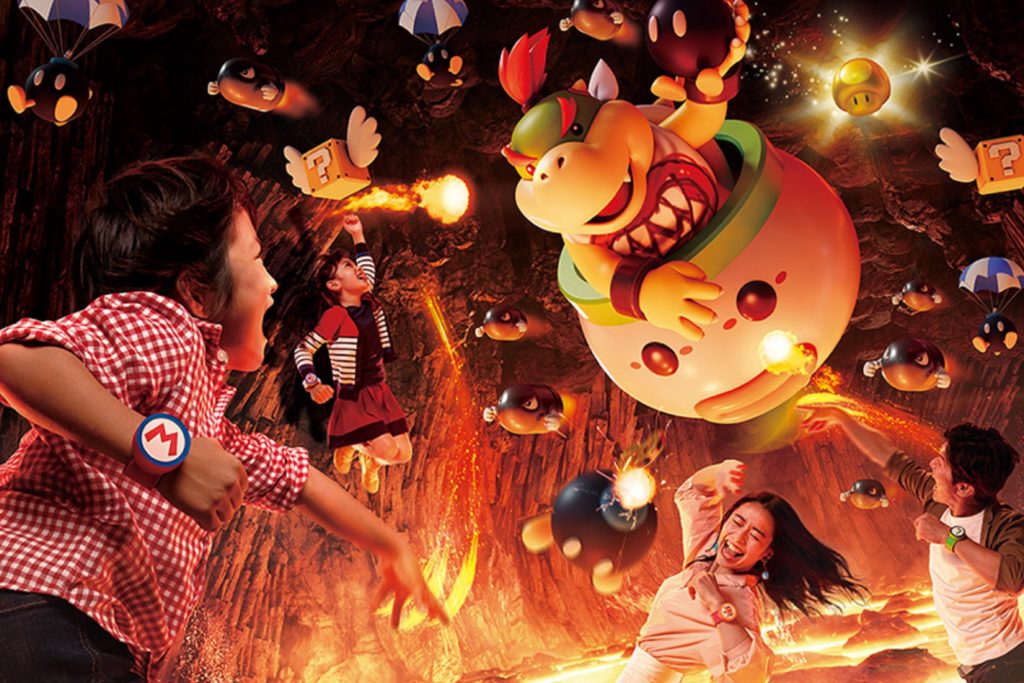 In order to defeat him, Universal says, you will need to "jump, punch, and use your entire body and all your instincts" – but, in order to do so, you'll need to be over the age of five and have purchased a Power Up Band.
Super Nintendo World opens at Universal Studios Japan on February 4, 2021; its opening date at Universal's Epic Universe remains unknown.
---
Which part of Mario Kart: Koopa's Challenge are you most excited for? Share your thoughts with 150,000+ other die-hard Universal fanatics in our Orlando Informer Community on Facebook.
And be sure to follow Orlando Informer on Facebook, Twitter, and Instagram for the latest news, tips, and more at Universal Orlando, Walt Disney World, and other Orlando attractions.