A special event was held at Universal Studios Japan today, during which top executives from both Universal and Nintendo graced a stage that doubled as a mini-recreation of the Mushroom Kingdom to announce the very first concrete details of Super Nintendo World, the new themed land that is expected to arrive by 2020 in Osaka and sometime thereafter at both Universal Studios Florida and Universal Studios Hollywood.
While (apparently) short on those concrete specifics, we at least have, at long last, an officially-confirmed headliner attraction: Mario Kart, which is said to have extremely advanced technology powering it. While this is no big surprise to those who have been paying attention to the rumor mill over the past two years, it's nonetheless exciting to have it be unquestionably verified.
#USJ『SUPER NINTENDO WORLD』建設着工式、開催!https://t.co/p132eNsWEO  を公開! 600億円超の巨大プロジェクトとして進行。メインアトラクションは「マリオカート」と発表。#任天堂 #マリオ pic.twitter.com/oVhmfagbi6

— コンフェティ(conфetti) (@conpetti) June 8, 2017
Even more exciting, however, is the fact that Universal also used the occasion to release another first: a concept video, showing a CG-rendered Mario entering Nintendo World, surprising a few (live-action) tourists, and then quickly running past a few different parts of the area. It's quick, but it also seems to confirm a few different elements that just may prove to be key components of the new expansion (some of which have also been long rumored, we should point out).
The first of these mini-corroborations is also, perhaps, the most exciting. At the start of the teaser, Mario approaches what is obviously meant to double as the start screen to a videogame – a giant marquee which has the name of the area, Super Nintendo World, emblazoned on a traditional Super Mario Bros. background, with the clever instruction "start – A" positioned below it (for all those non-gamers, users typically start a new game of Mario by pushing the A button). After issuing his trademark "Here we go!" – very often heard in Mario Kart – Super Mario runs into a giant green warp pipe, which transports him into the theme park land proper.
There should be absolutely no doubt that this will be the precise way that guests will transition from the rest of Universal Studios (whether that be Japan or Hollywood or Florida) into Nintendo World, almost perfectly mirroring the way that visitors leave the park behind in order to enter the thematically-hermetically-sealed Wizarding World of Harry Potter – Diagon Alley. Just as with the wizarding London, it would seem that once you've entered the Mushroom Kingdom, you'll be totally immersed in it. (Here's hoping that we'll be able to hear that iconic sound effect as we enter the pipe, again just like how Diagon Alley welcomes visitors with the rumble of turning bricks.)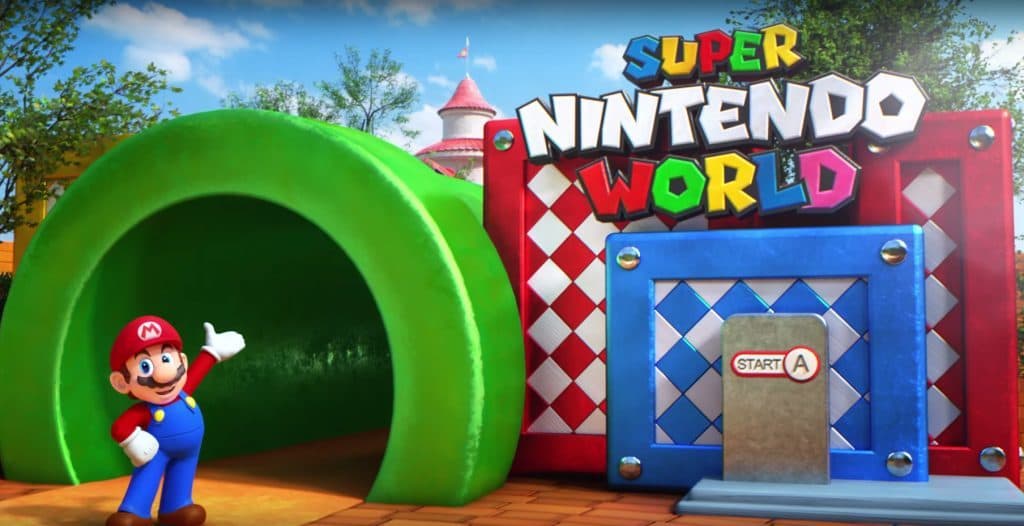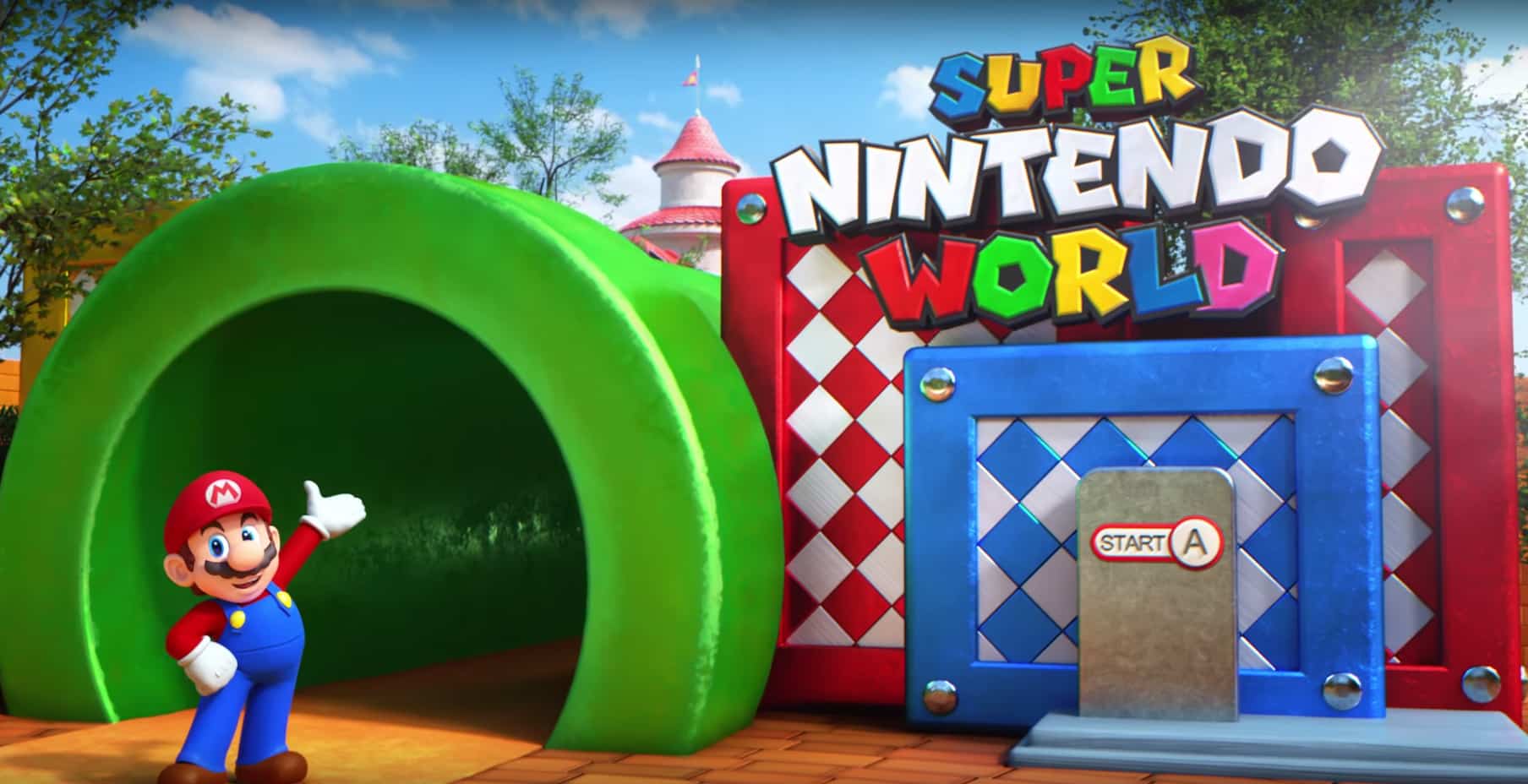 From here, Mario enters a type of central plaza, which may very well be where a number of the promised meet-'n-greet characters (such as Princess Peach and Toadstool) will be stationed. The land rolls out in all directions from this central point, with Peach's and Bowser's castles nearby and a series of cascading platforms positioned for both the beauty of their scenery and the preservation of Super Nintendo World's sightlines (it wouldn't do to see Hogwarts Castle, after all).
The pair of giant Piranha Plants – presumably audio-animatronic in their real-life form – that guard King Koopa's fortress will undoubtedly be a major photo-op for guests, even if the building behind them will be off-limits (then again, that wouldn't make too bad a show building for the Mario Kart ride…). And while rotating coins lined up along various ledges will also more than likely make the cut to the finished product, we somehow doubt that actually physically jumping from one moving platform to another and latching onto one of Super Mario Bros.'s legendary flagpoles will be part of the realized experience.
Today's announcements – even if primarily meant for the Japanese audience – are absolutely tantalizing, and we can't wait to get even more confirmed specifics. It's going to be a long wait 'til sometime next decade (when the Orlando version of the area will drop), but it'll obviously be one well worth it.
–
Universal Studios Florida's Super Nintendo World is expected to replace Woody Woodpecker's KidZone. Learn even more about the expansion in our complete guide.
For continuing coverage of Universal Orlando's newest expansion, be sure to follow Orlando Informer on Facebook, Twitter, and Instagram.