If you have been to Jimmy Buffett's Margaritaville at Universal CityWalk, then you most certainly are familiar with their famous Volcano Nachos. You can't help but stare as you see a server walking by with that massive plate of tortilla chips topped with chili, cheese, guacamole, sour cream, jalapenos, tomatoes, and scallions. It is truly a site to be seen — or better, a meal for at least two people to taste!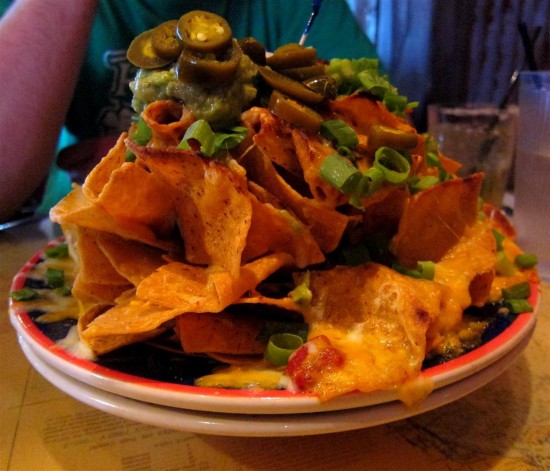 Like everything on the Margaritaville menu, the Volcano Nachos are especially delicious paired with one a refreshing margaritas. If you order the restaurant's namesake, try the "perfect margarita" instead of the house blend. It's made with fresh squeezed juice instead of a mix, and it's worth the extra dollar or two.
For those of us who have experienced the awesomeness of these nachos, I am sure you find yourself craving them during the times that you can't get to Jimmy's Central Florida home. Of course, nothing can compare to the real thing, but here is a mock up recipe that will help to hold you over in between visits.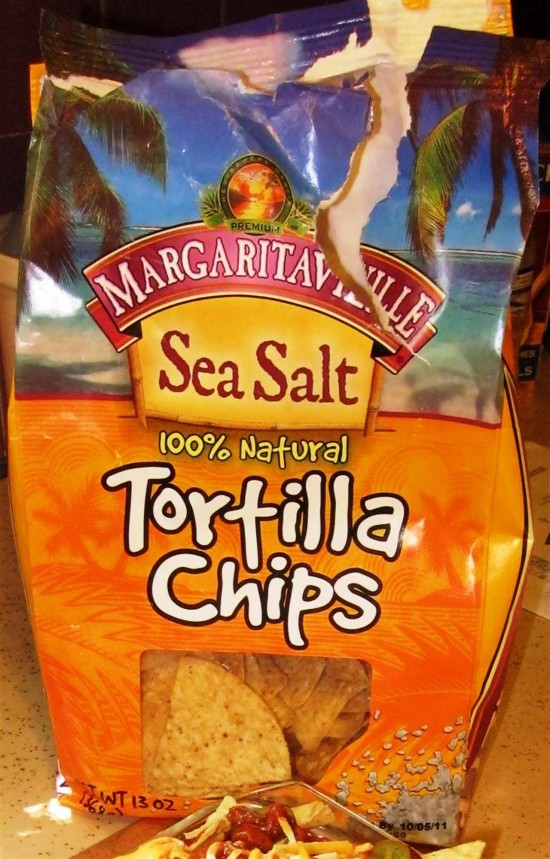 You will need:
1 bag tortilla chips (You can even get the official Margaritaville brand)
1 – 2 cans of chili (or homemade)
1 jar salsa con queso
Shredded cheddar cheese
Shredded Monterey Jack cheese
Green Onion
Canned jalepeno slices
Diced Tomato
Guacamole (Fresh or store bought)
Sour Cream
To start you will want to preheat your oven to 375 degrees.
In the meantime prep the nachos. Now there are two ways you can go about doing this. The classic Volcano way or you can take another route of using a cookie tray and rather than layering up the chips to make the Volcano you can do them flat style, one layer only. Both ways taste great!
Like my previous recipe for the Caesar Chicken Sandwich from Disney's Hollywood Studios, I will not give exact measurements of how much of each ingredient to add, just put as much as you like. That is the joy of preparing dishes at home, you can add as much (or as little) of the ingredients as you want.
You will want to get an oven safe dish — cover the bottom of dish with a layer of tortilla chips.
Now add your salsa con queso.I have seen several variations of how to make these at home and some just layer the tortillas with the salsa con queso and only add chili to the top layer, but I like to add chili on all layers to ensure each layer is filled with everything.
Sprinkle with shredded cheeses and repeat these steps two more times, for a total of 3 layers of tortilla chips (or you can go crazy and keep laying as much as you want, really create a volcano.)
Once you have your Volcano assembled, place it in the oven for about 10 minutes or until the cheese is melted.
Remove from oven and top with tomatoes, green onions, jalapenos, guacamole, sour cream. Now invite a dozen of your friends over, pour the drinks, crank up the tunes, and DIG IN!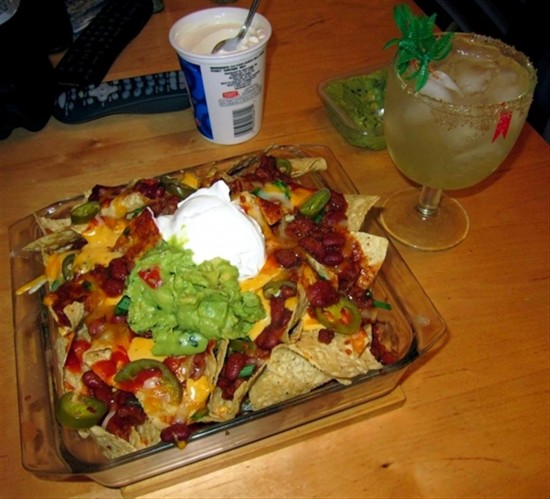 Jimmy Buffett / Universal Fun Fact
Thanks to our friends over at USFAddicts.net, we found out that Jimmy's 1994 music video for the song Fruitcakes was filmed all around Universal Studios Florida? Here's the video — see if you can spot some of your favorite locations from the theme park:
[youtube_video]wneCa_yIuzg[/youtube_video]
Did you notice Gertner's Bakery around 0:35 in the video? Here's the building facade as of two days ago:
Margaritaville Volcano Nachos – photo gallery
Click any image to view it full-screen. When the full-screen image is open, click to the right or use the right arrow on your keyboard to advance through the gallery. If several thumbnails are missing, try reloading this page in your browser.
[sws_author_bio user="jewels" size="105″ authorposts="More OI posts by Julie" name_format="About the author"] [/sws_author_bio]