Wasting away again in Margaritaville is now something far bigger than a hit 1970s song. Orlando is now home to a major resort sprawling across 300 acres – Margaritaville Resort Orlando.
This massive complex is the largest endeavor of the Margaritaville brand to date. It's been open for just about a year, making it an appropriate time to explore the development. There's lots to see, including Sunset Walk (Margaritaville's free shopping and dining district), a whole neighborhood of vacation cottages, and Island H2O Live! (the resort's water park).
The vacation vibe of Margaritaville Resort Orlando
The mix of adult-focused entertainment, and the propensity of drinking adult beverages, mixed with the promotion of Walt Disney World Resort's proximity is an interesting one. Margaritaville Resort Orlando offers a casual approach to a family-friendly destination. Tropical decor is practically everywhere, but the crisp white linens, sheer curtains, and wood accents add a sophisticated touch. It is easy to escape here – it is easy to slip into the vacation state of mind.
(The one thing that is missing is lush landscaping. This is the former site of the Splendid China attraction in Kissimmee, and the land was essentially completely cleared of any previous vegetation. However, once the foliage grows in, I am hopeful it will feel more lush and immersive.)
I've visited Margaritaville a few times, and I am always surprised that the lobby does not have more people in it – comfortable, cushy chairs just beckon you to sit and relax. There are a few seating sections that are styled after a cabana, inviting you to sip a margarita with a big floppy hat and sunglasses. The chandeliers feature margarita glasses, and nautical and tropical details abound.
In short, you've arrived in paradise.
Accommodations at Margaritaville Resort Orlando
Staying in paradise comes with a choice: you can reside in the hotel portion of the resort or book your very own vacation cottage.
The hotel offers regular rooms and one-bedroom suites, and here's the best part: every single room has a pool view. Included amenities help add to the resort experience, such as complimentary wi-fi, plush bathrobes, 24-hour access to the Fins Up! Fitness Club, in-room digital compendium tablet, in-room bottled water, and transportation to Walt Disney World, SeaWorld Orlando, and Universal Orlando. (There is, of course, a resort fee of $30 plus tax per night, which covers these included amenities and more.)
The vacation cottages are the first time the Margaritaville brand has ventured into full-fledged home ownership – yes, you can own your own vacation cottage at Margaritaville Resort Orlando (and trust me – it's on my wish list). But if owning one is out of the question, you can stay in one. Ranging from one to eight bedrooms, each free-standing cottage offers plenty of room and lots of great features. Situated on streets with names like Key Lime Loop and Pirate Way, you will definitely feel some changes in latitude, changes in attitude.
As I strolled through what is now my dream neighborhood, I came across two surprising features. The back porch of every cottage opens up to a common area that features sandy walkways, a playground, and great gathering areas – some cottages even have their own hot tub. What a fantastic way to relax at the end of the day! There are also bicycle rental stations throughout the entire resort for a fun way to get around. (And it should go without saying that no matter which part of Margaritaville you stay in, you have access to all of the resort's amenities.)
Recreation and pools at Margaritaville Resort Orlando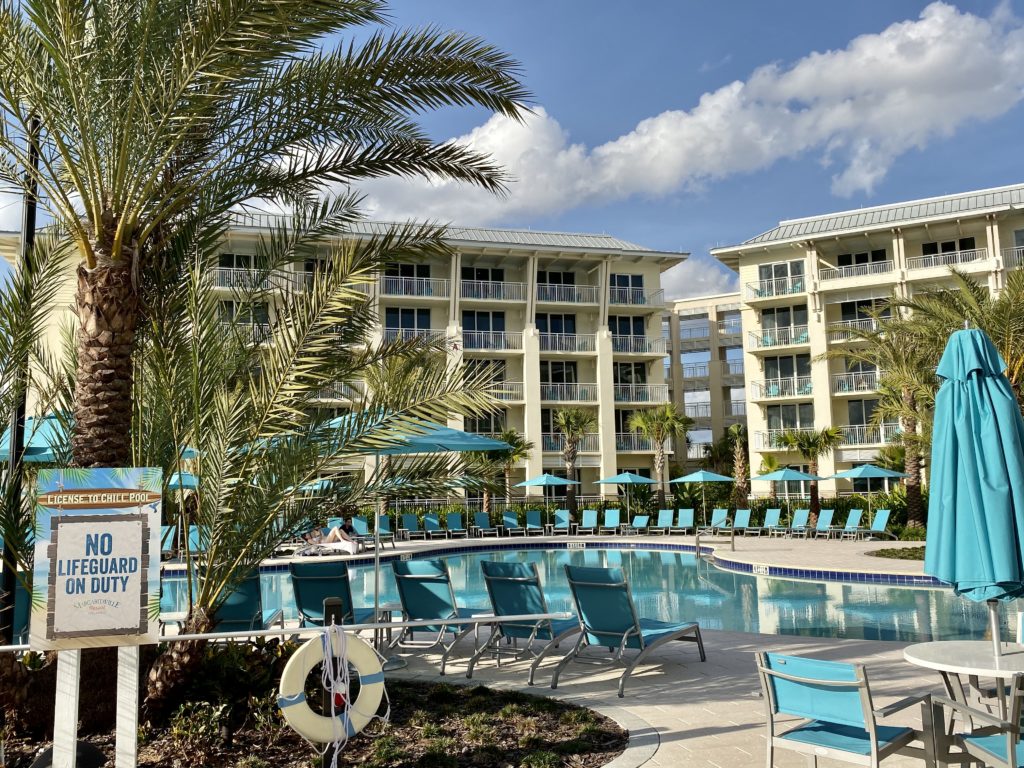 If you just want to waste away again in Margaritaville and do nothing, you certainly can, but there are plenty of ways to have fun.
There are two pools, both of which are gated and only available to resort guests. The quiet pool does not feature much but is perfect for catching some sun and reading a good book. The feature pool is where the party is, with a zero entry and surrounded by beachy sand. And while there are plenty of lounge chairs and cabanas at both pools, there is no waterslide, which is disappointing for kids – as I walked around, it did appear that the pools were focused more on adults than children.
Speaking of kiddos, there is an on-site kids' and teens' club, The Parakeets Kids' Club. This is a great option for parents who want to have some time together while leaving their parakeets in the care of trained counselors. This is also a competitive advantage, considering not many resorts in the area actually offer something like this.
For the ultimate in relaxation, there is the St. Somewhere Spa (any spa treatment enables you to enjoy the amenities of the St. Somewhere area throughout the day). And what would Margaritaville be without live music? It's practically everywhere. In the afternoons, there is daily live music by the feature pool; in the evenings (7:00 pm to 11:00 pm), there is live music at Euphoria Lounge; and on the weekends, you'll often encounter additional live music in the hotel lobby or during events at Sunset Walk.
Dining and lounges at Margaritaville Resort Orlando
Margaritaville may have started with a song, but it quickly became a shop in Key West that became a cafe that then became a worldwide chain of restaurants. And although the Margaritaville Cafes are now owned by a third party, food and drink are still a big part of the Margaritaville way of life.
Dining at Margaritaville Resort Orlando runs the gambit from quick grab-and-go options at Provisions to signature dining. Euphoria, the upscale on-site restaurant, offers live music and a panoramic view of the grounds. During one of my visits, I pulled up a bar stool at Euphoria's lounge and enjoyed a Coco-Rita, made with coconut tequila, coconut rum, fresh lime juice, and agave syrup and garnished with toasted coconut. The margaritas here are top shelf.
For something more casual, there is Salty Rim Bar and Grill, which is located poolside and which, in the afternoon, features live music. And there is one more table service restaurant at the resort, On Vacation, but, right now, it is actually on vacation itself. On Vacation normally offers breakfast each day, but, for the time being, breakfast is being served in Euphoria.
Still hungry? There are a lot of restaurants from which to choose at Sunset Walk. Speaking of which…
Sunset Walk at Margaritaville Resort Orlando
This next feature of the resort is something that aims to change the west side of Highway 192. Littered with discount souvenir shops and fast-food chains, 192 West hasn't always been the most attractive corridor in the attraction area. But with new development here, a lot is changing, and Sunset Walk is definitely part of this initiative.
Margaritaville Resort's dining, shopping, and entertainment destination brings a tropical vibe with a diverse mix of shops, eateries, and full-service restaurants. Although less than half of the spaces are still left open, there's nonetheless plenty to enjoy, starting with Sunset's two entertainment centers, Game Time and Studio Movie Grill, along with a trio of restaurants by the same owner: Ford's Garage, Capone's Coal Fired Pizza, and Yeoman's Cask & Lion. Each of these three venues are right next to each other and have fun, themed environments and great outdoor bars, but each also has its own distinct personality. You gotta at least go into Capone's to see the gangster's hideout and the restrooms – the men's room is a prison cell and the ladies' room is a powder room.
Bahama Buck's Shaved Ice has 91 flavors and other treats, and Don't 4 Get about Me is an adorable pet boutique that even has tropical-themed dog toys. But one of the really cool features of Sunset Walk is the radio studio right in the heart of it. From here, SiriusXM DJs JD Spradlin and Renee Adams broadcast live on Jimmy Buffett's Radio Margaritaville. (You may remember JD from his over 10 years of broadcasting live at Universal CityWalk's Margaritaville Cafe.) This brand-new studio opened about a year ago, and anytime I have visited JD, he seems to love having this upgraded space for his show. You can stop in and say hi – JD is usually there Wednesday through Sunday, 3:00 pm to 7:00 pm, and Renee is usually there filling in for him when he's out. They both have great theme-park entertainment backgrounds and have lots of stories to tell.
Margaritaville Resort Orlando's water park, Island H2O Live!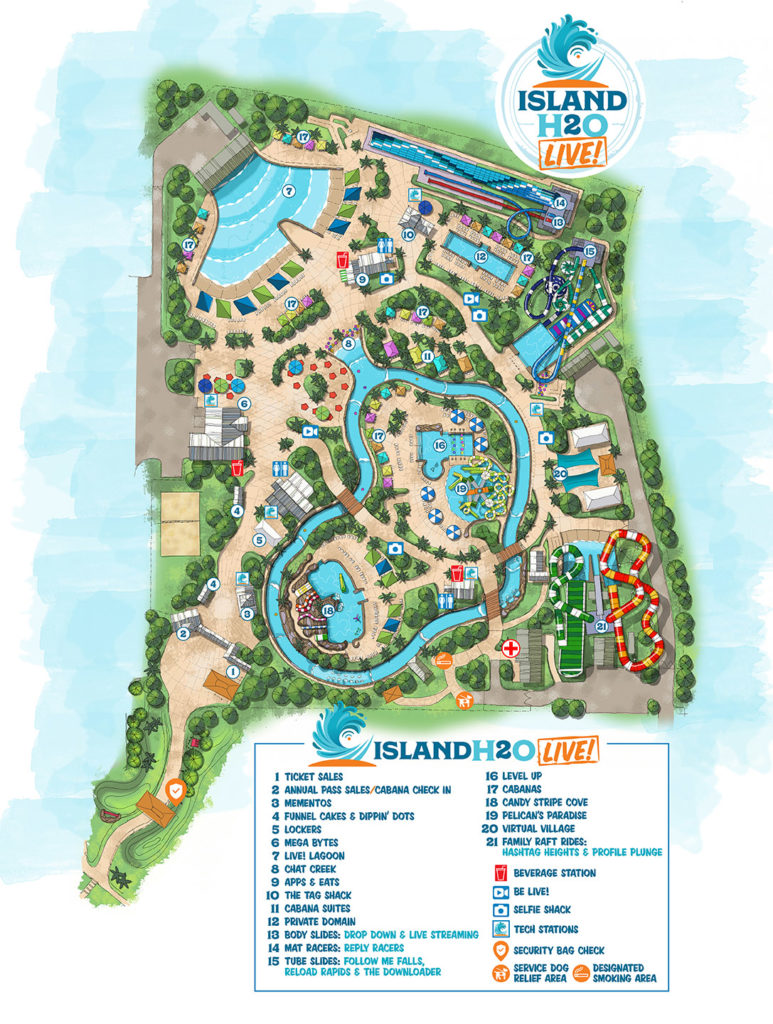 There certainly is no other water park like it in Central Florida. Island H2O Live! is not operated or owned by Margaritaville, so it does not have the island-and-tropical vibe you might assume it would capitalize on; instead, it is themed around the excitement of sharing the good times on social media. There are eight main attractions, with names like Reply Racers and Follow Me Falls. Plus, there is a lazy river, a sports-themed section, areas for young kids, and an adults-only pool and bar.
Besides the social media-themed slides, what sets the park apart is the technology. Each guest gets a wristband, which captures on-ride photos and videos for you to share and also gives you opportunities to earn points throughout the day that are good for discounts and other goodies. There's even incentive for you to ride attractions that have short wait times! The app allows you to find family and friends who are in the park (and who have linked their wristbands to their app profiles).
Jimmy Buffett has always been an early adopter of technology, so, in this way, the theme of the park kinda fits, I suppose.
Margaritaville Resort Orlando: more information
$30-per-night resort fee includes a full list of amenities
$15 per day for self parking/$20 for valet
Transportation to all theme parks is included, but at scheduled times
Dogs are welcome – two dogs up to 50 pounds for an additional fee of $75 per dog, per night
Located three miles from Walt Disney World Resort
–
Share your Margaritaville tips and tricks – or your other favorite places to relax near Disney World – in our OI Community Facebook group.
And don't forget to follow Orlando Informer on Facebook, Twitter, and Instagram for the latest news and tips at Universal Orlando, Walt Disney World, and other Orlando experiences.