Yesterday, in the active construction site of SeaWorld's forthcoming thrillmaker, the theme park revealed the front car of Mako, in preparation of their Summer of Thrills. Mako, soon to be Orlando's longest, fastest, tallest roller coaster is also the first hypercoaster in the Central Florida area.
Once we arrived at the site of the event we were immediately handed construction helmets and placed around a wooden box.  Finally, the moment we were all gathered for. After a brief introduction, the crate was lifted, and the car was revealed.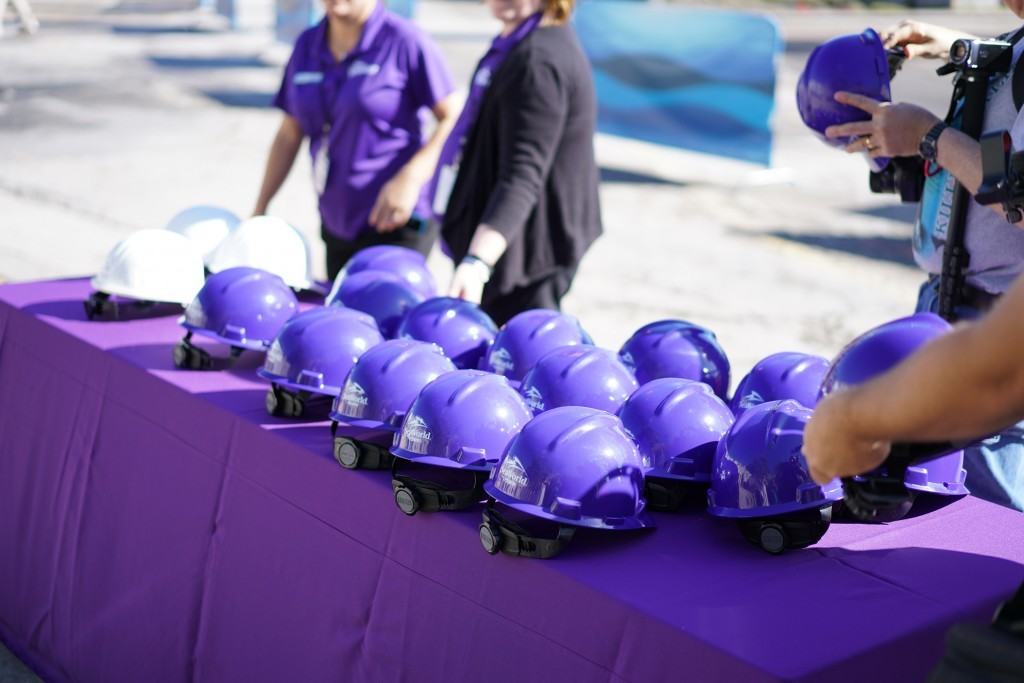 Mako construction hard hats at SeaWorld.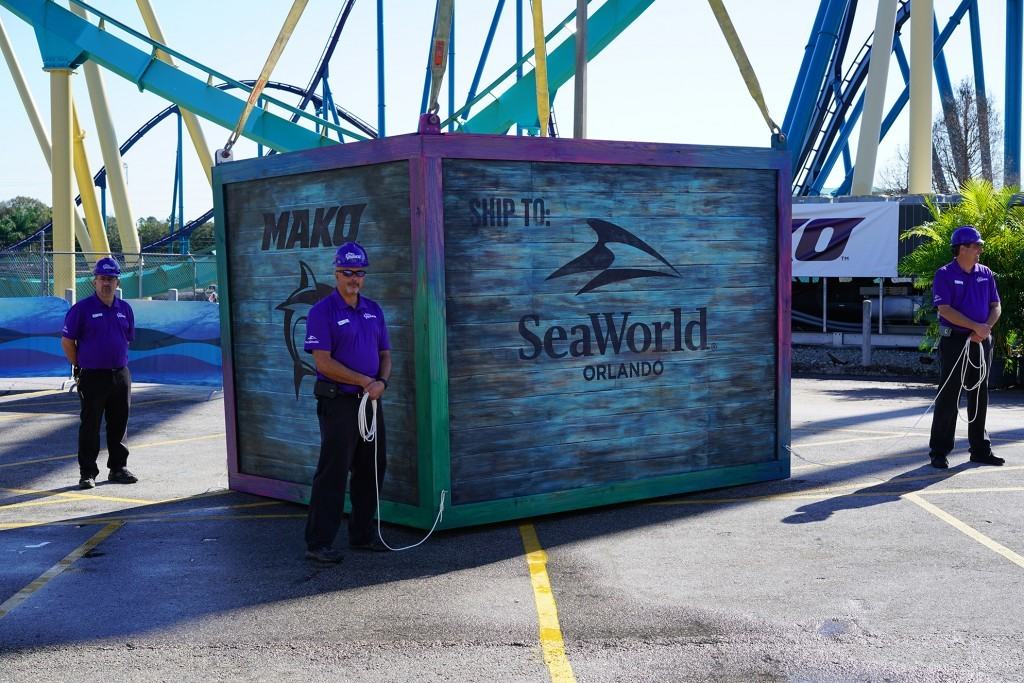 Mako ride vehicle reveal at SeaWorld.
After SeaWorld did such a great job with Manta's cars I didn't know how they could do any better, but I think they absolutely knocked this car out of the park. The nose of the vehicle looks aerodynamically sleek and it oozes attitude and charisma. The two-toned purple and blue color scheme really pops, and the details of the shark's eyes and gills instantly sets a great expectation for the wild ride to follow.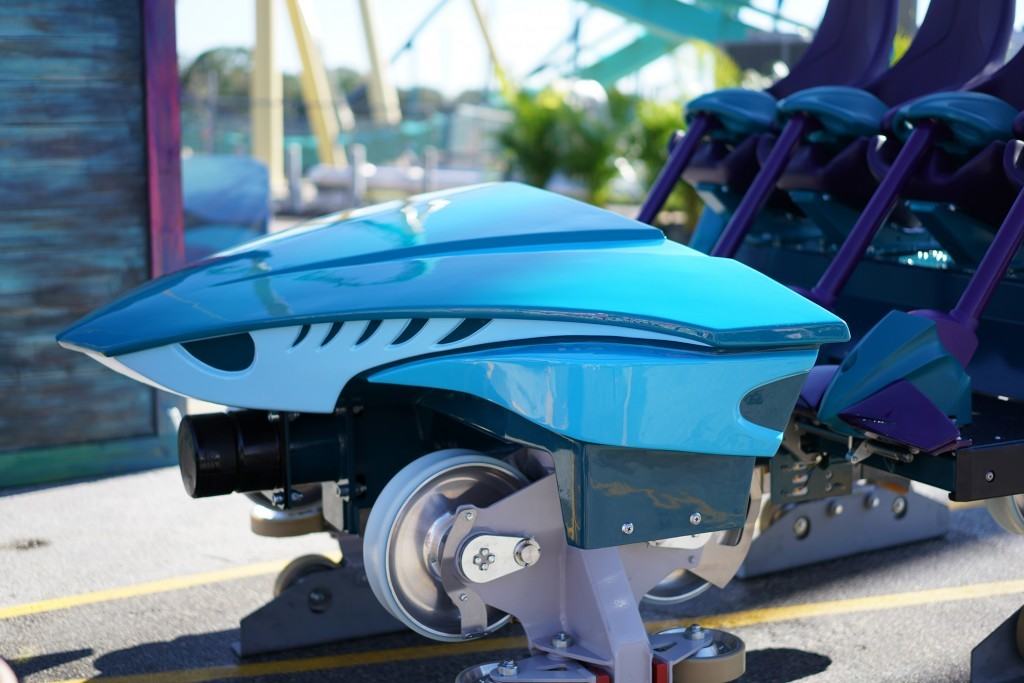 Mako at SeaWorld ride vehicle.
Technically, Mako's ride vehicle includes a custom fiberglass lead car, state of the art magnetic brakes, and ninety six individual polyurethane wheels that help to reduce friction and craft a smooth, speedy ride. Each of the three trains includes seven cars per train with four riders per row. The train also includes a single lap bar for safety, letting the upper body experience almost total freedom  to really feel the air time and g-forces of this coaster.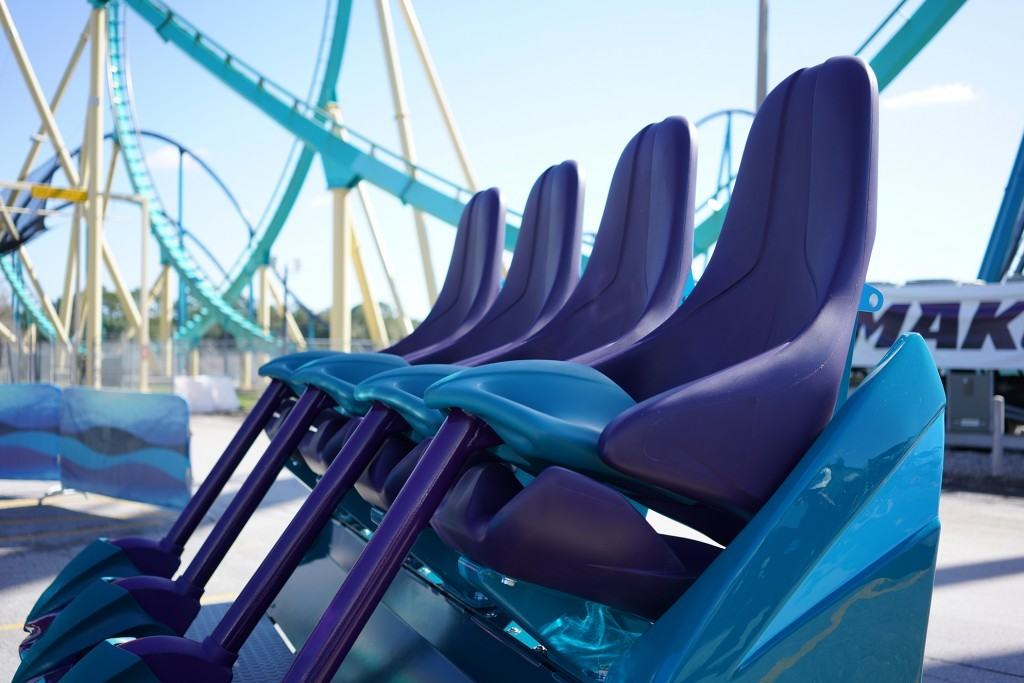 Mako at SeaWorld ride vehicle
Mike Denninger, Vice President of Theme Park Development for SeaWorld Parks, is especially excited about the "relentless air-time" Mako will dish out to guests. The SeaWorld team believes this coaster will overdeliver on height and speed as well, especially here in Orlando where Mako will truly shine.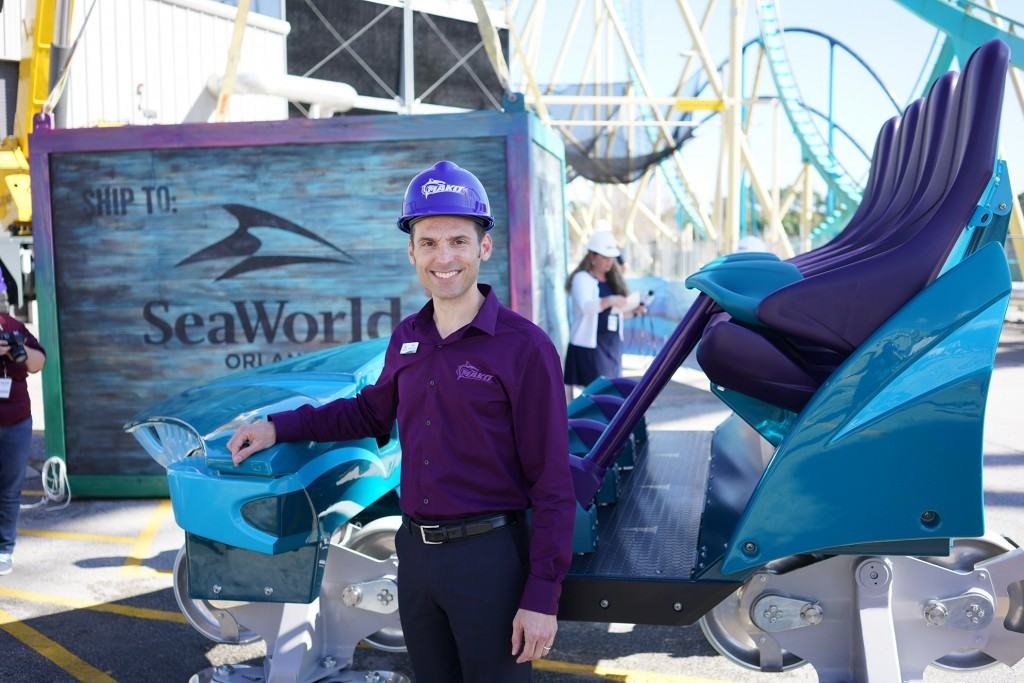 SeaWorld's Mike Denninger with Mako ride vehicle
The SeaWorld team is also incredibly excited to integrate the Shark Encounter experience with Mako as well. By aweing guests with the power and speed of Mako, the park hopes that their guests will also learn more about the real-life sharks that will surround the rest of the Mako Reef area.
Mako will start providing SeaWorld Orlando's guests great non-stop thrills later this year, and I personally can't wait to experience this chomper of a ride.
SeaWorld's Mako ride vehicle reveal – HD Video
https://www.youtube.com/watch?v=e0bjJ9n-eIs
SeaWorld's Mako ride vehicle reveal – HD photo gallery
Are you excited for Mako? Let us know in the comments below.