We got a little taste of what the D23 expo was going to have in store for us this year, but today's the day when everything gets fully revealed and officially detailed (or as much detail as Disney is willing to divulge, at least!).
Called "Sneak Peek! Disney Parks, Experiences, and Products," today's big panel will unleash a veritable cavalcade of (Florida-specific) Disney Parks and Resorts-related news, ranging from the soon-to-fully-commence Epcot transformation project (just in time for that theme park's 40th anniversary on October 1, 2022) to the imminent Star Wars: Galaxy's Edge, which bows this week at Walt Disney World Resort. We'll be updating this article as the announcements roll in, so continue to update it for the next hour-and-a-half (the presentation is scheduled to end at 3:00 pm EDT, though the previous flagship panels at D23 have all gone a bit over their allotted time).
Disney promises more IP for each of its parks
Not only has Disney essentially promised to double down on the current trend in the theme-park industry of incorporating more intellectual properties into the various attractions and themed lands that constitute it, but the company has specifically mentioned more Pixar, more Star Wars, and more Marvel – including into night shows, parades, and hotels. Unsurprisingly, Walt Disney World Resort will be receiving a giant portion of these new additions over the course of the next three years, starting with…
Star Wars: Rise of the Resistance
In an effort to discuss the soon-to-open Star Wars: Galaxy's Edge at Hollywood Studios, Disney has shown quite a few snippets of the land's second attraction, Star Wars: Rise of the Resistance, which won't debut until December 5, 2019. The biggest takeaway here is that Vi Moradi, a character who was initially created for the novels and who then made the transition to a walk-around character in the themed area, will be realized as a live-action hologram in the ride's preshow. (No other new snippets were shown here, although the teaser that Disney aired was more than exciting.)
Mickey and Minnie's Runaway Railway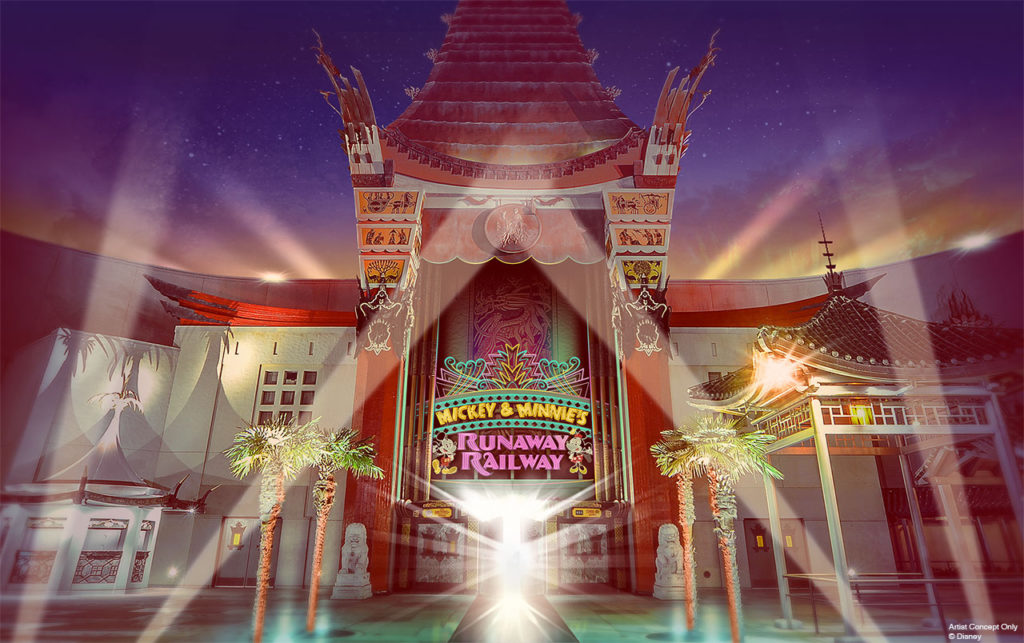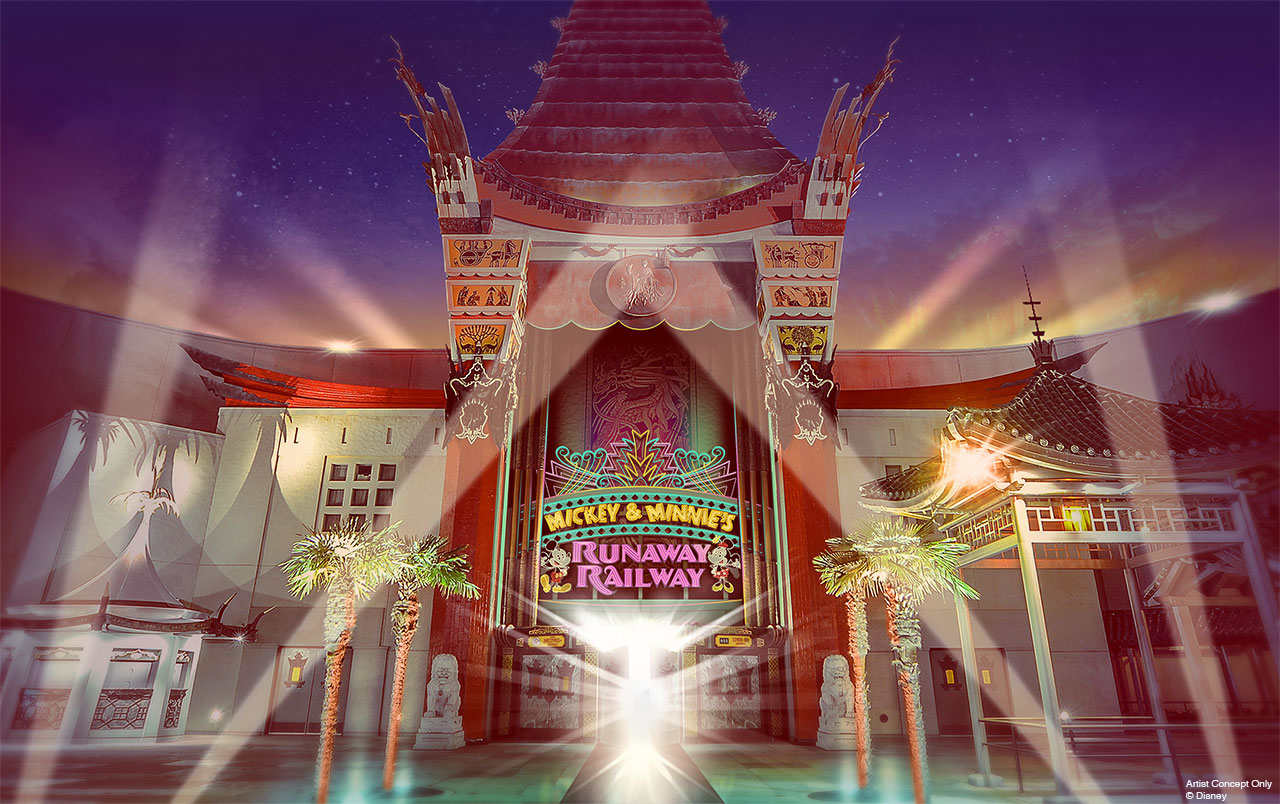 The first-ever Mickey Mouse-centric dark ride that is coming to Hollywood Studios next year will center around both Mickey and Minnie debuting their all-new animated short, Perfect Picnic (which is what guests will "fall into" in order to kick off the attraction). In addition, a brand-new look at the Chinese Theater façade was provided by Disney, and it's suitably Hollywood-esque.
New Cirque du Soleil show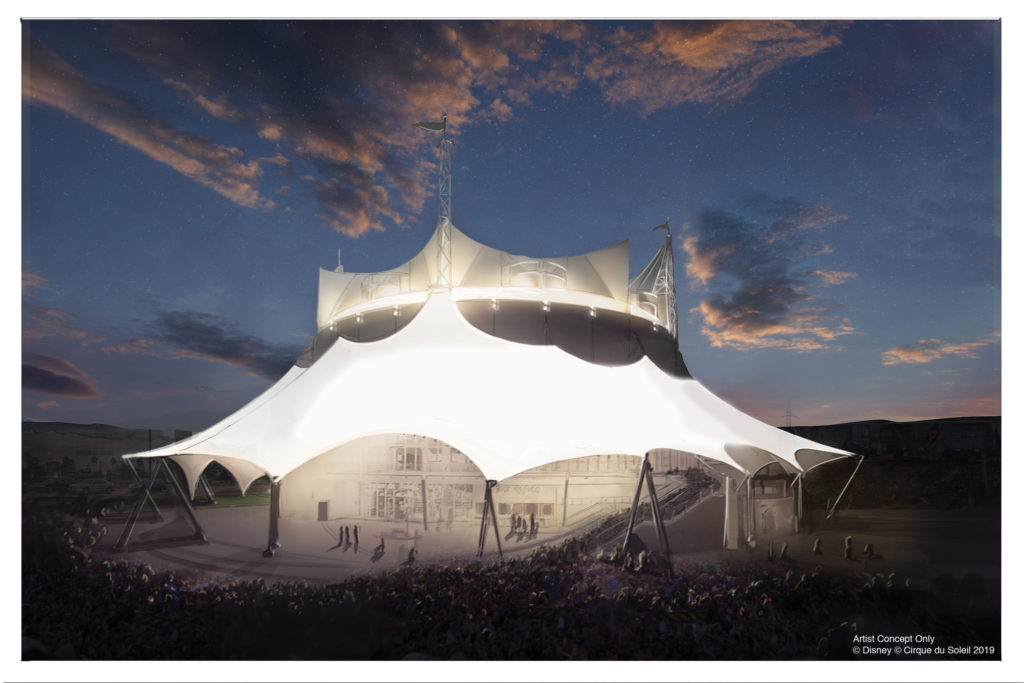 A brand-new Cirque du Soleil show is coming to Disney Springs, replacing the former La Nouba production. It's a collaboration between Cirque, Walt Disney Imagineering, and Disney's animation studios – a first-of-its-kind collaboration between the various departments and companies. More than just celebrating Disney's animation heritage, it'll also allow the various animated characters to interact with the live-action performers, with a story that follows a former Disney animator who raises his little girl to fall in love with the medium – allowing her to engage in a "journey of self-discovery" surrounded by the company's various cartoons, movies, and characters. In addition to being one of the most emotional shows Disney World has ever delivered, it'll also feature exclusive new music that incorporates a number of classic Disney themes.
This still-unnamed show is slated to debut on April 17, 2020.
Epcot's transformation
In an effort to get ready not only for Walt Disney World's 50th anniversary in 2021, but also Epcot's 40th the following year, the resort's second theme park is getting a giant, sweeping updating and refreshing – the biggest Disney has ever undertaken in its entire history. At the panel today, the company promised more attractions for the entire family, more familiar stories, and – yes – more shade from the brutal Florida sun.
The park layout
Whereas before Epcot consisted of two different lands, Future World and World Showcase, it'll now be comprised of four – World Showcase will remain the same (with a few new updates, of course), and then Future World will be broken down into the three new "neighborhoods": World Celebration, World Discovery, and World Nature. Before we can dive into each of these, however, we must first pause just briefly on:
The new Spaceship Earth
Fresh narration, a new guide (a magical light called the Story Light), original scenes, and more will find their way into the theme park's icon, Spaceship Earth. All of this will include a brand-new exit space that guests will venture into once their ride is done: Dreamers' Point, which will present a sweeping, majestic view of the newly-redesigned park (replete with a new Walt Disney statue, so that the man himself can look out at all this new beauty alongside you).
World Celebration
The first section of the theme park that visitors will now enter, World Celebration will brandish Spaceship Earth (naturally), a wishing tree, a large and interactive fountain, lush gardens and greenery, and a new pavilion that will become the "home base" for the park's various festivals. Perhaps the most interesting tidbit here, however, is what will sit atop this new building: a three-story structure that will afford some pretty spectacular views of Epcot's various nighttime shows (Disney is already billing this as the second icon, right after Spaceship Earth).
World Discovery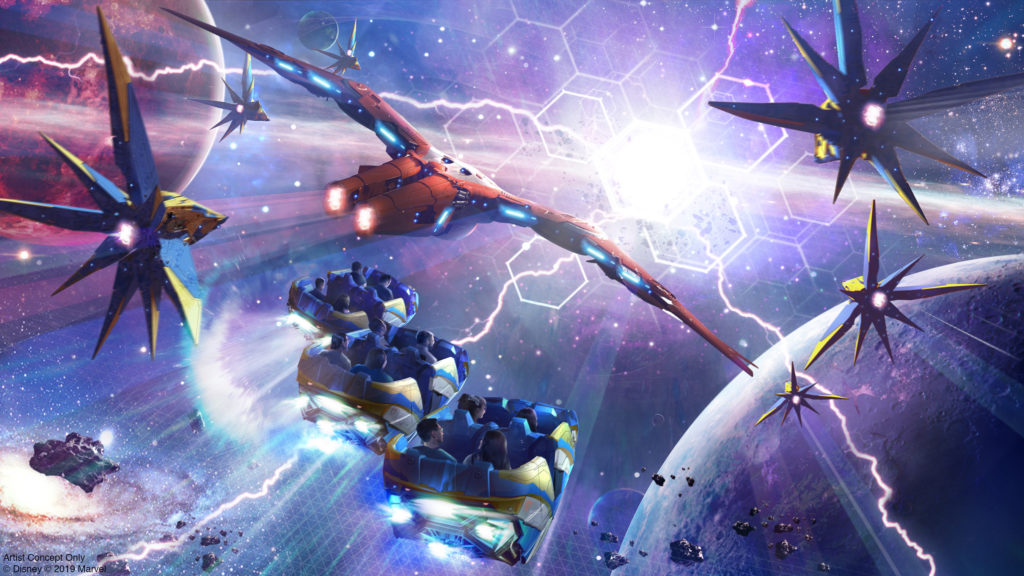 The Guardians of the Galaxy will exist in this new land in what the company is calling an "otherworld" pavilion. Their new attraction – now formally named Guardians of the Galaxy: Cosmic Rewind – will include a reverse launch into space.
Also located here is the much-hyped space-themed restaurant, which will include an elevator ride high up into orbit in order to "board" it. Expect "real-time" views of the Earth far below you, a name of Space 220, and an opening date of this winter.
The recently-revealed Play Pavilion, meanwhile, will include such IPs as The Incredibles, Wreck-It Ralph, and Huey, Dewey, and Louie.
World Nature
Here, The Journey of Water, Inspired by Moana will be installed, allowing guests to follow the water cycle in all its glorious wonder. And a new film over at The Land, called "Awesome Planet" – following the "beauty, diversity, and dynamic story" of the Earth – will begin showing in January 2020.
World Showcase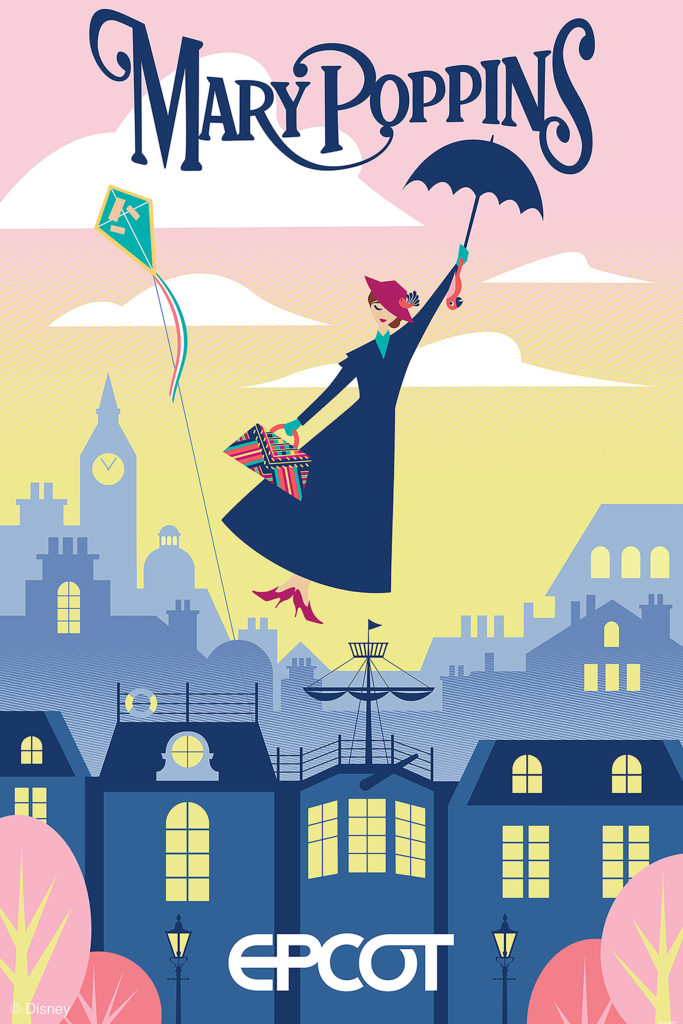 The France Pavilion will be getting a new Beauty and the Beast sing-along film, debuting in January 2020, along with Remy's Ratatouille Adventure, which we now know will be opening in summer 2020 – the same time period that the pavilion's new crepe eatery, Creperie, will bow, as well.
Other updates in other World Showcase countries include two new 360-degree films – "Wondrous China" and "Canada Far and Wide in Circle-vision 360" in their respective, titular pavilions – along with the first-ever Mary Poppins-themed attraction over at the United Kingdom Pavilion, bringing Cherry Tree Lane to life as an entirely-new section.
Disney's HarmonioUS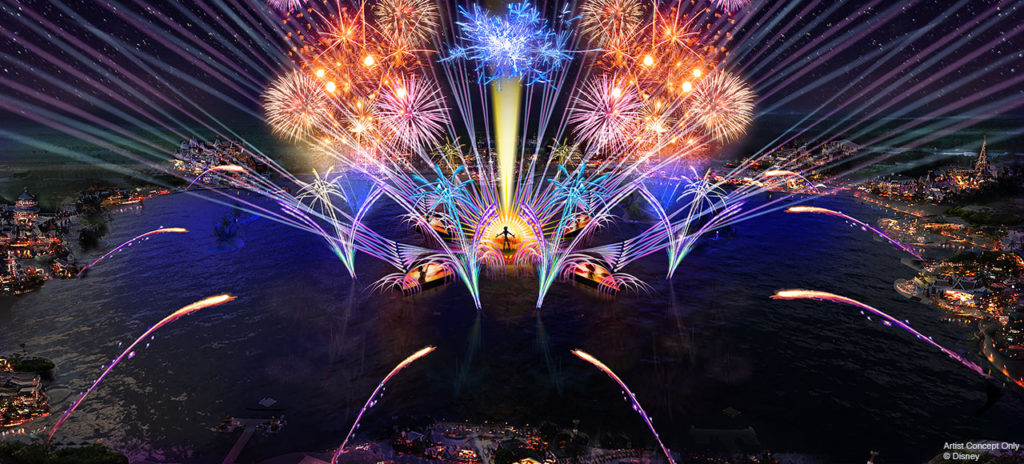 Once the limited-time Epcot Forever (which debuts this October) finishes its short run, the largest nighttime spectacular in Disney's history will permanently replace it: HarmonioUS. Expect to find it playing out across the World Showcase Lagoon sometime in 2020.
Walt Disney World's 50th anniversary
Unlike previous Disney World anniversaries, which were focused solely on Magic Kingdom, this one – the resort's biggest yet – will be celebrated at each of the four theme parks.
Something that will help you navigate all these myriad festivities in 2021 – and all the new attractions that will be bowing alongside them – is a new personal assistant of sorts called Disney Genie. This nifty new tool has been designed to help walk you through the vast array of vacation options at Disney World, whether you're a first-time family or veteran passholder; it will, for example, compute millions of options before selecting the optimal course for you, depending upon the ever-changing demands of your day at the parks.
You'll be able to get your hands on this Genie a bit earlier than the 50th anniversary, actually – expect it to drop in late 2020.
Star Wars: Galactic Starcruiser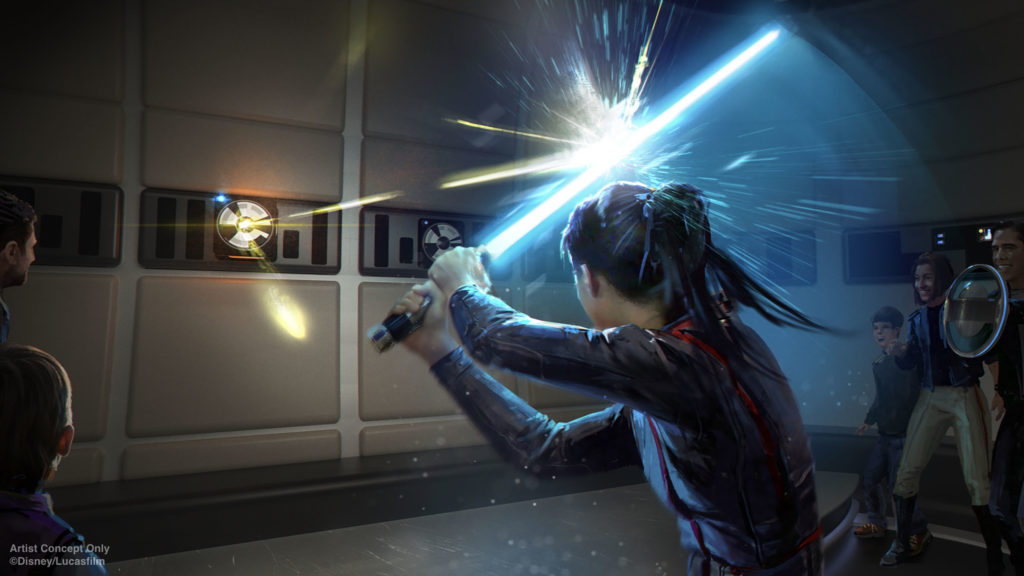 The long-promised Star Wars hotel is getting even more details and updates today at D23 following last week's tease: dining and "unique experiences" will be part of the fully-themed and -immersive experience. Guests will be able to either relax or partake in adventure, depending upon their interests.
Here are some examples that were given for the standard two-night itinerary: check in at the terminal located next to Hollywood Studios and then enter a launch pod that will transport you to the Halcyon, the name of your galactic starcruiser, in orbit. You first enter the ship's atrium and then meet her alien crew – alongside other figures, as well, including Rey, Chewbacca, First Order stormtroopers, and Supreme Leader Kylo Ren. The decisions you make as you interact with the cast members will inform how all these characters (and other passengers!) respond to you over the course of the next two days and nights.
"Port day" is access to Batuu, the setting of Galaxy's Edge. And some of the cruising activities include being able to wield a lightsaber against a training remote (just as we saw countless times in the various Star Wars movies) or heading to the bridge in order to learn about navigation and defense – including the possibility of helming these different ship sections, particularly when the First Order attacks your ship at some point during your two-night stay. Finally, there are several hidden areas to be discovered in the vessel, including some where "secret allegiance members may hold meetings." (Might this be a reference to the upcoming Episode IX: The Rise of Skywalker, including its tie-in Allegiance comic book miniseries?)
–
Discuss all this breaking news with thousands of other vacation planners in our OI Community Facebook group!
And be sure to follow Orlando Informer on Facebook, Twitter, and Instagram for the latest news and tips at Universal Orlando, Walt Disney World, and other Orlando experiences.