Walt Disney World recently announced the new MagicBand 2, but up until a few days ago, there were not available for guests to purchase inside the park.  That has now all changed and guests can now purchase the newly updated MagicBand 2 and the new Magickeeper accessories inside the parks.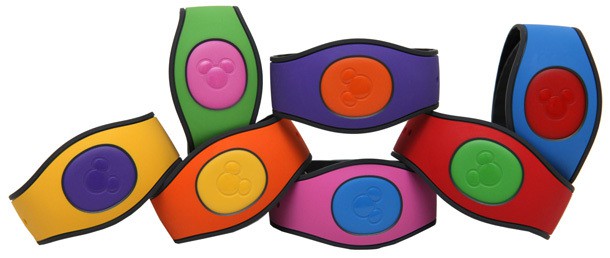 The new MagicBand 2 is now available in the original colors that the original MagicBand were available in, pink, blue, red, green, orange, gray, yellow, and purple.  The park also announced that the new Magickeepers, which for those of you that don't know, are new accessories that allow you to place the center icon piece of your MagicBand 2 into if you don't want to wear a MagicBand, are available for purchase in park as well. Some of the alternatives to strapping a MagicBand 2 around your wrist include a silver carabiner, a Mickey Mouse or Minnie Mouse lanyard clip.  Disney will even throw in a mini screwdriver to assist you with removing the center icon of your MagicBand 2.
If you insist on having a MagicBand 2 strapped to your wrist, Disney recently revealed new MagicBand 2's in celebration of Magic Kingdom's 45th anniversary. Some of the recently announced versions include a Haunted Mansion branded version and a It's a Small World version. This is surely just the beginning of limited edition/production MagicBand 2's that we will see in the near future from Disney.
The original MagicBand made its debut at Walt Disney World back in 2013 at Walt Disney World and changed the way people vacation at the park forever, and now we have the MagicBand 2 nearly 4 years later.  What are some features you would like to see when the MagicBand 3 comes to fruition?
For the latest news, tips, and more at Disney World, Universal, and other Orlando attractions be sure to follow Orlando Informer on Facebook, Twitter, and Instagram.