Directly across from Jimmy Buffett's Margaritaville at Universal CityWalk rests an outdoor tiki bar that seems to beckon your name before whisking you off on a tropical get-away. Even if you somehow blitzed past it in the excitement to get your visit at Islands of Adventure started, it's still pretty hard to miss, considering the ubiquitous crooning of a self-described would-be pirate in the surrounding air and the 60-foot Albatross plane that the bar's nestled under. This is the Lone Palm Airport, and in case its reputation hasn't preceded it, let me be the first to tell you – as part of Margaritaville Orlando, it's absolutely worth your time.
Lone Palm Airport – the Hemisphere Dancer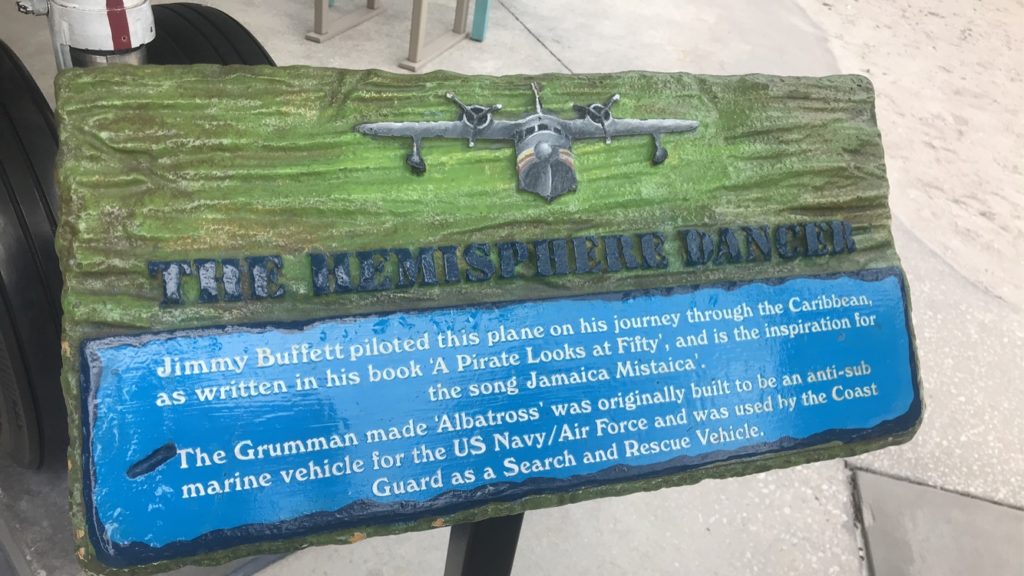 The plane parked at the Lone Palm Airport is known as the Hemisphere Dancer. It's an actual Grumman HU-16C Albatross, and there's some amount of history behind it. In its former life, it was utilized by the US Navy and the Coast Guard from 1955 until the mid-'70s. It sat inactive for some time, until Jimmy purchased and restored it, making it part of his personal collection. Aside from owning and flying it, it'd be fair to say that he went so far as to give it a second life.
Before its retirement to its new Orlando residence at the shopping and dining district of two world-class theme parks, Jimmy Buffet traveled the world in this high-flying chariot with his family and friends. He would eventually tour the Hemisphere Dancer through South and Central America and the Caribbean for his 50th birthday – an occasion which is the basis for his book, A Pirate Looks at Fifty. In a twist of irony, it saw some action in its post-military life and served as somewhat of a muse for his song "Jamaica Mistaica," which recounts the time when Jimmy, U2's Bono, and their families were shot at by Jamaican police during one heck of a misunderstanding.
The Dancer isn't just the centerpiece of the Lone Palm Airport, either. Aside from being referenced in song and book form, the sea plane's likeness can be found emblazoned on the walls, merchandise, and menus of several Margaritaville locations. You'll even see it used as part of the label of Jimmy's line of alcohol. Given all of this, I'm sure we can all agree that Jimmy's beloved Hemisphere Dancer is just as much a part of the Margaritaville brand as is the man himself. (As an Orlando native, it kinda makes me proud knowing the City Beautiful is where it currently calls home.)
Lone Palm Aiport – wasting the day away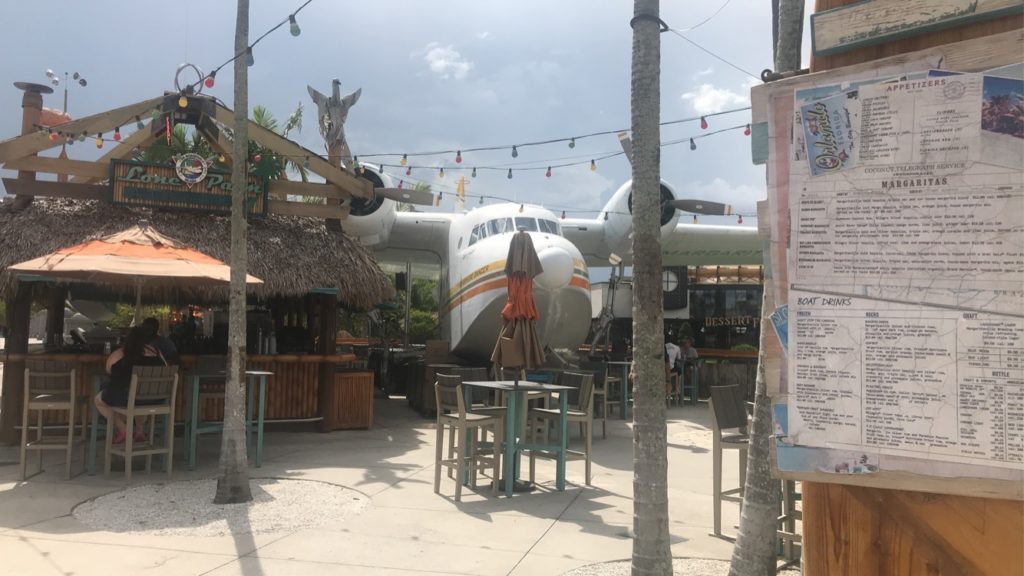 Getting into the Lone Palm's concept, it's a fitting one: Jimmy Buffet has taken a break from his skyway adventures and landed the Hemisphere Dancer at the "airport" by CityWalk's Margaritaville. As part of the outdoor portion of this location, the "airport lounge" (ah – as per the restaurant itself, that's in reference to the bar, for those keeping track) is a great spot to rest your salt shaker as you bask in Florida's wonderful weather. If you enjoy watching the bartenders pour you something tall and strong to muse the day over, then barside is where that action is. If sinking your feet in the sand while absorbing the ambiance of Universal Orlando Resort's dining/shopping/entertainment district is what you crave, then the Parakeet Beach section is where you'll want to be. Either way, it's hard to go wrong with the view of CityWalk's lagoon no matter where you sit.
Although their menu can be limited compared to what you'll find at the restaurant, Lone Palm Airport features a variety of everyday food and drinks for the Parrothead in all of us. In my youth, a Loaded Landshark (a chilled bottle of Landshark lager topped with a shot of tequila) was my drink of choice; these days, I opt for something that's with more spirit, such as a Blackberry Margarita or their Fins Up signature cocktail. If you're left indecisive from an all-too-appealing menu, then the Margarita Flight would be my suggestion, to provide a "best of" sampling of the house favorites. (You should know, if you're following my recommendations, each of these would run you between $11 to $21, plus tax. However, I assure you they're all worthy of your money.)
Lone Palm – final thoughts
If your focus is dinner with drinks, you'll be better off at Jimmy Buffett's Margaritaville or at the Porch of Indecision, the venue's sizable patio. As mentioned, there's plenty to choose from, but the menu at the Lone Palm Airport is limited – and while there is a chance the restaurant would still honor their full menu when sitting out here, it isn't guaranteed. (Not to mention there's plenty of table-seating, decent service, and live music to enjoy within Margaritaville's walls.) Otherwise, if you're taking a break from the parks or looking for a quick bite and some preparatory beverages before attending any one of Universal's special events – or just a night out in CityWalk, in general – the Lone Palm would serve the purpose perfectly.
If you're letting me take the reins of your trip, my wife and I have been known to do the latter, and I'd strongly suggest the Volcano Nachos in that scenario. They can be ordered at both the restaurant and the bar and give you a generous amount for the $17.50 (before tax) they cost. Lastly, I should also suggest that it's worth checking out the Lone Palm's Happy Hour, too – on the weekdays, from 3:00 pm to 5:00 pm, House Margaritas will run you just $4.00, and select beers are $2.50 (both are before tax).
---
Are you already a Lone Palm regular? Or do you have another favorite CityWalk go-to? Tell 150,000+ other Universal Orlando fans in our Orlando Informer Community on Facebook.
And be sure to follow Orlando Informer on Facebook, Twitter, and Instagram for the latest news, tips, and more at Universal Orlando, Walt Disney World, and other Orlando attractions.