In the spring of 2005, I needed a change in my life. I don't particularly know how, at 22 years old, I knew this, or why I thought that change would be found while working at Universal Orlando. I just knew I needed something different, and that Universal was the answer. At the time I had no real way of knowing how much this theme park would come to mean to me, how the break room of MEN IN BLACK Alien Attack would become home, how co-workers would become lifelong friends, or how I'd be given the opportunity to take part in timeless holiday events that I still hold very close to my heart.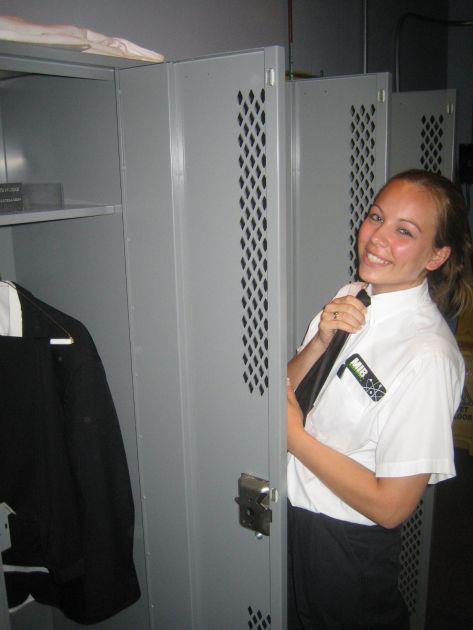 MEN IN BLACK Alien Attack.
It nearly goes without saying that every day spent at MEN IN BLACK brought a new story or grand adventure; laughter was never very far from our group of agent's faces. But, even to this day, two of my favorite times of year – Halloween and Christmas – were granted new life thanks to Halloween Horror Nights and, of course, Grinchmas and the Macy's Holiday Parade. Given the respective time of year, Attraction Attendant Team Members have the opportunity to head on over to the warehouses and assist with these events. That's how I became a Macy's Holiday Parade balloon handler – and you can too!
On days when the Macy's Holiday Parade takes place (this year up to and including January 4, 2014), you can meet a Universal Studios Team Member at the big teddy bear balloon in Woody Woodpecker's KidZone, just outside of the SpongeBob StorePants, two hours before the parade starts.

The teddy bear balloon in KidZone.
This is either at 3:00pm or 6:00pm depending on the parade schedule for that particular day. Team Members will also be available in front of the Universal Studios Store, towards the main entrance of the park, before the parade begins if volunteer opportunities are still available. Keep in mind this is a first-come-first-served experience, and a few restrictions apply: you must be 48 inches or taller to participate, and you must be wearing closed-toe shoes.
It is truly a unique and exhilarating experience to be a part of such a classic American Thanksgiving & Christmas tradition as the Macy's Holiday Parade. Some of the same balloons that appear on television in New York City each Thanksgiving are then also sent to us here at Universal Orlando, where they are showcased in our daily parade.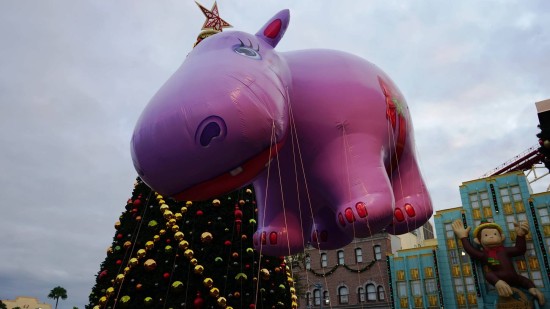 Happy the Hippo balloon.
Once you are selected as a volunteer, you then sign a waiver and are trained on proper balloon safety and handling procedures. Finally, you are assigned to the balloon you'll be handling throughout the route. Each balloon has a jumpsuit color of choice and gloves that Universal provides to its Team Members and volunteers for each parade.
Every balloon also has a Balloon Lead that instructs the handlers on when to raise or lower the balloons height, and adjusts the team accordingly so that everyone stays on course. These handlers are Universal Team Members who were trained by the Macy's staff on how to direct the other handlers and guide the balloons. Macy's actually oversees the entire parade run, and has even brought some of the Universal Team Members up to New York for further training and to be a part of the Thanksgiving Day Parade! The Balloon Leads might also teach the handlers a trick or two to accomplish while handling the balloon, which could include making the balloon "dance" or spin.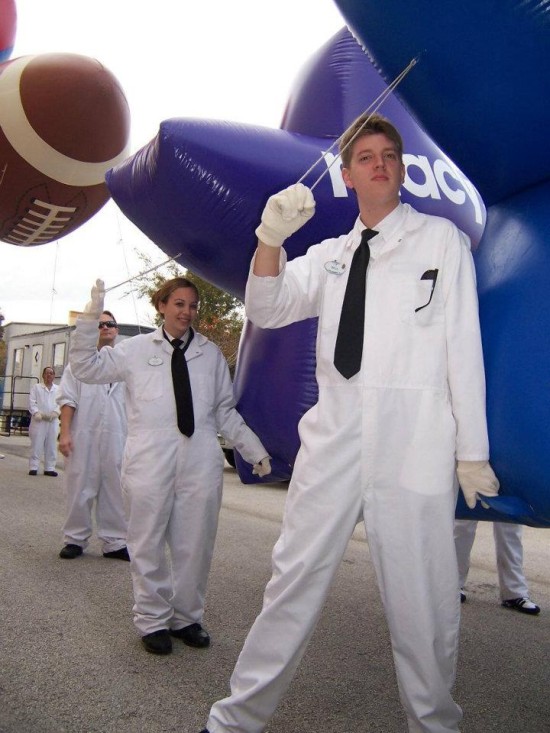 Suit up!
Back in the warehouse, as we'd wait for the parade to begin, we selected which place on the balloon we wanted to handle, meet the guest volunteers, and take a few photos. From the warehouse, the Macy's Holiday Parade Leads would eventually begin to line up the balloons according to how they'd appear in the parade. This can sometimes be tricky since you must clear the balloon through the warehouse doorway, so following your Balloon Lead is imperative!
Soon the music begins and, one by one, balloons, performers, and marching bands galore file out to fill the streets of Universal Studios Florida with holiday cheer. Behind all of the parade entertainment would be, of course, Santa, who offers a Christmas surprise for those sitting over by the Macy's storefront in the New York section of the park.

Macy's Holiday Parade.
Watching the Macy's Holiday Parade is just one fantastic way to participate, but actually being a part of the parade and knowing that a huge chunk of the entertainment and experience is on your shoulders is a completely different adventure. The level of excitement always gets my heart racing, as the parade theme song would undoubtedly be a tune I'd hum for the rest of the evening.
I will never forget the laughter, cheers, and smiles on the guest's faces as we sailed the Macy's balloons through the Universal skies.

Me and my balloon.
My fellow Team Members and I always knew how to make any time together a world of fun, but the days surrounded by the holidays were ones I tend to cherish the most, even eight years later. I love that I'm able to now tell friends and family that I've been a part of such an iconic staple in our holiday celebrations, and that I've even helped navigate some of the Macy's Parade balloons!
There were definitely trickier days, as the slightest gust of wind can make even the smallest balloon tough to manage, but nothing could overcome that holiday spirit high. As the parade would wind to an end and Santa would deliver his Christmas surprise, the balloons are brought back into the warehouses for storage — and maybe for a few more photos with our guest volunteers.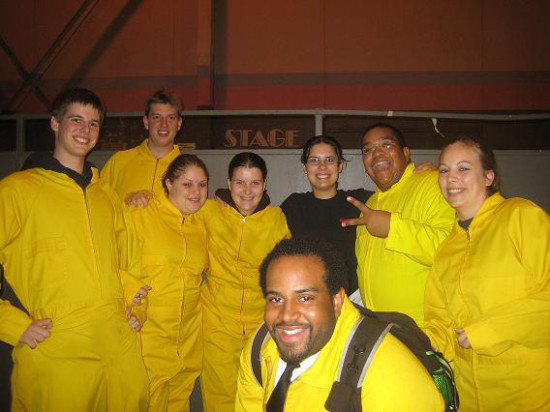 Macy's Holiday Parade balloon handlers.
There are so many wonderful things to do at Universal Orlando, yet, during the holiday season, volunteering as a Macy's Holiday Parade balloon handler is the one I recommend the highest! And remember, the parade will be in flight until January 4, 2014, so you still have a few days left to try it out yourself!
You can learn more about the holidays at Universal Orlando. If you're not sure you want to be in the parade, you can find out where the best place is to watch it. Finally, to see the parade in action, enjoy this highlight video from this year:
Planning a vacation to Orlando?
Want to skip all the work and just price out a vacation to Universal Orlando? We'll find the best deals for you – for free (seriously.) Learn more, or check out some of the current deals: