The 30th anniversary year of Halloween Horror Nights has provided Universal's designers with ample opportunity to reference – and celebrate – the event's hallowed past, and the latest original haunted house to be announced is by no means an exception.
Follow the trail of a private eye as an investigation into the supernatural leads you into a dark world of ghouls and terrifying creatures.
Have you ever wondered how Halloween Horror Nights came to be? Not the marketing and design "came to be" answer – but the real story? Good news is you don't have to wait much longer to find out. Bad news is the truth might be stranger than fiction.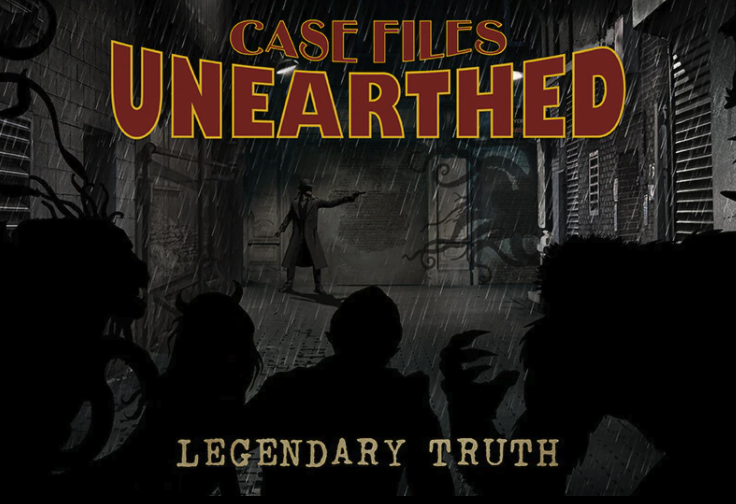 Boris Shuster. Sound familiar? Die-hard Universal Studios Florida fans will recognize the name from a window display in the New York section of the park. Shuster entered the Horror Nights mythology in 2008, when he fought rogue psychiatrist Bloody Mary and survived. He is the founder of Legendary Truth: The Collective, an organization that studies the evil that perpetuates Halloween Horror Nights. It seems that Shuster has more to do with the now-popular event than he has admitted thus far, and this year we find out just how much he really knows.
Perhaps the most intriguing element of this haunt is its tie-in to Legendary Truth, a name that has been popping up at Horror Nights off and on over the past 13 years – and one that has become ever more intertwined with the event's rich mythology. Legendary is an organization that is dedicated to researching all things paranormal, which means, of course, that it's constantly in pursuit of HHN's various goings-on, especially at the hands of its icons, those mystical (or, simply, deranged) beings that have come to be the protagonist of one event year or another. (Much to the chagrin of the long-term die-hard fans, these icons have become far less prevalent over the past decade, thanks to the ever-increasing success and top billing of the various intellectual properties that Universal hosts, such as The Walking Dead or Stranger Things.)
The impetus for this fan-favorite group came from a fairly surprising source: in 2005, a small, Easter egg-esque game was tucked away on Halloween Horror Nights' website, helping to increase fan interaction and paying off in a pretty memorable way – a special, Halloween-night meet-'n-greet with the event's creators in Universal Studios Florida. The warm reception caused the company to expand upon the concept in fits and starts over the next several years, creating Legendary Truth in 2008 to help corral the overall experience and weave it into the mythos. (There was also advancement in the games' sophistication, accruing both online and in-park components and utilizing RFID technology in order to allow a certain level of interactivity with various HHN elements, including the detection of "ghosts" at the theme park.)
The highlight of this eight-year experimentation was some pretty monumental physical – and, sometimes, virtual-reality – encounters. In 2010, just two short years after the organization's introduction, an entire maze was devoted to the subject; called Legendary Truth: The Wyandot Estate, it had guests explore one of the most haunted mansions in the world, where some spirit seekers were attempting to extract the many ghosts trapped there using a specialized machine they had created just for the occasion. (Naturally, the estate was located in Carey, Ohio, the setting of many HHN experiences over the decades – especially this upcoming anniversary year.)
Though a physical house was never repeated, Legendary Truth increasingly found itself probing the boundaries of the virtual for Universal, either directly or obliquely. In 2015, the scavenger-hunt game culminated in a limited-run VR haunt, in which the obligatory goggles were issued as "safety equipment" for those test subjects that were going to enter a dangerous portal, which deposited them in – you guessed it – another creepy mansion riddled with puzzles to solve and infested with spectral invaders to evade. This, in turn, led to the first – and only, as it turns out – implementation of a premium haunted house at Horror Nights the following year: The Repository, which combined real-world environments and actors with virtual-reality elements. (The premise had guests joining a team of investigators and exploring a "centuries-old secret warehouse where mysterious artifacts have been collected and stored for hundreds of years.")
Both Legendary Truth and upcharge mazes have been missing from the event ever since, making this year's Case Files Unearthed: Legendary Truth a welcome addition – and, assuredly, one that will build upon the Halloween Horror Nights mythos in some fun (and scary) ways.
Legendary Truth house will join Beetlejuice, Haunting of Hill House, The Texas Chain Saw Massacre, Universal Monsters: Bride of Frankenstein Lives, and HHN Icons: Captured at Universal Orlando's Halloween Horror Nights, which runs for a record-breaking 42 select nights, from Friday, September 3 to Saturday, October 31.
---
Find out everything you ever wanted to know about HHN – plus more! – in our insider's guide. And then discuss it all with 125,000 other Halloween die-hard fans in our OI Community Facebook group.
And be sure to follow Orlando Informer on Facebook, Twitter, and Instagram for the latest news and tips at Universal Orlando, Walt Disney World, and other Orlando experiences.