It used to be par the course for Halloween Horror Nights to feature multiple live shows, but when Bill & Ted's Excellent Halloween Adventure was cancelled after its 27th season in 2017, Universal allowed its entertainment roster to dip to just one entry.
This year, however, the company is setting the production ship straight again – 2019's event will see two shows once more, even if today's announced number doesn't exactly fall into the live category. Actually, in point of fact, Halloween: Marathon of Mayhem is something of a new development for HHN, fully embracing Universal Studios Florida's lagoon and rendering it an integral part of the annual horror event.
Before we get into the new show's exact contents, it might behoove us to first dip into the history leading up to its arrival on the scene. Over the past 29 years, Universal has delivered one nighttime spectacular or another, with the common denominators being the utilization of water and, later, as advancing technology allowed it, film projections on or around that body of water (we actually have a quick accounting of all the lagoon shows here, in case your historical interest has been piqued). This, in turn, has led Horror Nights's creators to experiment with the various productions' aquatic infrastructure, playing with these tools to create one type of Halloween attraction or another: in 2006, for example, a short film called Sweet 16: The Director's Cut (in honor of the annual event's 16th anniversary) was shown on the lagoon that interspliced "some of the most intense scenes from Universal's fright films" along with original footage (and previous HHNs' commercials, but of course), accentuated by pyrotechnic effects; in 2012, four different vignettes (which focused on the Universal Monsters, Alfred Hitchcock, Child's Play, and Alice Cooper [who had his own haunted house that year]) were displayed, replete with their own water and lighting effects, as well.
(And let's not forget that other years occasionally saw the lagoon be used for simple atmospheric purposes, displaying subdued lights and music to help set the tone for the rest of Halloween Horror Nights's proceedings around the park.)
While all of these were interesting in their own way, none necessarily received top billing in that year's roster of experiences. And neither did any of them have the tech that Cinematic Celebration, Universal Studios Florida's still-new lagoon spectacular, currently does, employing hundreds of water fountains, 40-foot water screens, and projection-mapping on the buildings across the way that form the background of the show. With such capabilities at their command, along with the production's template of taking various intellectual properties represented throughout Universal Orlando and, well, celebrating them, HHN's designers are now poised to present a full-fledged show in its own right, one that can stand ably next to the Academy of Villains dance troupe as one of the marquee entertainment entries for this year.
Halloween: Marathon of Mayhem exchanges Cinematic Celebration's Jurassic World, Despicable Me, E.T., and Harry Potter with the likes of Universal Monsters, Killer Klowns from Outer Space, Stranger Things, and Ghostbusters – arguably, the four biggest horror or retro draws from this year's Halloween Horror Nights. The interplay of water fountains, film projections, lighting, and projection-mapping is precisely carried over, rendered now in more horror-appropriate tones and hues, perfectly fitting the after-hours venue. Universal itself sells the experience this way:
Giant water screens highlighting iconic horror scenes, accented with more than 100 fountains, awesome special effects, pounding electro music, lasers, and more, will bring this all-new experience to life – creating a larger-than-life mix tape that guests won't want to miss.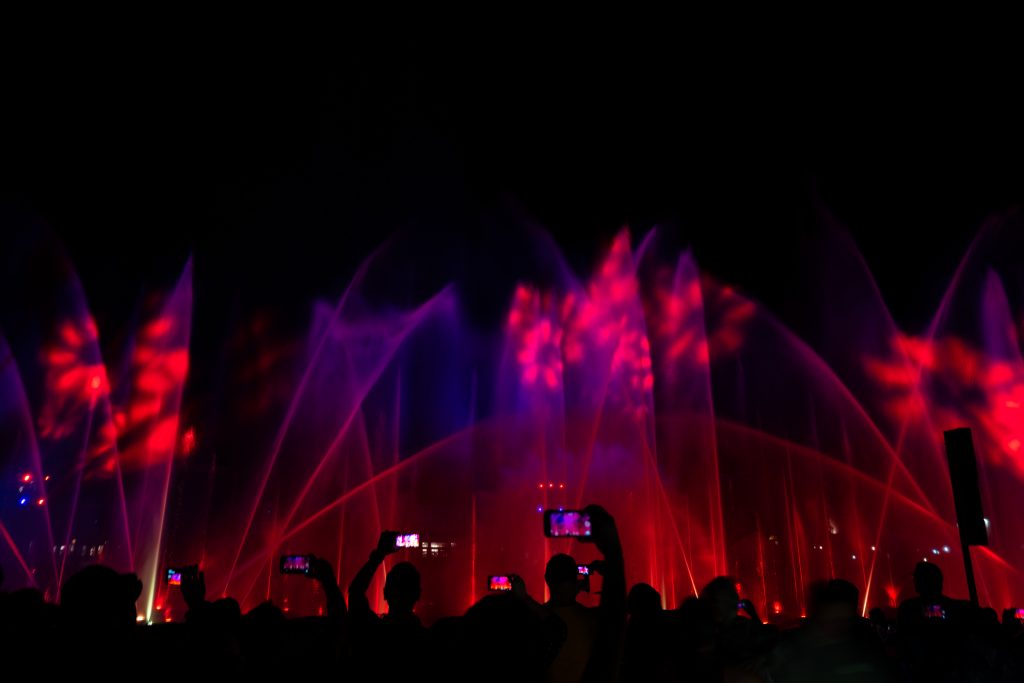 More than Marathon of Mayhem's specific scenes, it's great to know that we're even getting it in the first place; when Universal first announced Halloween Horror Nights 2019's lineup earlier this year, the company promised 10 haunted houses, five scare zones, and just one singular live show. It wasn't until this week, when divulging all of the zones, that Universal hinted at a second, "brand-new show" that would "debut for the first time ever." While this isn't the first change we've noticed behind the scenes (according to Horror Nights's website, there were originally five IP houses before the number got expanded to six), we're certainly grateful for it occurring nonetheless.
Orlando Informer Podcast: be sure to listen to this week's episode of the OI Podcast to hear even more of our thoughts on Halloween Horror Nights's new lagoon show. You can subscribe to the podcast on iTunes or give a listen here.
Halloween: Marathon of Mayhem will join Stranger Things, Nightingales: Blood Pit, Universal Monsters, Depths of Fear, Yeti: Terror of the Yukon, Ghostbusters, Killer Klowns from Outer Space, Us, Graveyard Games, five scare zones, Academy of Villains, and House of 1,000 Corpses at Universal Orlando's Halloween Horror Nights, which runs for a record-breaking 41 select nights, from Friday, September 6 to Saturday, November 2.
The new lagoon show runs select nights throughout the event at 10:00 pm, 11:00 pm, and 12:00 am.
–
Find out everything you ever wanted to know about HHN – plus more! – in our insider's guide. And then discuss it all with 80,000 other Halloween die-hard fans in our OI Community Facebook group.
And be sure to follow Orlando Informer on Facebook, Twitter, and Instagram for the latest news and tips at Universal Orlando, Walt Disney World, and other Orlando experiences.