Kona Cafe at Disney's Polynesian Resort: Perfect setting for breakfast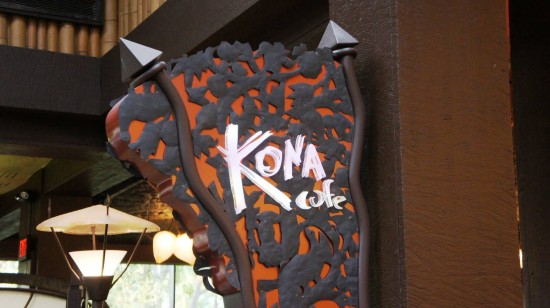 Thanks to a tip from the Disney Food Blog, we discovered that Kona Cafe at Disney World's Polynesian Resort is serving red velvet pancakes for breakfast. It's their way of celebrating Valentine's Day. Well, it turns out that my wife loves red velvet cupcakes, so this was a good enough reason to me to head over to Kona this morning.
You can click any image to view if full-screen. Scroll to the bottom of the post to view the complete photo gallery.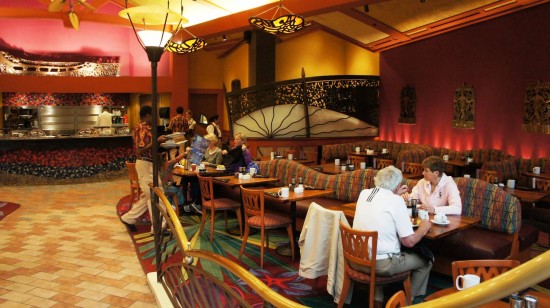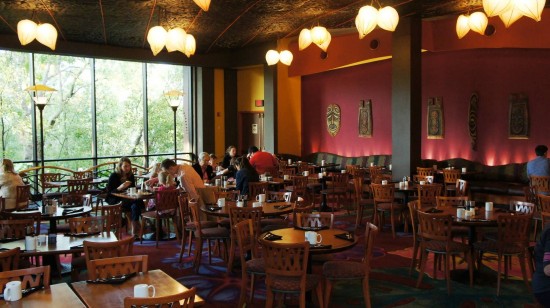 Known for good food, Kona Cafe is already a well-celebrated breakfast spot at Walt Disney World. What makes it even better are a few "insider" facts. Get an early morning reservation at Kona, and you've got a nice place to stop on your way to Magic Kingdom rope drop. And if you have a reservation here, you can park at the resort and take the monorail from here too, so you don't have to mess around with the lines at the Ticket & Transportation Center.
Besides these little tips, the Polynesian Resort is just a great spot to be because it exudes the feel of "vacation" everywhere. Even though I'm not on a trip when I visit, it is nearly impossible not to fall into that mindset at the resort. And the good food, served to a backdrop of Hawaiian music, completes the sale.
[youtube_video]AqSlVvzC3mw[/youtube_video]
Speaking of the food, my wife went ahead and ordered the red velvet pancakes — they weren't on the regular menu, so you'll have to ask for them. I ordered The Somoan (poached eggs with Hollandaise sauce served over smoked pulled pork hash):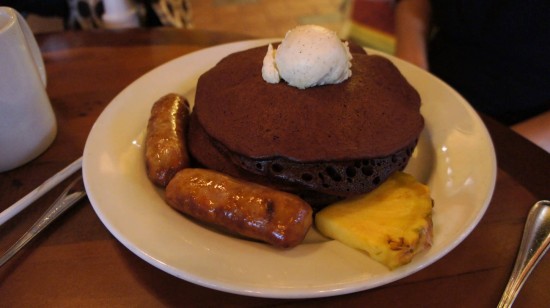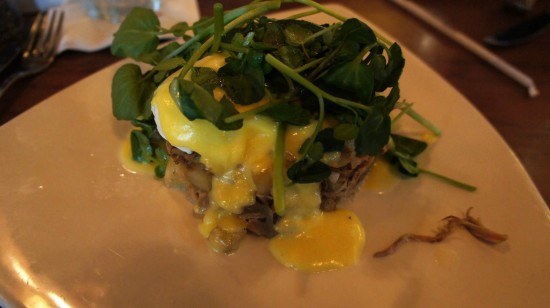 Both entrees were excellent. Throw in a cup of coffee and our bill came to around $25.00. That's what I would expect at a full-service Disney restaurant for breakfast.
I definitely recommend visiting Kona Cafe on your way to Magic Kingdom. Check out the links and complete photo gallery below.
Kona Cafe at Disney's Polynesian Resort – map & links
Official site: http://disneyworld.disney.go.com/dining/kona-cafe/
Kona Cafe at Disney's Polynesian Resort – photo gallery
Click any image to view it full-screen. When the full-screen image is open, click to the right to advance through the gallery. If several thumbnails are missing, try reloading this page in your browser.