Kona Cafe at Disney's Polynesian Resort: Havin' lunch on island time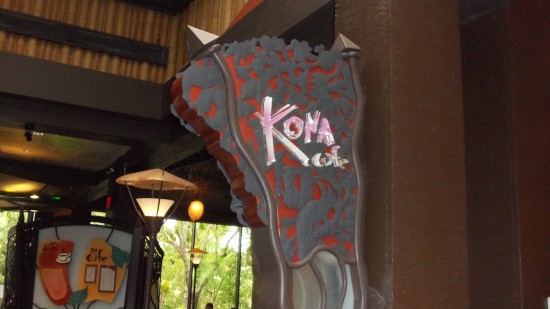 On a recent visit to Walt Disney World, my sister-in-law and I stopped by the Kona Cafe for lunch. After checking in at the podium, we were quickly approached by a host who asked if we would like to see the dessert selections before we were seated. We said yes, and were escorted to a large display at the back of the restaurant where he described each dessert to us. It was nice to have this option ahead of our lunch so we could keep in mind whether or not we wanted to "save room" for dessert.
We were then taken to our table and our server came by shortly thereafter to take our order. I decided to have a Tropical Macaw, a combination of coconut rum, Midori, pineapple and cranberry juices, topped with a slice of pineapple and a paper umbrella. This drink is light and fruity, and would probably please just about anyone.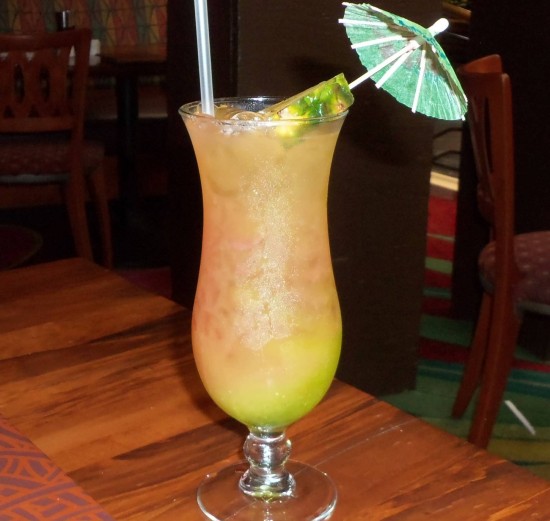 For lunch, I chose a Kona Club Sandwich but added cheese to it and substituted regular fries for the sweet potato fries, as I'm not a big fan of sweet potatoes. My sister-in-law went with a Polynesian Plate Lunch of grilled teriyaki steak with pineapple salsa served with sticky rice and macaroni salad.
After a bit of a wait our food arrived. My sandwich was served on what appeared to be a whole grain bread which was good, if not a little dry. There was just the right amount of filling in the sandwich for me, but I think some might have found the amount of turkey a little sparse. The sandwich was good though, and the fries were hot. Overall, I enjoyed my order and it was good for a light lunch.
My sister-in-law's steak looked good and was cooked to her specifications, but she wished they had included a little more of the pineapple salsa with it. She said the sticky rice was as expected and the macaroni salad was your standard macaroni salad, but was good. She said she enjoyed her lunch and would probably order it again.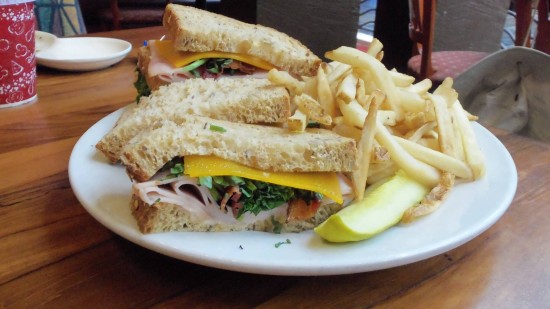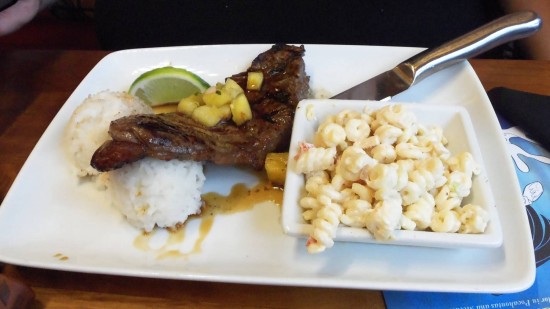 After some discussion with our server over how long it might take to get it, we both decided to go ahead and order dessert. I chose the Kilauea Torte, which is described as an "explosion of warm liquid chocolate inside chocolate cookie volcano." The torte was served warm, topped with whipped cream, and surrounded by a cream sauce with fresh raspberries. The raspberries mixed wonderfully with the chocolate and the cream sauce. As a chocolate lover, I would not hesitate to order this dessert again.
My sister-in-law had a dessert that was off the menu, and neither of us can remember what it was called, but it was a parfait-type dessert with a ginger cake base to it. She said it was good, with mostly custard and berry taste, and just a hint of ginger.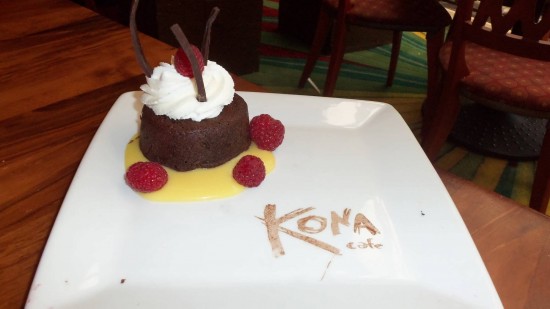 While our lunch took longer than expected, overall our visit to Kona Cafe was enjoyable and I do expect to return again. Friends have told me they have had similar slow service issues at the Kona Cafe, but continue to go back because they enjoy the food. We all still think it's a pretty good place to eat, but perhaps not if you're in a hurry.
Kona Cafe is on the Disney Dining Plan and is a one-credit restaurant. They also accept Tables in Wonderland.
Editor's note: If you like this review, you'll want to check out what we thought of breakfast at Kona.
Kona Cafe at Disney's Polynesian Resort – map & links
Official site: http://disneyworld.disney.go.com/dining/kona-cafe/
[sws_author_bio user="KatSRQ" size="105″ authorposts="More OI posts by Kat" name_format="About the author"] [/sws_author_bio]