You may not know Kolby Ratigan's name now, but odds are you will in the future.
The 18-year-old University of Redlands student (where he's studying theater design and fine art, with an emphasis on themed entertainment design) is currently eyeing a job as either an art director or attraction designer for a major theme-park design firm. He's also had a lifelong obsession with miniatures and how things work – "I used to build model trains, rockets, and planes," he told me, "to understand how they work better."
But neither of those items explains why he did what he recently: build a 1:130 model of Volcano Bay, Universal Orlando Resort's still-new water theme park. (Well, okay – maybe they explain the undertaking a little bit.)
"The purpose of the model was just because I wanted my own miniature of the volcano!" Kolby said. It's easy to see why – the 200-foot-tall Krakatau is mesmerizing in and of itself, let alone as a piece of man-made engineering. For an individual who's so mechanically inclined, putting the real-life water-spewing volcano to 18-inch-tall foam only naturally follows.
That process is actually an incredibly interesting one, even if you – like me – can barely hold a pencil, let alone thread fine wires through intricate molding. It's more than worth a quick breakdown – if anything, it'll open your eyes to a whole new way of appreciating the parks, their attractions, and others' devotion to them.
The process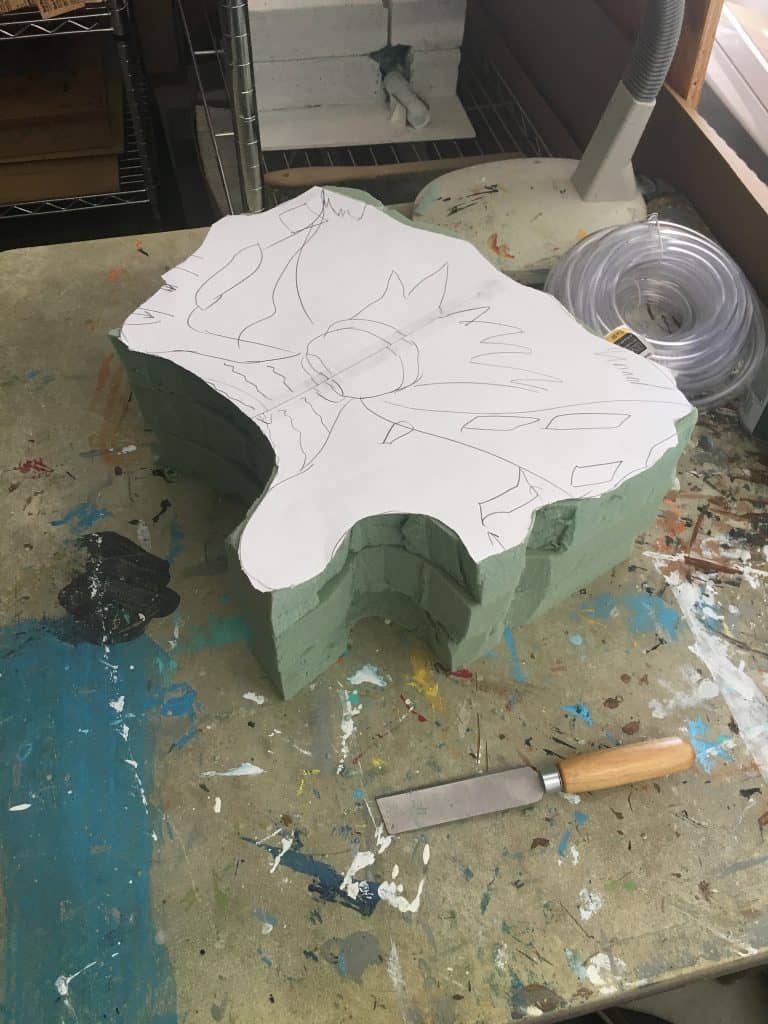 Everything starts off, of course, with research, with taking as many photos as possible from as many angles as possible to compose a reference portfolio. From there, elevations and plans have to be drafted for each side of the mountain, and then comes the preliminary sculpting process.
"I began sculpting the foam into its rough form to make sure how it will look on the model when compared to the real one in the park," young Master Ratigan said. "Then I went in and began to sculpt it into the final shape and add in the finer details."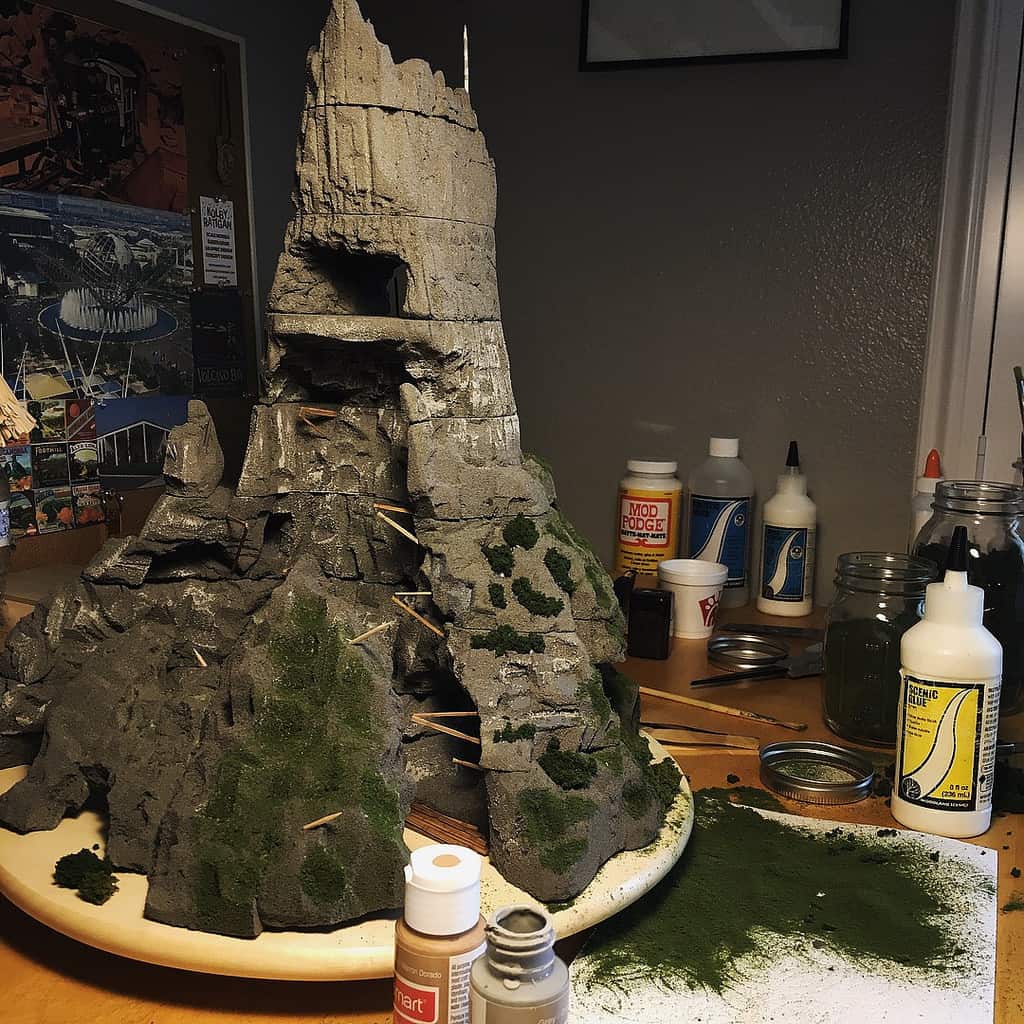 The next steps involved painting the mini-Krakatau and then installing the landscaping all around it, such as shrubbery, palm trees, and bamboo – each of which might not have been handcrafted, but each of which was nonetheless modified and adjusted for the model.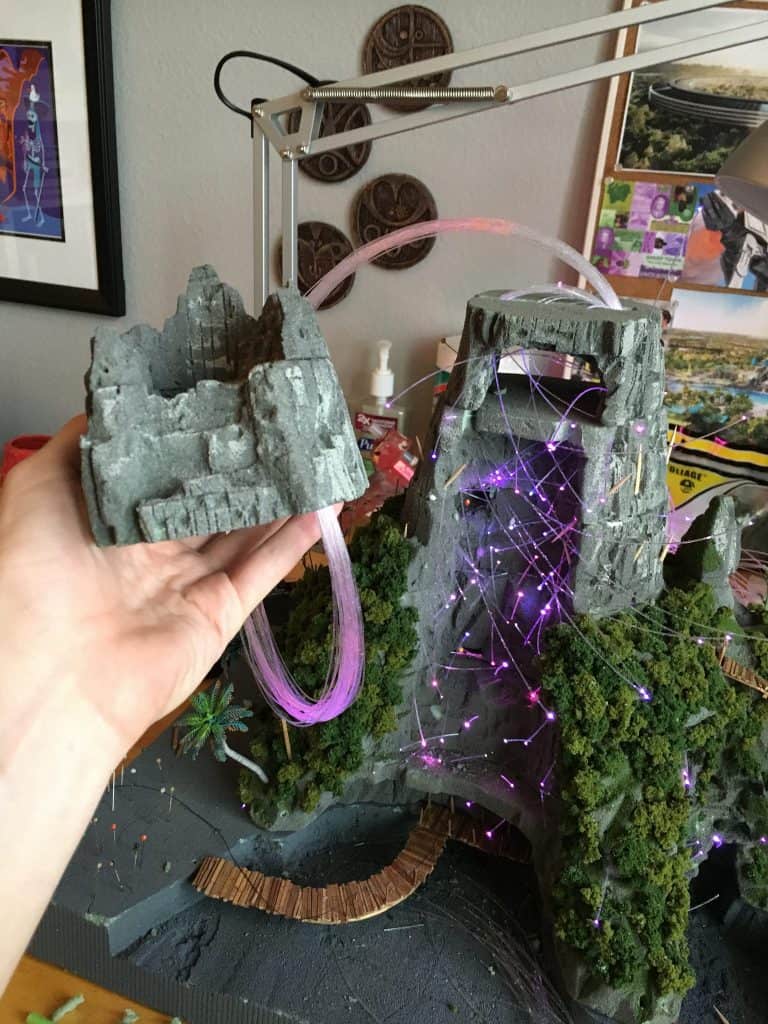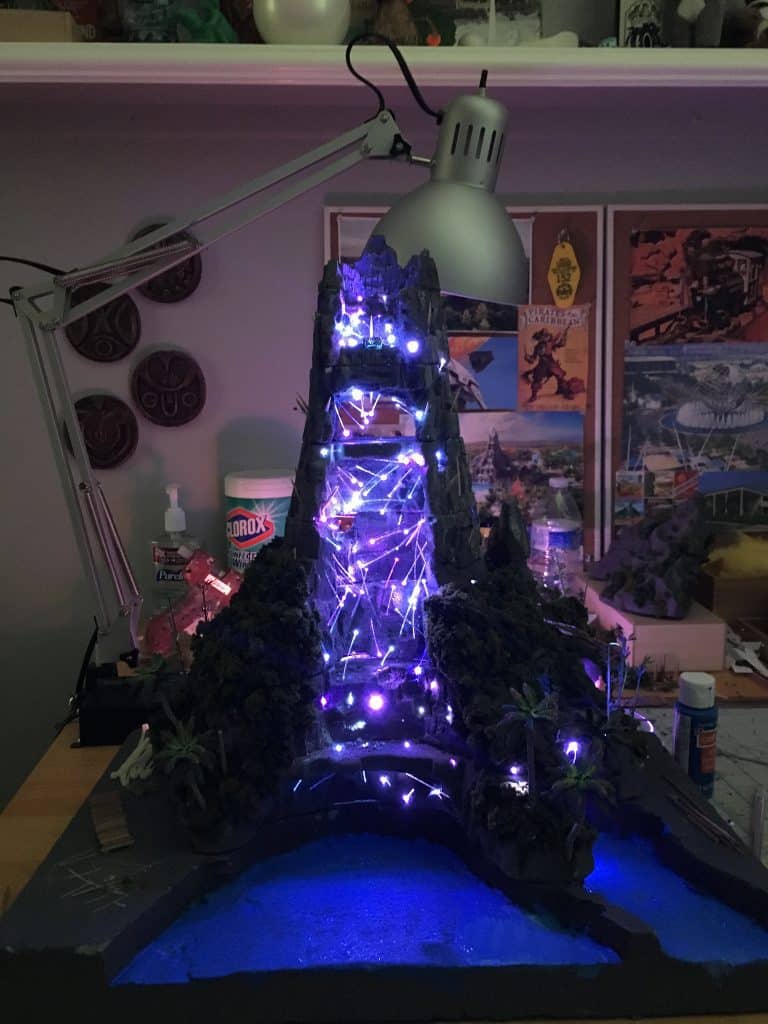 Once that was all complete, Kolby began the dissection process, taking each of the model's nine layers apart in order to start threading the fiber optics inside. "This was a very fun-and-yet-frustrating task," he said with no hint of understatement. "The fun part was threading them through the foam, but the not-so-fun part was the cable management that came with it." This very application, however, was one of the reasons that made Kolby want to tackle Volcano Bay's icon in the first place – it's good practice for other models that may come up in the future, whether they're similar passion projects or commissions from clients.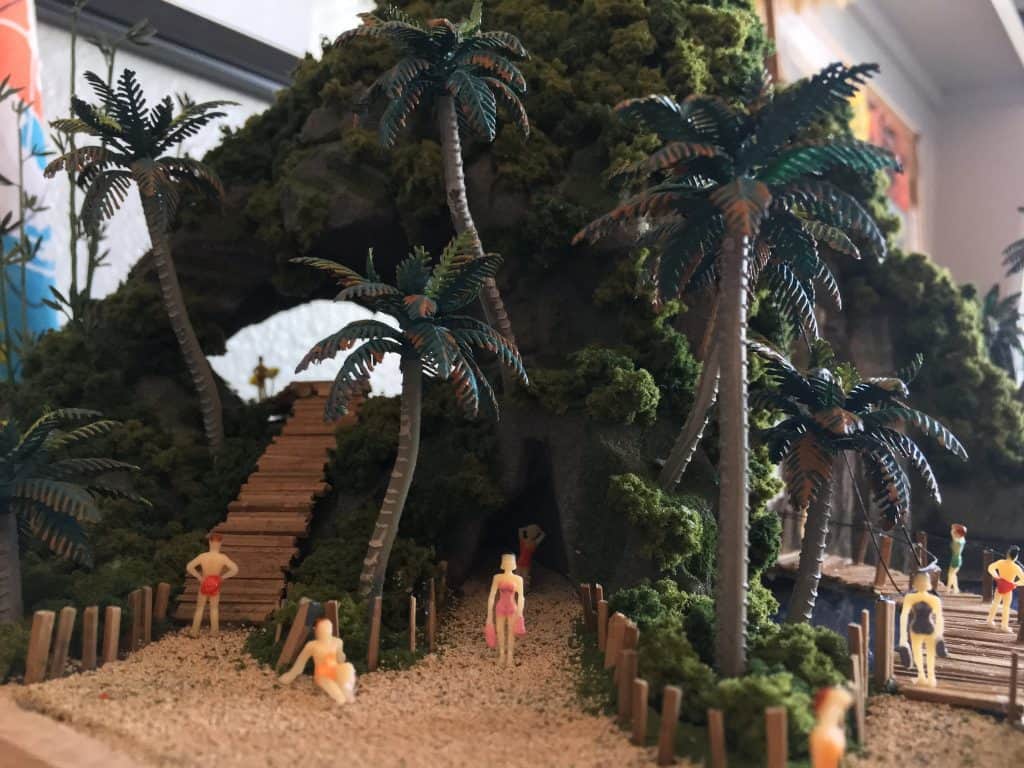 "Once I threaded the whole volcano, I had to trim the strands to be flush with the surface of the foam. Then it was time to install the walkways and waterslide on the front of the volcano. The final step was to add epoxy waterfalls and miniature park guests (some are even on the waterslides!)."
Once everything was said and done, the entire model took him about 31 days to complete, from the time the first elevations were sketched out to the final fun-loving mini-guests were installed. And while that is, indeed, a considerable chunk of time to invest into any one project, it's actually considerably shorter than what he initially thought it'd take – Kolby originally earmarked some three to four months to finish the Volcano Bay endeavor (partially due to school starting back up during this window).
So, why did it take so much shorter? "I think the build went faster because it was my most fun project to date!" he enthusiastically responded.
The finished product
The finished foot-and-a-half-tall Krakatau more than speaks for itself – so that's exactly what we're going to let it do just now: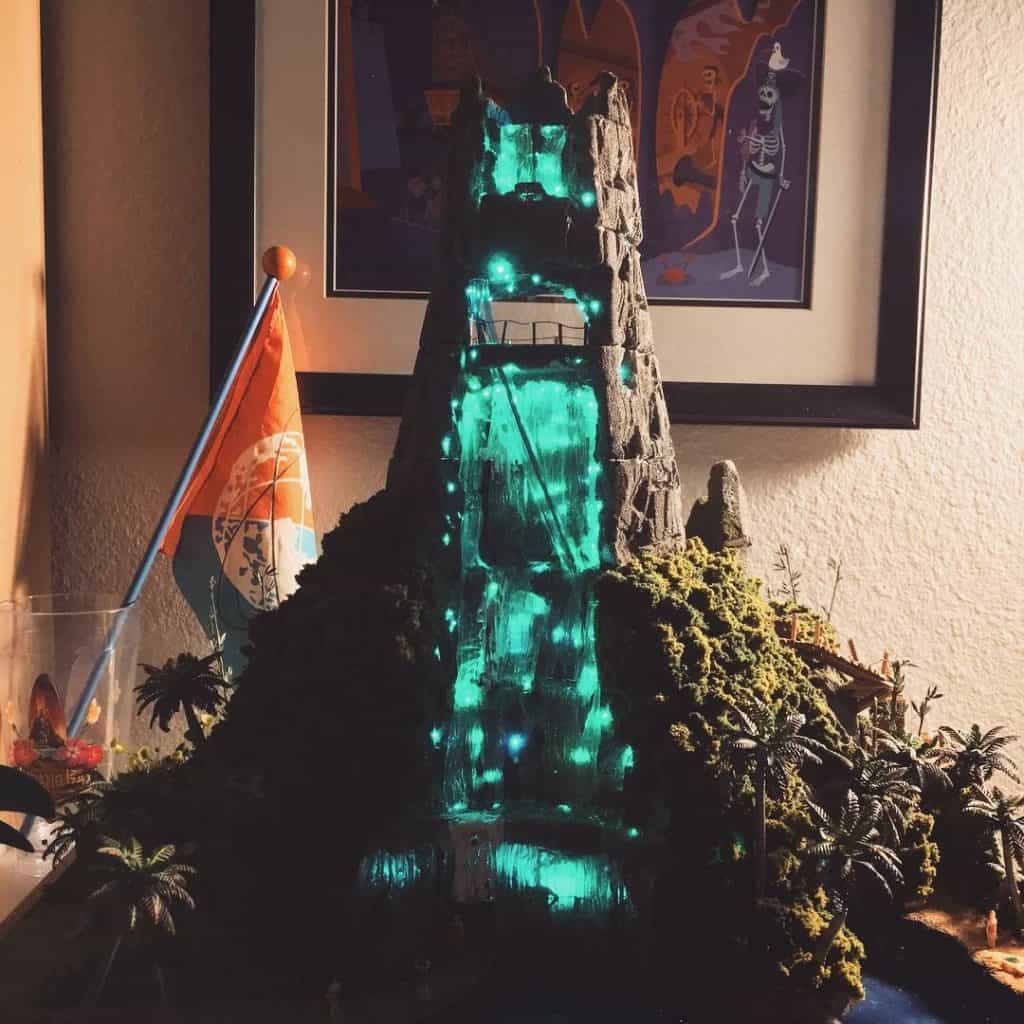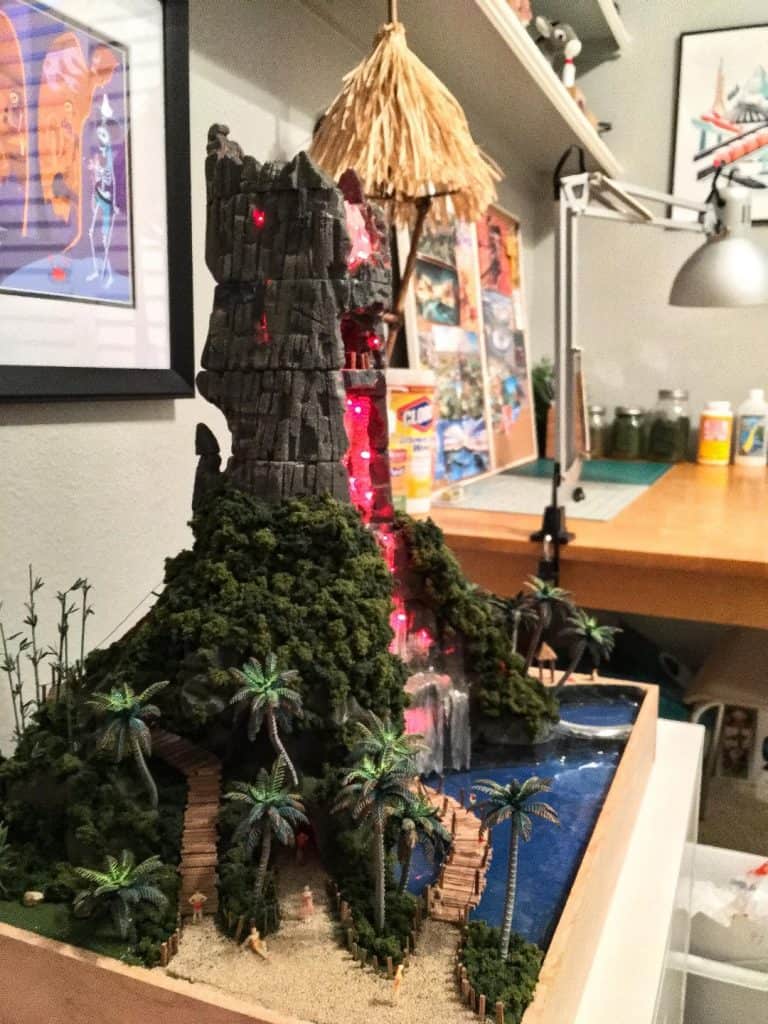 This little slice of Universal's water theme park now proudly resides in Kolby Ratigan's home office. Although there are a few other models already in there, this one is, by far, the one he's most proud of.
It's easy to see why.
–
Want an in-depth collection of Volcano Bay tips, tricks, and strategies? Check out our complete insider's guide.
Want more fun stories about Universal Orlando, Walt Disney World, and other Orlando attractions? Be sure to follow Orlando Informer on Facebook, Twitter, and Instagram.