Attendees of the '80s-themed Halloween Horror Nights last year got an unexpected treat: a scare zone based off of the 1988 cult classic Killer Klowns from Outer Space. Though not a particularly large zone, situated on the waterfront in the New York backlot, it was still jam-packed with a surprisingly large number of elements from the fan-favorite B-flick, including the full roster of the alien clowns themselves, their cotton-candy cocoons (which housed their human prey – and boasted authentic sickly-sweet smells), and the Terenzi brothers, along with their now-iconic ice cream truck.
Those fans old enough to remember the film when it originally came out were pleasantly surprised by the nostalgic trip down memory lane, and younger guests became taken by Killer Klowns's zany tone, striking visuals, and surprisingly-catchy soundtrack. Both sides clamored for more, and, luckily for us all, Universal has apparently listened – today, the company announced that a Killer Klowns from Outer Space haunted house is landing at this year's Horror Nights.
The transition from captivating scare zone to full-fledged house is actually one that has happened before, most recently just last year: Trick 'r Treat, another cult-favorite flick, first arrived as a zone in Central Park in 2017 before being given the full maze treatment in '18, using all of the costumes and props that had already been fabricated and greatly expanding upon them to include even more characters, set pieces, and, of course, scenes from the 2009 movie. Given Trick 'r Treat's limited cultural footprint – it may be a perennial favorite during Halloween every year, but it's by no means a Friday the 13th or Saw franchise juggernaut – there's no way that a haunt proper would've been devoted to the property without that intermediate step the year before.
It's precisely the same story with Killer Klowns from Outer Space, starting with the level of demand that was generated from the fanbase for more (and expanded) content to the amount of material that has already been assembled: the authentic, film-perfect makeups and costumes are already on hand, as are a number of the props that can be recycled into the full haunted house. And again just as with Trick 'r Treat, there is more than enough scenes to finish filling out the maze experience – from the forest at the beginning of the movie, where the alien clowns' big top-shaped spaceship lands, to the police department (particularly after the Killer Klowns invade it, resulting in crazy strings of footprints leading literally all over the building), to the inside of the spaceship itself, with its bizarre set design, the haunt practically designs itself.
And then there are the individual moments! The shadow puppet set piece, in which the alien creatures recreate George Washington crossing the Delaware before having a shadow creature swallow up the delighted human spectators, would make for an unbelievable effect in one room; in another, seeing the puppet made out of the cadaver of police sergeant Curtis Mooney would be even more breathtaking. And that's not even mentioning the popcorn shower scene, or the circus parade down Crescent Cove's main street, or – but of course – the climatic battle against Jojo the Klownzilla, the 18-foot-tall leader of the Klowns. Indeed, it's easy to see how this house could potentially be one for the HHN history books.
In fact, we already know that at least a few of these elements will be making their way into the house: as guests make their way from the "doomed community" of Crescent Cove to an "eerie" amusement park closed for the season, they'll encounter the baby Klowns, Boco, Jojo, the circus-tent UFO, and the cotton-candy cocoon storage room aboard it (along with such wonderful scents as stale, buttery popcorn, ice cream, and – you guessed it! – cotton candy).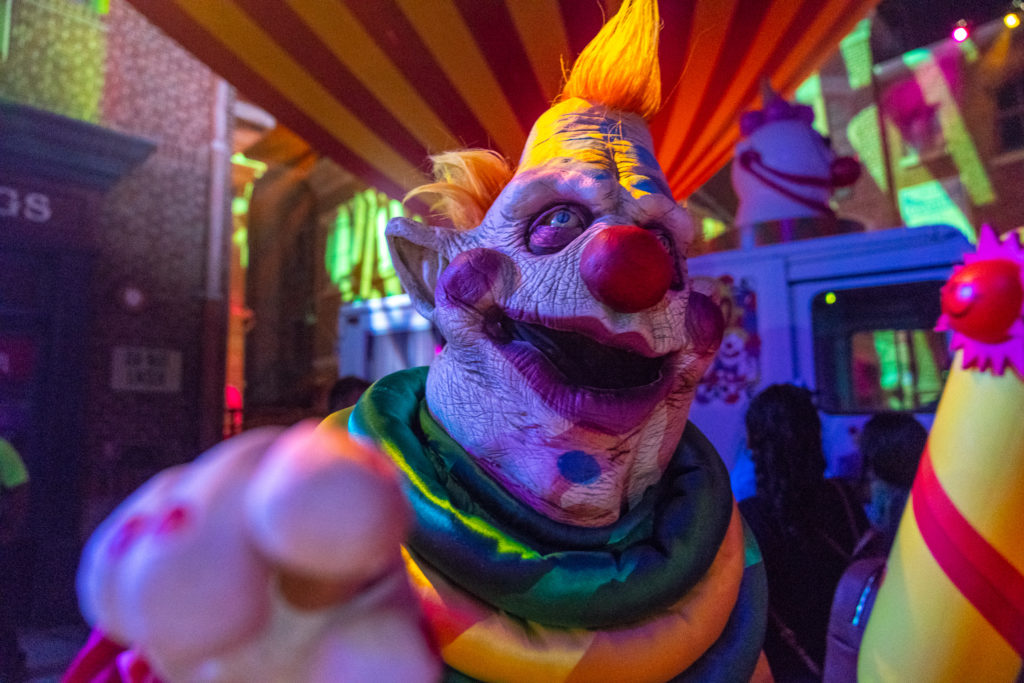 But maybe we should back up for a moment and get into just what, exactly, the 31-year-old movie is all about. We actually did a brief-but-thorough job recapping the property's history, from its original release to its recent flurry of activity (from action-figure reissues to talk of a follow-up production called Return of the Killer Klowns from Outer Space in 3D) in our original write-up from last year, when the scare zone was first announced. Get your clown fill from that for now before getting ready to tuck in for the main feast this fall.
Killer Klowns from Outer Space will join Stranger Things, Nightingales: Blood Pit, Universal Monsters, Depths of Fear, Yeti: Terror of the Yukon, and Ghostbusters at Universal Orlando's Halloween Horror Nights, which runs for a record-breaking 41 select nights, from Friday, September 6 to Saturday, November 2.
–
Find out everything you ever wanted to know about HHN – plus more! – in our insider's guide. And then discuss it all with 60,000 other Halloween die-hard fans in our OI Community Facebook group.
And be sure to follow Orlando Informer on Facebook, Twitter, and Instagram for the latest news and tips at Universal Orlando, Walt Disney World, and other Orlando experiences.