Besides being the land of exciting theme parks, Orlando has another big thrill in its offerings: outer space.
Central Florida's Space Coast has beautiful beaches and access to an incredible visitors' complex, the Kennedy Space Center. With rocket launches happening practically every month, and a renewed excitement in space exploration, there is a lot to do here. Read on for important tips and information about planning your future visit.
(Please note that Kennedy may not be fully up to operational standards, thanks to the COVID-19 pandemic. Be sure to check with them directly first, and if they're not fully open, bookmark this article and read up again before your next outing.)
Exhibits and attractions at Kennedy Space Center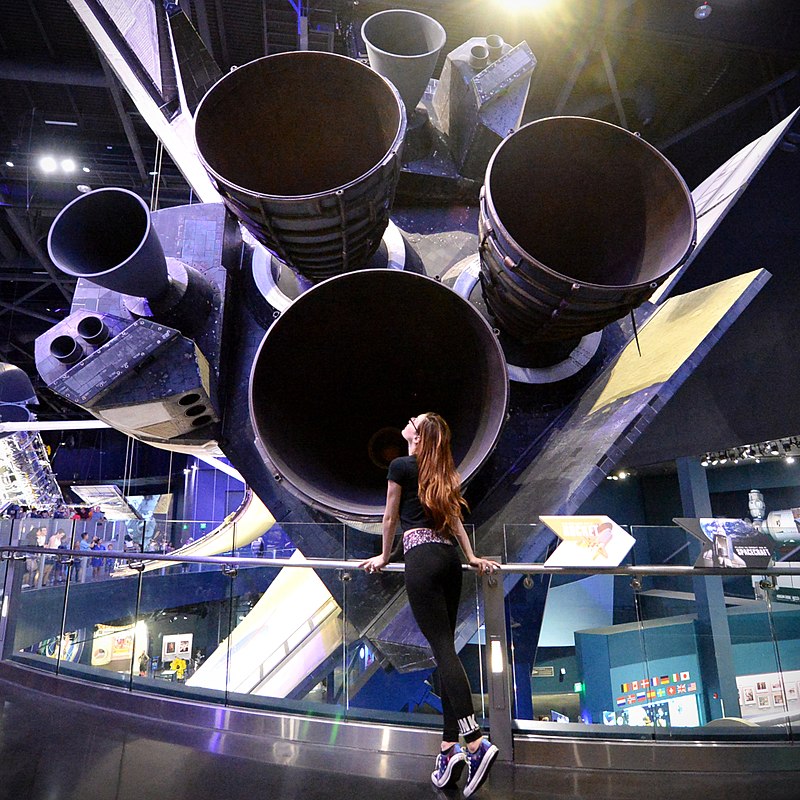 The Kennedy Space Center is more than a museum – there is a number of interactive experiences to encounter here, as well. Some of these activities are very hands-on; others consist of historical artifacts from the space program, such as space suits, equipment, and actual spacecraft.
One of my favorite attractions is Apollo/Saturn V Center: Race to the Moon, which has multiple exhibits. You start off with a short film and then enter the Firing Room Theater, where you see actual consoles that were used to launch the Apollo 8 mission to orbit the moon. In a dramatic presentation, you'll experience first-hand the thrill and excitement of being in the firing room during an attempted take-off. Afterwards, you get an incredible up-close look at the actual Saturn V rocket (every human being who stepped foot on the moon launched from Kennedy Space Center atop a Saturn V). The rocket is on its side, elevated above the ground so you can walk under it and marvel at its mass.
An absolute must-do is the Space Shuttle Atlantis Zone – besides the bus tour (which we will get to in a short bit), the Atlantis attraction is my favorite at Kennedy. As you approach the towering building, you'll see a large replica of a space shuttle, and once inside, you will view a captivating film, which gives way to jaw-dropping exhibits.
The most incredible part of this zone, of course, is the chance to see the Atlantis itself in person. The designers here did an incredible job at presenting the shuttle in a way that makes it both accessible and regal. (The space shuttle program has a huge place in my heart – I was fortunate enough to have grown up in Orlando during its heyday, and standing outside or driving to the beach to see a launch was as regular as going to see a neighborhood friend.)
Also in this Space Shuttle Zone, you can learn about the incredible Hubble telescope – NASA's first space-exploration satellite and the basis of much of our modern knowledge about the final frontier – and experience the rush of a launch firsthand thanks to the Space Shuttle Launch Experience. This is a thrilling ride that was designed with the input of real astronauts and engineers in order to provide the authentic feeling of force (and just a touch of weightlessness).
Do not leave this area without paying a visit to the Forever Remembered exhibit. This solemn-but-uplifting section honors the fallen astronauts of the space shuttles Challenger and Columbia – it took my breath away and brought tears to my eyes. Growing up in Orlando, I remember both of these tragedies vividly, and I'm impressed at the tasteful and educational way they're presented here.
Outdoor activities at Kennedy Space Center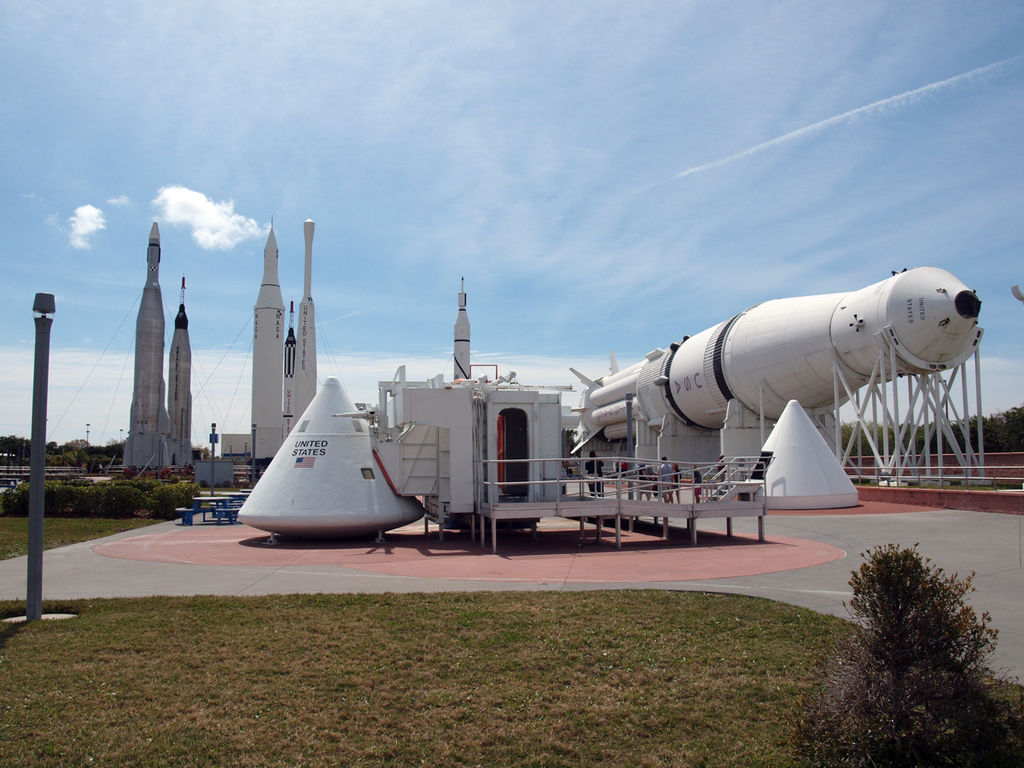 Most of the experiences at the Kennedy Space Center are indoors; however, there are a few ways to enjoy the sunshine while exploring the fascinating universe of outer space. One of the most photographed areas at the visitors' complex is the Rocket Garden, where you walk among actual spaceships. The rockets of the Mercury, Gemini, and Apollo programs are represented here. Be sure to take the time to read the plaques and information as you stroll and take photos among these giants.
It may be obvious, but Kennedy Space Center is named in honor of President John F. Kennedy. (It was entitled such in 1963 as the president inspired the country to head to the moon.) Don't miss the beautiful fountain in his honor – or the Historic Countdown Clock, an iconic sight as millions watched rocket and space shuttle launches. After it was replaced by a newer version, it was retired and given a home here.
A relatively new addition is the "Step. Power. Launch." walkway, which is made of special tiles that generate power when you step on them. This is done via Piezoelectric technology that was developed by the Georgia Tech Research Institute.
Bus tour at Kennedy Space Center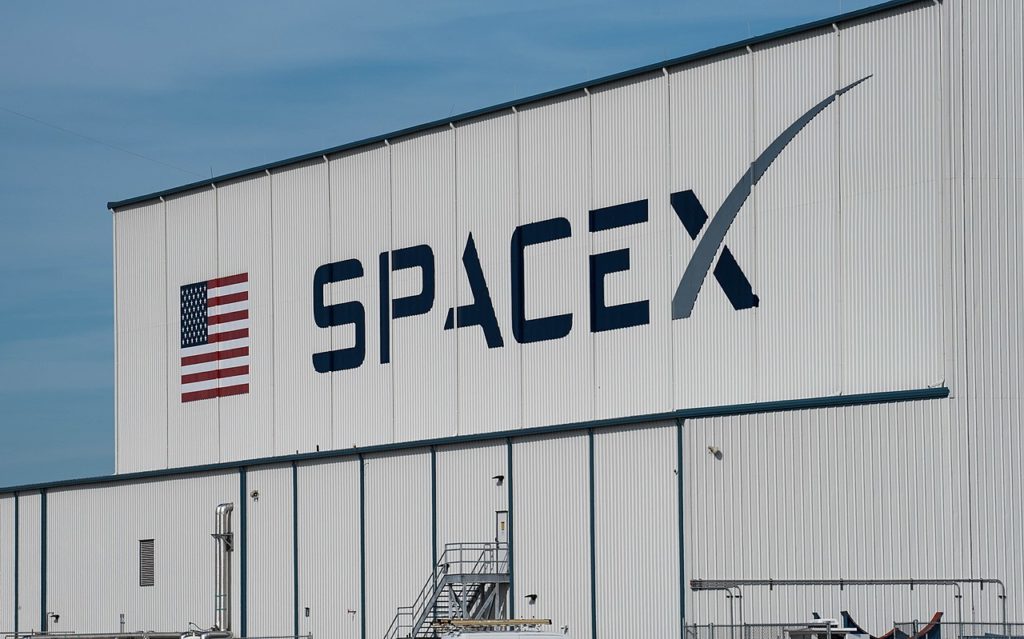 One of the main highlights of visiting Kennedy Space Center is embarking on the bus tour. This experience is included in daily admission, even though it feels like a VIP tour. It'll take you to historic sites of past launches as well as operational spaceflight facilities, replete with a live tour guide. You will make a few stops, and you are welcome to linger at each one for as long as you wish.
This is also how you access the Apollo/Saturn V Center. Many visitors decide to eat lunch here, since there's a food court with both indoor and outdoor seating. Another highlight of the bus tour, though, is going past a nature preserve, where you may spot some of Florida's incredible wildlife, like bald eagles and, of course, alligators.
Those looking to enhance their visit and get into deep space should consider an upgraded tour:
Explore Tour – this is a great choice for those who do not want to get too deep or stray too far from the regular Kennedy experience but still enhance their visit. You'll get access to photo opportunities that others do not and get a closer view of some of the spaceflight icons.
Early Space Tour – if you're a history buff, then you'll definitely want to consider this one. You'll get to visit the place where America's space program was born, Cape Canaveral Air Force Station.
Cape Canaveral's Rise to Space Tour – for some additional historic sites (with a mix of Florida's natural beauty), opt for this tour. You'll get to see Cape Canaveral Air Force Station, the Sands Space History Center, and the Cape Canaveral Lighthouse.
Fly with an Astronaut – on this special experience, you'll tour Kennedy Space Center, have lunch, and then ride the Shuttle Launch Experience with an astronaut, who stays by your side the entire time.
How far is Kennedy Space Center from Orlando?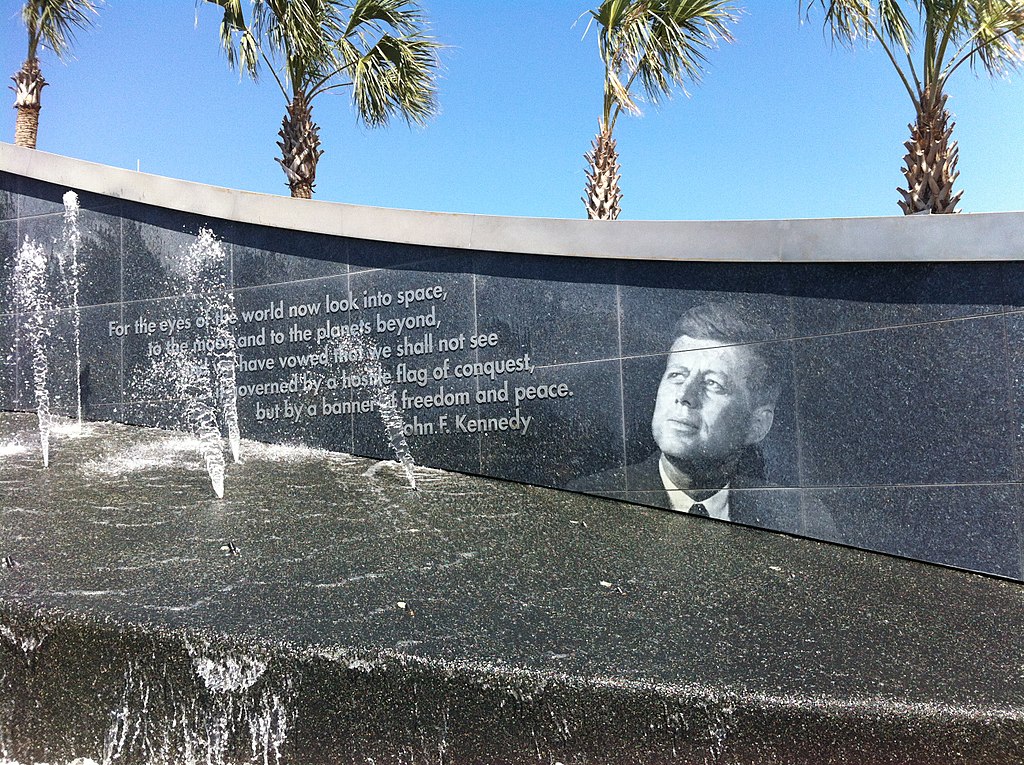 Kennedy Space Center is located on Merritt Island in Florida. It is so large and encompassing that Kennedy has its own ZIP code! Merritt Island is near famous Cocoa Beach, which is also the closest beach to Orlando. Additionally, Titusville is near the complex and is a charming town full of history and connections to the space program – if you're looking for a side trip while in the area, I recommend a stop at historic downtown Titusville.
There is a toll road, 528, that connects Orlando to Cocoa Beach, Merritt Island, and Port Canaveral. While this "Beach Line" does cost about $5 roundtrip, it will get you to Cocoa Beach or Kennedy Space Center in just about an hour.
Tips and information about Kennedy Space Center
Besides the attractions and activities I've mentioned, there are also IMAX movies and a chance to meet an astronaut each day (there's at least one present, and he may conduct a short presentation, answer questions, or do a meet-and-greet).
There are three casual dining locations. Each offers vegetarian and gluten-free choices besides a menu of lunchtime favorites.
One of the unique features here is the presence of a free on-site kennel! Be sure to read up on the requirements before your visit.
There is a fee for parking, which, at the time of publication, is $10 for cars and $5 for motorcycles.
Small personal coolers are allowed if you wish to bring your own food. (All items are subject to security search.)
There is a lot to explore, and you can easily spend your entire day here, so dress comfortably, and enjoy!
---
Share your own favorite exhibits or memories at Kennedy Space Center with 100,000+ other theme-park fans in our Orlando Informer Community on Facebook.
And be sure to follow Orlando Informer on Facebook, Twitter, and Instagram for the latest news and tips at Universal Orlando, Walt Disney World, and other Orlando destinations.