After nearly four months of testing (yes, it was only the beginning of November when we first started to see the coaster car zooming up and down the massive track), the Jurassic World VelociCoaster has taken the next step in its developmental process: running with real, live, breathing passengers for one of the very first times.
Beyond being a necessary component of preparatory work – each and every theme-park attraction is required to log a certain number of hours or complete circuits before it can have its official debut to the general public – the afternoon's addition of riders serves another purpose: the opportunity to gather media of individuals on the roller coaster, presumably for future promotional needs or for official media that has to do with the VelociCoaster itself, such as in-queue footage that accompanies safety spiels (some of our favorite examples of this can be seen before boarding Harry Potter and the Escape from Gringotts and, but of course, Revenge of the Mummy). How do we know that today's excitement was at least partially for filming purposes? Easy – the telltale signs (literally) accompanied the day's proceedings, with warnings of a "hot set" being placed right across from the attraction, near Raptor Encounter. This would help explain why some test runs feature guests with masks while others don't.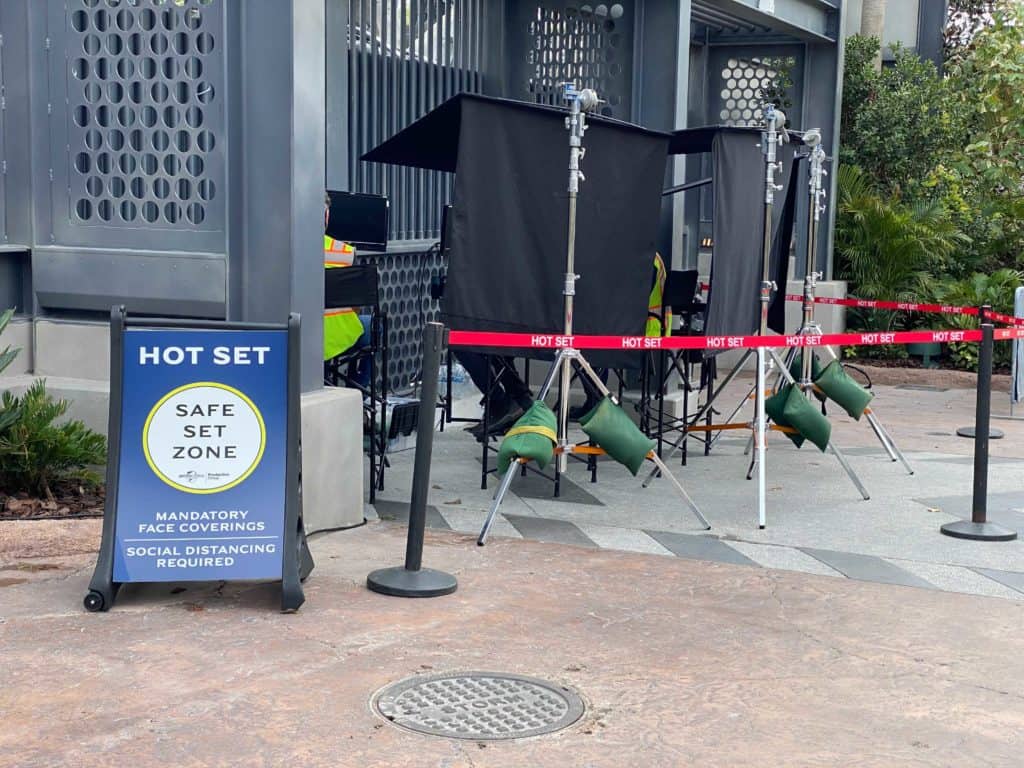 The breakneck pace of progress on Jurassic Park's newest experience truly is something to marvel at – just two days ago, we saw four velociraptor statues being installed over both the ride's entrance and the path that leads to its queue. And, on Sunday, we noticed that the land's iconic large trees made their long-awaited a return – a small detail, to be sure, but an important one, nonetheless, and one that should be made all the more welcome once we're making our way up VelociCoaster's 155-foot-tall hill. (It is a giant collection of such specific touches, after all, that helps to make The Wizarding World of Harry Potter the immersive wonderland that it is.)
(We would be remiss if we didn't point out that today's exciting development arrived only two weeks after the attraction first turned on its ride-vehicle lighting, which is yet another small detail that makes quite a dramatic impact on the overall experience, both while riding and while watching it.)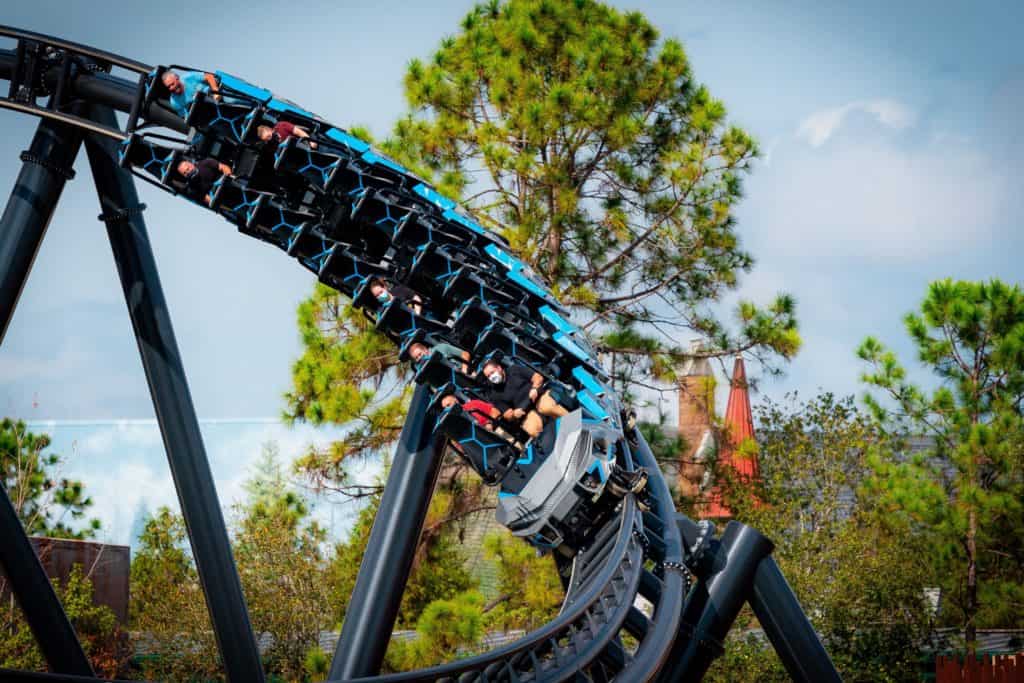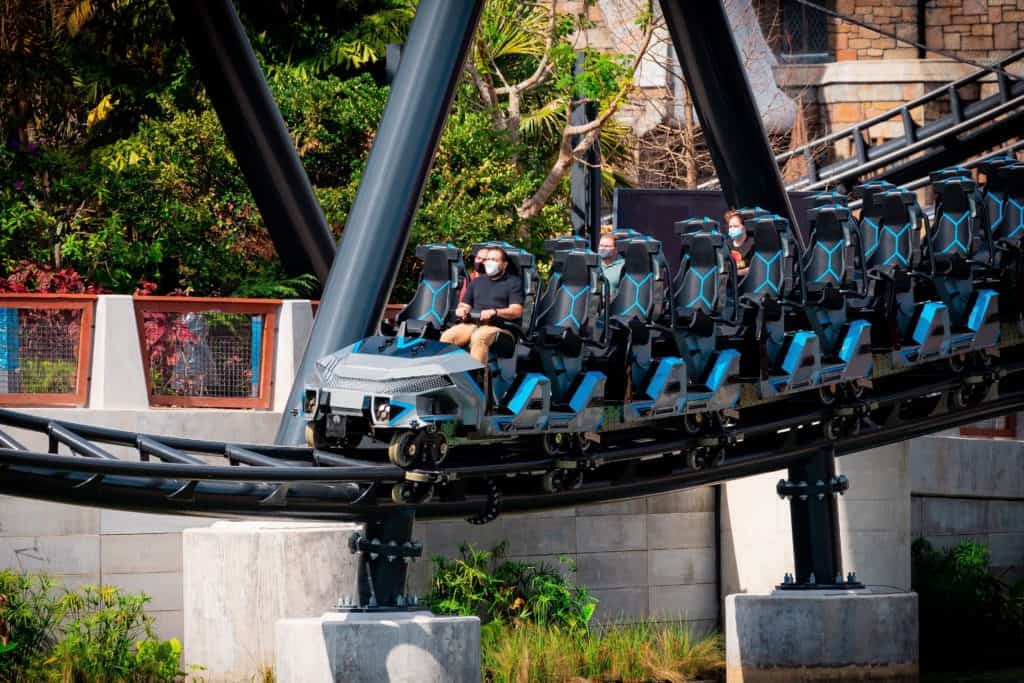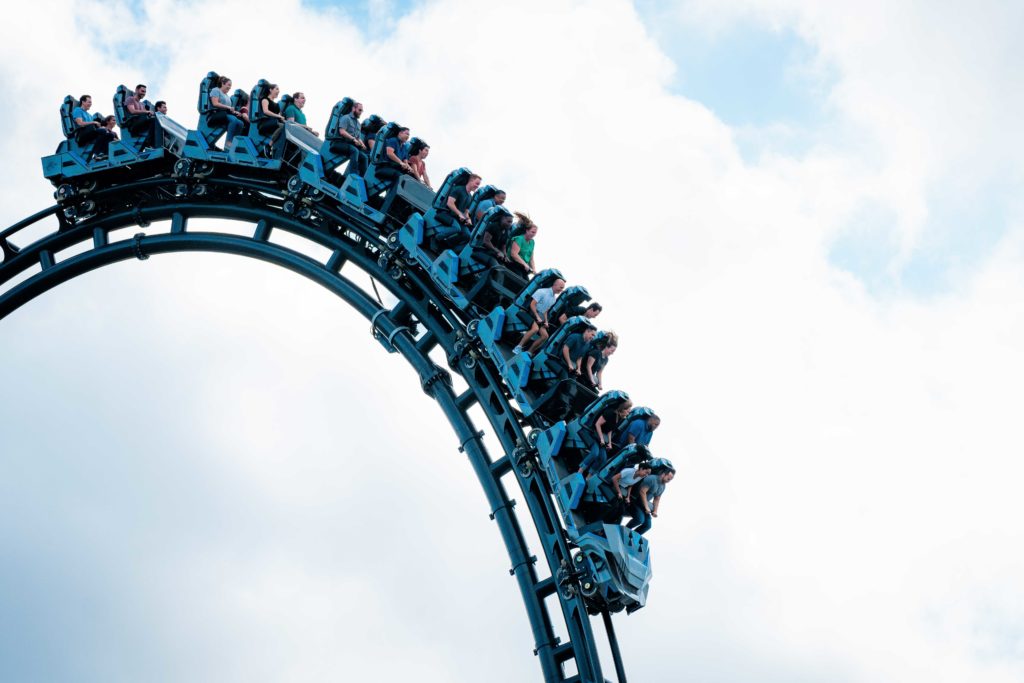 One might assume that live testing would signal the (perhaps imminent) arrival of soft openings – that is, a "technical rehearsal" period wherein Universal's designers, engineers, and team members get practice operating and maintaining the ride while handling guests. There is, however, still a lot of construction that needs to be completed before soft openings begin, and, furthermore, it needs to be pointed out that some softs materialize a lot sooner than others, depending upon the particularities of the attraction in question. (This might be a good time to also remind everyone that Universal never, ever officially announces when technical rehearsals may start – and that, moreover, they're never a guarantee.)
The Jurassic World VelociCoaster is scheduled to open sometime this summer, a timeframe which seems to be reinforced by the past three days' worth of exciting developments.
---
Have thoughts on VelociCoaster, specifically, or Universal's behind-the-scenes videos, more generally? Share them with 110,000+ other die-hard Universal fanatics in our Orlando Informer Community on Facebook.
And be sure to follow Orlando Informer on Facebook, Twitter, and Instagram for the latest news, tips, and rumors at Universal Orlando, Walt Disney World, and other Orlando attractions.