UPDATE (10:33 am, 04.30): Universal just released even more details about its new roller coaster's queue experience. We've sprinkled these tidbits all throughout the article below.
---
During yesterday's big announcement, revealing the opening date of Jurassic World VelociCoaster at long last, Universal did more than just give legions of excited fans the country over a date to circle on the calendar – it also lifted the curtain a bit more on the massive roller coaster's story. These narrative tidbits, once lined up together in the right order, paint a pretty good – even if still incomplete – picture of what the overarching Jurassic World experience will consist of, starting with the ride's queue and progressing to its rip-roaring adventure across its 4,700 feet of track.
Here's everything we know, then, put in chronological order – and while it all has been provided by Universal itself, we understand that some might still consider the following account spoilery. If you'd prefer to hop into that "revolutionary" ride vehicle completely fresh, please make sure to duck out now.
For everyone else, strap in and hold on to your butts.
What happens in Jurassic World VelociCoaster's queue?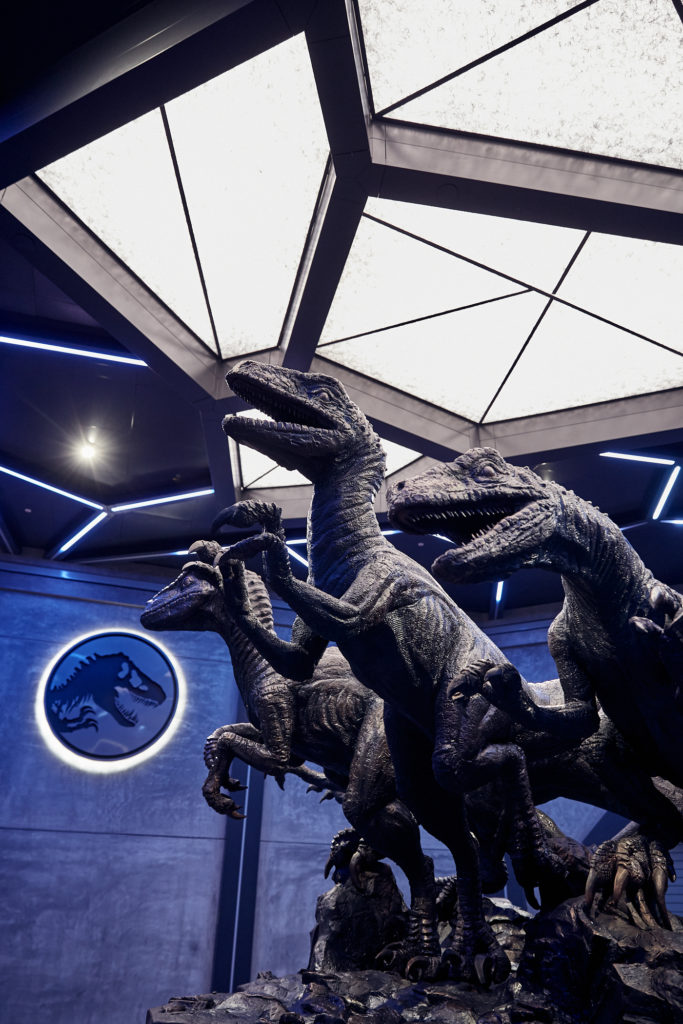 You as a guest to Islands of Adventure, a real theme park, are being transformed into a guest of Jurassic World, the fictitious park, presumably as seen before the events of the Jurassic World trilogy kicks off (events which, of course, entail the utter destruction of the dinosaur preserve). Claire Dearing (played by Bryce Dallas Howard in the films [and in Universal's themed attractions]) comes up with the idea of doing a completely safe and completely immersive attraction that'll allow visitors to race right alongside a pack of velociraptors, much in the same way that a shark cage allows divers to swim alongside those beautiful-but-deadly creatures. VelociCoaster, as such, can be seen as a type of spiritual sister to the Indominus rex, the headline-grabbing genetically engineered dino – they're both new additions that are meant to reinvigorate consumer (as well as investor) interest in the flailing park.
Once in the queue, you are actually greeted by Claire, Jurassic World's operations manager, who lays out the experience that is about to unfold. Following her is none other than Owen Grady (Chris Pratt), the animal behavioral specialist who's trained the pack of raptors that you're about to race with – Echo, Delta, Charlie, and, of course, Blue. He admonishes you to adopt a state of constant vigilance, as he's wont to do whenever humans and dinosaurs are about to intermingle, but then he's replaced by yet another film alumnus: Dr. Henry Wu (BD Wong), the park's chief genetic engineer, who dishes on the cutting-edge science behind the impending raptor romp.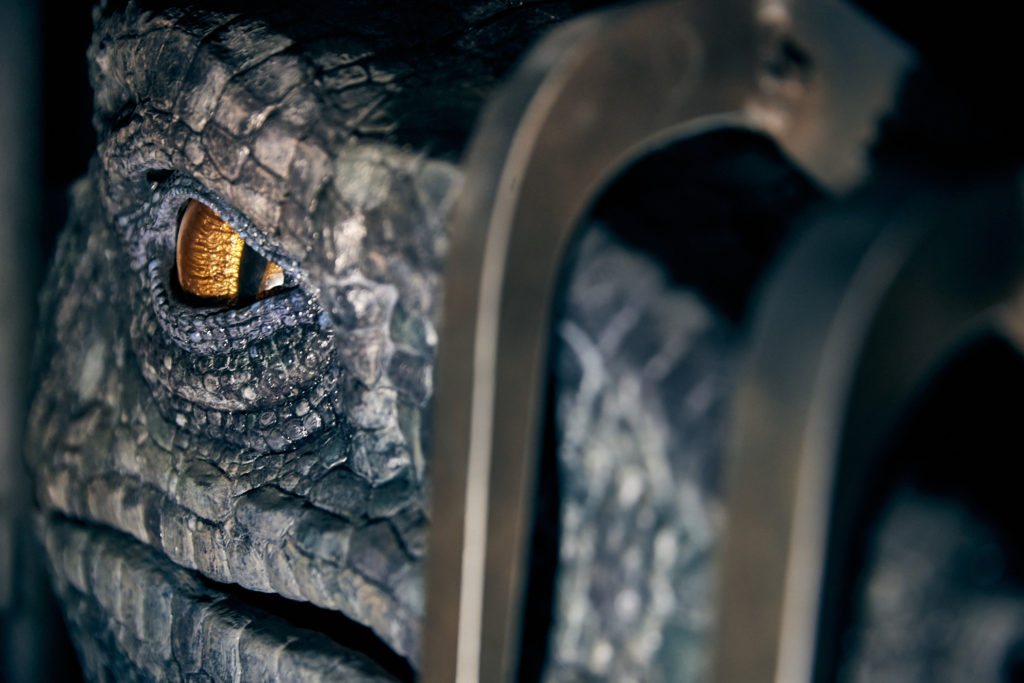 Above and beyond the movie-star appearances, the queue also contains two unique-sounding moments. First up, in a move that is reminiscent of watching the ride vehicles trek by while waiting in line at Skull Island: Reign of Kong, you will get the opportunity to watch real-life riders shoot past you at 70 mph on the coaster, along with the raptors that they are racing against (who appear as a digital effect, chasing after the actual coaster car). This easily sounds like it'll be a hallmark of the attraction.
Then, you'll be able to enter the stables, where some themed scents – wet dirt and vegetation from the nearby raptor paddock – intermingle with two "hungry" velociraptor animatronics. More specifically, these two are Delta and Echo, who are muzzled and anxiously awaiting the big race against you, occasionally "testing the limits of the grooming stations currently restraining them." It's an encounter that looks like something truly special, with the dinosaurs' lifelike movements and, even, blasts of breath.
Once the line ends and deposits you at the load station, you'll get one last reassurance from Claire and one final warning from Owen – and then it'll be your turn to climb aboard the coaster car and launch off into the dino duel, past all those waiting passengers back in line.
What happens during Jurassic World VelociCoaster's ride experience?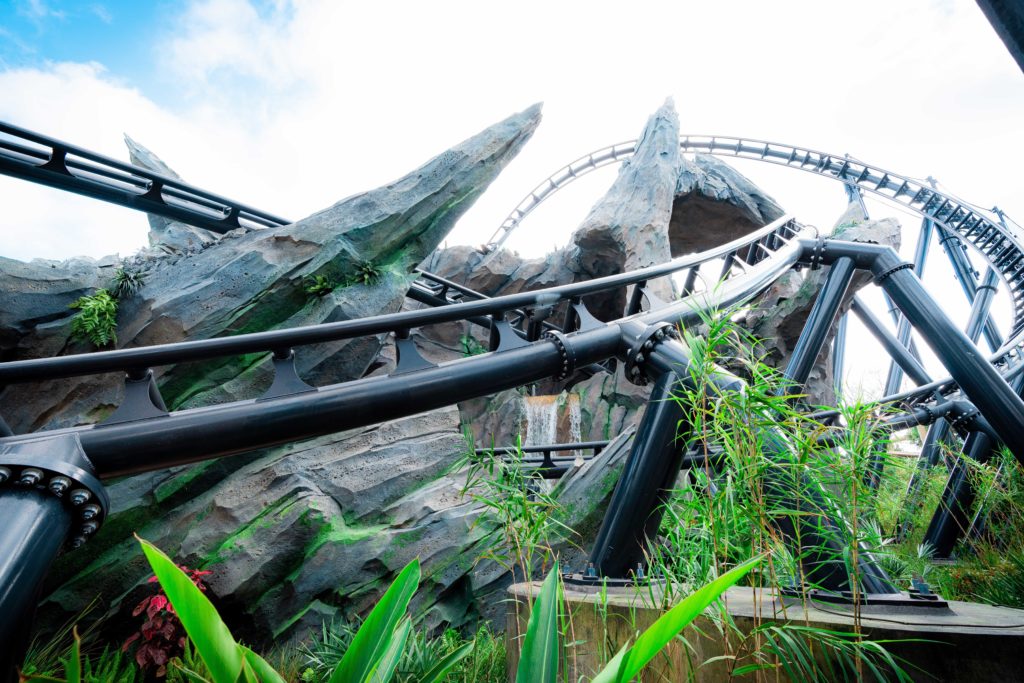 Let's ignore all the nuts-and-bolts mechanics of Jurassic World VelociCoaster's actual ride experience – all those inversions and 80-degree drops and 12 seconds of airtime – and concentrate instead on the narrative that pins them all together. And in order to do this, let's first invoke another Jurassic attraction at Universal Orlando: on Jurassic Park River Adventure, what starts off as a leisurely aquatic tour through that park quickly transforms into a dangerous trek through an off-limits section, one that has suddenly found itself positively crawling with rampaging dinosaurs. Guests are only just able to avoid a disastrous confrontation with Tyrannosaurus rex before plunging down an 85-foot watery escape.
That same general structure is being applied to VelociCoaster. The first portion of the ride is exactly as advertised, with guests zipping all throughout the raptor paddock in their race against its titular inhabitants. This section's track is still filled with twists and turns, but they're mostly down low by the ground, and they're meant to give passengers the chance – well, in theory, at least – to appreciate the highly detailed theming of this area, the intricate rockwork and the watchtower with its searching spotlight at nighttime. (Yes, this means that Islands of Adventure will have yet another must-do-at-night ride, right alongside Hagrid's Magical Creatures Motorbike Adventure.)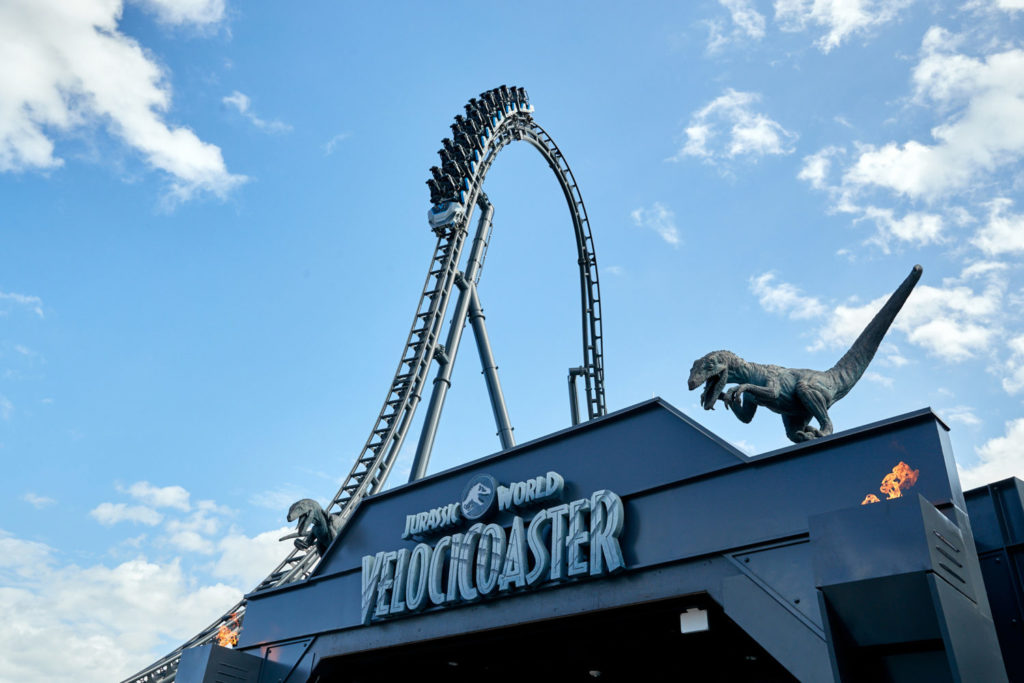 But then, at some unknown point during the "extreme adventure," the raptors manage to break free, and what was once a safe excursion alongside the animals becomes a desperate escape from them. There will be several near-misses with the critters within the paddock – which, in turn, leads to even more near-misses with that now-imposing rockwork – before you're able to finally break free from the area, approximately halfway through the ride. That's when the second, 70-mph launch comes into play, shooting you up the 150-foot-tall "top hat" hill – Universal has long been touting VelociCoaster as a "hybrid" of two different types of coasters, and this is why. From here on out, there will be a near-nonstop series of high-thrill experiences, which will perhaps be highlighted by the so-called mosasaurus roll, a 360-degree barrel-roll inversion just above the Islands of Adventure lagoon that's named after the first Jurassic World's iconic scene. Amplifying the death-defying nature of this second part of the experience is the ride vehicles themselves, which don't feature over-the-shoulder restraints and which were purposely designed so that the vast majority of passengers' feet won't touch the floor. Vulnerability is the name of the game here, as if you truly were the prey on a sudden hunt.
Here's to hoping you can dodge the raptors and survive the experience – so you can do it all over again, naturally.
---
What do you think of VelociCoaster's story? Compare thoughts – and excitement levels – with 120,000+ other Universal fans in our Orlando Informer Community on Facebook.
And be sure to follow Orlando Informer on Facebook, Twitter, and Instagram for the latest news and tips at Universal Orlando, Walt Disney World, and other Orlando destinations.