Yes, Jurassic World VelociCoaster may be the only major attraction opening planned for this year at Universal Orlando Resort, but it would still command a lot of our attention, regardless, given its massive hill, impressive theming, and large stretches of track over the Islands of Adventure lagoon. Indeed, even its progress along this final stretch of its development process has been dominating a lot of our attention as of late, what with its first construction walls coming down, its lighting package being tested out (it really is pretty, making rides at night a must-do – just like the park's other recent mega-roller coaster, Hagrid's Magical Creatures Motorbike Adventure), and real passengers getting filmed as they took a spin on the ride.
But, today, the soon-to-open attraction exploded in our collective consciousness in a whole new way: we got to see the insides of the experience for the very first time.
Let us explain. The whole story behind VelociCoaster, if you need a quick refresher, is that guests will set foot in the fictitious Jurassic World theme park and embark on its newest undertaking, a race with a pack of velociraptors through their paddock. (Don't worry – much like divers who swim with sharks, there are precautions set in place to protect you from the beautiful-but-deadly creatures.) This raptor paddock has remained hidden from view over the past two years of the coaster's construction, despite those previously mentioned walls having been taken down, thanks to other, conveniently placed barriers – until just this morning, that is.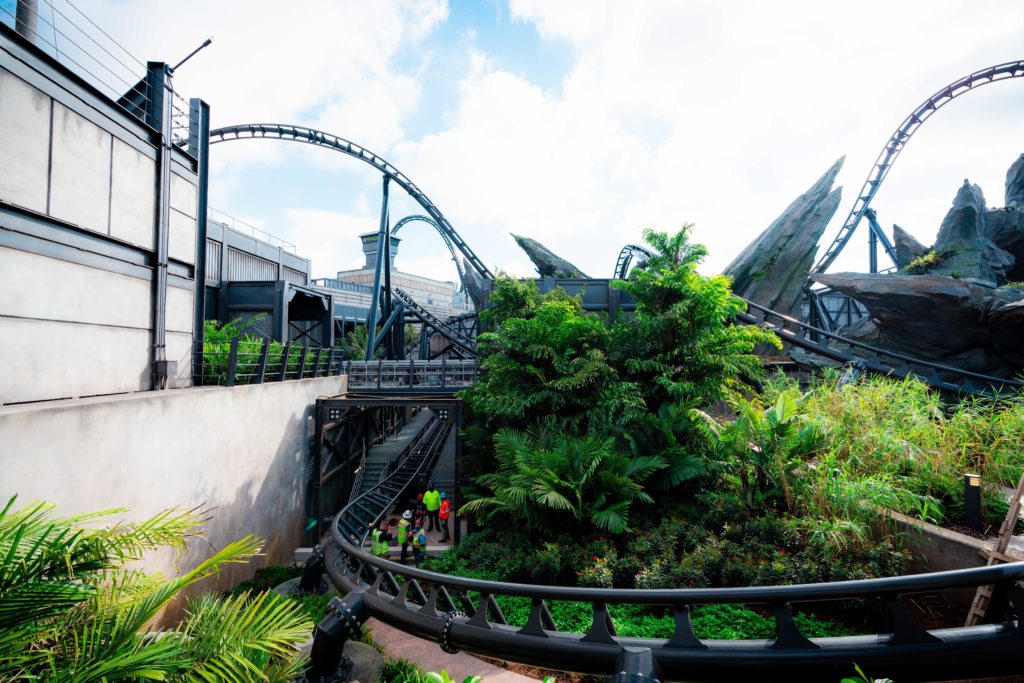 The new, complete sight that has just been revealed is, not to put too fine of a point on it, a stunning one. We already knew, of course, that the rockwork in this particular section of the ride was detailed and lifelike, but the extent to which the whole panorama inside of the attraction is immersive is nothing short of unbelievable. Yes, you'll be shooting through this portion of the track at speeds of up to 70 mph, but that doesn't take away from the overall effect the landscape will still leave on you – nor does it even take into account the spectacular views that visitors in other parts of Islands of Adventure will be afforded when they stop for a moment and look out across the lagoon. VelociCoaster truly is going to leave quite the dramatic imprint on the park.
With this milestone having been hit, what's next for the massive roller coaster? While we can't be fully certain, it looks like most of its construction has been complete on the exterior, leaving behind, perhaps, some interior work – and, of course, even more testing, making sure the trains cycle through the track the requisite number of times (a necessary safety step before the ride is able to be open to the public). If this attraction should follow all of its recent predecessors at Universal Orlando, there's also the possibility that we'll see technical rehearsals, when the team members get practice operating VelociCoaster, using those guests who are lucky enough to be in the area during that particular period of time.
Jurassic World VelociCoaster is scheduled to open sometime this summer.
---
How much more excited are you to ride VelociCoaster after taking in these glorious views? Compare notes – and excitement levels – with 120,000+ other theme-park fans in our Orlando Informer Community on Facebook.
And be sure to follow Orlando Informer on Facebook, Twitter, and Instagram for the latest news and tips at Universal Orlando, Walt Disney World, and other Orlando destinations.