Ever since Universal made the Jurassic World VelociCoaster official two short months ago, the roller coaster has been on something of a tear, hitting one construction or engineering milestone after another at an almost breakneck speed. Bright and early this morning, it has struck yet another, one that is visually exciting and a sure reminder that summer 2021 isn't actually that far away.
Let's do a quick recap first, though, before we do get to the latest pictures and hype. Everything kicked off on September 25, 2020, when we got the first ride-experience basics and story morsels on the attraction; not even three weeks later, on October 14, Universal launched its ride vehicle over the main, 155-foot-tall hill for the very first time; and just a few weeks more, on November 6, a whole train was making a complete circuit around the track.
All of which explains why, today, some of those construction walls that have been partitioning the project off from Islands of Adventure guests would be able to come down, revealing some pretty views. Okay, yes – all we can mostly see from our vantage points are the dinosaur security gate and some rockwork, but it's actually rather impressive-looking, if we're putting on our theme-park-details glasses.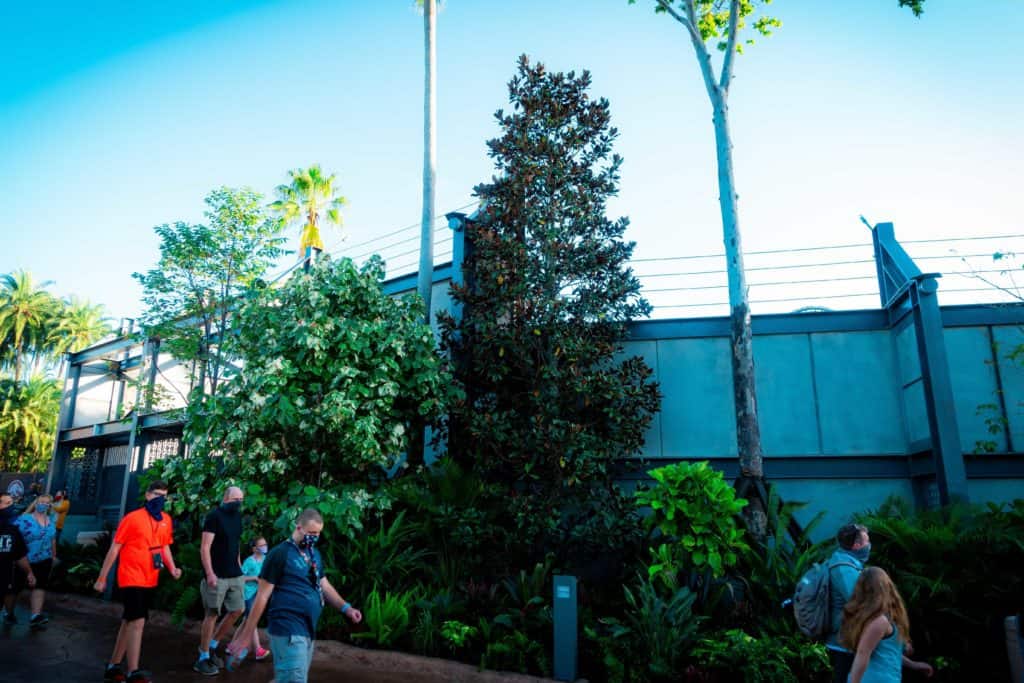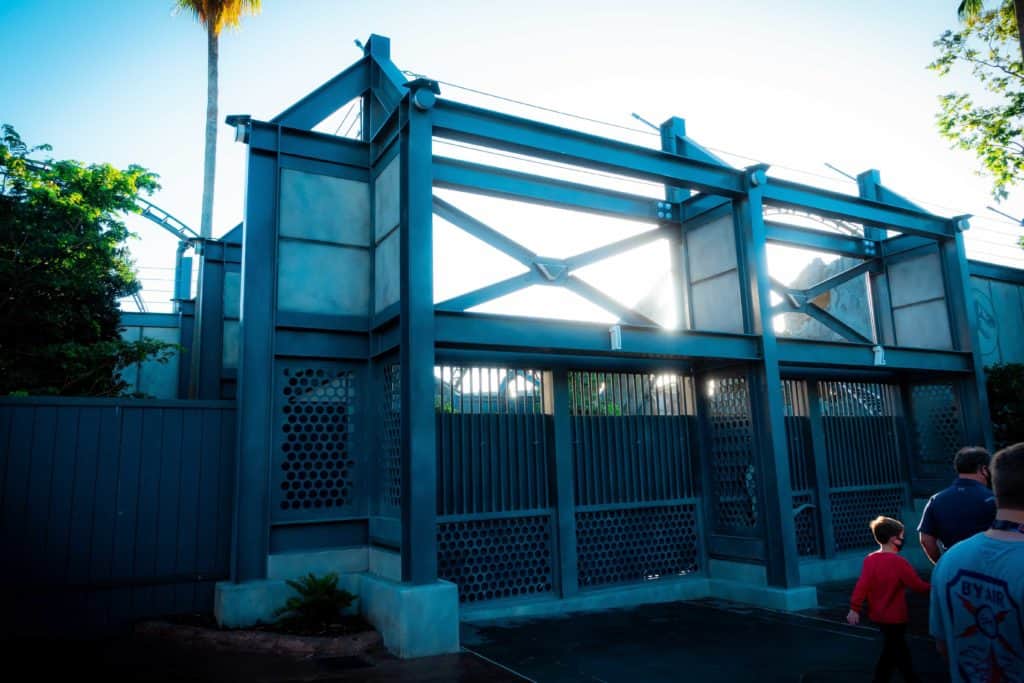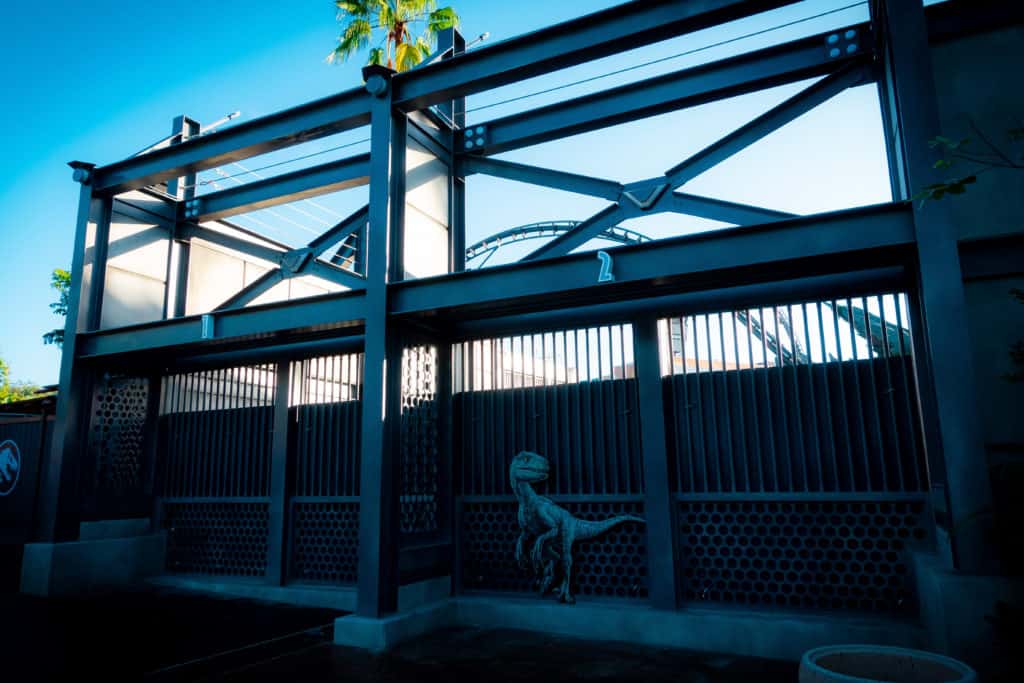 (Another reason for the "sudden" removal of the walls could actually have less to do with construction timelines and more to do with another, perhaps more pressing consideration: crowd flow. Thanksgiving is always a busy time for the parks, and that's especially true in the middle of a pandemic, when attendance capacities are minimal and social-distancing requirements are maximal. [For more on expected crowd levels, and their attendant effects on wait times, please see our free 12-month Universal calendar.])
Then again, when seen in the context of another metric, the felling of walls actually doesn't come as a surprise at all; they were first erected on January 15, 2019, meaning that they became something of a tenant of Jurassic Park over the course of the past two (or so) years. (Yes, Universal left all of the developmental goings-on unremarked upon for a solid 12 months – and then made us wait for the first official confirmations for eight more.) Seen in this regard, this is fully in keeping with a typical Universal timeline – the same one, after all, that resulted in the building of Transformers: The Ride – 3D from the ground up in less than 13 months.
And in case all this just weren't somehow enough to get your dino-loving heart a-beating, we also noticed that a brand-new Jurassic World merchandise kiosk also emerged from behind its own construction wall: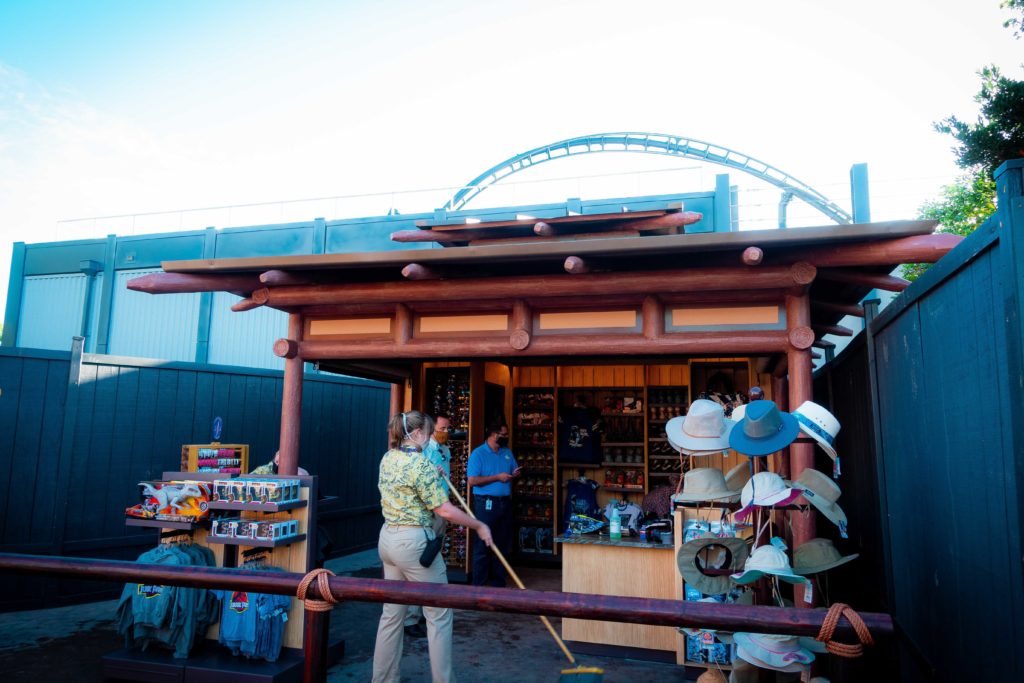 The VelociCoaster, in case you need a refresher, will be the most thrilling roller coaster that Universal has ever built at any of its parks around the globe. Its 4,700 feet of track will zip just inches over Islands of Adventure's central lagoon, hitting top speeds of 70 mph and using two different launches in order to do so. It'll contain four inversions, 12 seconds of airtime, and – perhaps most importantly – a velociraptor paddock that guests will race its occupants around.
Jurassic World VelociCoaster will open sometime in the summer of 2021.
---
How excited are you for this massive beast of a coaster? Share your thoughts – and pictures! – with 110,000+ other die-hard fanatics in our Orlando Informer Community on Facebook.
And be sure to follow Orlando Informer on Facebook, Twitter, and Instagram for the latest news, tips, and rumors at Universal Orlando, Walt Disney World, and other Orlando attractions.