One could make the argument that Race through New York Starring Jimmy Fallon has a lot going against it: its show building is small and constrained, thanks to its location and the fact that Hollywood Rip Ride Rockit's track careens through its second story; it features an intellectual property that has only limited appeal outside of the United States; and its ride experience, based upon the (extremely) early responses from those who have participated in its soft opening, may not feature much in the way of repeatability.
Still, there's one key way where the new "flying theater" ride is not only indisputably, fundamentally compelling, but also a harbinger of theme park attractions of the future: its queue.
Universal has been at the forefront of queues for nearly the past decade, transforming what used to be simply waiting in line into an experience in and of itself. Harry Potter and the Forbidden Journey has guests wade through the corridors of Hogwarts Castle; Escape from Gringotts ups the ante by exponentially increasing the detail of the architecture surrounding you and by including a faux elevator ride down into the very depths of Gringotts Bank's caverns; Skull Island: Reign of Kong sports the rather novel addition of a live team member who attempts to scare you while you venture further into an ancient temple. It's no wonder that Forbidden Journey, during the slower periods of the year, offers a tour of its queue, with guests being able to mill about Hogwarts for basically as long as they want before leaving the show building without ever stepping foot on the ride itself.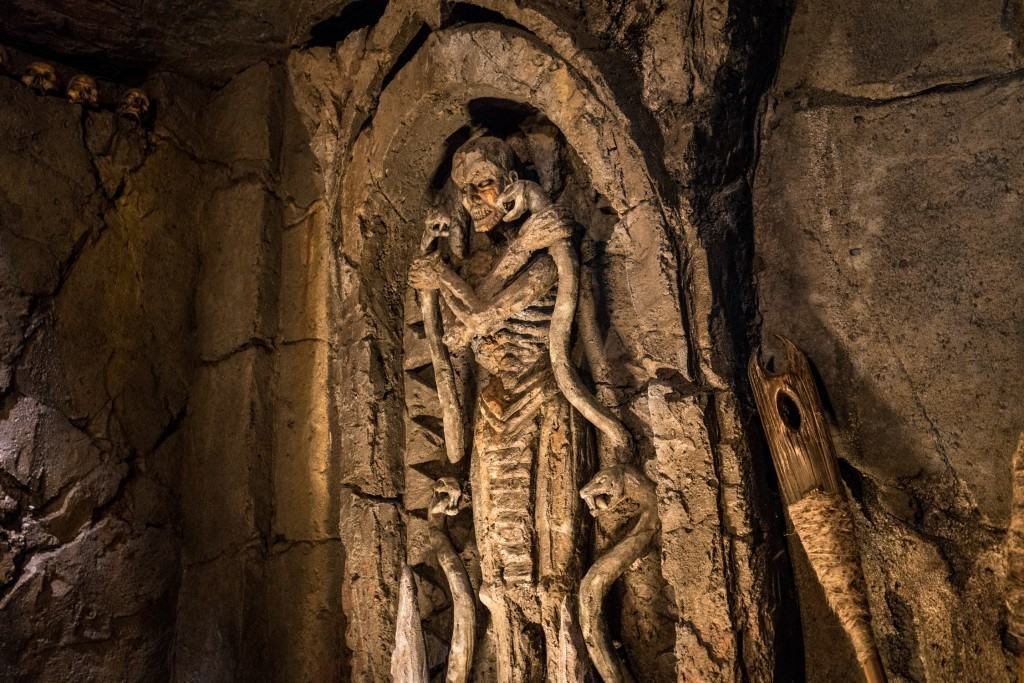 Race through New York, however, is in an entirely different league. On the one hand, its basic premise follows what Disney achieved with its revamped Dumbo spinner five years ago: there, parents grab a pager and sit on benches in an air-conditioned circus tent while the kids run around inside the big top's playground, climbing ropes and playing with interactive games. Once the pager goes off, restaurant-style, the family heads off to the ride proper, and the experience flows like normal.
On the other hand, however, the concept is both deepened and expanded for Jimmy Fallon. As laid out in our recent write-up, riders enter a recreation of 30 Rockefeller Plaza, NBCUniversal's main headquarters in New York, where they are handed a color-coded plastic ticket. As they wait for their color to be called – accompanied by the telltale NBC chime – they're free to wander about, checking out all the various museum-esque pieces from The Tonight Show's 63-year history.
When pinged, guests of the same color all leave the ornate introductory room and head upstairs for the second waiting area. This is the real heart of the "queue": several different activities are available for the couple hundred people that are constantly rotating through the area, ranging from cushy chairs and Fallon-branded videogames, to highlight reels of classic Tonight Show skits, to meet-and-greets with Hashtag the Panda, to what is already the hallmark of the ride, performances of the Ragtime Gals singing various songs (including a "History of Rap" sketch) or playing various instruments. It's hard to overstate just how fun a time this area is – the whole experience feels like it is the heart of the attraction, with the actual race through New York with Jimmy more of an afterthought.
(And all of this doesn't even mention the Virtual Line part of the experience: on busy days, when the first part of the "queue" is already filled to capacity, guests will obtain a return-time ticket either via the Universal Orlando smart-phone app or kiosks located outside the Fallon show building. This way, the first part of your wait will allow you to move freely about Universal Studios Florida, expanding the queue-less nature of the attraction even further.)
By providing something for everyone (including every age group) to be engaged with, and by having all the proceedings help to build excitement for the main action that is to come, Race through New York does more than just find a nifty way to occupy guests for a half hour or so, getting them off Universal Studios Florida's streets for a stretch in order to allow the park to better handle crowds – it's pointing to a future where the amount of time that individuals occupy the creative space of an attraction substantially increases. We can throw in Despicable Me: Minion Mayhem's post-ride dance party here, as well – whether before or after the ride experience (and Jimmy Fallon handles both, it should be noted), Universal is finding more ways to immerse patrons in their favorite properties, allowing them to connect with it in a more subtle and profound way. Imagine being able to truly wander Hogwarts Castle, moving from one classroom to the next before a magical item tells you it's time to scurry off to the Room of Requirement in order to board your enchanted bench. The sky's truly the limit here for memories to be made.
Does the Harry Potter example seem a little too far-fetched? It's actually not. We already know that the company is further refining Race through New York's "queue-less" experience for next year's Fast & Furious: Supercharged, which will feature a massive warehouse space where guests can, say, move from marveling at one featured car to another at their leisure. Who knows what other little surprises Universal Creative can sneak in there, and how many more ways it'll find to insert the characters and locations from the film franchise for fans to interact with.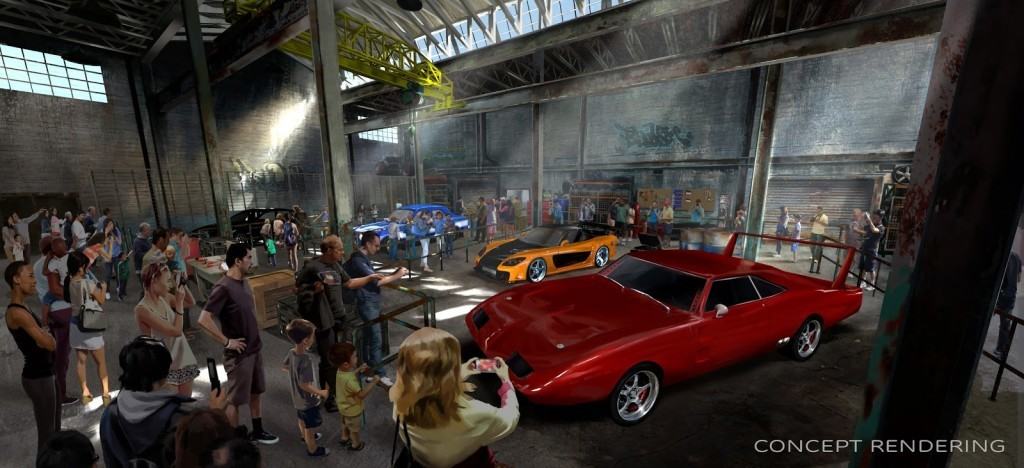 And it's clear that Race through New York and Fast & Furious are only the beginning – when speaking with Travel Weekly yesterday, Creative Director Jason Surrell said that he and his team "have removed one of the biggest negatives in [patrons'] day," and that:
Decades down the line, we'll have a generation that won't even know about standing in line. We will have evolved out of that, and I think that's the journey we're on. Once the genie's out of the bottle with this sort of thing, guests will come to expect it.
Pretty soon, that jaunt through Skull Island's temple will look positively primitive, scareactor and all.
–
Care to try out Race through New York Starring Jimmy Fallon's new queue for yourself? The diehard theme park fans in our Facebook group will help count down the days until your vacation with you.