Although CityWalk – that giant collection of restaurants, night clubs, stores, and entertainment options – might have arrived first, it's actually with Islands of Adventure that Universal's toehold in Orlando was truly able to transform into a full-fledged resort.
It's hard to imagine that momentous event happened 20 short years ago, but it's true – on this very day in 1999, Universal Orlando Resort as we know it was born. To celebrate the momentous occasion, we thought it would be fun to count down the 20 biggest changes the theme park has experienced over its entire lifespan, dating back to the time when it existed as simply a series of sketches on the drawing boards of Universal's various designers and engineers.
Although it may seem like Islands has remained mostly the same over the past two decades (well, until just recently, perhaps), especially when compared to the other parks in the Central Florida area, you may be surprised at the alterations that have occurred – and, even more importantly, the reasoning behind them.
1. Cartoon World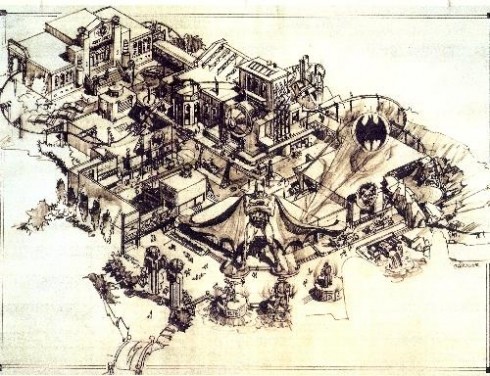 The concept of doing a Disneyland-esque park, containing several different lands devoted to several different themes, never changed since the very earliest days of designing the new theme park, all the way back in 1993 (just a few short years after Universal Studios Florida had first opened its doors). What did change, however, was the content of those themed areas.
Originally, the company envisioned a series of "cartoon" characters, ranging from DC Comics' superheroes to Dr. Seuss's creations to Popeye and Bluto, which prompted the name of Cartoon World. By the time Universal was ready to officially announce its second park's full lineup, Jurassic Park had already arrived as a major cultural phenomenon and as the newest themed land both, breaking the cartoon-only premise of the project – prompting the name change to Islands of Adventure.
Well, sort of.
2. A name change… again
With the single-park Universal Studios Florida becoming a multi-park resort, Universal needed a name to encapsulate all of its new additions and expansions. Interestingly enough, the moniker Universal Studios Escape was initially chosen, presumably to underline that families could escape from the drudgery of their everyday lives to have fantastical adventures in Orlando. The move backfired, however, with many people simply assuming that it was a new theme-park land instead of a whole new resort (or, even worse, just assuming that it was a new PR slogan). After just one short year, Universal Orlando Resort was quickly settled upon as the permanent appellation.
In the midst of all this, the new theme park was introduced, and Universal wanted it to fit in with the then-Universal Studios branding; as such, it debuted as the somewhat-clunky Universal Studios Islands of Adventure (shouldn't there be a colon in there somewhere?). That got changed to Universal's Islands of Adventure by 2002, which is still in use to this day.
3. Islands of Adventure Preview Center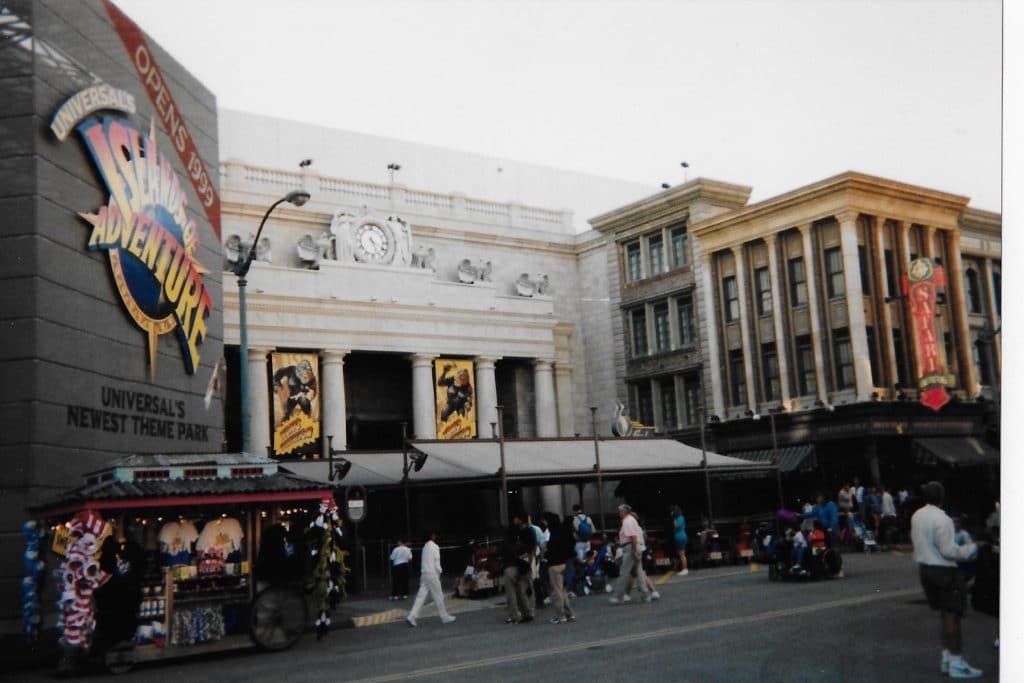 Okay, yes – this one is technically not a change that occurred within Islands's domain precisely, but it's too cool a historical treasure to pass up.
In 1997, as construction started up on the new park, Universal wanted to let all of its current customers know what wonders were awaiting them in the very near future. In Universal Studios Florida's Paradise Theater, which was originally home to The Screen Test Home Video Adventure (you can read more about that particular nugget here) and is currently being used as the (still-new) locker room of the excellent Revenge of the Mummy, an Universal Studios Islands of Adventure Preview Center was set up. Guests could wander through five rooms, with each being themed to the five islands that would eventually bow with the new theme park.
On the one hand, it was a remarkably low-tech affair, comprised mostly of simple displays (mostly of concept art), but, on the other, it's amazing to look back and see just how much was already in place – including some of the now-legendary music that helps move visitors from one island to the next. (It's amazing to see, that is, if you can track down some footage of the Preview Center; it's notoriously difficult to find, as is most of Islands's now-extinct attractions, strangely enough.)
4. Island Skipper Tours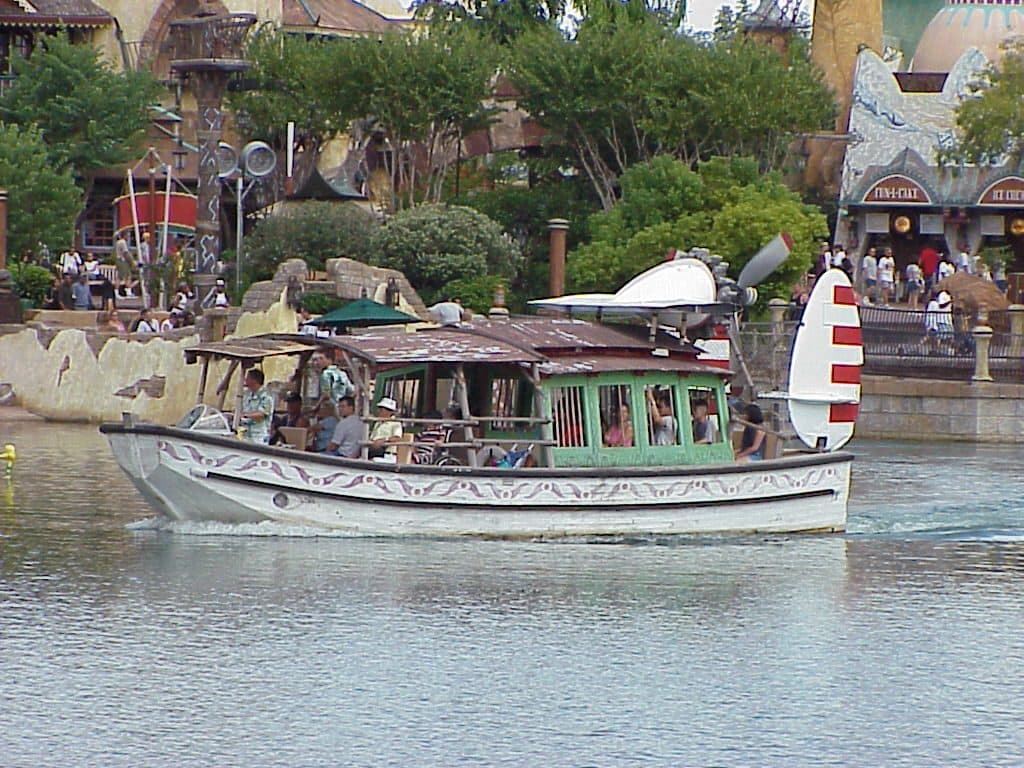 There are only three attractions that opened with Islands of Adventure in 1999 that are no longer with us. The first of these is, by far, the most interesting: Island Skipper Tours allowed guests to board a ship at the Port of Entry dock and travel all the way across the Great Inland Sea (the fancy name for the park's central lagoon) to Jurassic Park.
While the attraction was meant purely as a time-saving service for guests, the three different boats that were used were each themed appropriately (fitting in with Port of Entry's eclectic style), providing a little extra spice to the park. Island Skipper Tours was completely phased out by 2003, just four short years after Islands's grand opening, due to its fuel and maintenance costs. You can still find that dock in Port of Entry, however, which now makes for one of the quietest – and loveliest – spots in the entire theme park.
5. The original Lost Continent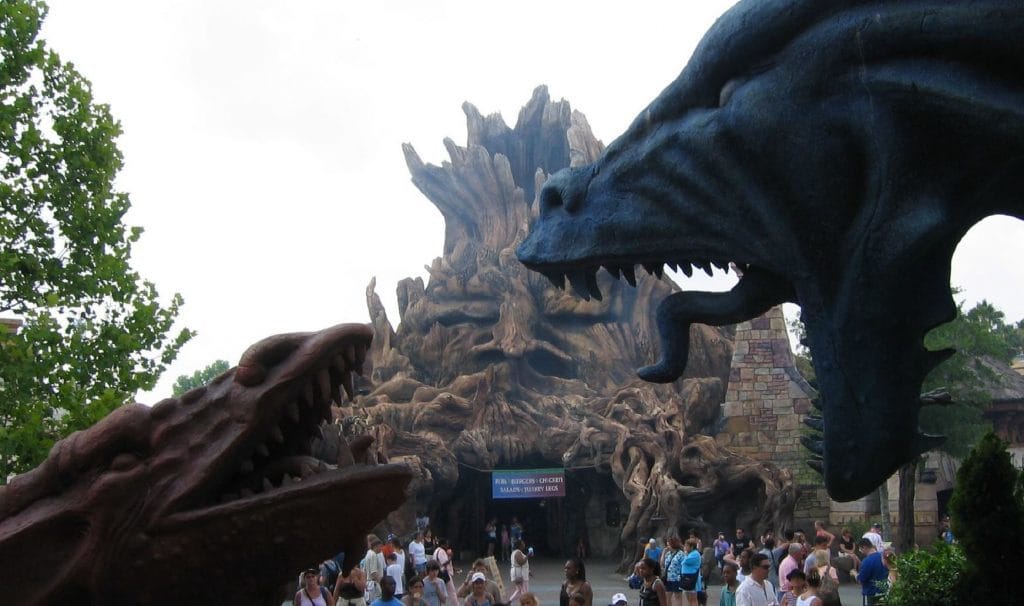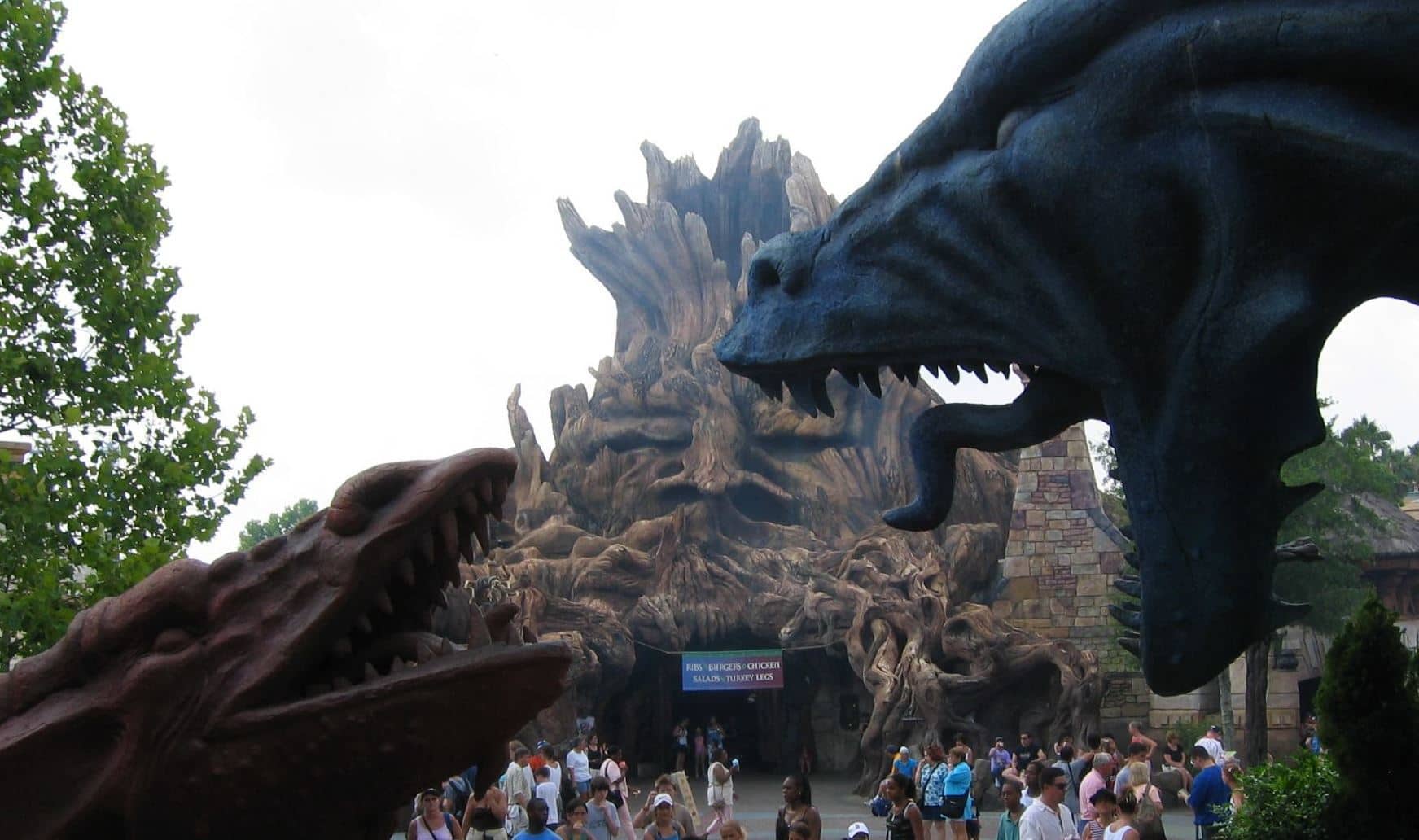 On opening day, The Lost Continent was nearly the biggest island, consisting of three different subsections: the Lost City, an Atlantis-esque area (home to Poseidon's Fury and Mythos); Sindbad's Bazaar, an ancient Arabian marketplace (where The Mystic Fountain is still located); and Merlinwood, a medieval village (which was dominated by a pair of massive coasters named Dueling Dragons and was also home to Enchanted Oak Tavern and Alchemy Bar, a highly-regarded quick-service restaurant).
The years, of course, have not been kind to Lost Continent, with most of the beautifully-themed Merlinwood being closed on July 7, 2008 in order to make way for what would eventually be called The Wizarding World of Harry Potter – Hogsmeade (Dueling Dragons would follow suit on March 1, 2010, since all it needed was a few months to finish its transition into the similarly short-lived Dragon Challenge). On February 3, 2014, part of Sindbad's Bazaar – the slice containing its carnival games – would follow suit, making way for Hogsmeade Station and the Hogwarts Express. And, finally, on September 15, 2018, the Eighth Voyage of Sindbad stunt show also closed up shop, reportedly due to the cost of maintaining such a special-effects-heavy – and attendance-light – production.
6. Poseidon's Fury
The original iteration of Poseidon's Fury, the walk-through attraction that has the dubious distinction of being one of the worst at all of Universal Orlando, had a similar premise but a very different story. In this version, guests were led through Poseidon's temple by the wizened Keeper, who regaled his audience with a tale about the apocalyptic showdown between Zeus and his merman brother in the lost city of Atlantis. As everyone ventures deeper into the ruins, Poseidon is awoken and seals the hapless tourists inside – until the Keeper is revealed to be none other than Zeus himself, who does battle once again with his rival god and then magically transports everyone back to the room they started their journey in.
This initial Poseidon's Fury lasted only a year; in 2000, it was temporarily shut down and then revived as we know it today, with Zeus being replaced by Poseidon and the brand-new (and horribly-named) character of Lord Darkanon taking the water god's stead as the antagonist. The sets and special-effects-laden finale – and that water-vortex tunnel, which remains the highlight of the attraction – all (largely) remained the same.
7. Triceratops Encounter
Jurassic Park was originally home to yet another walk-through attraction (of sorts) – Triceratops Encounter, which had guests meet three audio-animatronic triceratops (which were not only capable of blinking, smiling, and bellowing, but also urinating) that were being cared for by a human veterinarian.
It's almost impossible to track down when Universal initially closed this experience down – it seems to be sometime in late 2001 or early 2002 – or why it did so. What is known is that it sat completely abandoned for the better part of a decade, finally being reopened in 2010 (perhaps to help process the sudden influx of crowds that descended on the park that year to see the Wizarding World next door) under the new name of Triceratops Discovery Trail and with the new status of being a seasonal attraction (operating only during peak times of the year). This would continue until early 2012, when the company finally decreed that the triceratops were done for good. The dinos themselves were quietly removed two years later, and then the whole area was completely demolished in early 2019 to make way for a brand-new – and, as of this moment, still-unannounced – development.
8. Toon Lagoon Amphitheater
On opening day, guests could make their way to Toon Lagoon's amphitheater, a 2,000-seat building sitting off to the side of the main thoroughfare, in order to catch Pandemonium Cartoon Circus, which saw all of the area's various comic-strip characters sing and dance live on stage in the guise of a circus. It would last for less than a year (and barely has any vestige of itself left anywhere online).
It wasn't until 2002 that a replacement show arrived, one that completely abandoned the premise of the island: Mat Hoffman's Freakin' Crazy Stunt Show. It only lasted for two years – reportedly, in part, due to its name, which some visitors found offensive – but ultimately came back as the seasonal Mat Hoffman's Aggro Circus (which added to the BMX stunts with inline skates, skateboards, and motorcycles) in early 2010. Hoffman performed for the final time in late 2011 – and the last time, also, that the Toon Lagoon Amphitheater held a traditional show, whether full-time or seasonal.
(Filling in during the non-stunt periods were a series of television shows that filmed here, such as the occasional Rosie O'Donnell Show or The Ellen DeGeneres Show and the full-time iVillage Live, which shot there regularly until June 29, 2007.)
The amphitheater has sat empty for the past eight years, though a private event (for private clients) is still occasionally held there.
9. The second wave of rides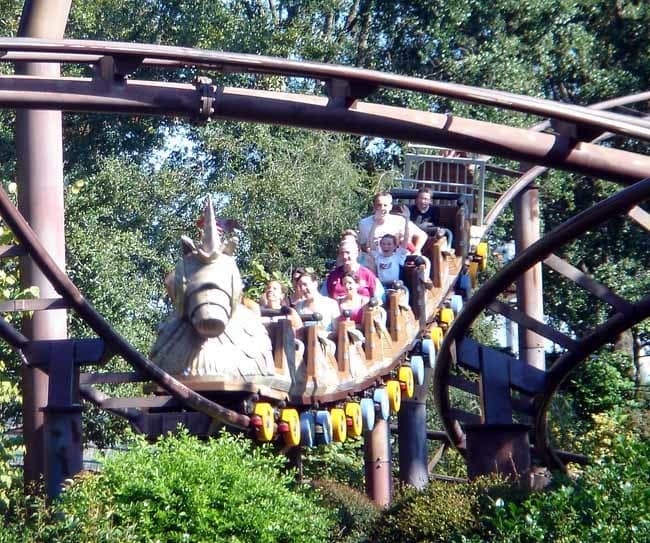 Although a spectacular park, Islands of Adventure failed to draw in the massive numbers that Universal clearly thought it would for its first year of operation. Part of this was, of course, due to the confusing name of the overall resort it was part of – Universal Studios Escape – but part of it also seemed to be due to a distinct lack of children's attractions outside of Seuss Landing and Jurassic Park.
To remedy this, the company decided that it needed to inject two new rides the following year: Flying Unicorn, a kiddie coaster situated next to Dueling Dragons in The Lost Content, was first, arriving on May 29, 2000; following it on June 29 was Storm Force Accelatron, an X-Men-themed teacups attraction, in Marvel Super Hero Island. Both still stand to this day, though the former was given the Harry Potter makeover as Flight of the Hippogriff a decade later.
10. The holidays come to Islands of Adventure…
https://www.youtube.com/watch?v=_IYuz63hN1c
Continuing with its efforts to combat the low attendance numbers that its new park was generating, Universal decided in 2000 that it would take a stab at another type of attraction that Islands of Adventure was sorely lacking: some sort of Christmas celebration. (This was at a time, it should be noted, that was some two years before Universal Studios Florida would receive a holiday event of its own, the recently-retooled Universal's Holiday Parade.)
Not only would Grinchmas, as the celebration was called, pick up flagging numbers at the end of the year, it would be an attempt to strike back at Disney's hugely-popular Mickey's Very Merry Christmas Party – and to also tie in with the company's new holiday film, the live-action How the Grinch Stole Christmas. Grinchmas proved to be more popular than its source material, immediately establishing itself as an annual event (which continues to this day, 19 years later).
11. …as does Halloween
The extremely popular Halloween Horror Nights had been a mainstay at the next-door Universal Studios Florida since 1991 (when it was originally known as Fright Nights); it was a no-brainer, then, for Universal to co-opt the event and instead install it over at Islands of Adventure in a further attempt to expand attendance figures. For four years, starting in 2002 and ending in 2005, HHN would make the new park its home, with 2004 marking something of a milestone – the first (and, so far, the only) time that a two-park strategy would be instituted, resulting in the horror event existing at both Islands and Universal Studios simultaneously. With 2006 being something of an anniversary year (Sweet 16!) and with the first theme park's numbers being too far cannibalized, the decision was made to return Horror Nights to its birthplace, and Islands of Adventure has never seen Halloween celebrated there again.
It's worth a moment to note just how, exactly, Islands of Adventure first handled Halloween Horror Nights. For the inaugural 2002 event, which was dubbed "Islands of Fear," each of the then-five islands was remade into a twisted version of itself: Port of Entry became Port of Evil; Marvel Super Hero Island was Island under Siege; Toon Lagoon, Treaks and Foons; Jurassic Park, Evilution; and The Lost Continent, The Island of Evil Souls.
The one land to sit out the festivities was Seuss Landing, due to Dr. Seuss's widow, Audrey Geisel, being reluctant to have her late husband's work be used to frighten. As such, the island was dubbed Boo-Ville, and it saw all the Seuss denizens waiting the event out safely in their homes, where the scary creatures couldn't reach them. The deserted area, then, became something of a safe haven for guests as they made their way around the park.
12. High in the Sky Seuss Trolley Train Ride
Everything that Universal had meticulously designed and developed for its new park's opening day in May 1999 was (largely) ready for its moment in the theme-park sun – except, that is, for one. Sylvester McMonkey McBean's Very Unusual Driving Machine was to have been positioned 15 feet in the air above Seuss Landing and would have allowed its riders to control the speed of its cars – even allowing them to bump into one another (gently, of course). It never saw the light of day, although no one exactly knows why (rumors point to a lack of an evacuation plan, should the attraction have broken down and left guests stranded high up in the air, as well as contractual disputes with McBean's manufacturer, who was eventually forced to file for bankruptcy).
In an attempt to salvage the ride, Universal opted to drop both the name and the original premise but to keep (most of) the already-installed track. It eventually debuted as The High in the Sky Seuss Trolley Train Ride in 2006, seven long years after its initially-projected opening date.
13. Oh, The Stories You'll Hear!
https://www.youtube.com/watch?v=IfW9sS1EgaA
In October 2009, most likely in an attempt to refresh the stage production that had been at Seuss Landing since day one, Universal opened a new show called Oh, the Stories You'll Hear! Based off of the Oh, the Places You'll Go! book that was published in 1990 (the last Dr. Seuss released in his lifetime), the impromptu performance – which is held next to The High in the Sky Seuss Trolley Train Ride – sees several famous Seuss characters come out for a song and dance. Afterwards, the cast breaks up into a series of small meet-'n-greets with children and their families.
Though not a major attraction by any stretch of the imagination, Oh, the Stories You'll Hear! does help flesh out the park's overall lineup and, more specifically, its family offerings.
14. The Wizarding World of Harry Potter – Hogsmeade
This is, without exaggeration, the single biggest development in Islands of Adventure's lifespan, cleaving its history into two sections: before-Potter and after-Potter.
The Wizarding World of Harry Potter – Hogsmeade heralded a new era in theme-park design, in which the layout and detail of the land itself is just as important as its rides or shows. As already noted, two of its inaugural attractions – Dragon Challenge and Flight of the Hippogriff – were makeovers of two pre-existing rides, Dueling Dragons and Flying Unicorn, respectively; Harry Potter and the Forbidden Journey, along with the Hogwarts Castle that it sits within, was previously-undeveloped land. (And, again, the area's sole restaurant, The Three Broomsticks, and its attached bar, The Hog's Head, were originally Enchanted Oak Tavern and the Alchemy Bar.)
That Universal had successfully managed to negotiate the rights to J.K. Rowling's multimedia empire away from The Walt Disney Company was initially announced on May 31, 2007, with the actual lineup of attractions being revealed on September 16, 2009. Opening day itself was on June 18, 2010, which kicked off an amazing period of growth in both attendance and profitability for Universal Orlando – and which, in turn, has kicked off an unprecedented period of expansion for the resort that continues to this day.
And, amazingly enough, Universal has kept up a relatively brisk pace of further development on Hogsmeade over the past decade, with the sleepy Scottish village seeing a steady flow of new experiences, attractions, and, even, expansions.
Speaking of which…
15. Hogsmeade "makeover"
Lost Continent carnival games are now closed… #Hogsmeade @UniversalORL pic.twitter.com/tjbKFjMxuq

— Orlando Informer (@OrlandoInformer) February 3, 2014
With the phenomenal success of The Wizarding World of Harry Potter, it only took Universal a year-and-a-half to begin construction on its follow-up, The Wizarding World of Harry Potter – Diagon Alley, over at Universal Studios Florida (whose addition at Universal Orlando officially causes the first land to be given the "Hogsmeade" designation).
Diagon Alley makes Islands of Adventure's wizarding domain receive several changes of its own. For starters, Hogsmeade also gets an expansion, swallowing up more of The Lost Continent's real estate in order to make room for the Hogsmeade train station and a thematic vestibule (demolition here starts on February 3, 2014). Two months later, on April 26, Zonko's Joke Shop, an opening-day store, is shuttered; most of its wares were borrowed from the source material's Weasleys' Wizard Wheezes, and since Diagon Alley would open a physical version of that store in July, Universal decided to move everything over where it should really go – and allow the next-door Honeydukes to get a desperately-needed expansion of its own.
Finally, in the months leading up to the July 8, 2014 opening of Diagon Alley, a number of Hogsmeade's fake storefronts were redone (again since a few of them rightfully belonged in London, not the Scottish village), and even more were given an interactive wand upgrade, in order to be compatible with the brand-new piece of wizarding souvenir.
16. Jurassic Park "makeover"
On June 12, 2015, Jurassic World, the fourth film in the Jurassic Park film series (though, technically, it's the second chapter in the narrative, since it erases the previous two movies), hits theaters. It eventually grosses $1.6 billion worldwide – that's more than the first two Avengers! – and gives Universal a reason to revisit its Jurassic Park land, to try and piggyback off of the film's success as much as possible.
Unfortunately for the company, its hands were mostly tied; it didn't have either the time or money to hurry a new attraction into development (and the area's expansion pad that had sit unused for 16 years was busy being transformed into Skull Island, anyway). So it settled for a soft approach, introducing new alcoholic drinks at JP's eateries and debuting the Raptor Encounter meet-'n-greet where Triceratops Encounter used to be located (the latter is still one of the most popular spots in the entire park, though it's seen its location change over the years).
(It should be noted that part of what can be considered this light "makeover" includes the series of carnival games that were installed where Jurassic Park: River Adventure's [long-unused] overflow queue used to be situated, though that change happened in November 2013, in anticipation of The Lost Continent losing its midway area to the Wizarding World expansion.)
17. Skull Island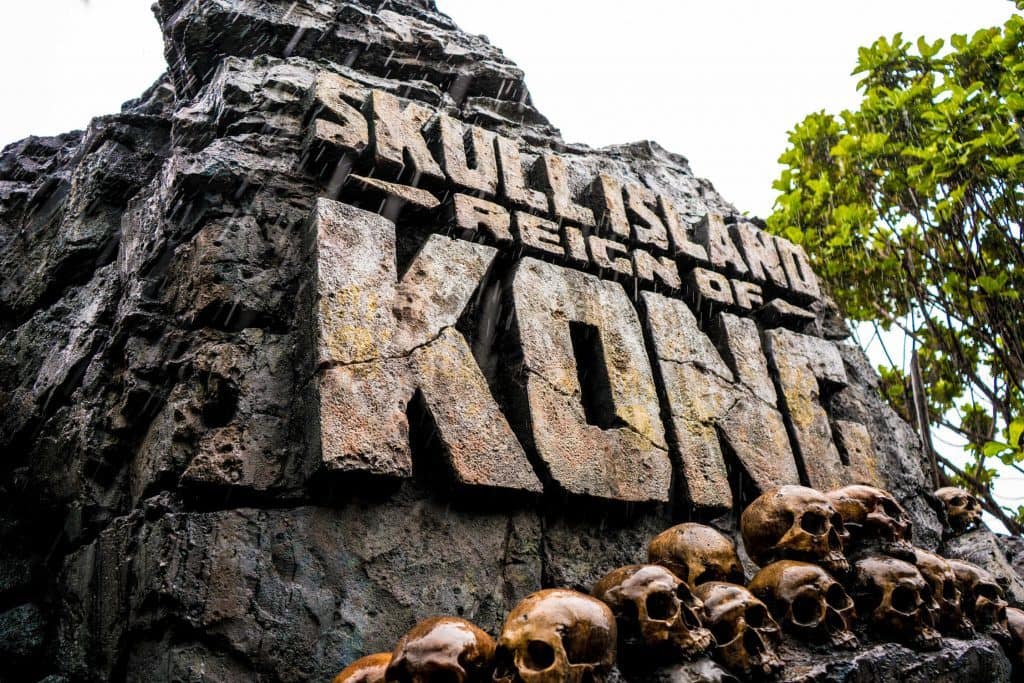 The seventh and most recent island to be added to Islands of Adventure's lineup – which occurred on July 13, 2016 – is Skull Island, the home of King Kong. Although only just a tiny tract of land – as previously mentioned, it was built on an unused plot that was originally earmarked for a potential Jurassic Park expansion – and although only comprised of one ride (Reign of Kong) and two food and beverage or merchandise carts, it is a thematically impressive addition (especially when looking at the technological and design elements going into the attraction itself, which features scare actors in its queue and one of the most impressive audio-animatronic figures ever created).
The logic behind doing a Kong mini-land as opposed to more JP can be summed up in a few different reasons. Fan demand for the giant ape's return (he was last seen in the ride Kongfrontation over at Universal Studios Florida in 2002) was always persistent; his next film, Kong: Skull Island, was to be released in March 2017 (and is set to culminate in the franchise-merging Godzilla vs. King Kong in 2020); and, finally, it was primarily based on a similar attraction, King Kong 360 3D, which debuted at Universal Studios Hollywood in 2010.
18. Marvel Super Hero Island "makeover"
Though Marvel Super Hero Island hadn't seen any (significant) change since 2000, it obtained a newfound sense of importance in 2009, when Disney purchased Marvel Entertainment for $4 billion – and was unable to get a judge to let go of Universal's exclusive theme-park rights east of the Mississippi. (It was also during this time that the Marvel Cinematic Universe was getting started, quickly producing the box-office-busting Avengers film series.)
In an attempt to capitalize on this sudden, unexpected success – and to honor its contractual obligations to keep its Marvel attractions in top working order (lest let their rights default back to Disney) – Universal began a years-long refurbishment program that would see the island's two biggest rides, The Amazing Adventures of Spider-Man and The Incredible Hulk Coaster, be given massive makeovers. Spidey was first, getting a substantial touch-up and 4K high-definition upgrade on March 8, 2012; Hulk followed on August 4, 2016, having its entire track be rebuilt literally from the ground up and receiving new ride vehicles, soundtrack, queue area, and story. (Though most journalists and fans agree that the former was a huge improvement, the latter has been thoroughly more divisive.)
Finally, Universal kept up its newfound Marvel love by debuting Islands of Adventure's first-ever ongoing character-dining experience, called (simply enough) the Marvel Character Dinner, on December 7, 2017. The up-charge event takes place in Cafe 4, features an exclusive menu of various dishes and desserts, and boasts a veritable cavalcade of superheroes to meet and take pictures with, including Spider-Man, Captain America, and, of course, Wolverine. It has been a permanent fixture at the park ever since.
19. Hogsmeade, phase three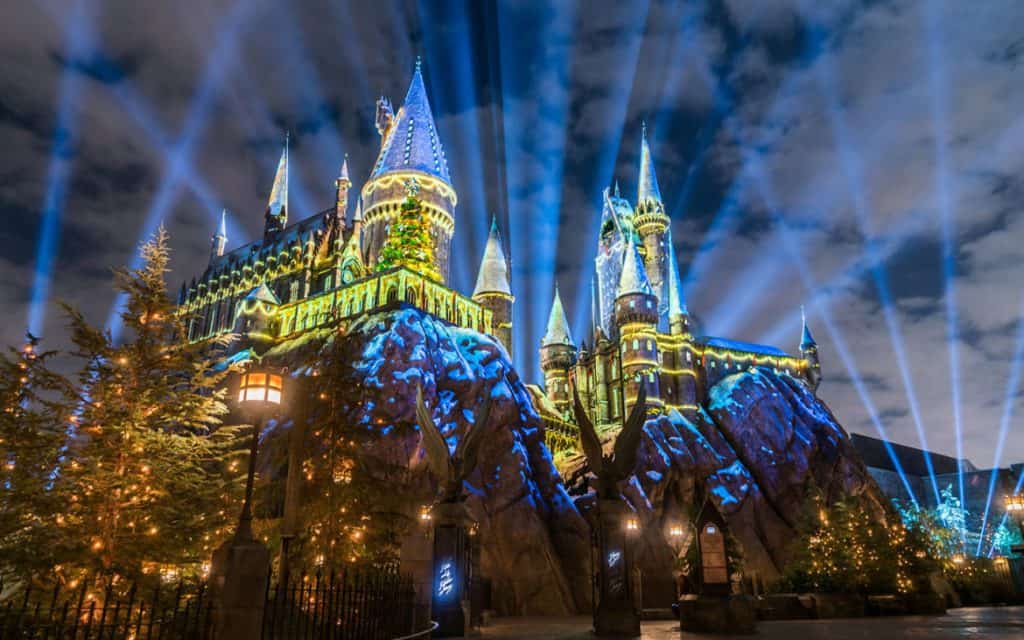 Forget Hogsmeade Station and the various interactive wand experiences, as fun as they may be – the real action in the original Wizarding World of Harry Potter has been in actual new attractions, which have, amazingly enough, been steadily trotted out over the past three years.
On November 18, 2017, coinciding with the start of Islands of Adventure's still-popular holiday festivities that year, Universal transformed Hogwarts Castle, which previously was solely the home of Harry Potter and the Forbidden Journey, into a giant, three-dimensional canvas; a series of brand-new projectors painted various animations all over the structure, and, when combined with also-freshly-installed lighting in the area's trees and John Williams's incomparable soundtrack, it conjured a nighttime spectacular that truly was spectacular. This inaugural projection-mapping show, dubbed The Magic of Christmas at Hogwarts Castle, might have been exclusive to that most wonderful time of the year, but it was followed by the more-general Nighttime Lights at Hogwarts Castle on January 31, 2018, which would run throughout all of the calendar's other months. And, even more excitingly, a third production (in just as many years!) has already been announced – on February 28, 2019, Universal unveiled the spookily-themed Dark Arts at Hogwarts Castle, which is expected to enter regular annual rotation with its two brethren sometime soon.
What's important to note, however, is how this ever-expanding roster of projection-mapping shows is just part of a broader effort the company has brought to bear on Hogsmeade. After seven years of attempting to do so, 2017 marked the first time that Universal was able to truly celebrate the holidays in Harry's wondrous world; called Christmas in The Wizarding World of Harry Potter, it is a new annual event that sees gorgeous decorations and exclusive food and entertainment offerings be trotted out alongside The Magic of Christmas at Hogwarts Castle.
20. Hagrid's Magical Creatures Motorbike Adventure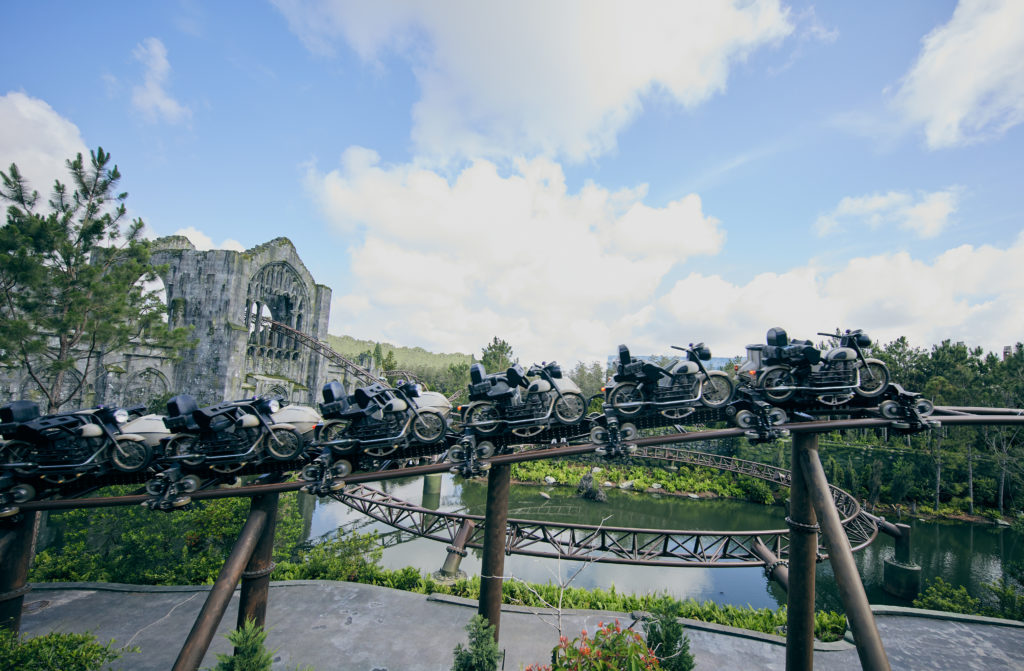 This last development is so big, we had to include it as an entry all unto itself: the advent of a massive, brand-new, fully-immersive roller coaster at Islands of Adventure, one that represents the very future of The Wizarding World of Harry Potter – Hogsmeade, to boot.
On September 4, 2017, the Dragon Challenge inverted coaster was shuttered to make way for Hagrid's Magical Creatures Motorbike Adventure, a far more themed and family-friendly ride. It is no exaggeration to say that this is the single biggest attraction Universal has yet pulled off in its history – sitting on 6.8 acres of land and brandishing some 1,200 trees, this new roller coaster holds the world record for the number of launches it features (seven) and a Florida record for the length of its track (nearly a mile). Its ride vehicle, which is comprised of the titular motorbike and its sidecar, offers two very different perspectives and experiences both, and its story includes never-before-seen elements of the Harry Potter mythology: an ancient ruin that predates even Hogwarts Castle itself and the Blast-Ended Skrewt, a pet hybridizing project by Professor Rubeus Hagrid. When combined with the fact that Hagrid's Motorbike Adventure features only the jolly half-giant and his friend, Arthur Weasley, and none of the Hogwarts students that audiences have come to know and love over the years, it's easy to see how it paves the way for even more brand-new adventures set in J.K. Rowling's massive (and massively popular) Wizarding World.
Once it opens on June 13, 2019, we expect that this exciting addition to Islands of Adventure will help mold the theme park's next two decades of existence, just as the larger Wizarding World of Harry Potter has managed to do with its first two.
–
What's been your favorite development at Islands of Adventure? Which attraction do you miss the most? Share your thoughts and memories with 150,000 other vacation-planners and Universal Orlando fans in our OI Community Facebook group!
And be sure to follow Orlando Informer on Facebook, Twitter, and Instagram for the latest news, tips, and more at Universal Orlando, Walt Disney World, and other Orlando attractions.