The City Beautiful basically exists in a summer season for seemingly three-quarters of the year. During what's actually the "summer," it can get a bit unbearable and put you in search of some relief. Search no further! Islands of Adventure offers just that in the form of its incredible water rides.
While there are only three, each has worthy traits, which can make it difficult if you had a choice to make. This brings me to the mission I've chosen to accept: to rank the best of these attractions! The list will be in descending order, with the criteria considering each one's theme, how well it and the experience were executed (i.e., the queue, the actual ride experience, and each watery "drop"), and, of course, I'm also concerning myself with how wet you get on each, as well.
Now, with the criteria set, let's dive in!
3. Dudley Do-Right's Ripsaw Falls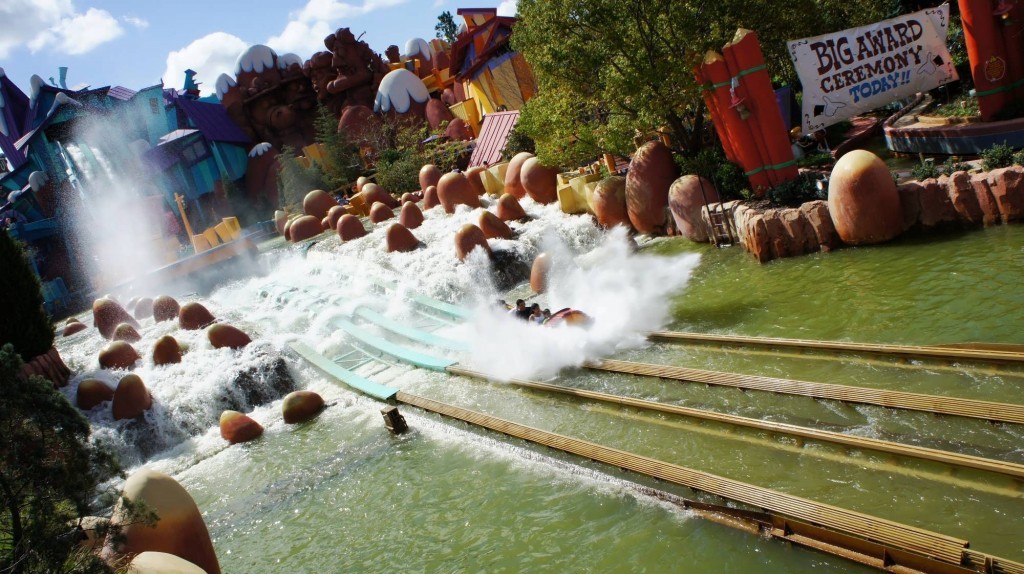 Dudley Do-Right's Ripsaw Falls's story is a simple and easy one. Guests enter the queue and walk through a few different scenes, starting with the villainous Snidely Whiplash's hideout, where he's nefariously plotting his misdeeds. Then they progress to a theater showcasing movie parodies and then end with a comically-witty duo of a talking bear and beaver. As passengers board their logs, they are shown a cartoon of Ness Fenwick (the source material's fair damsel) being kidnapped from her dressing room, which leads us into the ride's story. Those familiar with Ripsaw Falls's inspiration can also appreciate how true it stays to the Dudley Do-Right show's cheesy brand of humor with consistent, cheeky one-liners and parodies of other famous attractions throughout the entire experience.
To its credit, Dudley Do-Right's Ripsaw Falls is still a solid ride. It has an impressive 75-foot drop that progressively descends from a steep 45 to 50 degrees and collides right into a dynamite shack! It even has a couple of fun splash factors at the bridge overlooking this watery climax – one side lets spectators viewing the drop enjoy getting wet from the subsequent spray, and the other allows guests to shoot a surprise jetstream to the riders' dismay for the cost of a few quarters. (And, admittedly, I used to be a huge fan of this attraction, as I grew up watching old reruns of the classic series.) However, though Ripsaw is a Toon Lagoon staple, it's had some issues from wear and tear over time; the theme is quite dated, with the most recent reference material being a 20-year-old movie; and, frankly, the odds of getting wet can be a bit of a crapshoot – I've left this ride both wet and nearly-dry on an even amount of occasions.
2. Popeye & Bluto's Bilge-Rat Barges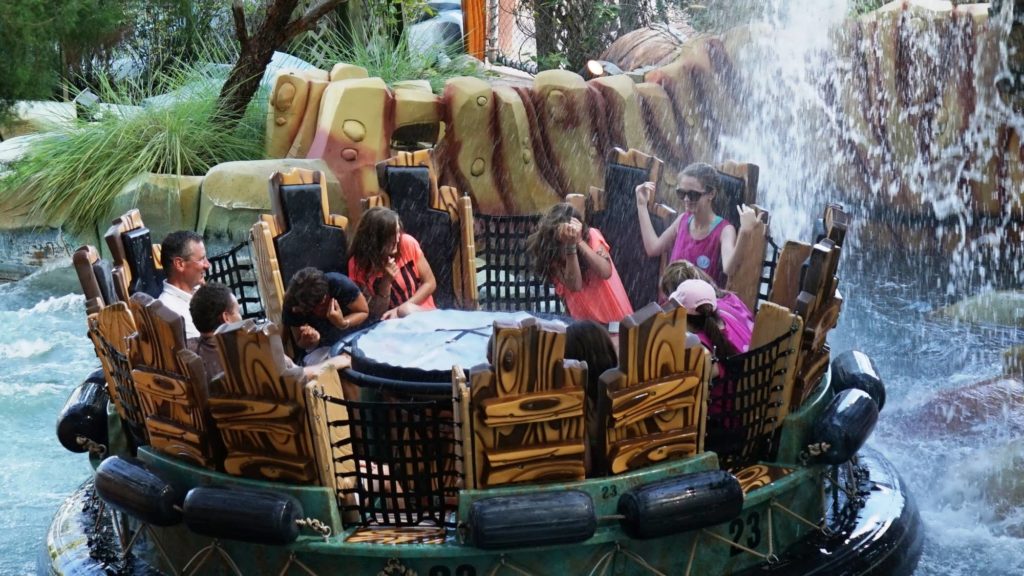 River-rapid attractions are pretty common in amusement and theme parks. Popeye & Bluto's Bilge-Rat Barges stands out in not only its theme, but its overall experience. Guests enter the boathouse of a river-rapids tour guided by Popeye, only to have Bluto detour you and muscle his way to sending you into danger as a distraction while he kidnaps Olive Oyl yet again! The ride throws some intense rapids your way as you follow Popeye's rescue mission, encountering a massive octopus and a humorously-dangerous drop at the end. The ride experience is slightly longer, at about five-and-a-half minutes (not counting the queue and loading), which is about a full minute longer than other, similar attractions.
While I've always left relatively dry (100% true story), I can still confirm that you will get wet on Bilge-Rat Barges, as I have witnessed every other passenger I've shared the boat with getting soaked from the rapids' turbulent waters. It's also fair to note that Me Ship, the Olive (the kids' area of the ride) has its own water guns, similar to those at Dudley Do-Right's Ripsaw Falls's bridge, making it seem as if you're getting splashed from almost every angle! If the wet factor were the only consideration, Popeye & Bluto's Bilge-Rat Barges would be number one, without question; given the other criteria, however, it's solidified itself at number two. Don't get me wrong – it's still, arguably, a must-do. But the attraction's theme is a bit dated, and its props aren't all that impressive in the eye of the general park-goer.
1. Jurassic Park: River Adventure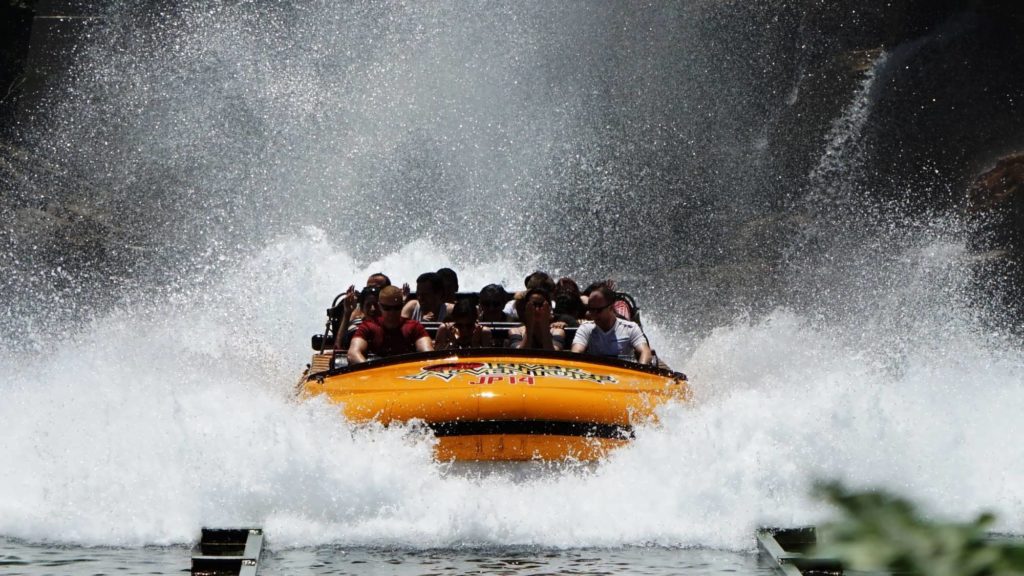 From beginning to end, Jurassic Park: River Adventure is a very well-rounded attraction. To start, the story is cohesive and easy to follow: riders eagerly board their tour boats while an introductory video plays in the queue and, then, float along seemingly-serene waters. As you take in the different habitats and stare in awe at the prehistoric beasts, your boat is bumped off-track by a loose Hadrosaur and into a facility that's suffering from a  breakout of Velociraptors, Dilophosaurs, and, finally, a monstrous Tyrannosaurus rex – before you narrowly escape via the ride's 85-foot drop! It's an iconic experience, to say the least, and it has me gripping the guard bar just as hard as I did when I first rode it.
Compared to the other water rides, the audio-animatronics/props utilized are realistic to the dino-standards of their time (the late 1990s). River Adventure packs the most thrills as not only is there such a striking twist from an easygoing start to a suddenly-terrifying finale, but the perils are happening directly to the guest himself instead of watching a story unfold around him. While the theme is from a '93 movie, it's a cult hit that is strong enough to create an entire theme-park land based on it. That same fandom has even been reinvigorated from the popularity of the current Jurassic World franchise, which has brought in new additions to the park and the on-site Royal Pacific Resort. One could argue that, due to this, Jurassic Park: River Adventure could use some updating. I'd agree, and if the changes being made to its California counterpart are any tell, I look forward to the possibilities on our coast. When I consider that this ride also has a strong consistency of getting me and everyone else wet, it steals the number-one spot on my list.
Bravo, you glorious dinos!
–
What are your rankings for Islands of Adventure's water rides? Share them with (literally) tens of thousands of other Universal fans and vacation-planners in our OI Community Facebook group!
And be sure to follow Orlando Informer on Facebook, Twitter, and Instagram for the latest news and tips at Universal Orlando, Walt Disney World, and other Orlando destinations.