Star Wars Land, what is increasingly being talked about – and presented by Disney as – being the next major step in the evolution of theme park design, has been under construction at both Disneyland in Anaheim and Hollywood Studios in Orlando since April 2016. Since then, progress in California has skyrocketed ahead, leaving Florida straggling behind; comparing photos between the two work sites, it would seem that Walt Disney World Resort's version of the land is at least two or three months behind – something which seems to be more precisely confirmed by the erection of the areas' AT-AT skeletons, which went up in March 2017 at Disneyland but which only appeared in Hollywood Studios this past week.
This has, of course, led to speculation in some quarters of the themed community that Orlando's Star Wars Land will be delayed, and a number of various reasons have been invoked as to why, including the presence of a boutique Star Wars hotel that is rumored to only appear at Disney World. (Just a brief recap for all those unfamiliar with the story: a small, all-inclusive, fully-immersive hotel is supposedly being built right next to the new theme park land, offering guests the opportunity to be part of a two-day-long experience that has them staying in character the whole time and gaining special access to the new area. If successful, it's been suggested that other "in-park" hotels will appear, including an Indiana Jones-themed one.)
Our conclusion, however, is a little bit different: Florida's part of the project, alleged hotel and all, is precisely on schedule – to be opened at a later time after Disneyland gets its Star Wars Land. Here's why we think this.
There's a limited talent pool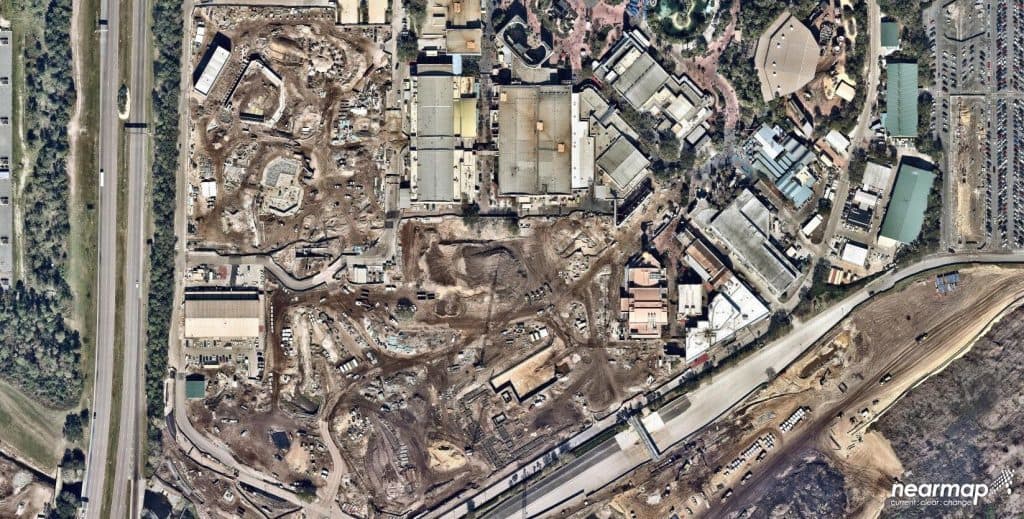 While the themed industry is all shiny parts and exhilarating attractions up top, for public consumption, the seamy underbelly is all business nuts-and-bolts – a huge component of which is the simple, universal reality of staffing. Only so many Imagineers can be screened, hired, and then – most importantly – trained, and you better believe that The Walt Disney Company would prefer to keep a smaller core of experienced employees on hand than a constant ramping-up and winding-down for each and every project (which would represent, over the long haul, a terribly inefficient use of resources).
This may make the most economic sense, but it does put a crimp on Walt Disney Imagineering's throughput, forcing projects such as these to be sequential instead of simultaneous. Think of it like the Army: each individual soldier requires several months' worth of training, and then, once transformed into a one-man fighting machine, he can only be deployed to one location at a time. In this way, the cadre of engineers, designers, writers, sculptors, and painters are all leading the charge at Anaheim, with Orlando taking a backseat for the time being. (The upside for Disney World? A number of the addition's challenges will already have been met and resolved, making the completion of Star Wars Land at Hollywood Studios relatively smooth [in theory, anyway].)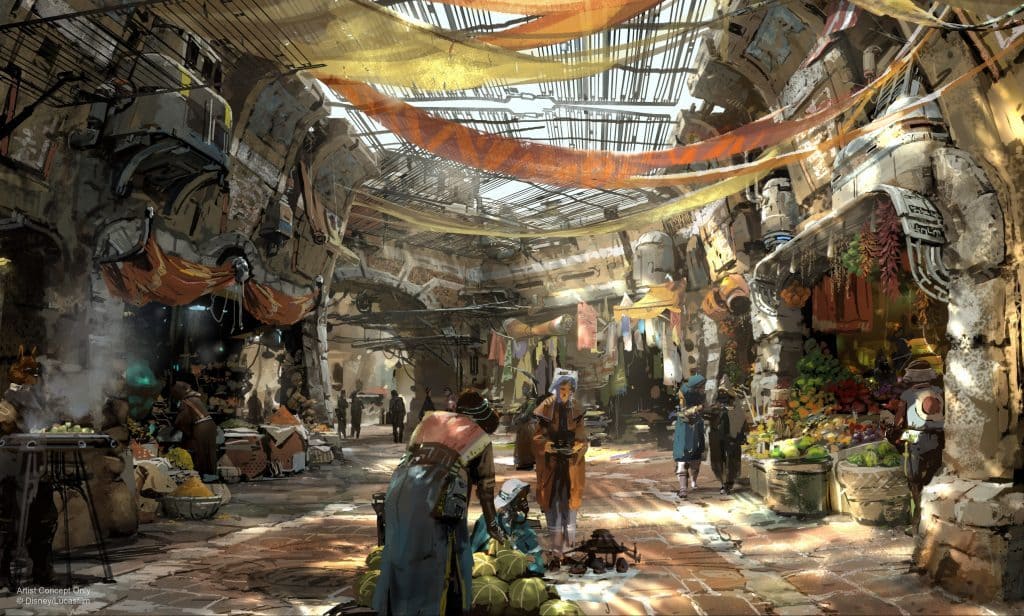 If that telltale AT-AT truly is a good representation of the different timelines, our best guess is that Florida will be throwing its version of Star Wars Land's doors open some two or three months after California debuts its counterpart. Assuming that Disney would have no problem with having the area bow at Disneyland in spring – which Universal did with Race Through New York Starring Jimmy Fallon this year and will do with Fast & Furious: Supercharged next year – then we could even potentially be looking at a staggered opening of April and then July. While this would still allow Orlando plenty of time to cash in on the summer vacationing season (this is the same month that The Wizarding World of Harry Potter – Diagon Alley had its grand opening, after all), it really doesn't matter – this is Star Wars, of course, and all the pent-up demand to experience the first theme park land devoted to it would combine with the excitement of having the sequel trilogy come to a conclusion that very same summer (the still-untitled Star Wars: Episode IX will drop in theaters on May 24, 2019).
Oh – and lest we forget, we also suspect that this same exact scenario will befall Universal's various Super Nintendo World areas, which is expected to debut first at Universal Studios Japan before venturing over to Florida and then Hollywood. (The only substantive difference here being that each version seems to be drastically different in its topography, in order to accommodate the different sizes and layouts of its respective park, whereas Star Wars Land is, essentially, the same exact 14-acre slice of real estate replicated in two different spots.)
What about that hotel?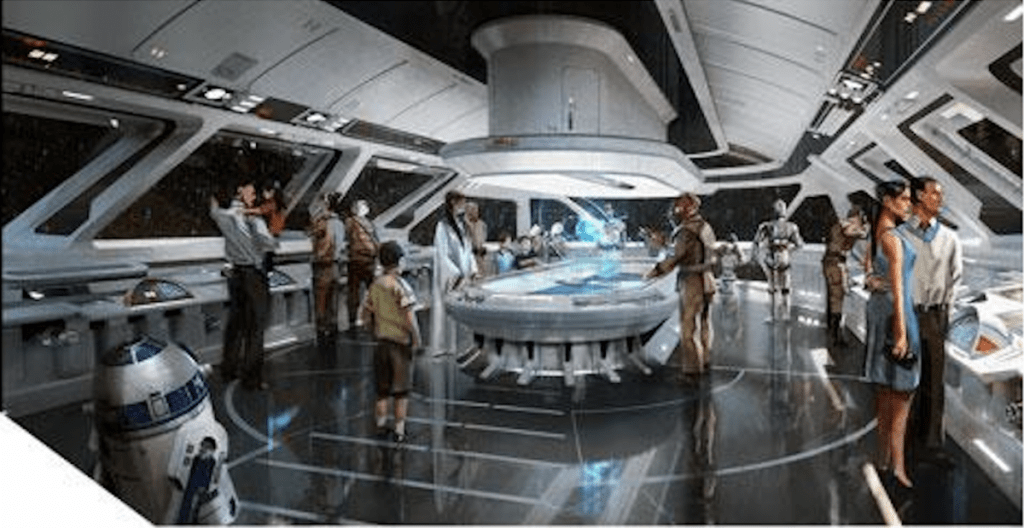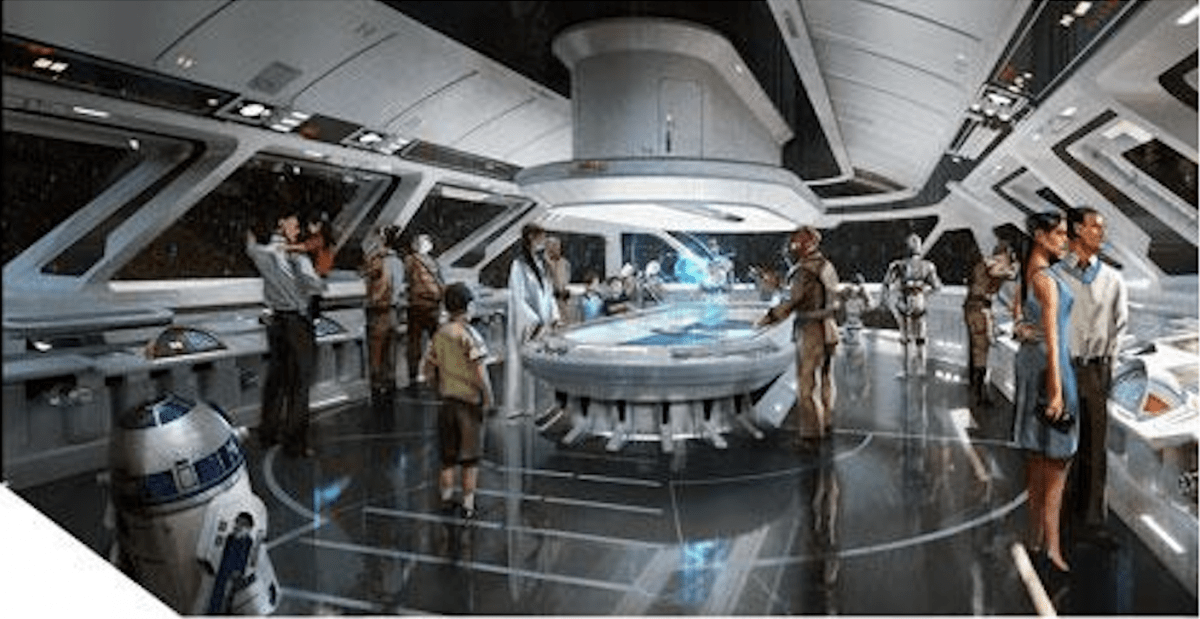 For precisely the same reasons of staffing and the sharing of the Disney resource pool, we are of the opinion that the Star Wars hotel will similarly face a staggered release window, opening several months after Hollywood Studios's Star Wars Land. But there's an additional, and potentially more important, reason for the company wanting to wait on the special resort, as well: the venture represents something that has literally never been done before in the realm of theme parks, and the opportunities for things to go awry are almost exponentially multiplied. Disney will want as much time as possible to prep the building and all of its constituent employees and actors and writers, and it will also want to devote all of its attention to the proposition once the hotel is up and running; the challenges of opening one of its biggest (and most anticipated) theme park lands will be enough on their own, even without having the uncertainties of the attached hotel hovering menacingly over them.
Universal's own recent difficulties with getting its brand-new, state-of-the-art Volcano Bay water theme park open and running at full speed stand testament to this. The company not only rushed to (mostly) complete the park in time for its May 25 grand opening, it also had to install, test, and then monitor its Virtual Line system from the ground up while doing so, an endeavor Universal had never attempted before. The fact that it wasn't afforded the opportunity to fully test and refine the new ride reservation system has been reflected in Volcano Bay's rather high wait times over the past four weeks – once Virtual Line has all the correct data to implement into its complex algorithms, it should provide for a (more) seamless experience for guests. There's no conceivable way that Disney wants to face this very same scenario, especially when the subject matter isn't a made-from-scratch Polynesian premise but one of the most beloved entertainment properties on the face of the planet.

(There's actually one final reason why Disney would be wise to open its Star Wars hotel for the 2019 holiday season or, even, early 2020: to entice as many people as possible to come back as soon as possible for their repeat visit. Given that the company has been catering Walt Disney World more and more to the upper classes over the course of the past two decades, this isn't at all a far-fetched motive.)
–
Are we right in our opening-date estimations? The good news is we just might find out next month, when Disney is expected to drop a whole host of new information on Star Wars Land at its biennial D23 expo.
Until then, make sure to follow Orlando Informer on Facebook, Twitter, and Instagram for all the latest Walt Disney World updates.