You have one day free with your loved ones, what better to do than an all-day Disney excursion? But wait a minute – the kids want to go to Magic Kingdom, you want to go explore culture in Epcot, and the husband wants to take a safari in the Animal Kingdom. Oh, don't forget, the thrill rides at Hollywood Studios. But when no one is willing to compromise on going to just one Disney Park, what's a persnickety family to do?
When deciding to have an all-park affair, you need to plan accordingly. Doing all the parks in one day is incredibly exhausting, and some members of your group might not be up for it. My best advice is to book a resort stay, even if it's only for one night.  That way, if someone is in dire need of a nap to recharge for Extra Magic Hours later in the day, they can hop on the closest Disney transportation to reach a comfy bed. This way you can relax without having others sacrifice their time. With that said, many people wonder which resorts are best to stay at? There are definitely more affordable locations that are conveniently close to the Disney vicinity, but my advice would be to stay at a Disney owned and operated resort, mainly because of transportation. Through my past experience with staying at all of the Lake Buena Vista resorts, you may have a hard time using their shuttles to get around to where you need to be, especially if you need to make dining reservation! Normally the Disney buses are on-time and easy way to get where you need to go.
One of the best tips I give to anyone trying to pack all of the Disney magic into one day is to book-end the Kingdom Parks. By that I mean:  start the day with Animal Kingdom and end it with Magic Kingdom.  Why? Animal Kingdom closes earliest, usually at 6 PM. It also is the largest park, which means it has the most amount of walking between attractions. Animal Kingdom is also the hilliest park, which means a lot of up-hill walking. Basically, you do not want to be at the Animal Kingdom on hot days which are all-too common here in the Sunshine state.  So, when beginning your Disney excursion, start with Animal Kingdom. The lesser amounts of attractions are easy to come by in the morning with shorter lines, and you can ride your favorites twice! Who doesn't love re-riding Expedition Everest?
When it comes to deciding whether to go to Epcot or Hollywood Studios after Animal Kingdom, I would recommend Hollywood Studios. Hollywood Studios is a high-volume park that attracts every age with its many thrill attractions, which means… it gets crowded! With your group, choose your top two must-see attractions and decide which one you want to do more and get a Fast-Pass for that one. While waiting for your Fast-Pass time to arrive, you can wait in line for the other attraction or check out some other rides or shows.
Then it is on to Epcot. This park should be the third stop for two reasons: First, you can easily take a boat from Hollywood Studios to Epcot and enjoy a more scenic route from park to park. Second, you can have dinner there before heading to Magic Kingdom. Epcot is a great place to cool-down from the hype of Hollywood Studios and has such a vast variety of dining opportunities.  No matter where you decide to eat at Epcot, you get a rich cultural experience and there are usually alternatives for those picky-eaters!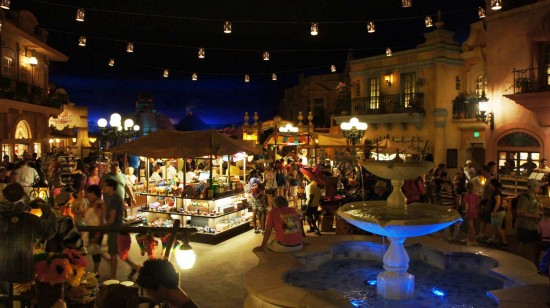 The last of all parks visited should be Magic Kingdom due to the fact that Extra Magic Hours usually generously prolongs the closing time for all Disney resort guests. You can go straight from Epcot to Magic Kingdom through the Monorail system – another scenic route. Magic Kingdom is where everyone has been looking forward to letting loose. There are so many attractions in the Magic Kingdom that sometimes it's hard to decide as a group where to go, so if you want to split up, this is the time to do so. Just make sure to meet up 30 minutes before the park closes and head out before the rush.
Congratulations, you've made it to all four Disney World parks in one day!
[sws_author_bio user="PaigeRadetsky" size="105″ authorposts="More OI posts by Paige" name_format="About the author"] [/sws_author_bio]