This year's Mardi Gras Tribute Store makes it official: even though this is only the second such occurrence at Universal Orlando Resort, and even though Tribute only spread to the Holidays celebration for the very first time just last year, the fully themed, exclusive-merchandise-stocked shop has become the predominant element at all of Universal's various annual events.
And seeing how this latest iteration builds upon literally every advancement from all the previous showings, it's easy to see why this has become the case. Four main rooms are filled to the brim with details, music, and food, and each pushes the theming barrier in ways both big and small. Indeed, if the 2021 Mardi Gras Tribute Store isn't our favorite one since the shops first started appearing at Halloween Horror Nights 2015, then it easily sits towards the very top of that impressive list.
We'll walk you through why.
Mardi Gras Tribute Store 2021 – the coat check and jazz parlor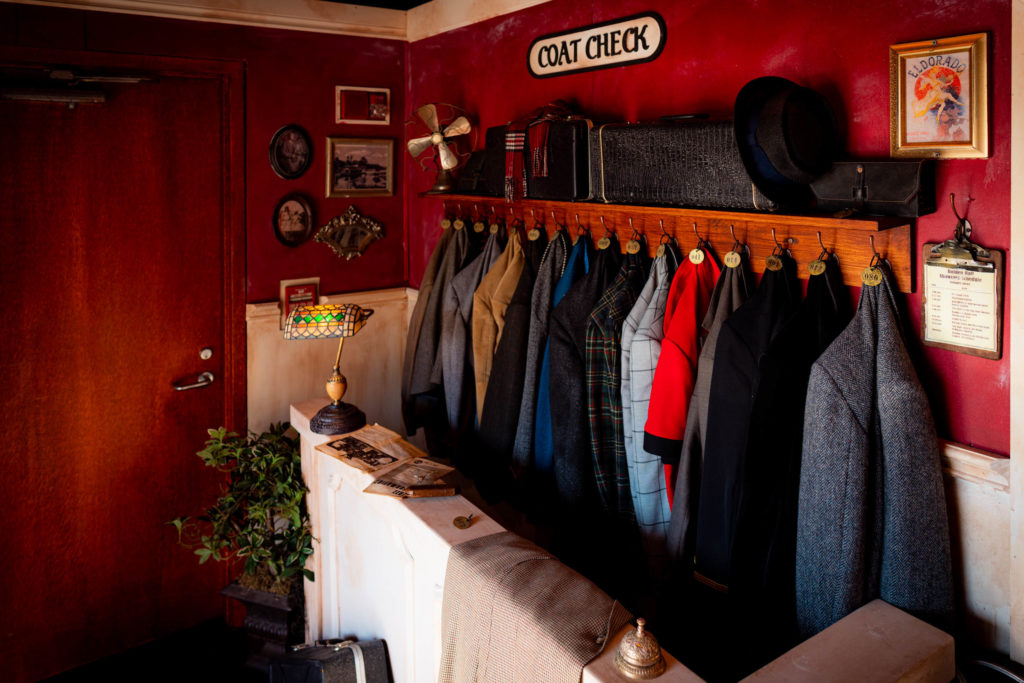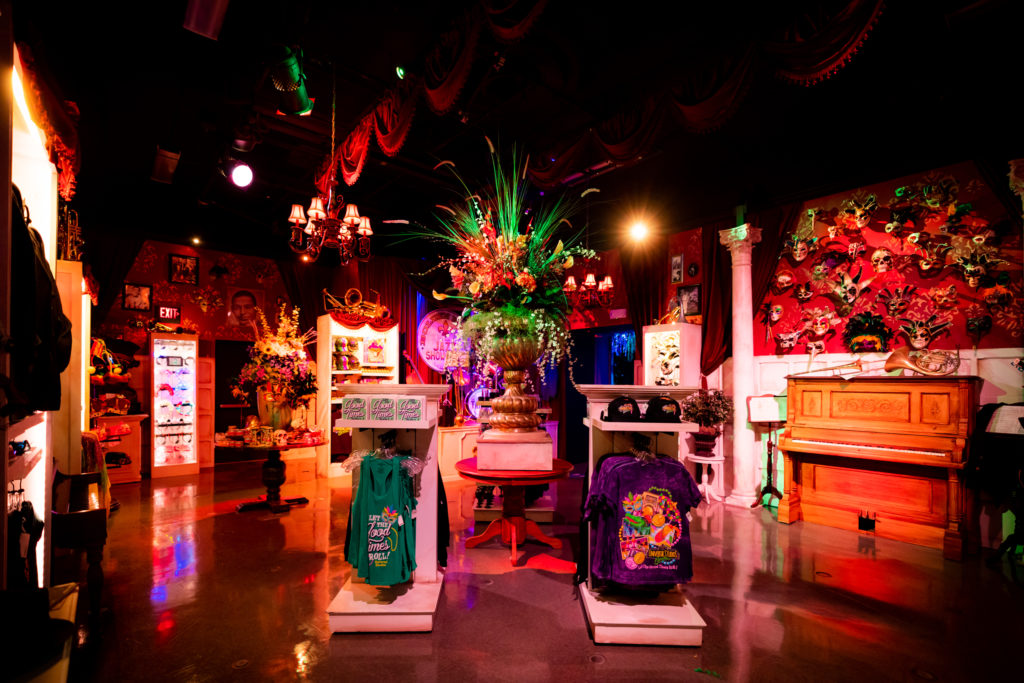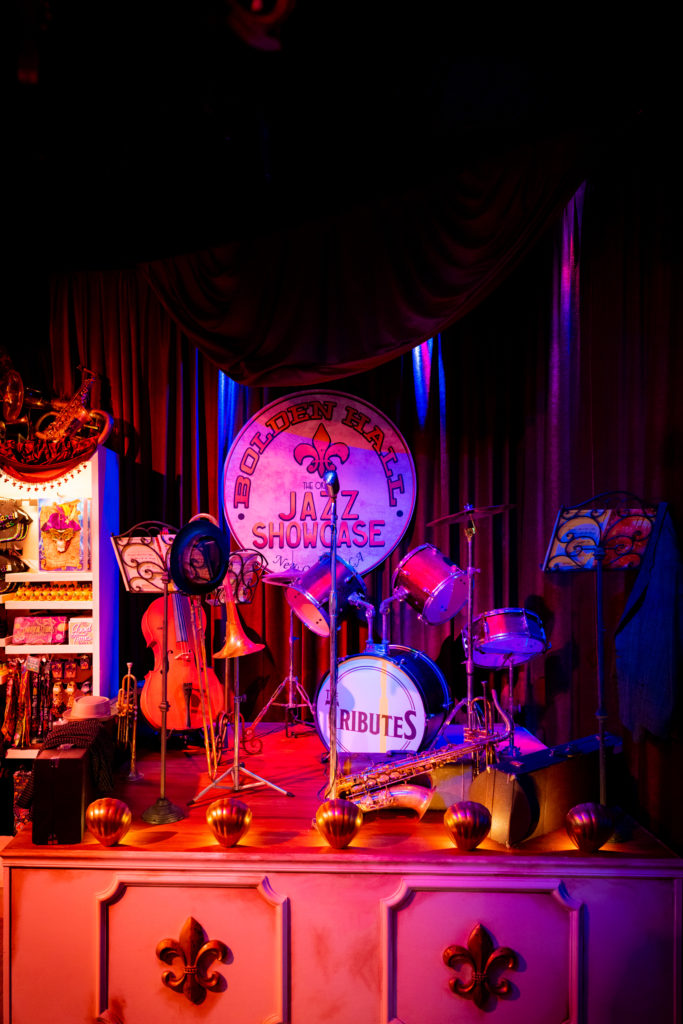 Last year's inaugural Mardi Gras Tribute Store laid down the marker in a big, bold way. A French Quarter jazz parlor was situated in the small entryway; just beyond it were two big additional rooms that were incredibly detailed and oozed all sorts of ambiance, from the beautiful melancholy of the Lafayette Cemetery No. 1-esque cemetery (with its Horror Nights-smelling fog) to the sounds and quiet menace of the bayou. Several guests went inside just to hang out and soak up the atmosphere instead of perusing its "aisles" for commemorative keepsakes, and we have to admit to not blaming them in the slightest. (It was so good, in fact, that it helped cast a long shadow over the first-ever Holiday Tribute Store, which landed just eight months later and which, while adequate in and of itself, couldn't hold a thematic candle to its predecessor.)
Universal's second take on the Mardi Gras premise results in a much more expanded, much more detailed form – no light praise and something which we may not have believed was even possible. The four rooms and assortment of baked goods from both Halloween and Christmas 2020 return here, but their contents and presentation are on a whole new level – it makes us not only eager to enjoy the Big Easy for the next two months or so, but also positively giddy to see how the future holidays will try and top even this outing.
The vestibule has been rendered into a 1920s coat check for Bolden Hall, Universal's fictitious take on a jazz parlor. This room may seem relatively tame in comparison to the art design and production flourishes of everything that follows, but it's deceptively well executed, and it's filled to the brim with various little touches and Easter eggs (here's just one to whet your appetite: Bolden Hall is named after Charles "Buddy" Bolden, one of the fathers of jazz and a New Orleans legend).
The jazz club itself follows in the next room, and while it largely continues its predecessor's understated tendency, it also expounds upon the number of flourishes that are to be discovered seemingly around every corner. There is a small stage set up off to one side (part of the Bolden Hall Jazz Showcase), with a string bass and a drum set emblazoned with the Tributes logo, and two "dueling" pianos arrayed against opposite walls; above and around them are a collection of various brass instruments, flowers, and exquisite Mardi Gras masks, mostly hanging on the walls. (While this piano set-up may not quite be Pat O'Brien's-caliber, the creativity and plethora of noteworthy merchandise arranged around them more than compensate for this.) Lively, upbeat music helps keep you buoyant as you glide from one merch stand to another, perusing collections of beads (buy two, get one free!), feather boas, the standard shirts and shot glasses, and light-up pirate masks (which illustrate this year's new Mardi Gras theme).
But most noteworthy here are a few special items: scented candles that come in such varieties as Moonlit Garden and Voodoo and a customizable-phone-case kiosk (elsewhere in the store, one can also customize his own signs and record labels).
Mardi Gras Tribute Store 2021 – the nautical cemetery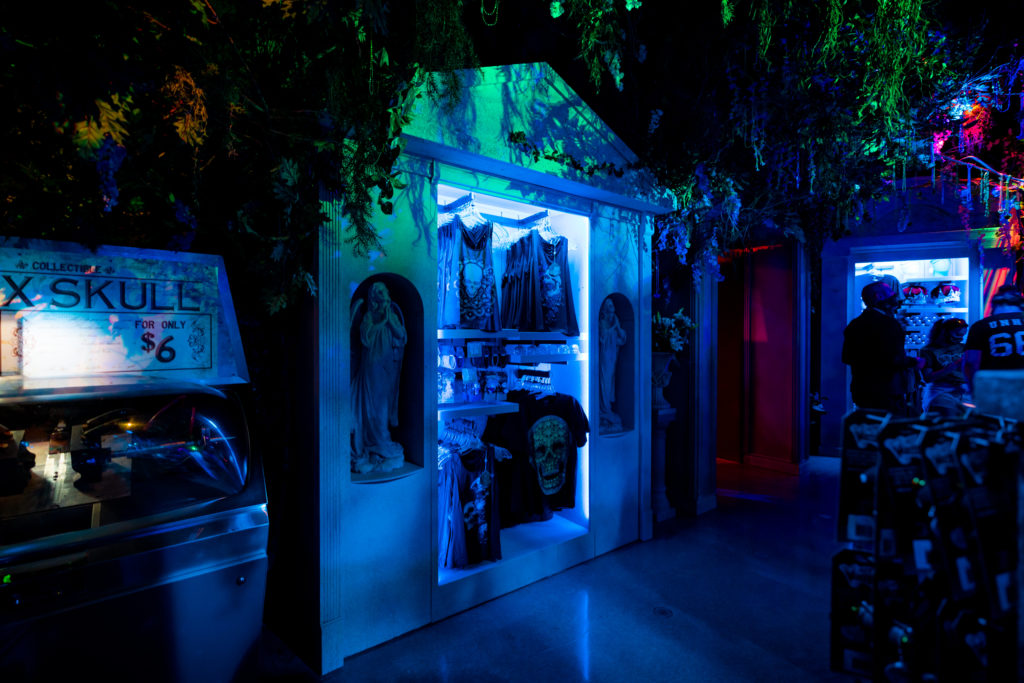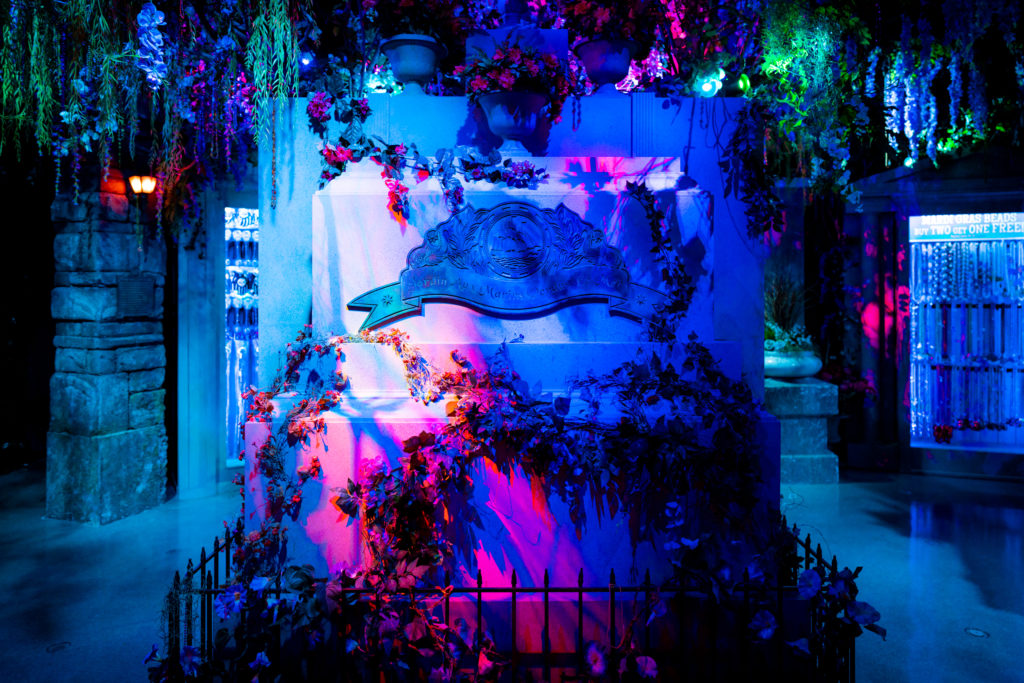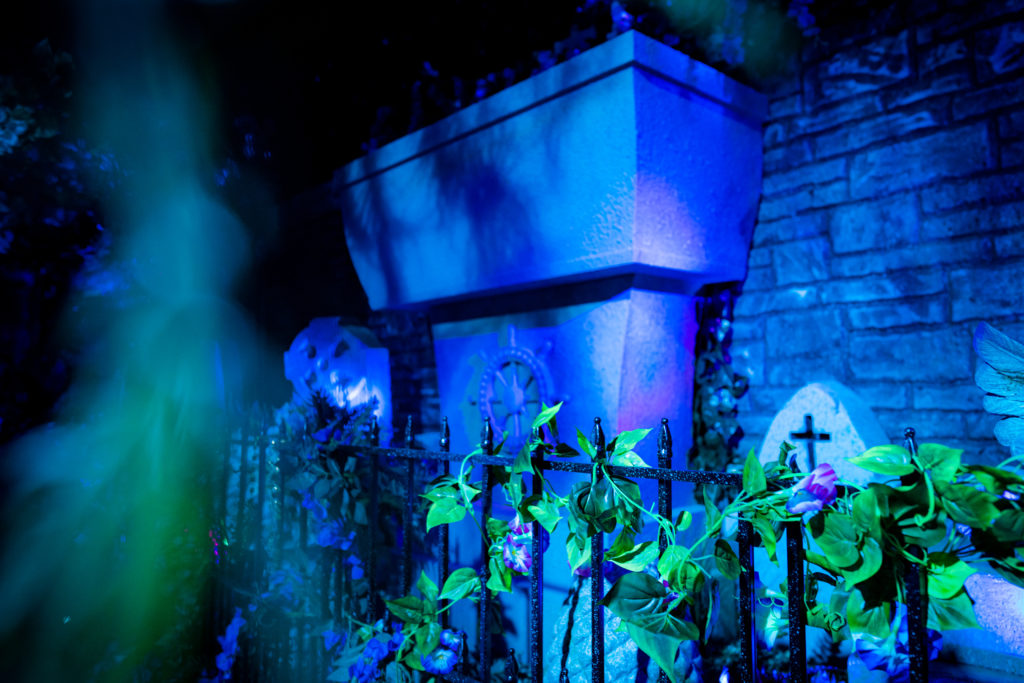 The "flower-filled nautical cemetery," Universal tells us, is "where many sea captains were laid to rest." The room really delivers on this premise – it's awash in eerie blue light and inundated with even creepier sounds of the bayou, of crickets chirping and crows cawing and owls hooting. There are pedestals and, even, angel statues that come straight out of the stereotypical New Orleans graveyard, and the flowers are, indeed, everywhere you look, hanging from the ceiling or climbing along railing. Our favorite thematic touches, however, just may have to be the central gravestone that's emblazoned with "Garden of sailors lost at sea" in French, and a small mini-cemetery that's walled off in the corner, populated by even more headstones, beads, purple lighting, and one well-placed Easter egg.
Among the stonework and occasional skull, you'll discover one of the Instagram walls that have become so popular at the various Tribute Stores over the past year, along with another newfound perennial, a Mold-a-Rama machine, which is this time given over to making customizable wax skulls (for six dollars each). Strewn between them are light-up necklaces and gloves and more pirate-themed goodies, including matching couple's shirts that read "Her pirate" and "His treasure."
Mardi Gras Tribute Store 2021 – the waterfront warehouse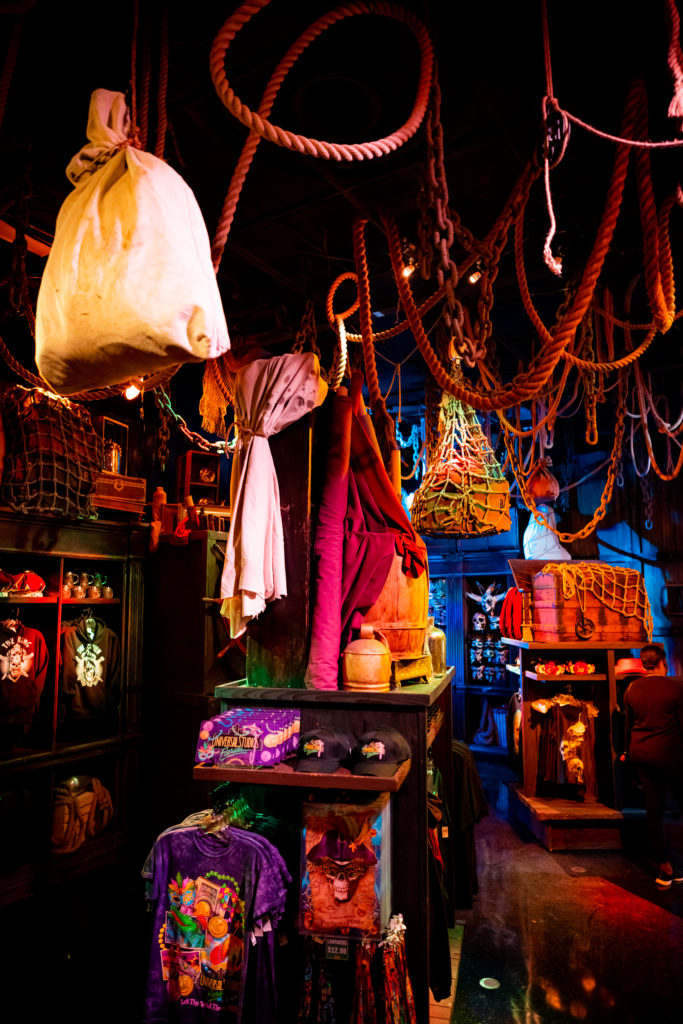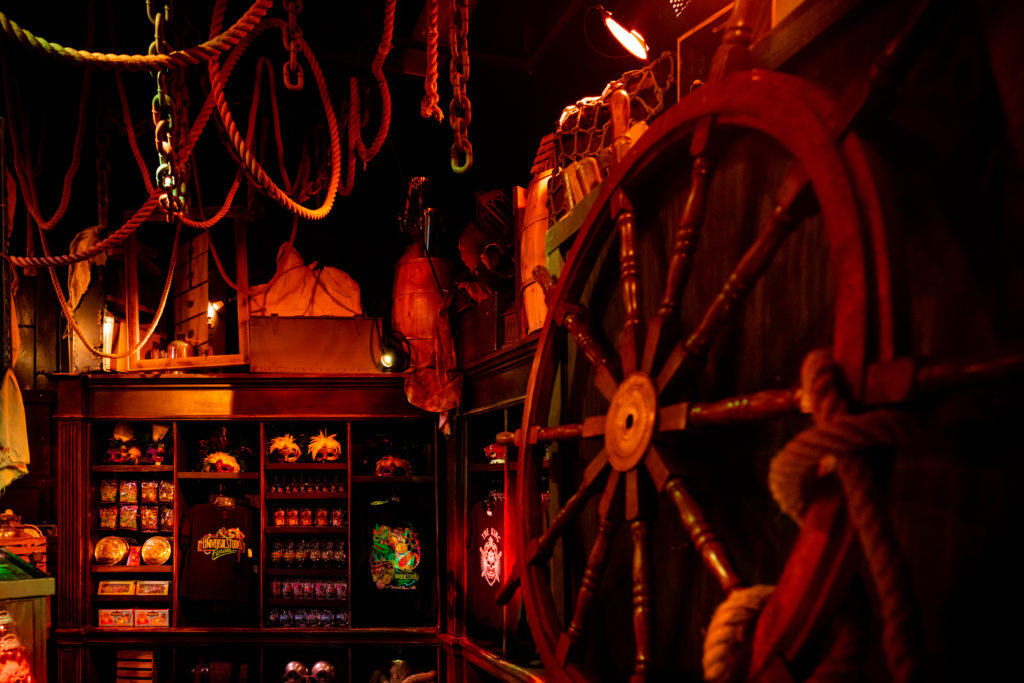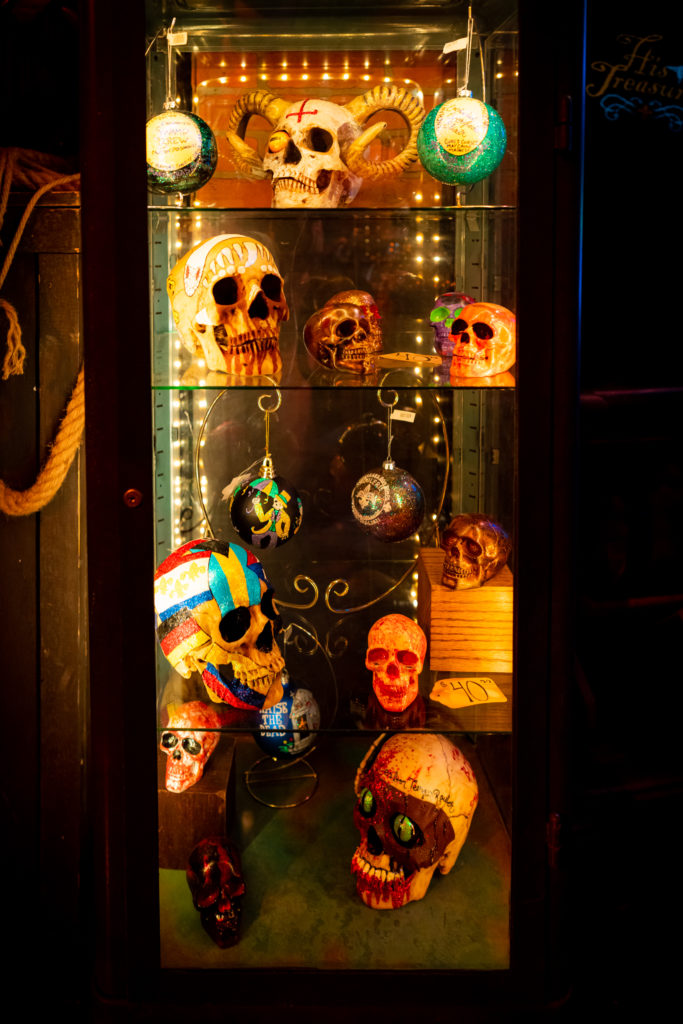 Yet again, we step into an almost-completely-different world, and yet again we're able to admire just how well Universal's designers have been able to pull off such immersiveness.
This smugglers' hold, where "all manner […] of treasures and trinkets are stashed," truly lives up to its name – if there ever was the living embodiment of sensory overload in a static theme-park location, this single room would be it. While there may be too many details and props and sounds to take in after just one pass-through, we are more than willing to point out just two of our favorites: the gold coins spilling out of their container and the wooden crate dangling from the ceiling in a rope net. They're extremely evocative of the overarching gestalt that's been created in this space, and one could just as easily name two or three others.
In terms of merch, expect to see phone cases, lanyards, salt-water taffy, and chocolate alligators sitting side-by-side with cutlasses and even more scented candles (this time pirate-themed, of course). And don't forget the other wax machine, this one serving up pirate ships (though still at $6 a pop).
There is so much to see and explore in the waterfront warehouse, you could easily spend most of your Tribute time in here – if it weren't for one additional room, that is.
Mardi Gras Tribute Store 2021 – Barataria Bayou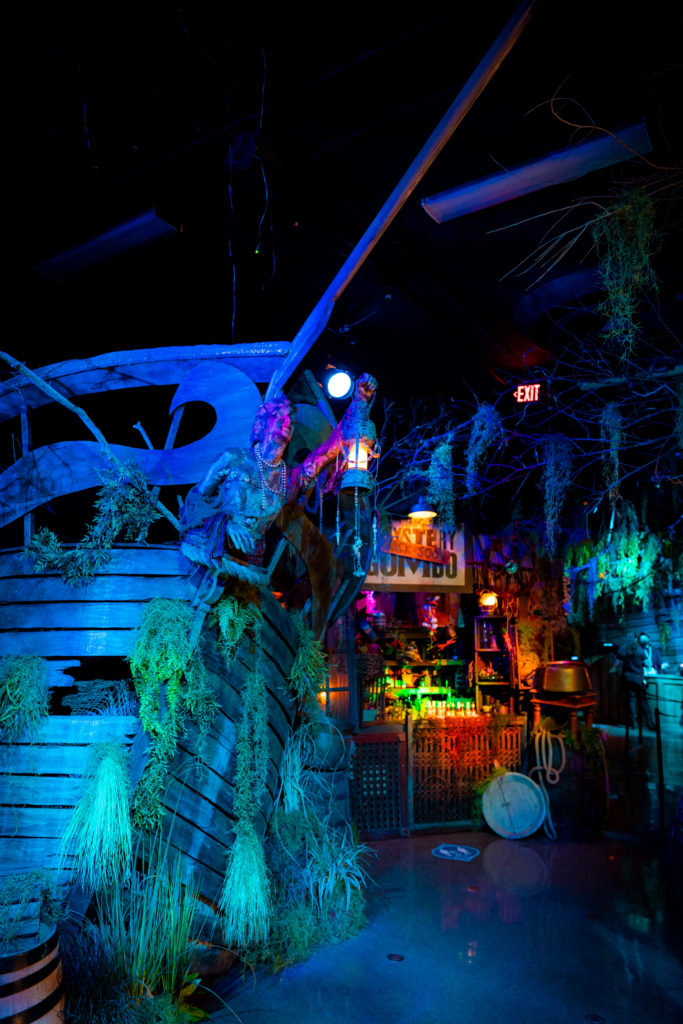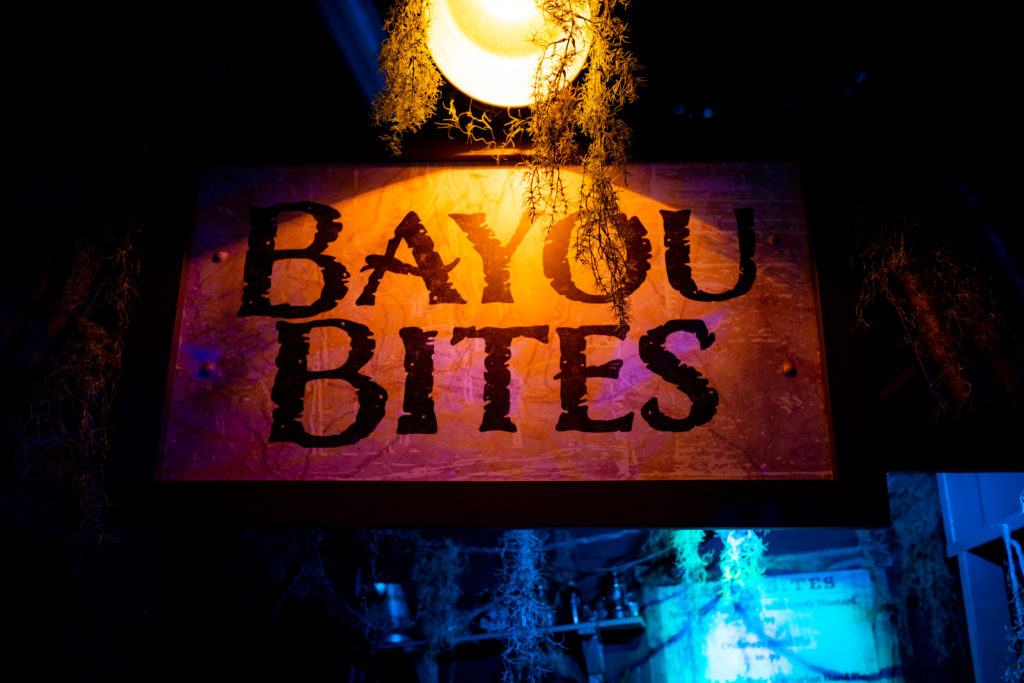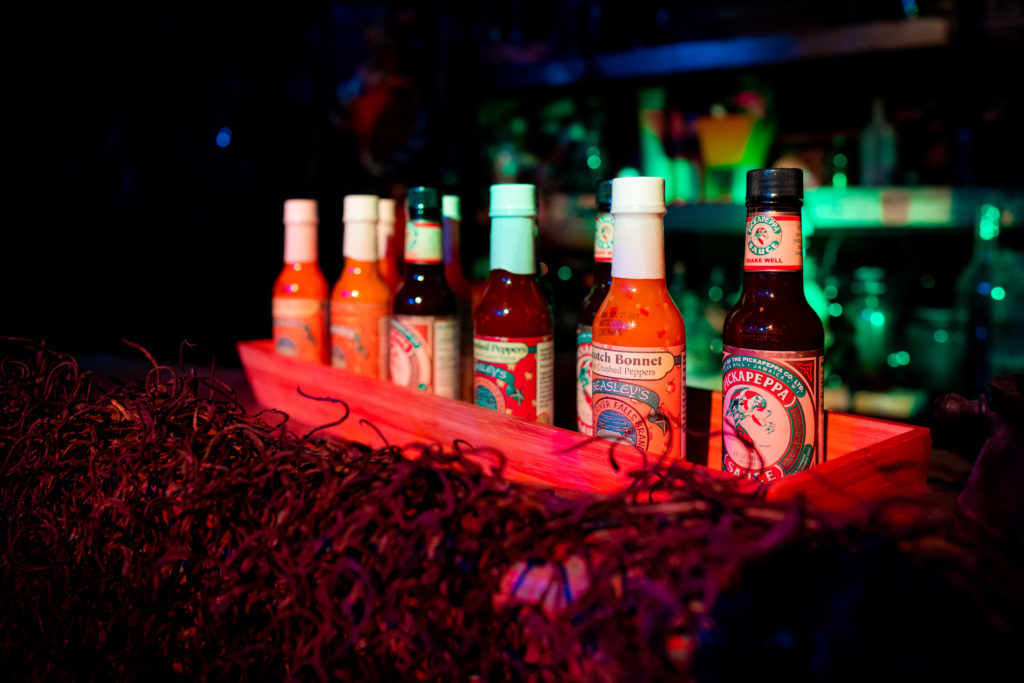 The crown jewel of the 2021 Mardi Gras Tribute Store is, without a doubt, Barataria Bayou, the secret location where Captain Lafitte and his crew transferred their illicit wares to smaller boats to be sent up the river to New Orleans. A giant shipwreck towers over the scene – the legacy of the good captain, if we had to guess – and helps set the mysterious, light-flickering mood for the culinary proceedings. Yes, that's right – this little village, according to a plaque on the wall, rests "in the mossy shadows of a fallen pirate empire" but still celebrates "Cajun food and music and the many cultures that had to collide to create New Orleans."
This final room does, indeed, do all that, and more. A food stand by the name of Sweet Treasures offers all sorts of sweet and savory dishes – Moon Pies, Mardi Gras Macarons, Masquerade Cookies, King Cake, and Banana Foster Cheesecake Pop chief among them – while the next-door Bayou Bites serves up the savory treats of the Andouille Puff Pastry with Creole Mustard, Crabmeat Hand Pie, and Spinach & Artichoke Vegetarian Hand Pie.
But the real star of the gastronomical show has to be the next evolution of the Beating Heart Gummy from last year's Halloween Tribute Store: the Talking Skulls, which can be found at the Pirate Skulls stand. These mixed sour-berry delights are animated pneumatically while resting on their plate behind a glass case; once removed, of course, they become ordinary, stationary (though still delicious) gummies. (This time, Universal has provided a narrative explanation for the occurrence, stating that buying the skulls will release them from their curse – a nice touch and another great example of how much more in-depth this Tribute goes than any of its forebearers.)
There are a few other pieces of merchandise here, such as a Pirate Banana Rum-scented candle and some seemingly exclusive varieties of hot sauce, but we would completely understand if you were too busy already chowing down on your treats to walk right past them.
---
How blown away are you by the new Mardi Gras Tribute Store? Share your thoughts and impressions with 150,000+ other die-hard Universal fanatics in our Orlando Informer Community on Facebook.
And be sure to follow Orlando Informer on Facebook, Twitter, and Instagram for the latest news, tips, and more at Universal Orlando, Walt Disney World, and other Orlando attractions.