Three short weeks after Universal surprised us all with the revelation that the fan-favorite Tribute Store would be landing at Universal Studios Florida in the summer for the very first time, we got our chance to set foot in the retail space.
There are so many reasons we were excited to plunge into this Jurassic World take on what is now a Universal Orlando institution, it's hard to keep 'em all straight: the previous Tribute iteration, which arrived alongside this spring's Mardi Gras event, was the best one yet; this is the first time that the flagship retail experience was wholly devoted to just one intellectual property, as opposed to collecting a whole bunch together; and, quite simply, any opportunity to enjoy anything having to do with Jurassic World VelociCoaster – one of our all-time favorite rides now – instantly puts a smile on our faces.
We're happy to say that the Jurassic World Tribute Store didn't disappoint. While we can't quite make up our collective minds just yet about where it ranks, exactly, with the Mardi Gras, Holidays, and most recent Halloween entries, we can easily say that it's an immersive adventure well worth undertaking.
Come see why with us as we explore the new exclusive store's theming, merchandise, and, most fun of all, Eater eggs.
Jurassic World Tribute Store – the entrance and Control Room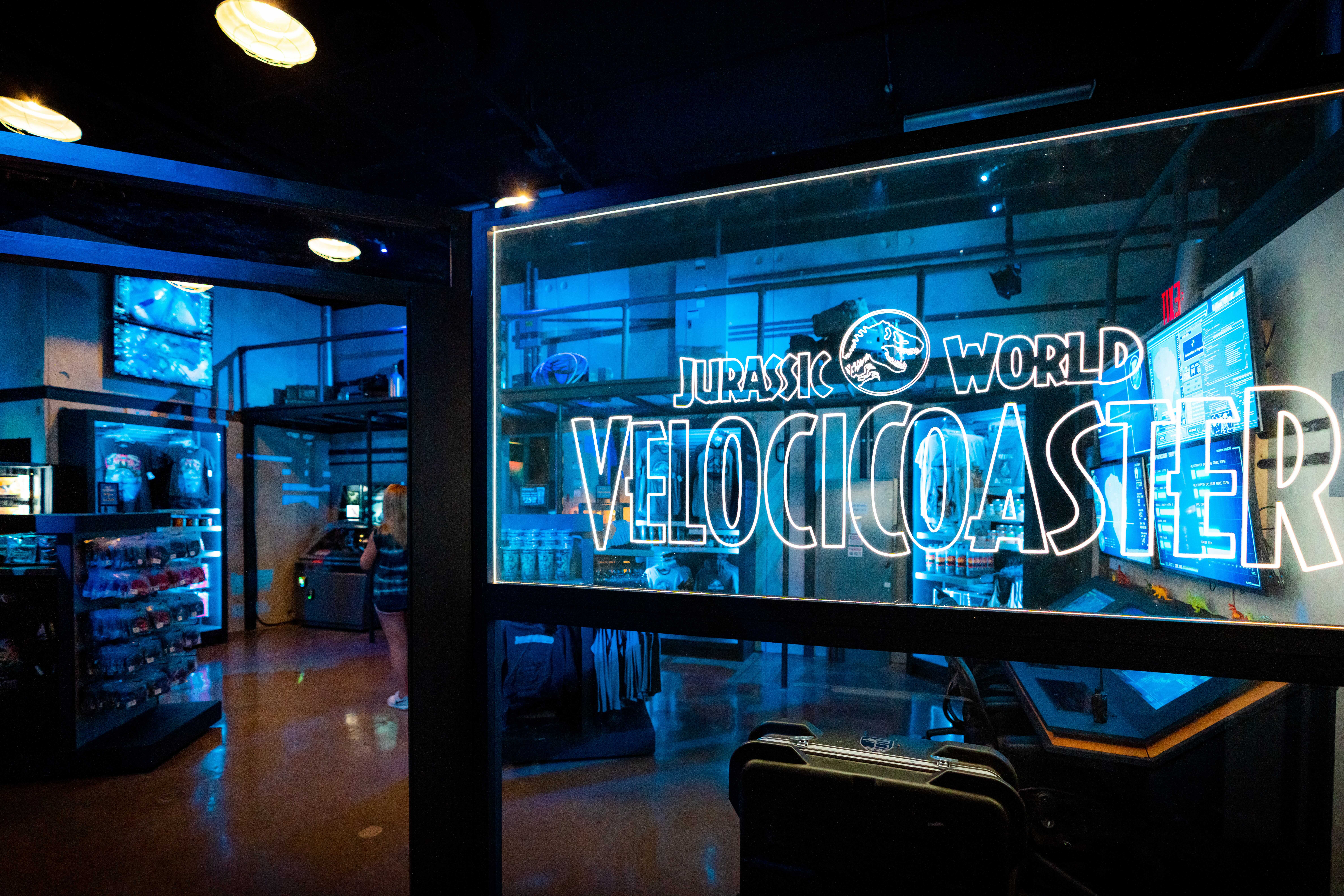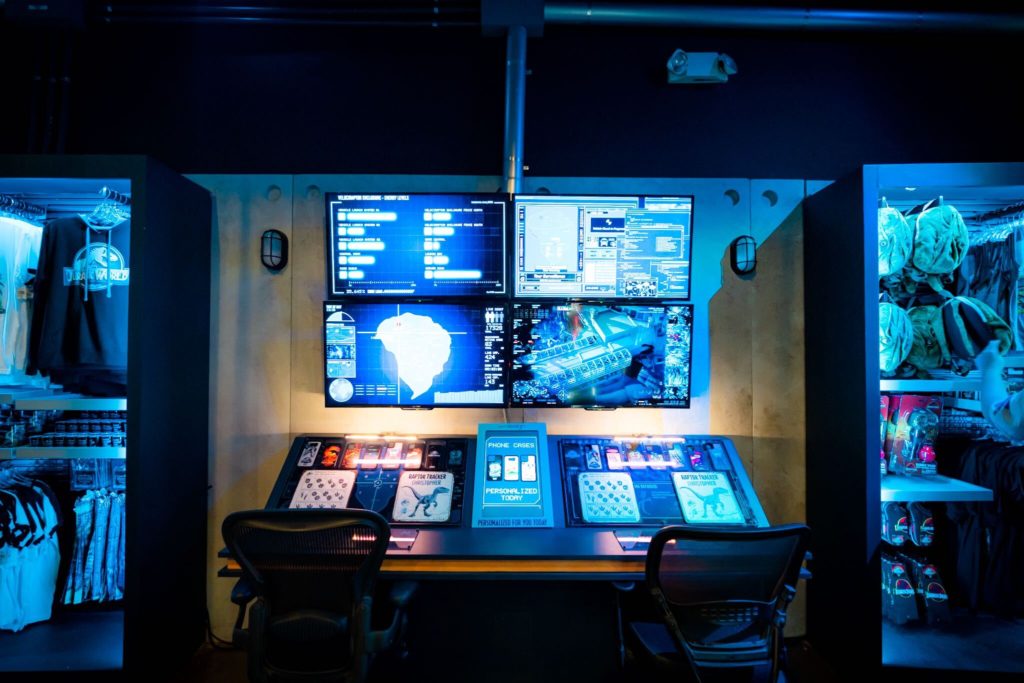 After walking through the iconic Jurassic World arch, which serves as the Tribute Store's façade for this outing, you enter a space that has become very familiar to repeat visitors: the foyer. (That's thanks to Tribute's template having become standardized [and perfected] over just the past 10 months.) This new entry room may be small and completely devoid of any merchandise, but it is nonetheless always well-themed – not to mention always the home of at least a few expertly designed and placed Easter eggs.
In this case, guests will find what looks to be a rather sparse storage room for International Genetics Incorporated, better known as InGen in the overarching Jurassic Park franchise; it's an industrial space filled with fluorescent lighting and various cases and containers. Even though this introductory area doesn't typically contain much, the Jurassic World version is even emptier than normal – something which we'll gladly overlook, as the room still adequately does its job of setting the tone for the whole experience that follows.
Just around the corner is the first room proper, which has now been given over to the Jurassic World VelociCoaster Control Room. This is really where Universal's backstory for its latest roller coaster gets to shine: since the company has posited that the new attraction actually exists within the confines of the fictitious Jurassic World theme park, that has thus enabled Tribute's designers to say that their store does, as well. And this Control Room immediately helps to seal that immersive deal – there are several monitors displaying all types of statistics about VelociCoaster and the pack of velociraptors that run alongside it, from showing the ride in action to the vitals of its resident dinos. There are fuse boxes and cables on the walls, a second floor filled with supplies, a screen displaying an active map of Isla Nublar (the equally fictitious island that the theme park is situated on), and Jurassic World team-member shirts and hard hats hanging off to the side. It really does feel like a command outpost at the heart of VelociCoaster's operations.
And that's to say nothing of the merchandise. While most of it is on the rather-standard-but-still-fun side – t-shirts and tank tops, bags, and prints – there are some notable inclusions. After being put on sale for the very first time in the Mardi Gras Tribute Store earlier this year, the Magic Candle Company is back once again, this time with such memorable scents as Hadrosaur Cove, Pack Hunt, Triceratops Trail, Stegosaurus Stream, and, of course, Churro Stand. Another popular carryover from previous store appearances is the now-ubiquitous Mold-a-Rama machines, which, for the Control Room, will produce your very own Tyrannosaurus rex. And what just might be our favorite confluence of theming and exclusive merch comes in the form of the U-Design phone case kiosk, which doubles as a VelociCoaster control panel.
Jurassic World Tribute Store – the raptor paddock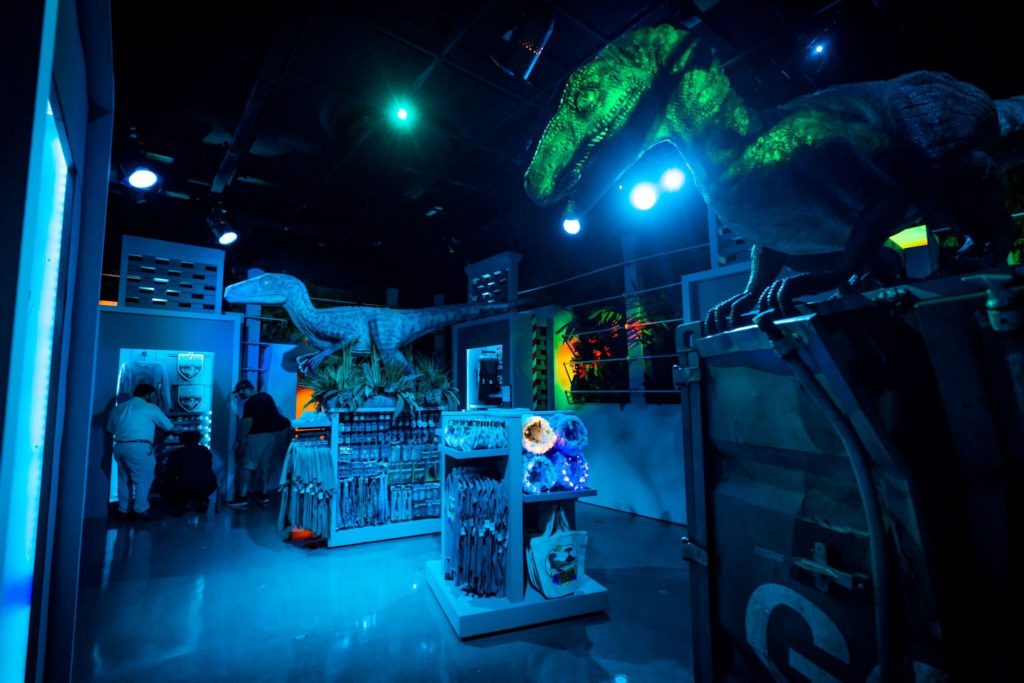 Jurassic World Tribute Store's second room is a blast right out of the original Jurassic Park past, recreating the raptor paddock from that 1993 film. The instantly recognizable dinosaur fencing surrounds you, with some rather lush landscaping situated just beyond that – as you walk around this space, we wouldn't blame you for momentarily feeling as if you're outside over at Islands of Adventure's Jurassic Park land at nighttime. Finishing off the theming are some well-positioned velociraptor statues, which come with their own occasional growls and snarls, and even more InGen branding, including on a containment vessel that's been pulled all the way out. This truly lives up to the "tribute" part of the shop's name (and we haven't even gotten to the third environment yet!).
But the real star of the show here – for us, at least – was the rather clever usage of the raptor pens, which have been retrofitted to function as merchandise displays. And what can be found in those cases is also noteworthy, as it includes two brand-new merch lines that are exclusive to Universal Orlando Resort: Into the Wild, which comes with dino-theming and neutral colors on spirit jerseys and key chains, and the Tropical collection, with its bright colors, tie-dyes, and summer items, such as beach hats. Also present in the raptor paddock are shot glasses and dino bubble wands, which you certainly can't go wrong with!
Jurassic World Tribute Store – the lab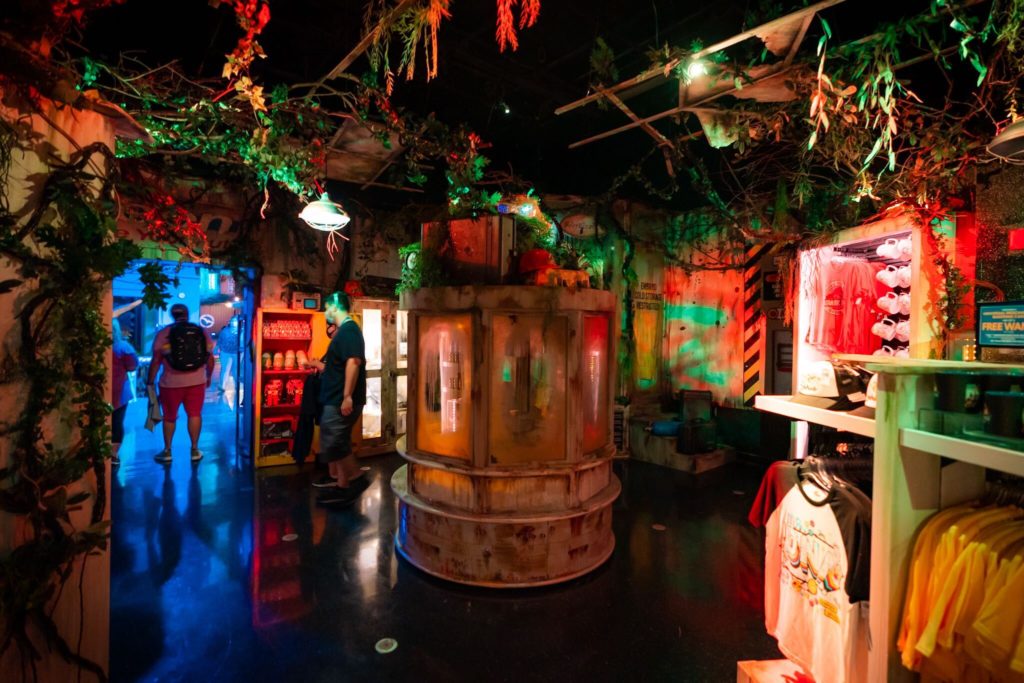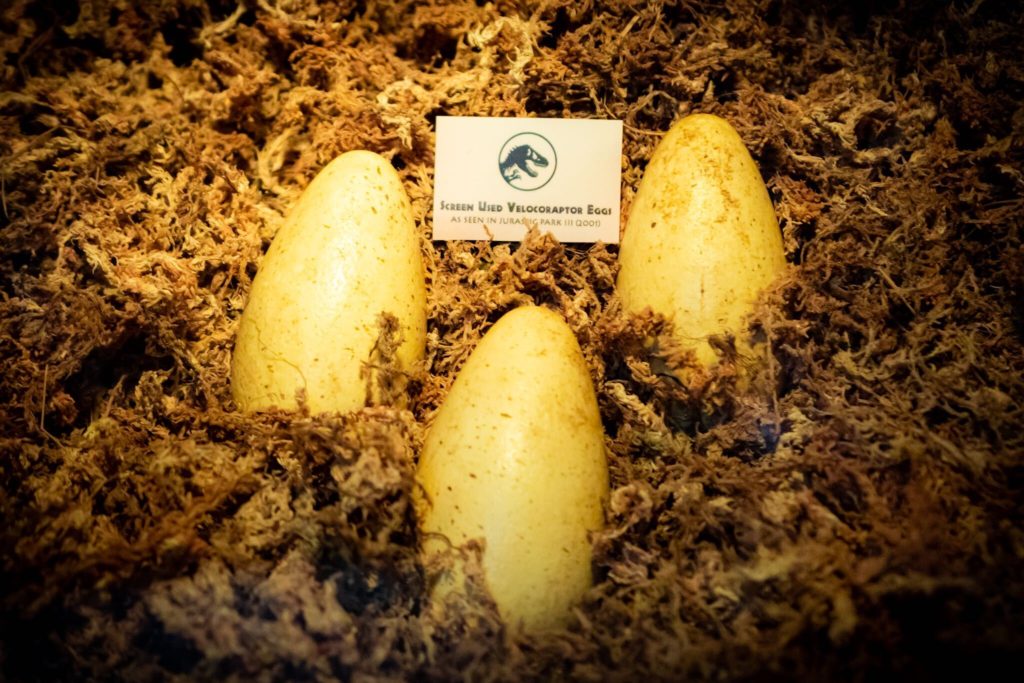 The Jurassic lab is the place, of course, where the dinosaurs are created by InGen, but, for Universal's Tribute purposes, it's also where the company can collect some "rare, authentic props that were used in the original Jurassic Park films." These include some screen-used raptor eggs (but of course) from Jurassic Park III, legal and financial documentation from the first Jurassic Park and The Lost World, respectively, and the infamous Barbasol "cryo can," which needs no explanation. And taking up a place of honor in the very center of the room – the centerpiece of the laboratory, both literally and figuratively – is the incubator where a baby raptor hatched in the 1993 movie. It's a nice inclusion and a nostalgic touchstone, we're sure, for many who make their way through the Tribute Store.
There is also a fair bit of supplemental theming here that really helps to make this room more than just a repository of screen props. There is overgrown foliage, flickering lights, and age-distressed Jurassic Park uniforms, making it feel as if you truly are roaming through the old abandoned facility that started it all. And when the power periodically surges, a bright light quickly flashes on a wall covered with Jurassic Park promotional artwork, revealing the outline of a T-rex – a loving cameo, we assume, by the particular creature that helped save our characters in the inaugural chapters of both the Jurassic Park and Jurassic World trilogies.
In terms of souvenirs, you can find some retro-themed (or, at least, retro-tinged) apparel, coffee mugs, and dinosaur toys(!) stashed away in the lab, highlighted by the presence of a whole (mini) line of Mr. DNA paraphernalia that includes tumblers and stickers. There's also another of the Mold-a-Rama machines here, with the words "Bingo! Dino DNA" and the adorable Mr. DNA once again emblazoned on it. (Hey – you can't get enough of the lovable sort-of mascot; he's one of our favorite Easter eggs in the VelociCoaster queue, too!)
Jurassic World Tribute Store – the Gentle Giants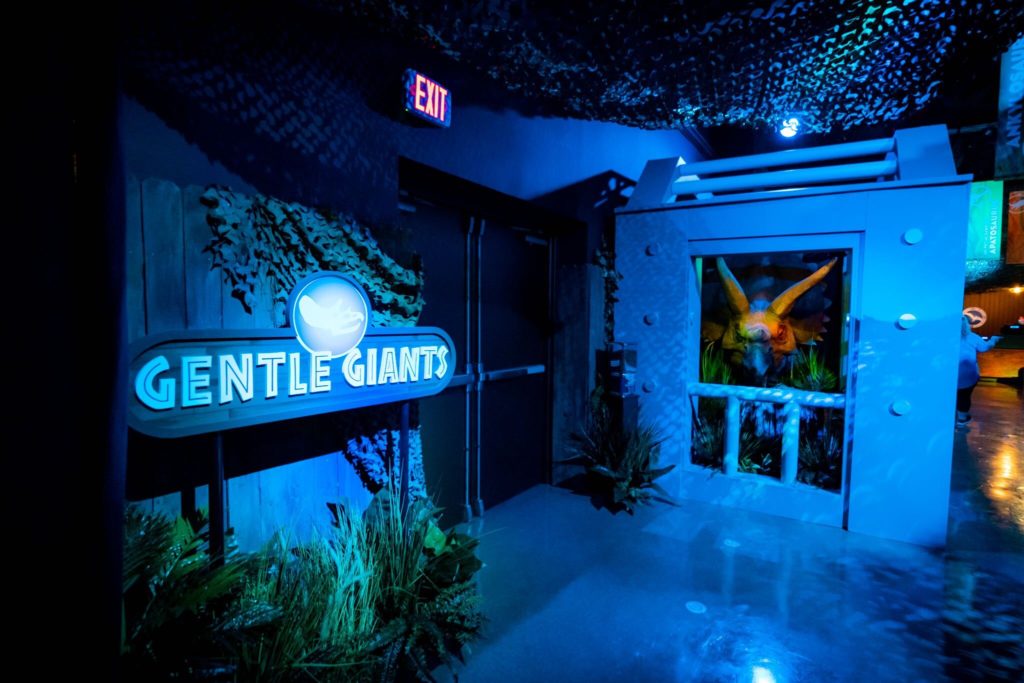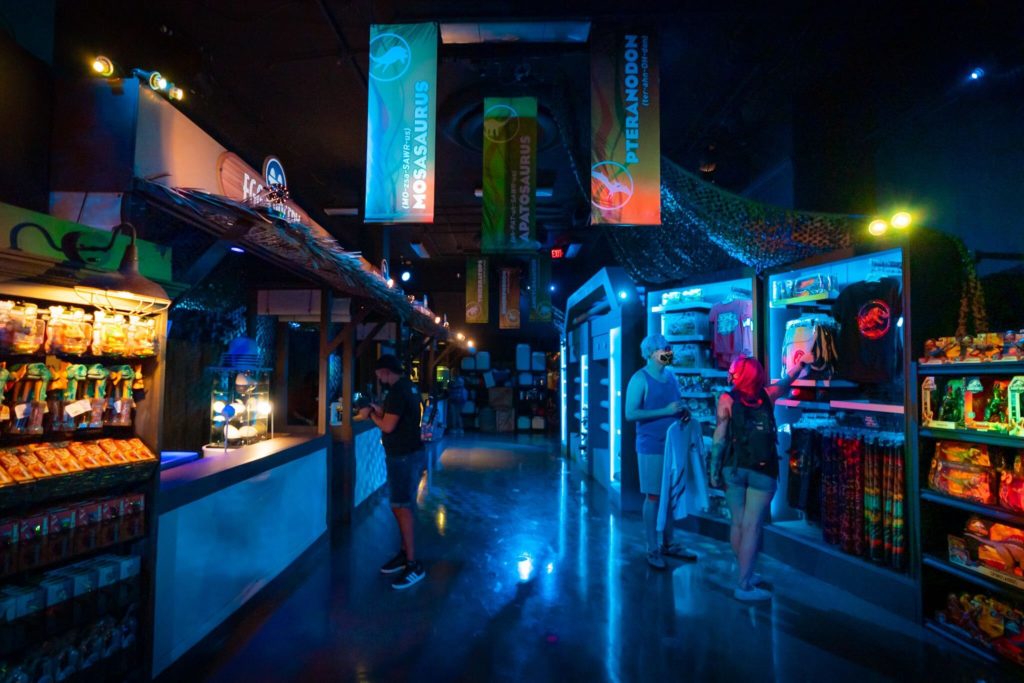 The final room of the Tribute Store has quickly become, for many guests, their favorite part of the whole experience. And for the Jurassic World rendition, it's no different – this is where all of the themed food and drinks can be found.
Before you can get to all the food stalls, however, you have to pass by a good helping of theming first. The "Gentle Giants" sign – once again lifted right out of the films, in this case Jurassic World – greets you and leads directly to a triceratops, who sits snuggly in her pen. Nearby is a whole host of "dino chow," as the for-show-only food stand says, where visitors to the Jurassic World park can spend some money to feed the trike themselves (there's even a gumball-esque dispenser, which is a nice touch).
Right next to that starts the little processional of real gastronomical stops. First up is the Treat Outpost, which brandishes a veritable explosion of delicious-looking sweets behind a giant display case – there's Jurassic World Whoopie Pies, VelociCoaster Marshmallow Pops and Apples, Jumbo Oreo Cookies, and a whole bunch more. Next up is the Fossilized Amber stall, which sells a gummy version of the Jurassic Park mainstay (yes, this is the next evolutionary step in the fully-lit-and-animated Tribute Store gummies, coming after Halloween's beating hearts, the Holidays's Christmas lights, and Mardi Gras's skulls). And bringing up the rear is the Egg Nursery, where chocolate eggs wait to hatch baby chocolate dinosaurs for you to devour.
Here's the full list of prices for all of the above:
VelociCoaster Apple – $12.00
VelociCoaster Marshmallow Pop – $6.00
VelociCoaster Cupcake – $6.00
VelociCoaster S'more – $4.50
Jurassic World Dig in Jar – $12.00
Jurassic World Whoopie Pie – $4.50
Pistachio and Egg with Chocolate Medallion – $6.00
Jumbo Oreo Cookie – $6.00
Vegan Brownie Bars – $4.50
Blue Camo Fudge – $4.95
Lava Flow Fudge – $4.95
Chocolate Fudge – $4.95
Chocolate PB Fudge – $4.95
Salted Caramel Fudge – $4.95
Birthday Cake Fudge – $4.95
Fudge Promo – six for $20
Amber Gummy – $7.00
And, finally, on your way out of the Jurassic World Tribute Store, be sure to pay your respects to Jurassic Park/InGen founder John Hammond, who's been memorialized in statue form in the retail space's little exit room.
---
What do you think of the Tribute Store? What would be your first food pick from Jurassic World? Compare notes with 125,000+ other theme-park fans in our Orlando Informer Community on Facebook.
And be sure to follow Orlando Informer on Facebook, Twitter, and Instagram for the latest news and tips at Universal Orlando, Walt Disney World, and other Orlando destinations.