In February, we got our first official confirmation that the mysterious construction that had been ongoing at Universal CityWalk since January 2020 was the creation of a new, updated, and more expansive Universal Studios Store. This was followed in March with the news that the old location received a name change to Universal Legacy Store and was then in the process of getting a makeover into a retro haven, celebrating all 31 years of Universal Orlando Resort's history.
Both developments were, of course, exciting, but it still left lots of unanswered questions – and, at any rate, nothing beats being able to explore a new addition ourselves. Which is why we made sure to be the first to arrive at the new Studios Store on its opening date (that's today!), and much like the seasonal Tribute Store over in the theme parks, we were eager to explore and report back on the new space's overall layout, its contents, and its aesthetics.
Let's see how this new take on the flagship Universal Studios Store is far superior to its predecessor – and see how you're going to end up spending a fair bit of time and coin in the new premises.
What's the location of the new Universal Studios Store?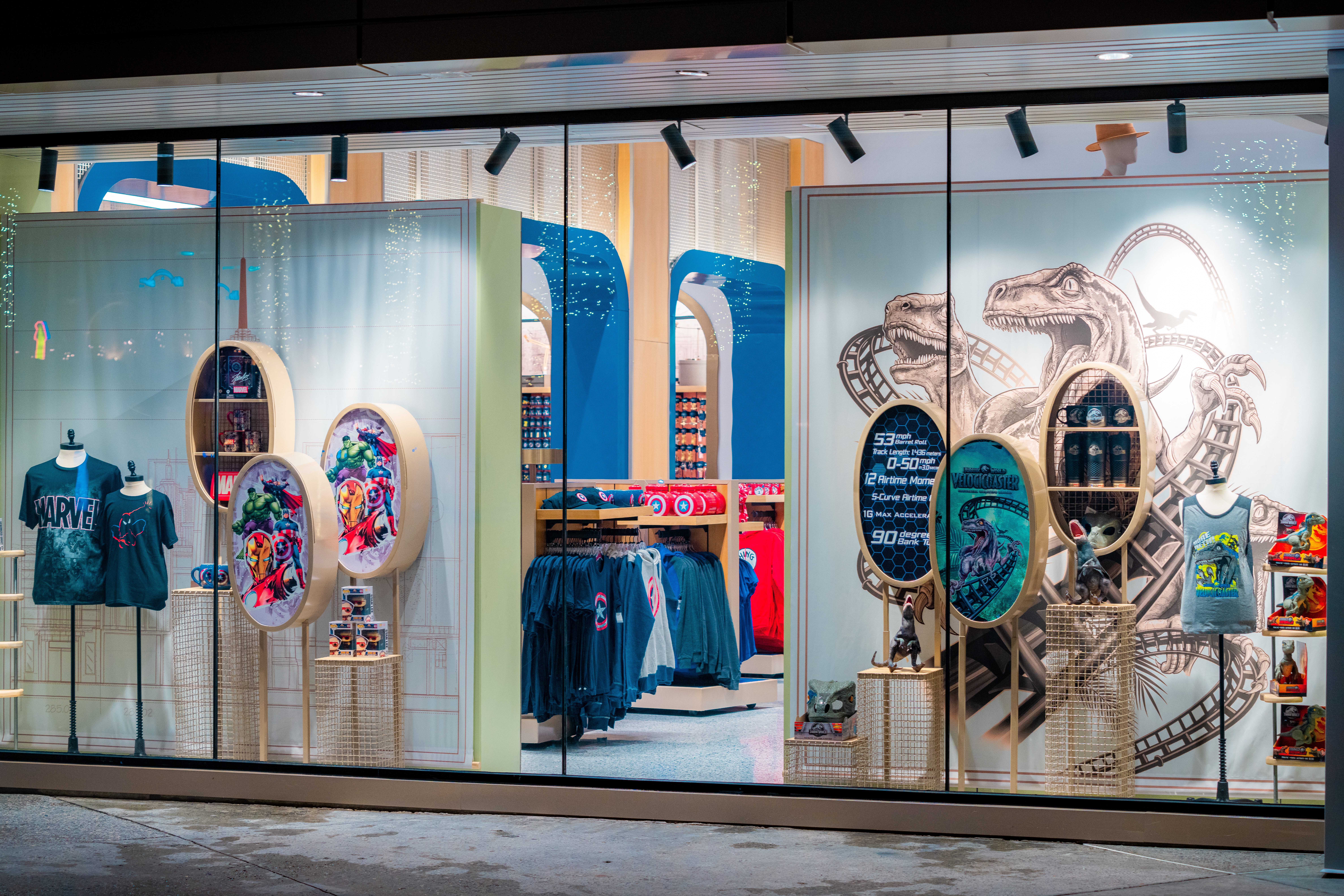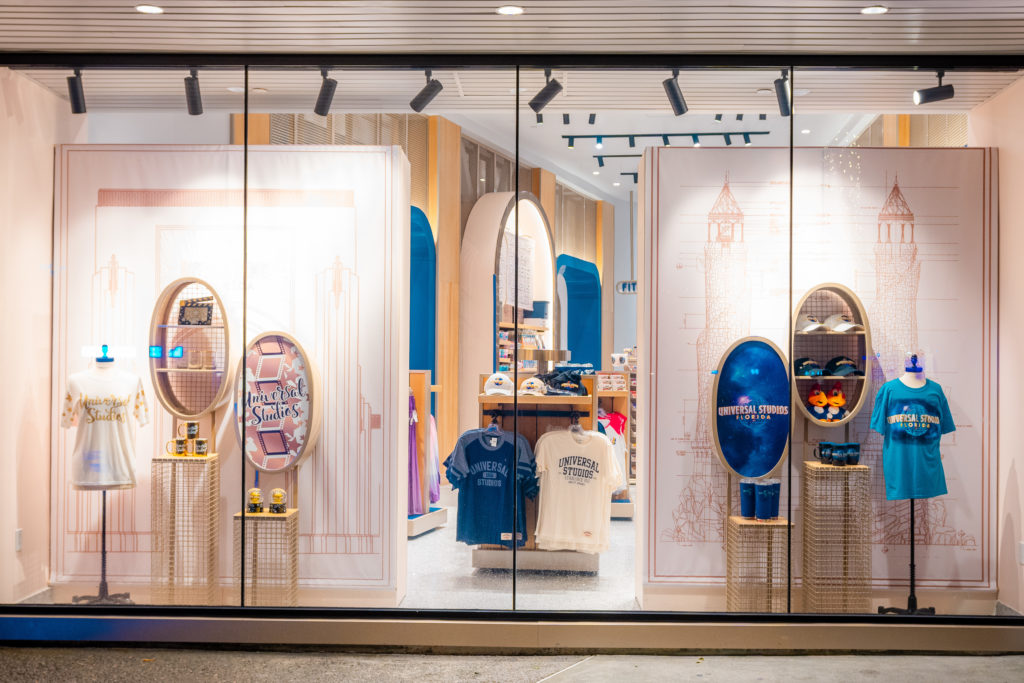 The new location of Universal Orlando's "premier retail experience" is off to the right-hand side of CityWalk, along the path that ultimately leads to Universal Studios Florida. This gives it a prime spot, right next to the venerable Voodoo Doughnut, and it means that far fewer people are apt to walk right past it – but, just in case they still somehow manage to do so, all of the myriad signs and logos that are festooned on the outside of the Universal Studios Store are still likely to grab their attention.
Speaking of the new façade, it's far grander than the previous iteration's, more modern and sleek in appearance, with more entryways. It's not only appropriate for what is the new flagship shop of the entire resort, but it also helps continue CityWalk's evolution from its decidedly '90s roots – something which the big renovation of 2014 really accelerated, with the dining/shopping/entertainment district's wave of new venues (including the previous Studios Store's then-contemporary makeover) and all of the al-fresco dining that accompanied them.
A big part of the just-opened location's impressive appearance is the various displays that line the storefront, deploying the standard mannequins against some pretty beautiful backgrounds that utilize blueprints of one Universal Orlando icon or another, from the Pharos Lighthouse to Hogwarts Castle. It's simple and straightforward but undeniably elegant, and when combined with the new potted plants that have been strategically stationed around the windows, it makes for a more refined presence in the heart of the complex.
What's the layout of the new Universal Studios Store?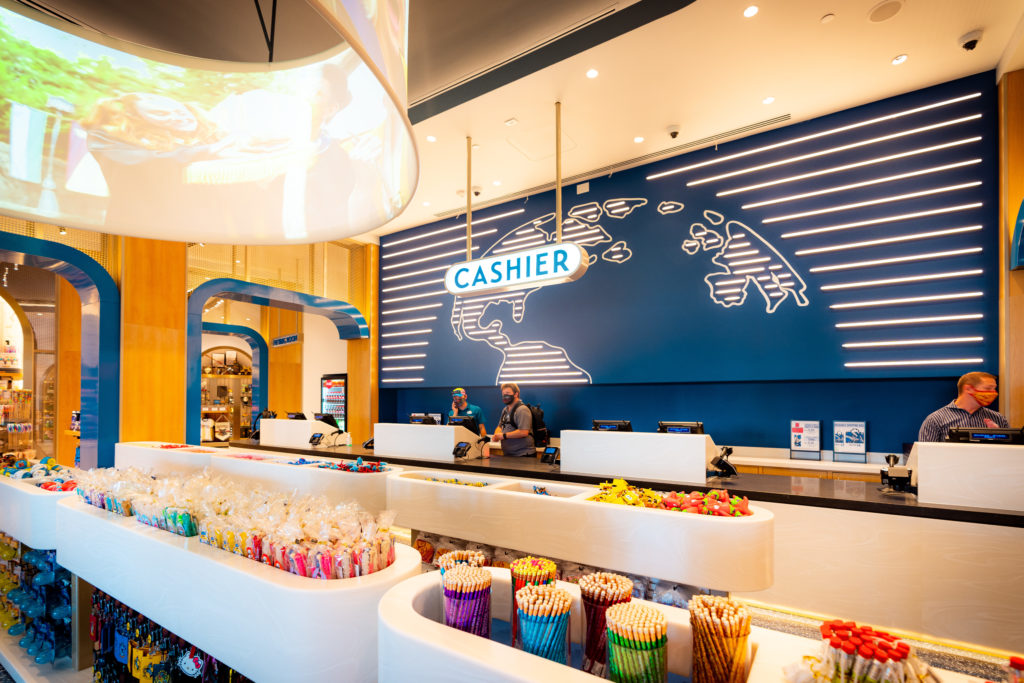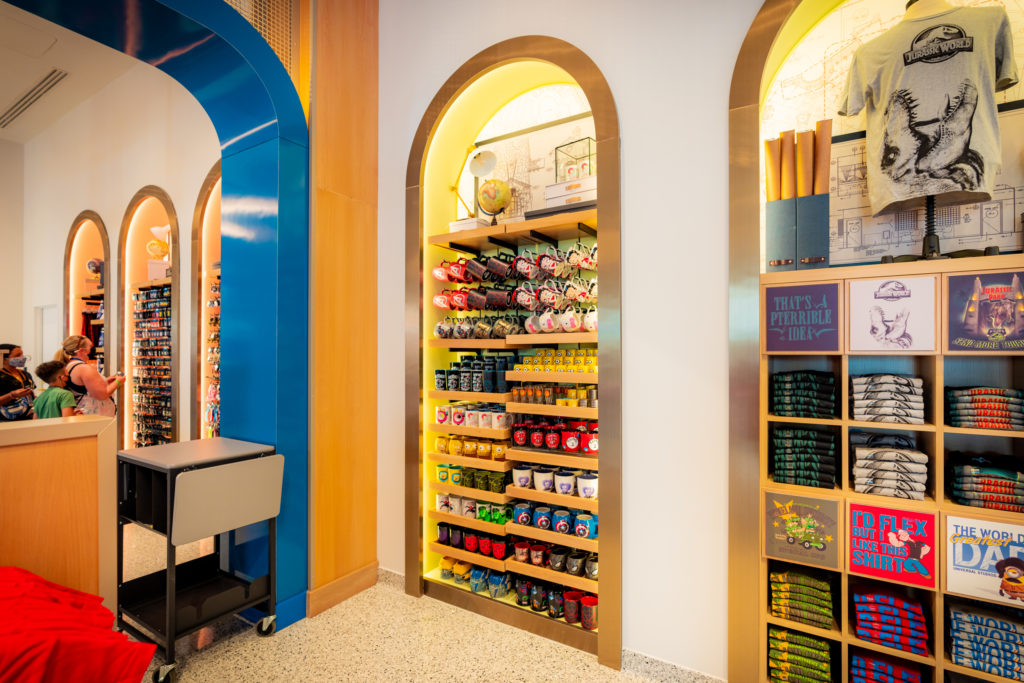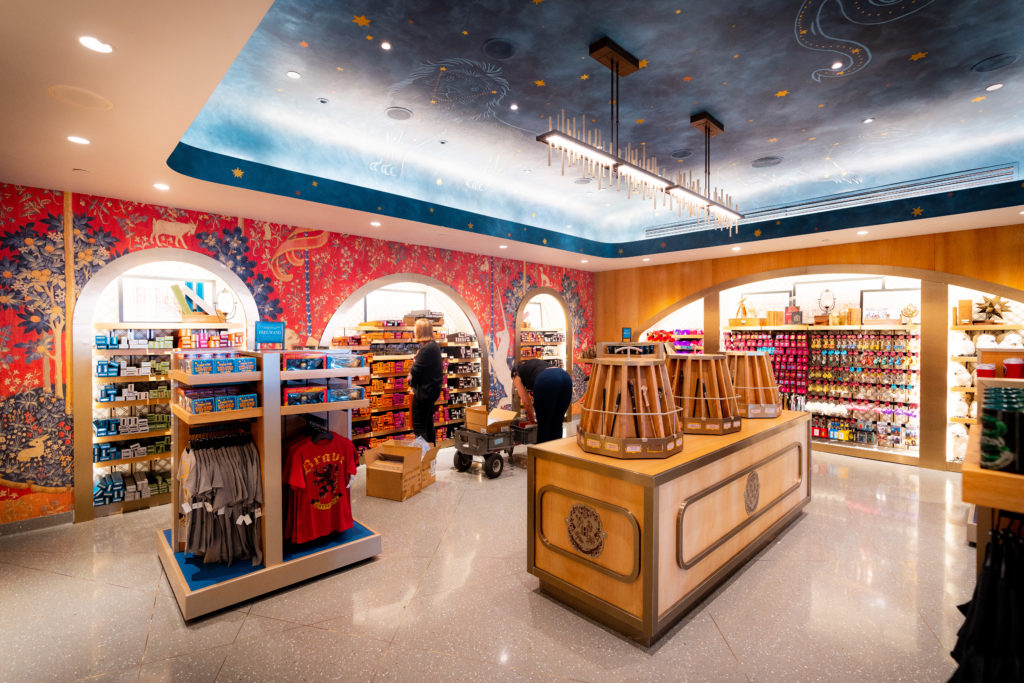 On the one hand, the new Universal Studios Store is essentially set up the same way as its predecessor was: different mini-sections are devoted to one particular intellectual property or another, whether that be Despicable Me, Seuss, Marvel Comics, or Jurassic World (and, more specifically, Jurassic World VelociCoaster). Although largely sitting side-by-side with each other, the overall effect isn't at all cluttered or claustrophobia-inducing – a by-product of the fact that this new premises takes up the space of four stores that had sat here previously (Fresh Produce, The Island Clothing Co., Fossil, and P!Q).
But, on the other hand, the Studios Store does feel a fair bit different and fresh, largely thanks to that unprecedented level of breathing room. Little alcoves have been etched along the back wall, offering a nice way to just slightly break things up – and, additionally, to insert a few small props up on the top shelves, reinforcing that "fancy department store" vibe that started with the building's facade. Big, blue-trimmed doorways also serve to subtly differentiate the otherwise-open floor plan, essentially creating five different "rooms" to explore along the main stretch of the store, even if they still feel like a continuation of one another. (There's one key exception here, which we'll get to in just a moment.) And in what can be described as the main room, the check-out area sits in front of a large, modern, stylish rendition of the Universal Studios logo and under a curved screen that displays a long loop of resort footage, punctuated by the first-ever ride POV of VelociCoaster (a nice little Easter egg if ever we saw one!).
The only item that breaks this pattern revolves, unsurprisingly, around The Wizarding World of Harry Potter. The Boy Wizard not only gets one, but two whole rooms dedicated solely to his wondrous world: a large one at the very end of the store, with an entrance that's situated right next to Voodoo Doughnut, and a smaller add-on that's nestled right beside it. The theming here is minimalist when compared to other, similar set-ups – like, say, the wizarding section of the Holiday Tribute Store last year – but it's pronounced within the Studios Store itself, and it's nonetheless impeccable; fake candles float just under the ceiling of the main area, for instance, and the secondary room has a back wall that is designed to look exactly like the tapestry that hangs in the Gryffindor common room, along with a ceiling that's painted as the night sky (replete with constellations of the Hogwarts houses' animal mascots).
The last element that distinguishes this new flagship shop is the Parcel Pick-Up counter, which wasn't up and running on this first day of operation but which, if we had to guess, would seem to suggest a similar functionality to what one can already find at the front gift shops of both Universal Studios Florida and Islands of Adventure: if you purchase a piece of merchandise in one of those theme parks, you can arrange to pick it up later on that day at those locations. Time will tell, however, if this is, indeed, what we can expect to find here, all the way out in CityWalk.
What merchandise is available at the new Universal Studios Store?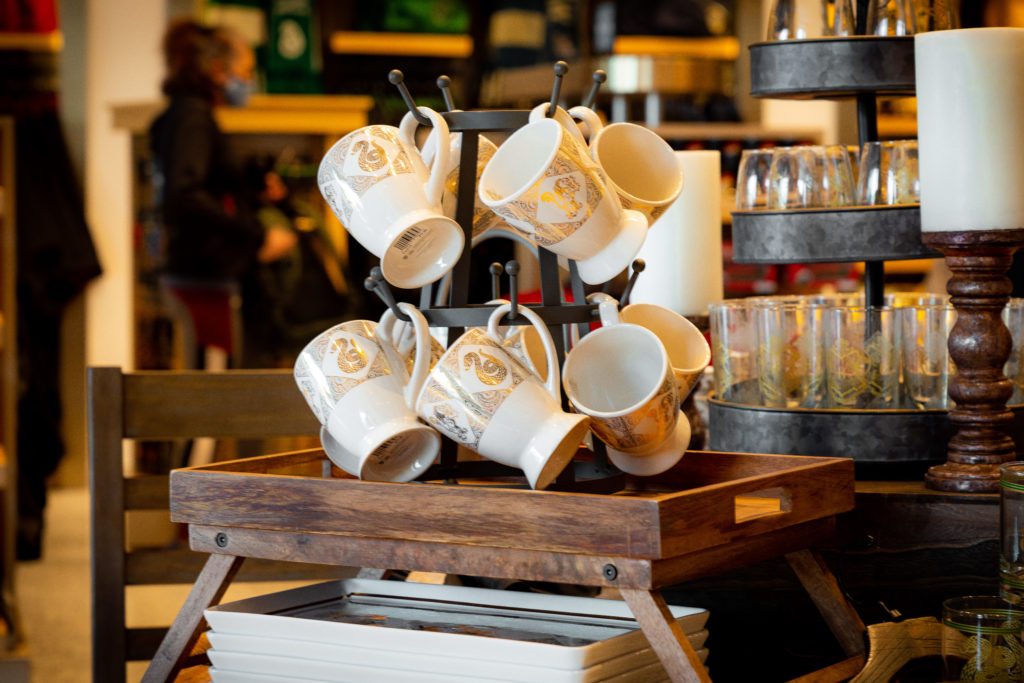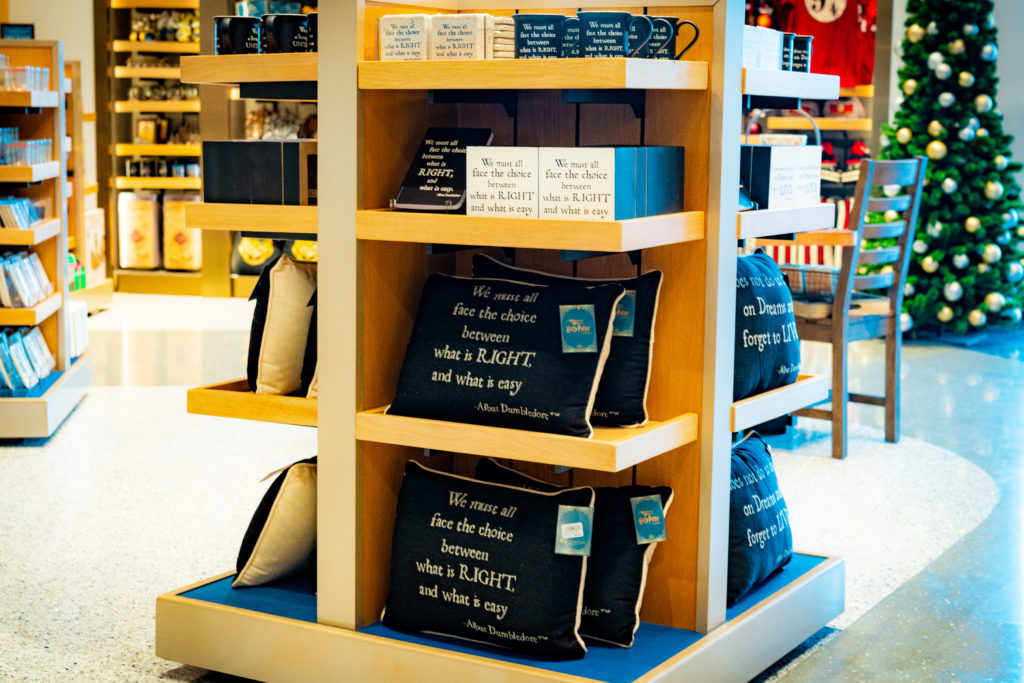 Perhaps the biggest question heading into the opening of this Universal Studios Store iteration was how its contents were going to differ from those of what is now called the Universal Legacy Store. Although the latter is still stocked with a pretty good collection of the standard Universal Orlando merchandise that can be found all across the resort (such as Minions-branded caps and lanyards or the various Wizarding World candies), it now also has a fairly healthy dose of nostalgic or retro items injected into the mix (like Jaws coffee mugs, E.T. plushies, or vintage Universal Studios Florida shirts), helping to live up to its new "legacy" name.
The Studios Store, meanwhile, is thoroughly shot through with brand-new wares, ranging from the focus on the soon-to-open VelociCoaster to, more notably, a whole swath of original Harry Potter souvenirs, including throw pillows, t-shirts, mugs, jackets, signs, and – our personal favorite – a new line of kitchenware, which even got its own little dining room mock-up to help show it off (hello once again, department store vibes). And while it does also feature a heaping helping of the more common products, this merch overlap is set off with the new presentation – with those more-subdued-but-elegant aesthetics and all that extra space between each kiosk – which almost literally showcases it in a whole new light.
The one thing you won't find here, however, is Super Mario Bros. – or, indeed, any Nintendo-themed – merchandise, like what seemed to have been previously indicated in concept art. While a disappointment, it honestly isn't that much of a surprise; there is a good four or so years before Super Nintendo World bows here in Orlando, and that leaves plenty of time for the videogame company's miscellanea to arrive throughout the resort (yes, Universal sells Nintendo merchandise outside of its dedicated land over at Universal Studios Japan already).
Even with that said, you'll probably find yourself gravitating towards the Universal Studios Store for most of your CityWalk (if not your Universal Orlando Resort) shopping, whether the item you're on the hunt for is available in other locations or not. This transforms Universal's premier shopping space, making it go from the stop of last resort – the place you go if you forgot to pick up that one knickknack while bouncing around in the parks – to, we think, the location of first choice.
---
What do you think of the new Universal Studios Store? Share your thoughts (and pictures, once you go!) with 120,000+ other Universal Orlando die-hards in our Orlando Informer Community on Facebook.
And be sure to follow Orlando Informer on Facebook, Twitter, and Instagram for the latest news and tips at Universal Orlando, Walt Disney World, and other Orlando destinations.