It was just a month ago that a pair of developments radically changed our understanding of the way Universal CityWalk would forevermore be arranged: a brand-new Universal Studios Store would be going up next to Voodoo Doughnut, and the old retail location would be transformed into a retro shop filled with tributes to Universal Orlando Resort's past 31 years. At the time, we wondered what this venue would look like once its metamorphosis was complete and what kind of new name, if any, it would receive.
Now, we can safely say that we have all the answers in hand.
On Wednesday, March 24, Universal changed the signage of the original Universal Studios Store, replacing that middle word of its appellation with "Legacy" – a fitting name for a site that has been given over to former Universal Orlando attractions and classic Universal Pictures films. On the inside, meanwhile, the shop has finished up its evolution into this new Legacy Store status, with its contents being rearranged and its décor being completely switched out. The result is not only effective, it's also a great deal of fun, making it into a must-do stop during your Universal day.
We figured that, since the new Universal Studios Store opened today, it would be the perfect occasion to head across the way to Legacy and give you a full tour of the new digs.
Universal Legacy Store's retro theming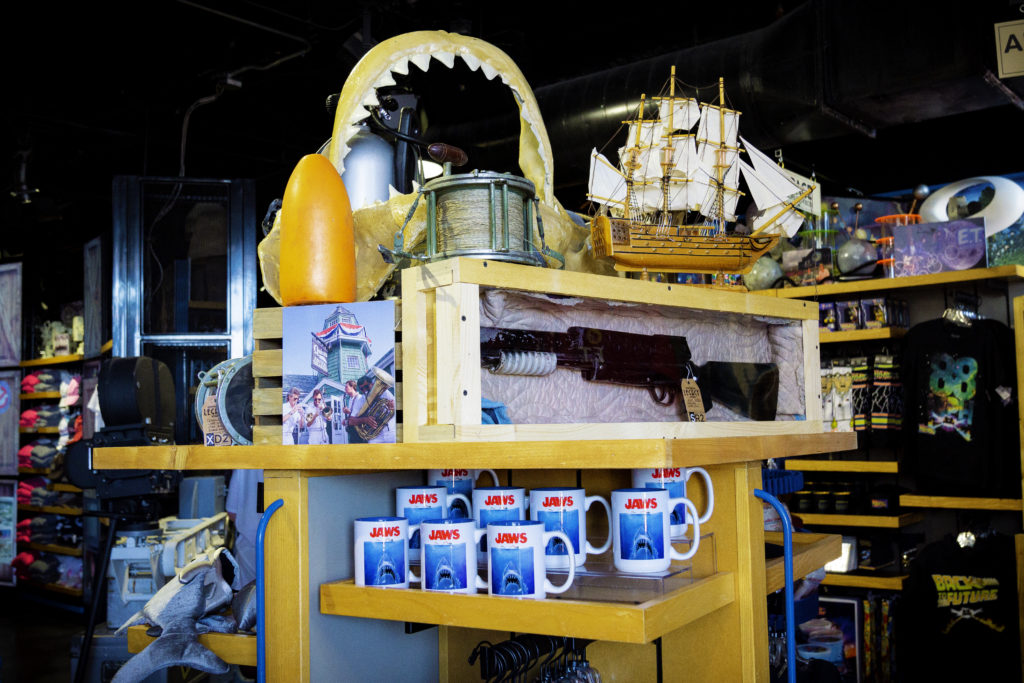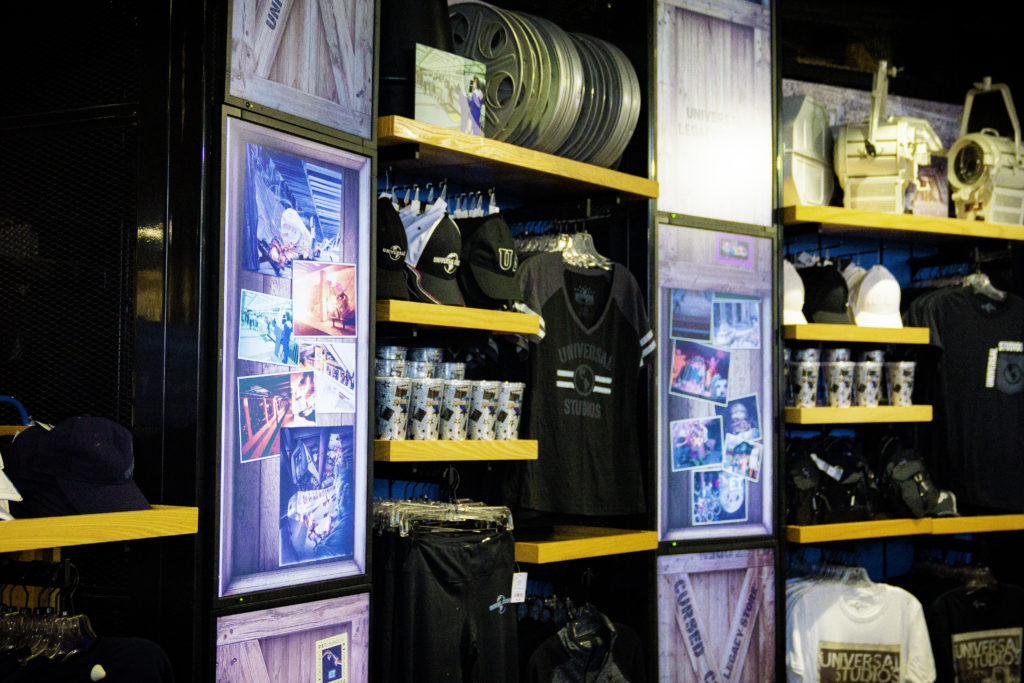 The Universal Legacy Store's retro makeover begins, of course, with its exterior, where its storefronts now display the latest in early '90s fashion (against a backdrop of Universal Studios Florida's original soundstage aesthetics) and its entrance is flanked by two gargoyle statues that used to stand guard over the theme park's iconic archway way back when.
It's an introduction that perfectly sets the stage for the experience within. A huge number of classic attractions, whether past or present, find some type of representation in the shop proper: Jaws and E.T. Adventure have mini-sections devoted to them; Terminator 2 3D: Battle across Time features some props and costumes from its filming; there's a conceptual maquette of the Enchanted Oak Tavern, the restaurant that has since been renovated into The Three Broomsticks; and a Doombot from the queue of Doctor Doom's Fearfall and Hagrid's trusty magicked motorcycle that forms the basis of the ride vehicles in Hagrid's Magical Creatures Motorbike Adventure are also present. It's enough to get lost in for a spell or two (no pun intended).
But the superlative part of this stroll down memory lane actually comes in the form of the six big video columns that used to, back when the space was still the original Universal Studios Store, display various footage from or commercials of Universal Orlando Resort – now, they're dedicated to a series of virtual crates that get opened right in front of your eyes. Inside of each is a collection of different mementos from throughout the past three decades, including everything from behind-the-scenes photos to contemporaneous newspaper clippings and advertisements to, even, snippets from Back to the Future: The Ride's preshow. And on the back of each vertical monitor is a placard that displays the (more or less) complete Universal Orlando timeline, starting in 1986 when the swamp land the resort now sits on was first being cleared and running all the way up to this year, with its imminent opening of Jurassic World VelociCoaster. Such flourishes truly make the Universal Legacy Store feel like one giant time capsule.
Serving as the backdrop to the vintage theme-park experiences is a general vintage Hollywood vibe; film canisters, camera and lighting equipment, old monitors and radios, and, of course, ubiquitous wooden crates (that come stamped with such nomenclature as "Props" and "Scenic Dept.") dot the whole landscape. It's a nice complement to the theme, and, in several cases, it actually works to reinforce it, blurring the worlds of Universal Pictures and Universal Parks and Resorts; an old poster for Alfred Hitchcock's famed The Birds, for instance, nods simultaneously to the classic film as well as to the Alfred Hitchcock: The Art of Making Movies attraction in the earliest days of Universal Studios Florida, which featured a 3D sequence from that picture.
Universal Legacy Store's merchandise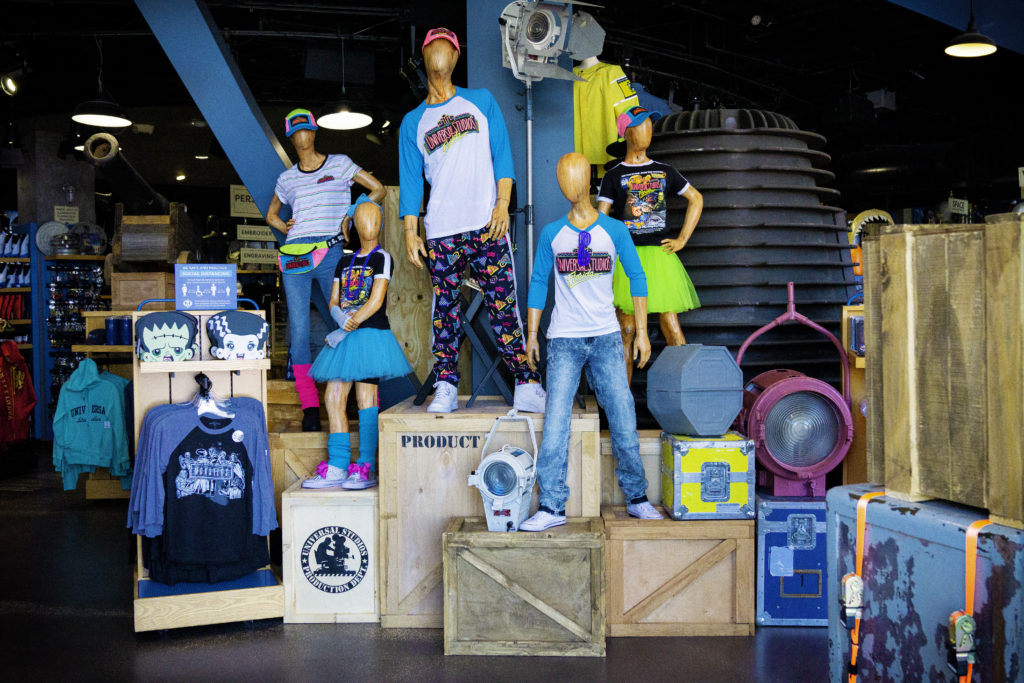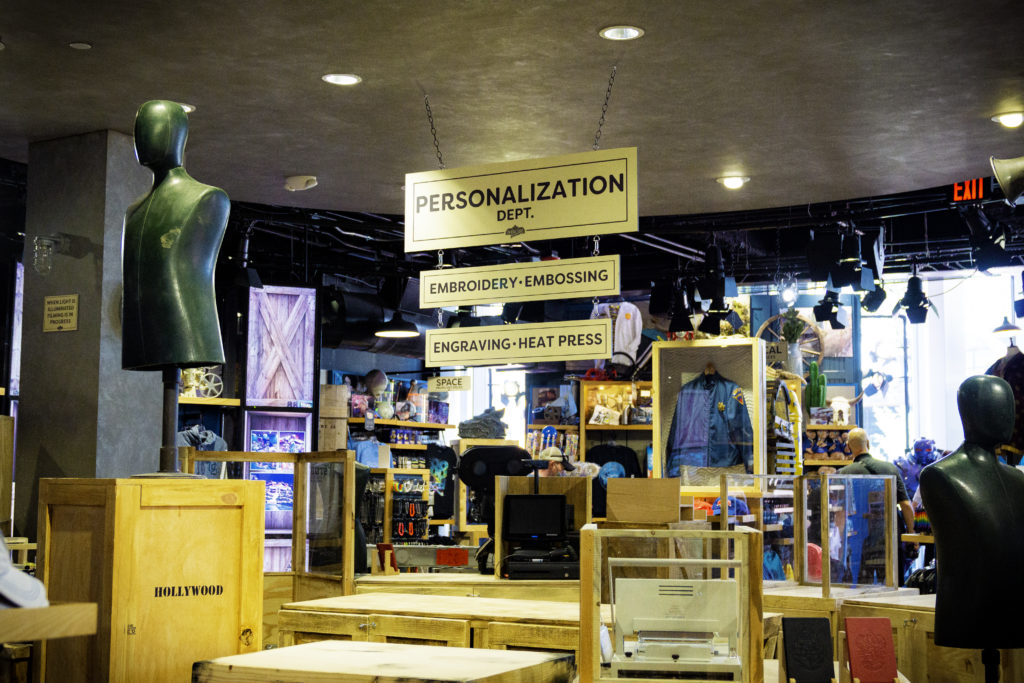 In what may be a small surprise, not all of Universal Legacy Store's copious amounts of merchandise are dedicated solely to extinct Universal Orlando attractions; you're still able to find items attached to the currently existing experiences, as well, such as Springfield: Home of the Simpsons, Marvel Super Hero Island, Seuss Landing, and, of course, the ever-popular (and ever-present) Wizarding World of Harry Potter. This may seem like the newly renovated store gives over a lot of floor space to the same standard souvenirs that you can pretty much scoop up anywhere else at the resort – it does, and they are – but the presentation is still given something of a Legacy twist: each section is topped by a little plaque that includes the relevant attraction's name and its years of operation.
(Curious how the Universal Legacy Store and the new Universal Studios Store handle the merch overlap? It actually works out pretty nicely, with Legacy handling more of the usual items and Studios brandishing the newest – and, therefore, some of the most exclusive – pieces, including Harry Potter kitchenware.)
There are a couple of other items that are noteworthy in this regard, as well. First up, there's the fairly large – and brand-new – personalization section, which has been set up in the middle of the shop and which allows various specific items to be engraved, embroidered, or heat-pressed to the individual's specifications. (This area also is constituted by a whole bunch of wooden crates, serving to also extend the Legacy theme.) And then there's a fairly robust collection of Universal Studios-branded apparel and sundries that straddle both sides of the Legacy Store divide: some are evergreen Universal goodies, while others are vintage throwbacks (a collection that got started last year for Universal Studios Florida's 30th anniversary but which also got eclipsed by the advent of the COVID-19 pandemic).
If we had to sum up the venue's merchandise ethos, then, we'd say that it has a Universal Legacy Store focus but a Universal Studios Store shadow – and it makes for a satisfying retail excursion and time-travel experience both.
I need even more Universal yesteryear goodness!
What – you're craving even more callback items to Universal Orlando Resort's very earliest years? Don't worry – we have you covered.
Following is a good selection of some of the great historical articles we've published over the years, which will definitely get you up to speed on all those Easter eggs and references you'll spot when walking around the Universal Legacy Store:
---
What do you think of the new Universal Legacy Store? Share your thoughts (and pictures, once you go!) with 120,000+ other Universal Orlando die-hards in our Orlando Informer Community on Facebook.
And be sure to follow Orlando Informer on Facebook, Twitter, and Instagram for the latest news and tips at Universal Orlando, Walt Disney World, and other Orlando destinations.