Ever since SeaWorld first announced its revolutionary Infinity Falls river-rapids ride a little over a year ago, interest has been sky-high, and it's easy to see why: at 40 feet, its final drop is the biggest in the world for an attraction of its type, and the entire experience is the very first built-from-the-ground-up manifestation of the company's new post-Shamu approach to its in-park entertainment and education.
This morning, SeaWorld invited us to a hard-hat tour of Infinity Falls, specifically, and the wider area it's going to inhabit, generally, giving us our first in-depth look at the ride experience and the narrative buildup that will happen on the way to it. We got several bits and pieces of exciting new information – although we should say right now, up front, that, no, we don't have any sort of updated release date beyond the rather vague summer 2018 that was originally offered at the beginning of last year.
Don't let that stop you from getting excited about exploring both the attraction and its new river-village footprint, however. Here's everything that you'll be soon experiencing at SeaWorld Orlando.
Infinity Falls's backstory and surrounding land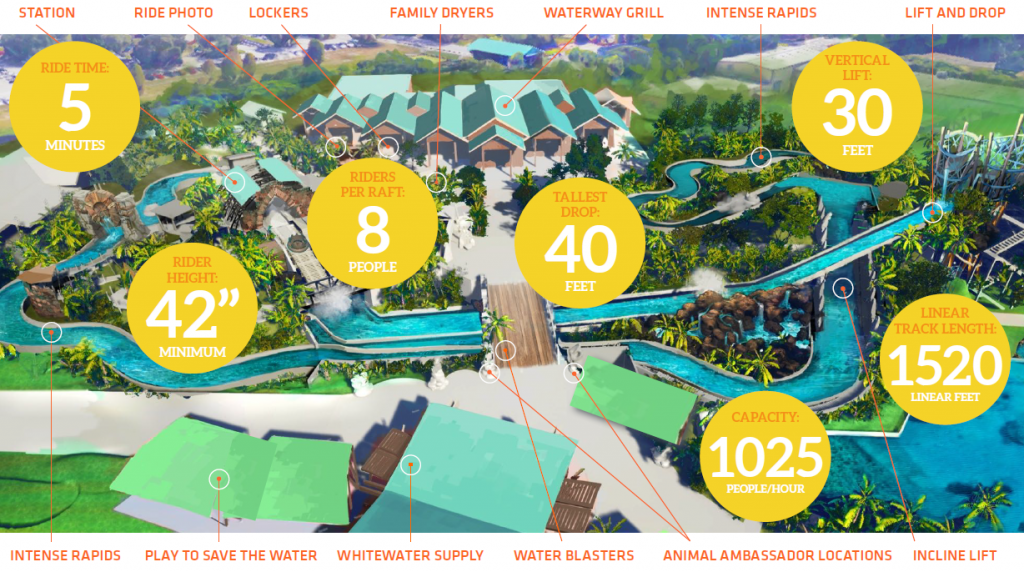 Guests will first encounter the Whitewater Supply gift shop (which will open before Infinity Falls itself, in typical theme-park fashion) while making their way over to the new ride. Located next to the store is the Play to Save the Water game, a family-friendly activity that looks to combine physical movement and fun with SeaWorld's new "park-to-planet" messaging, which focuses specifically on the conversation of water.
Facing both of these items is a large pedestrian bridge that will bring visitors – eventually – to the attraction proper, but before one can make her way there, she'll first get the chance to interact (well, periodically) with several forms of wildlife, along with their handlers, and to drop a few coins on the obligatory water cannons that will be mounted on the bridge itself and which will allow one to further drench Infinity Falls's riders as they make their way down its aquatic track. The company fully expects this little sub-section to be a popular destination in and of itself, even if it's just for the beautiful views it provides.
Once across the pedestrian bridge and in the attraction's main area, there will still be several more elements to explore, starting with the new South-American-cuisine-focused Waterway Grill restaurant (and the next-door Annual Passmember Lounge, which will feature some exclusive merchandise and brandish a new craft-brews-and-beer-stein program) and ending with both the family-sized dryers and lockers (for stowing those items that you don't want to get wet in the first place, of course).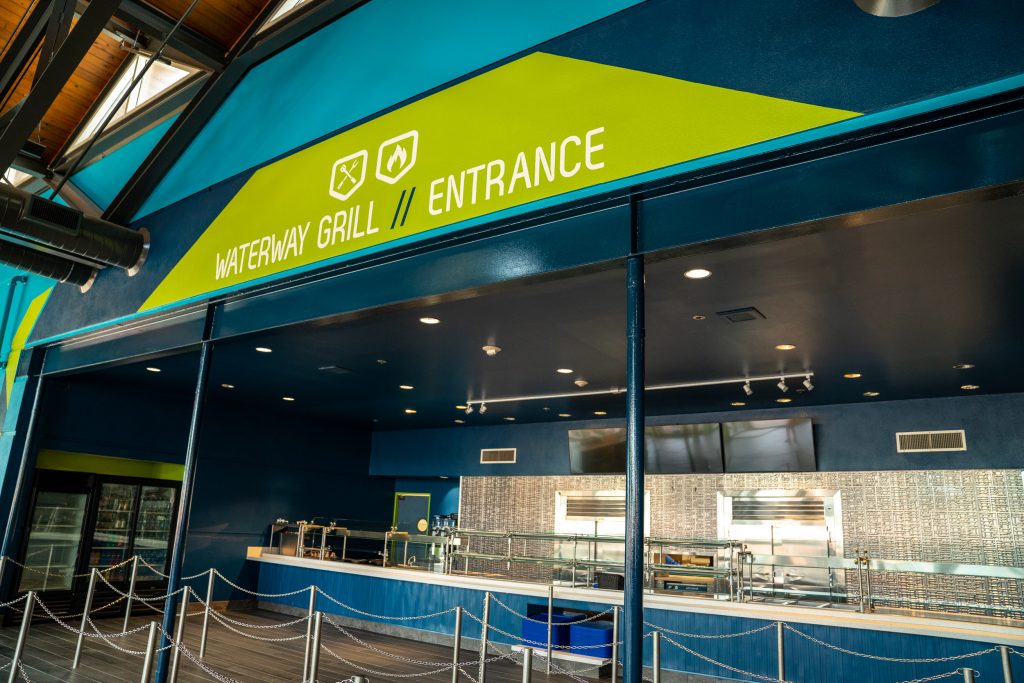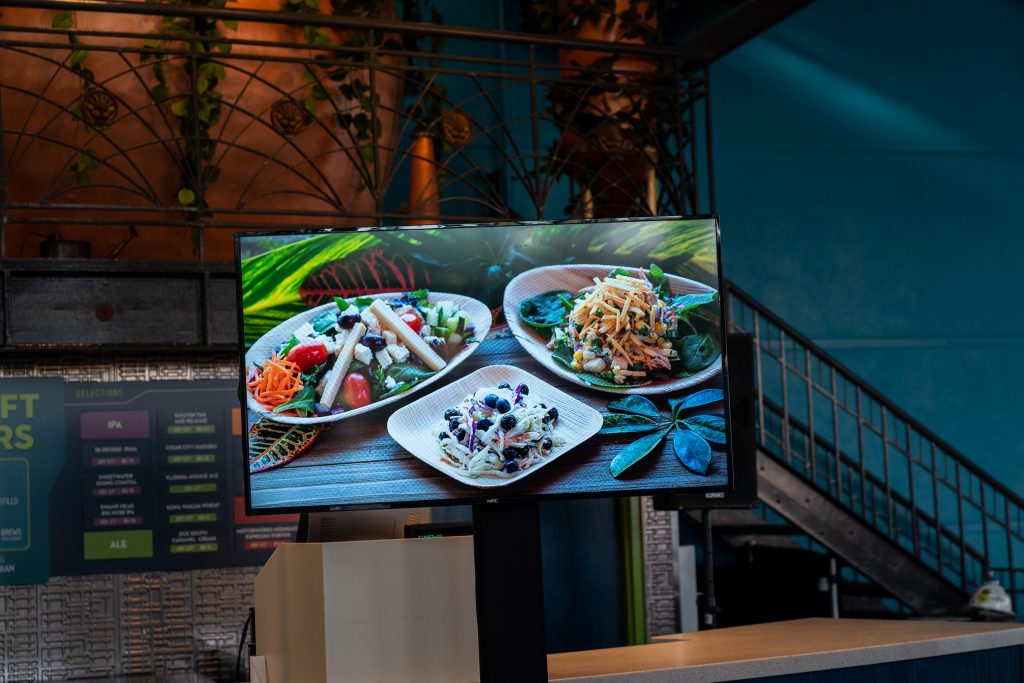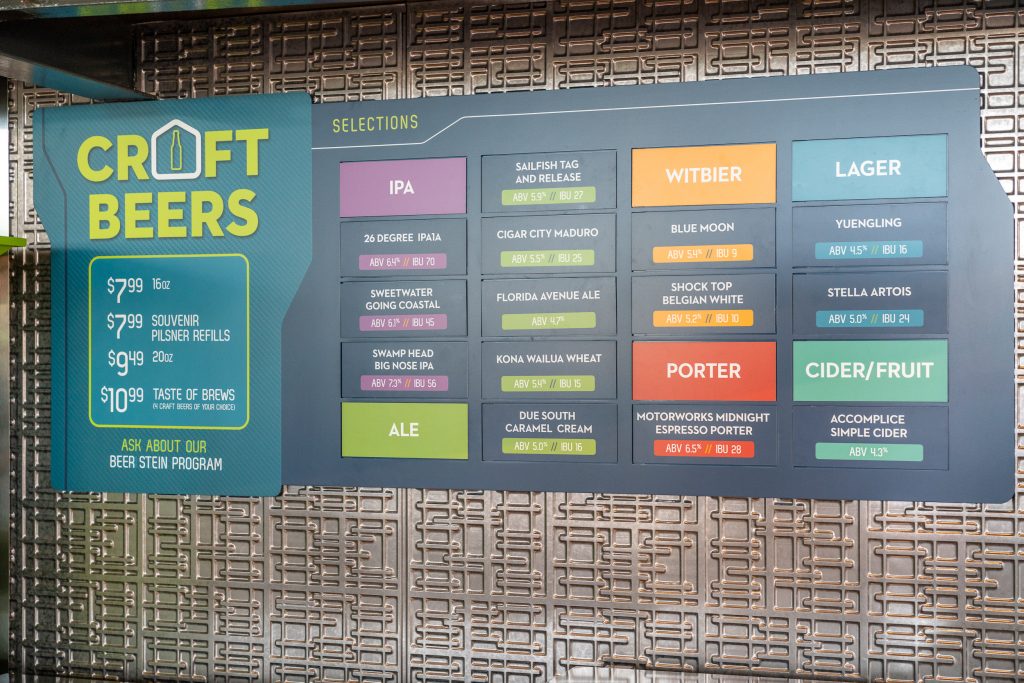 At every step along this pre-ride path, SeaWorld's designers will slowly steep guests into Infinity Falls's backstory: the discovery of ruins along a freshwater river somewhere in South America, with the initial team of researchers and scientists having developed a sustainable camp so that everyone else in the world can come experience firsthand the river and jungle that they've since fallen in love with – and learn about their own connections to the waters of the world. (This attraction actually represents the very first time that SeaWorld has focused on freshwater – everything else in the park, obviously, is based upon the salt water of the oceans – so the emphasis on this last point will be particularly noticeable.)
The ride experience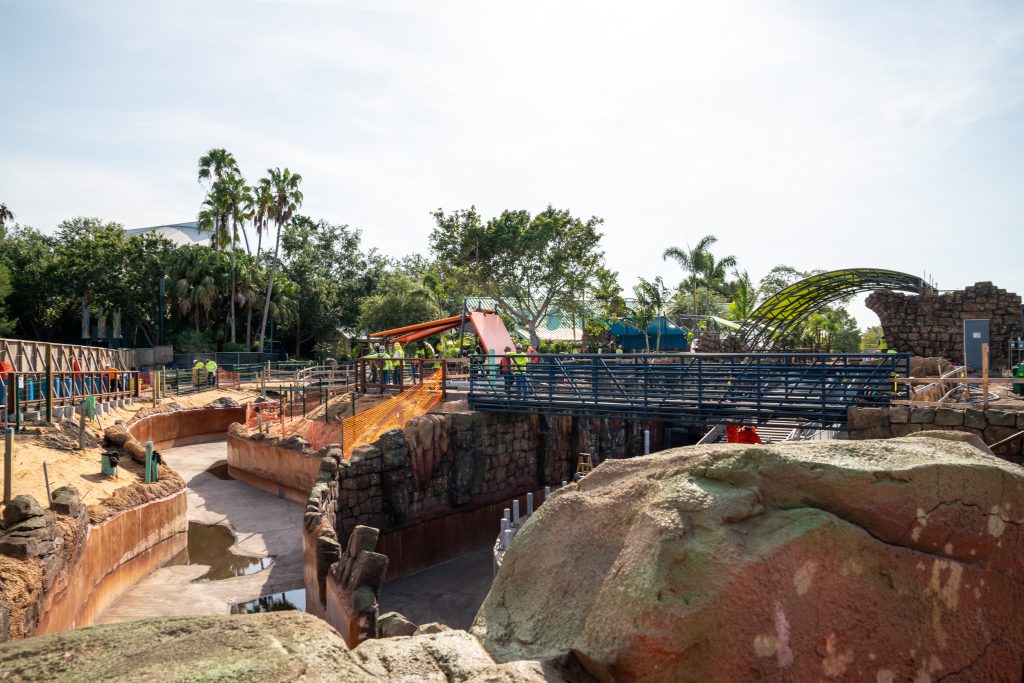 Once visitors have had their fill – both literally and figuratively – of the pre-ride area, it's time to mosey across yet another bridge to Infinity Falls's queue, which is located on its own mini-island and which will meander through a veritable jungle (some 700 trees have been transplanted here, including one that was so large, it weighed over 22,000 pounds and required three cranes to be moved). Various props will be stationed here, representing the heart of the previous exploration team's base camp, and the rest of the attraction's backstory will be revealed.
After reaching the continuously-loading platform – think Hollywood Rip Ride Rockit over at Universal Studios Florida – passengers will get to board their eight-person rafts. Both of these details are important: this type of loading station helps to bump up Infinity Falls's throughput to 1,025 people per hour, and the smaller ride vehicle (attractions of this sort typically use 12-passenger rafts) allows for a more dynamic experience once out on the water, with the rapids able to more easily push the vehicle back and forth.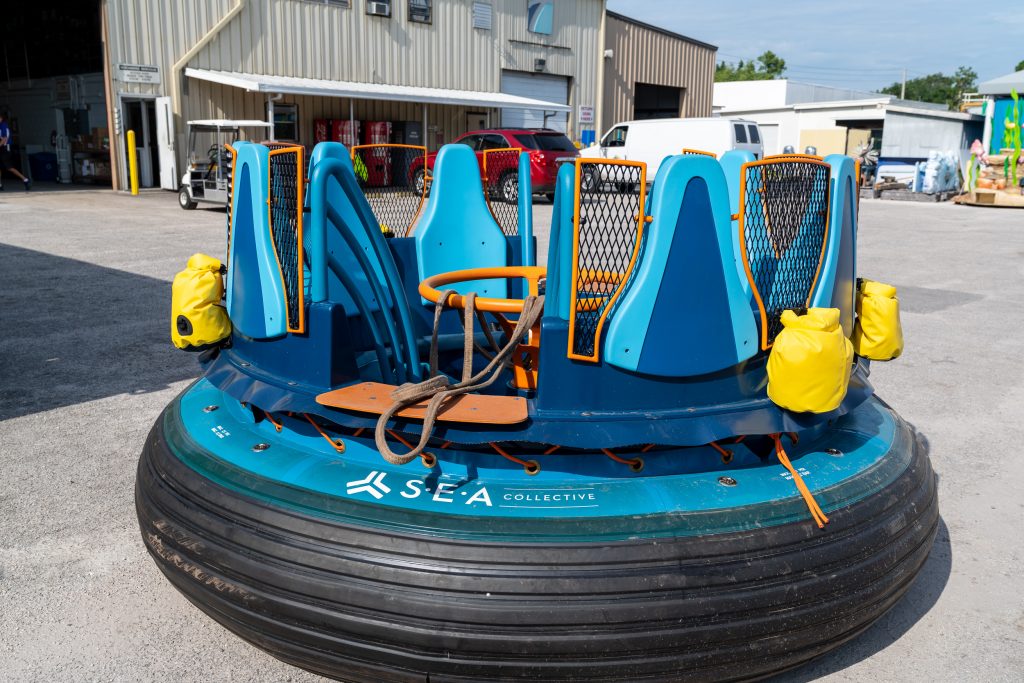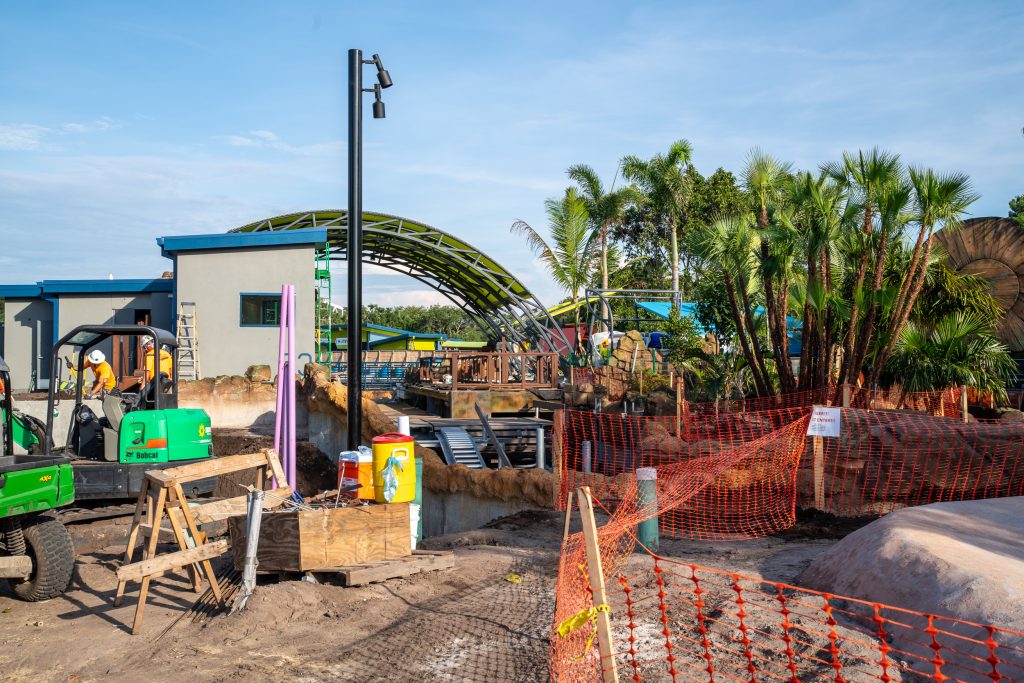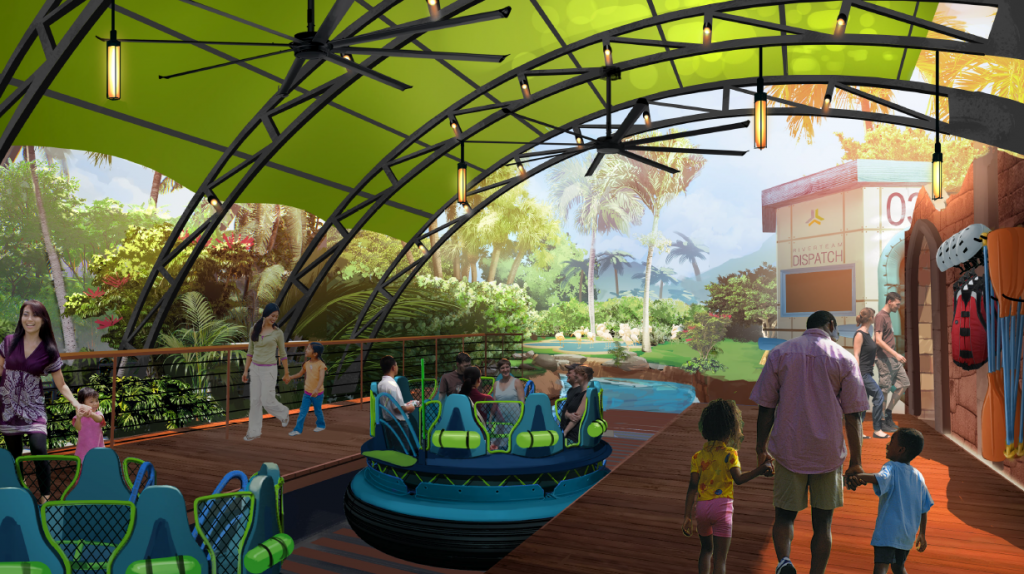 The five-minute ride itself – which traverses 1,520 feet of track and features 269,000 gallons of water per minute – begins in a rather tranquil stretch, with riders given the opportunity to observe real-live flamingoes in their new habitat. A waterfall "curtain" parts at just the last second, allowing you to move on to the next section: the first of two "crazy" rapids, which plow through some serpentine turns and which toss you and your fellow passengers all around. A straightaway then speeds you underneath that main pedestrian bridge – hello, water cannons! – and past a large carved crocodile head, replete with massive teeth, which is part of the ancient ruins that have just recently been discovered. A series of three cascading waterfalls also pass you by as you enter the first incline, which takes you right underneath that massive 40-foot climax (providing a nice preview of what's to come) and has you getting soaked from a whole host of sprays, jets, fountains, and other water features.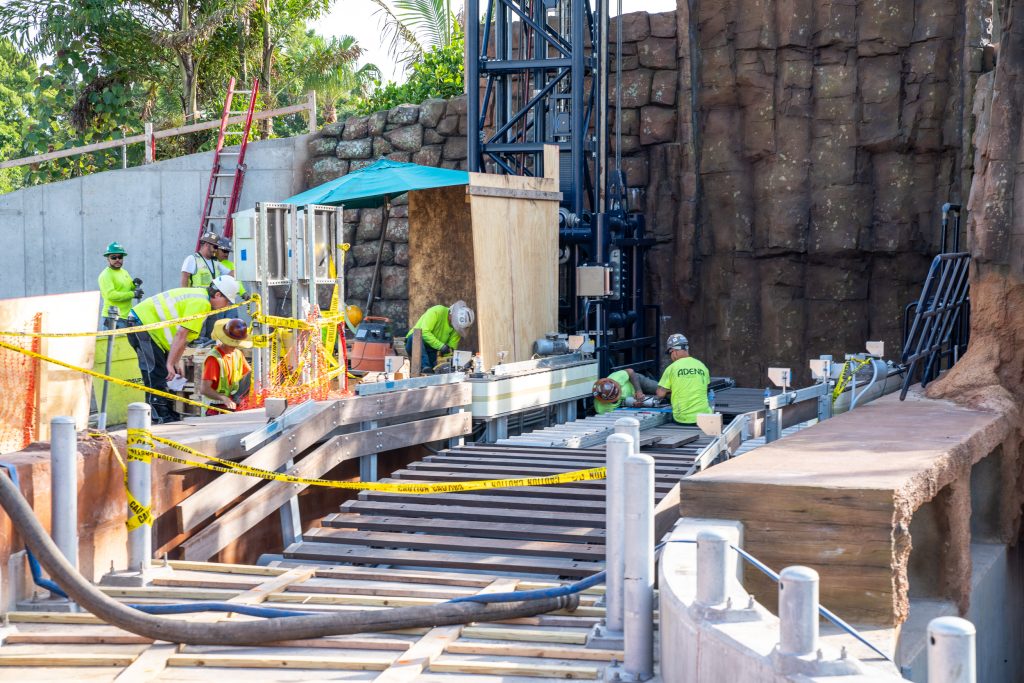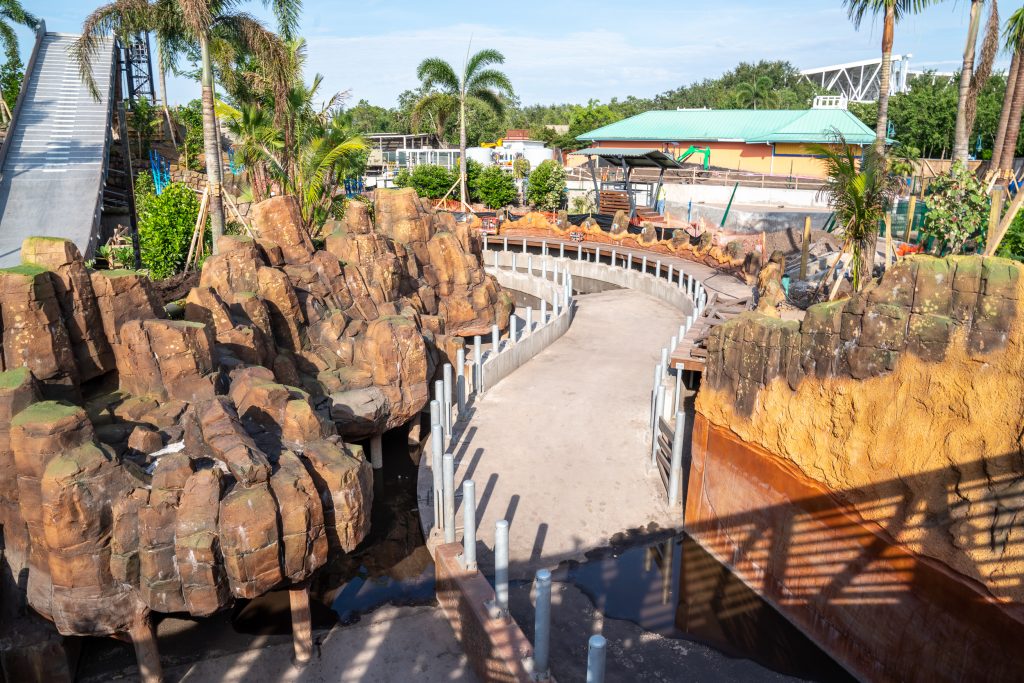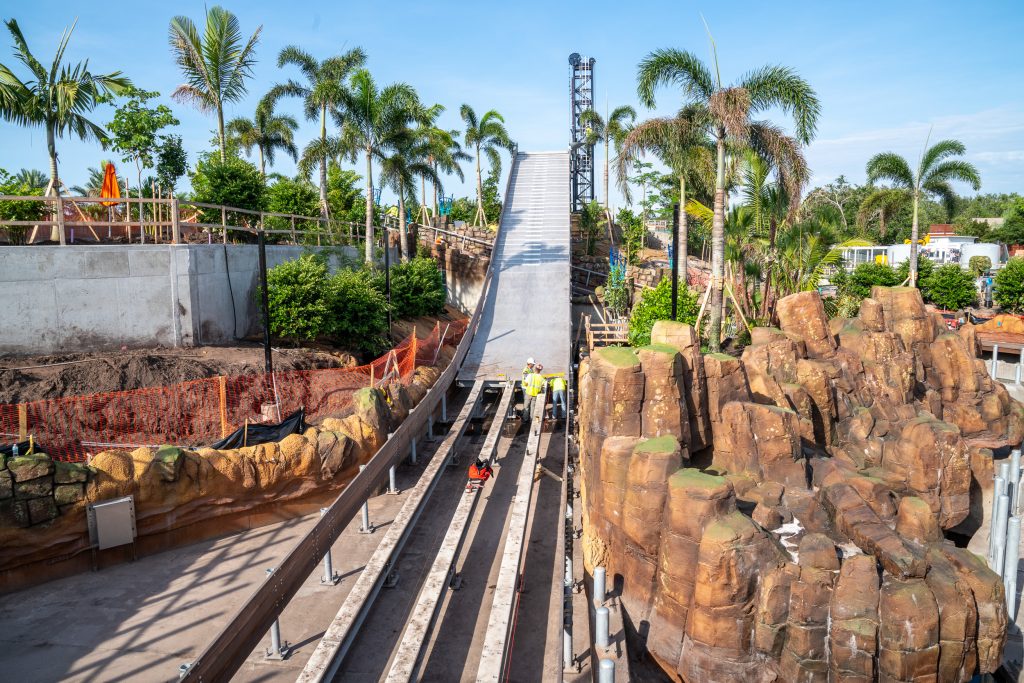 A second rapids section follows, and then that sudden finale: a 30-foot-tall lift that will pick up your raft and transport it to the top in just five seconds (all while facing a raging waterfall, we should point out) and then drop you down that massive, record-breaking hill. Not only will a massive splash be generated, but your on-ride photo will also be snapped here, providing what promises to be some rather memorable pics.
–
Infinity Falls, which will have a 42-inch height requirement, will open sometime this summer at SeaWorld Orlando.
In the meantime, if you'd like to see the rest of Central Florida's major attractions that are due to open throughout this year and on into next, check out our massive preview. And be sure to follow Orlando Informer on Facebook, Twitter, and Instagram while you're at it.