An evening of laughter at the Orlando Improv Comedy Club and Dinner Theatre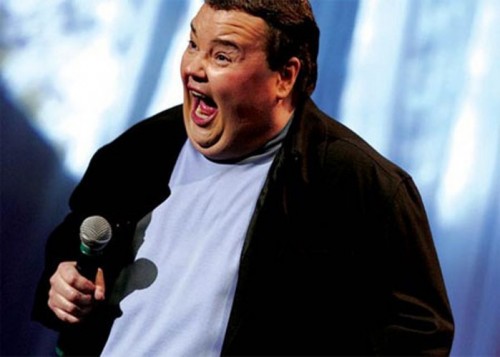 Looking for something original to do in Orlando last night, we searched around and found the Orlando Improv Comedy Club.  It is located at the Pointe Orlando shopping and restaurant complex on International Drive, right next to the parking garage on the second floor.  It shares a building with Fat Fish Blue, an American bistro that specializes in Cajun food.
We had an outstanding time!  The set up is a little confusing, and unfortunately their own website is even more confusing, so I'll quickly explain how this place works.  It is a comedy club and dinner theatre.  Despite its name, they do not do improv as in improvisation, at least not on a regular basis.  Rather the venue hosts local and nationally known comics performing.  You purchase a ticket to see the performance.  The tickets are around $22 per person.  At this time the tickets cost the same whether you purchase them in advance or at the box office.  The ticket is only for admission to the club; it does not cover the cost of any food or drinks, even though if you purchase the tickets online they say "full menu."
The vast majority of the tables are four-seaters.  That means, if you are in a party consisting of more or less than four people, you'll either be split up at adjacent tables or you'll be seated with another party.  Since my wife and I went as two people, we were seated with another couple.  There are no reservations; tables are sat as people arrive, front to back.
Dinner is optional.  You can arrive up to an hour and a half early if you want to enjoy a meal before the show.  However, they continue to serve food and drinks throughout the entire performance, so if you want to eat you do not have to get there early.  Again, no food or drinks are included in the price of admission.  You can see their menu here.
We were not particularly hungry so we just ordered the sweet potato fries along with a few beers.  The fries were very good.  I was especially impressed with the bourbon butter sauce.  The couple we sat with ordered two salads and a dessert, and they said they were very happy with their food too.
Regarding the show, there were three comics who performed.  The first was local comic who also served as the show's MC.  She performed for about 10 minutes and then introduced a second comic.  I'd say the second comic was regional–he was from Tampa–and he performed for about 20 minutes.  Then our headliner, John Pinette, took the stage.  He was spectacular!  I'd say he performed for around 50 minutes, and he kept the audience laughing the whole time.
Overall it was a very enjoyable evening.  I am really grateful we decided to try something new.  Really the only negative to the experience was the speed of the food service.  It probably took us about 30 minutes to get our fries.  Luckily our drinks came a bit quicker.  But don't let this stop you from going–just think about grabbing dinner at one of the other Pointe Orlando restaurants either before or after the show.
Again, overall this made for an excellent evening on the town, and I highly recommend it to anyone…. that is, anyone 21 or older.  They do not permit guests younger than 21.
OI tip You can take drinks from the bar at Fat Fish Blue into the comedy club.  Since service in the club tends to be a bit slow, grab a drink from the bar first.
Official website: http://theimprovorlando.com