Last year marked the 25th anniversary of the opening of Universal Studios Florida. If you have visited what is now Universal Orlando Resort, you know things are much different than what was originally a small, stand alone Florida theme park. The addition of Islands of Adventure, CityWalk, and five on-site hotels currently sit side by side the highly renovated and expanded Universal Studios Florida. There have been many big changes these past 26 years and Universal isn't showing any signs of slowing down, constantly adding new rides and, sadly, taking down beloved originals.
Let's explore what will remain, be done away with, and envision what the future will look like for Universal Studios Florida 24 years down the line on its 50th anniversary!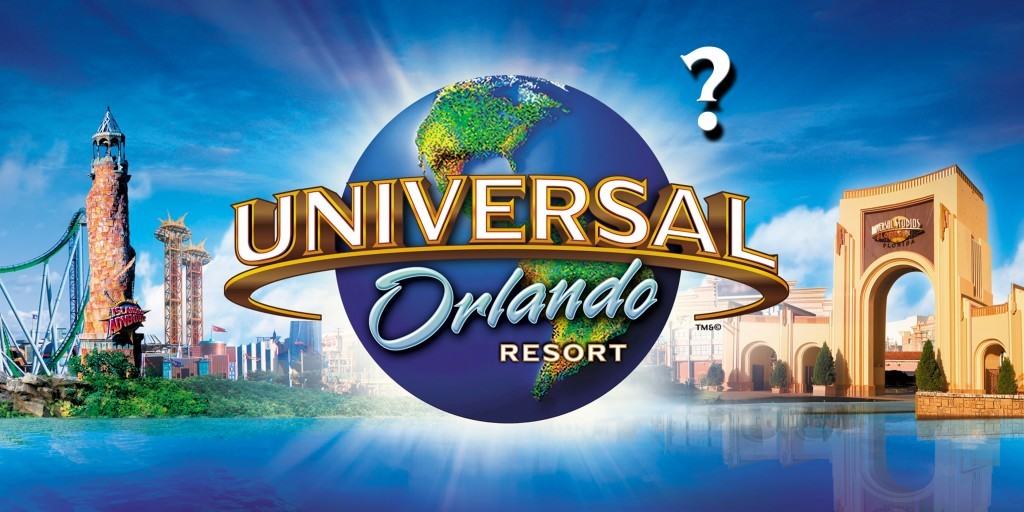 The attractions, shows, and dining options at Universal Studios Florida in 2016 are not reminiscent of what once was when it first opened on June 7th, 1990. Next year, two new attractions will be opening at Universal Studios Florida: Race Through New York Starring Jimmy Fallon and Fast & Furious: Supercharged. These two rides are replacing Twister… Ride It Out, Beetlejuice's Rock and Roll Graveyard Revue, and Disaster! A Major Motion Picture Ride… Starring You!. Twister, Beetlejuice, and Disaster!, formerly known as Earthquake, are all 90's babies. These three opened in 1998, 1992, and 1990, respectively. Only one of these attractions, Disaster! (Earthquake), opened with the park. It closed down to make room for Supercharged last year in September, meaning this ride had a lifespan of around 25 years. Beetlejuice and Twister did not open with the park and saw shorter times in Universal Studios. Beetlejuice rocked guests for nearly 24 years and Twister almost made its 18th birthday. What exactly does this mean for more recent additions to Universal Studios Florida?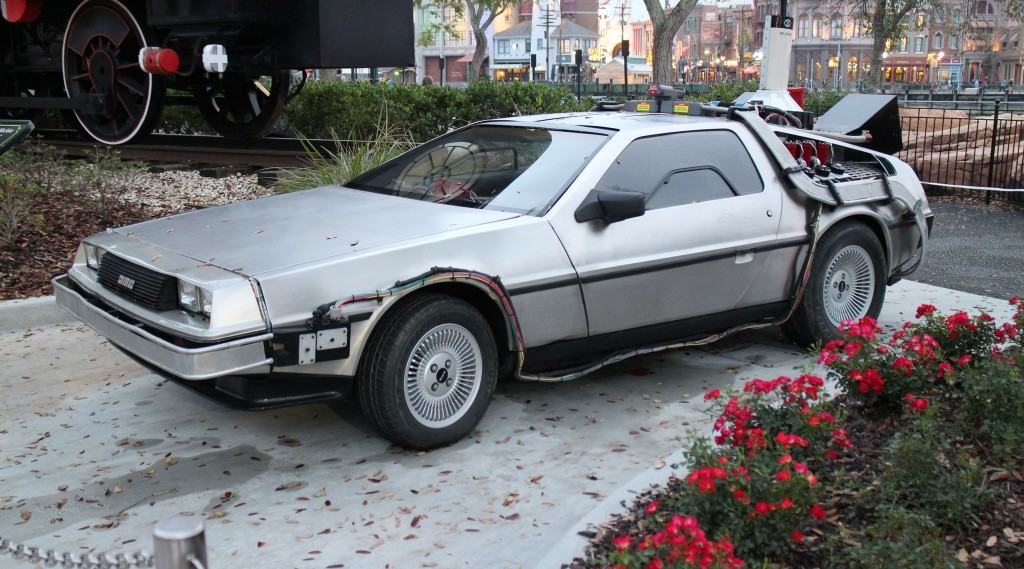 Production Central at Universal Orlando in 25 years
Take for example Despicable Me: Minion Mayhem located in Production Central, near the entrance of the park. This 3D simulator opened in July of 2012. Before this, Jimmy Neutron's Nicktoon Blast occupied this space from 2003-2011, a short lived, eight year run. Even before that, when Universal Studios opened, The Funtastic World of Hanna-Barbera thrilled guests for 12 years before closing down in 2002. Over the course of 26 years, this space has been modified, refurbished, and re-themed three times. Just like its ancestors before it, Despicable Me will eventually close down to make room for a new attraction. The growing Illumination Entertainment, Universal's Pixar, so to speak, will be releasing more movies in the future.
Universal will more than likely re-theme Minion Mayhem around an Illumination movie to have young children familiarize with characters of their generation. This, if the past serves correctly, could happen in less than 10 years from now.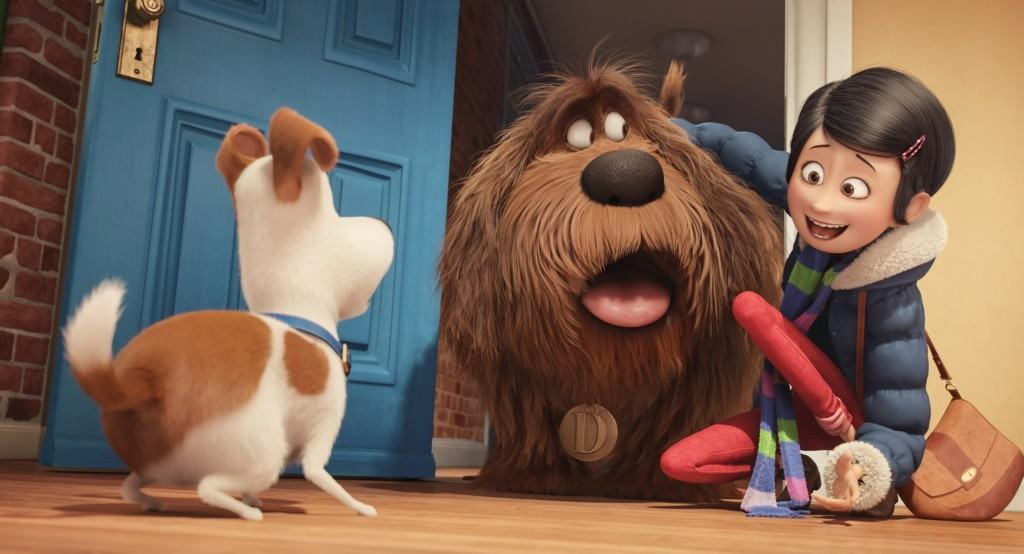 Let's cross the street and look at Shrek 4-D. Shrek 4-D let us see in "ogre vision" for the first time in 2003. 13 years prior Alfred Hitchcock: The Art of Making Movies opened alongside the park for guests to see how Hitchcock shot some of his films. Shrek 4-D recently reached its 13 year anniversary on June 12th, the same amount of years The Art of Making Movies was open. It has been rumored as of late that Shrek 4-D could be hitting the road to make way for a new attraction in the near future. Although Shrek 4-D is great, most won't lose sleep after it is shut down.
Transformers: The Ride 3-D just recently opened up to Universal guests in 2013. Paramount is set to dish out three new Transformers movies in the next four years, making seven movies in the Transformers franchise. This ride may be here for the long haul due to the popularity of the movies and toy lines.
Hollywood Rip Ride Rockit is the final ride in Production Central that we may still be seeing around in 24 years. Next door at Islands of Adventure, the Incredible Hulk Coaster is receiving quite the treatment with a new track and queue. In years to come, Rockit will no longer be a fresh coaster and require the same TLC. Other than getting a new track and retheming it, Rockit should still be around to take people on a ride with some new songs for the 50th anniversary.
Monsters Cafe might still be around for nostalgia and Universal sticking to their roots of being the originators of the horror flick. In addition, Universal is preparing a Cinematic Universe of all of the original monsters including reboots of Dracula, the Mummy, Frankenstein and more, so this could very well stick around.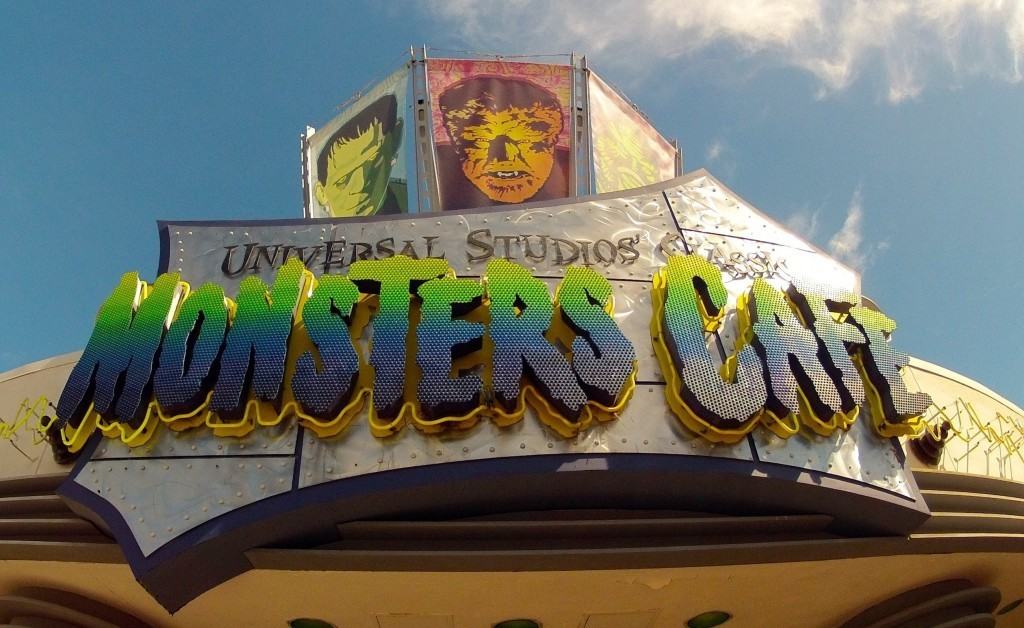 New York at Universal Orlando in 25 years
We can all only hope and pray that Revenge of the Mummy and Finnegan's are still around by the time 2040 rolls around. The Mummy is an indoor roller-coaster that is often overlooked at Universal Studios Florida. As mentioned above, the Mummy will be back on movie screens soon. Hopefully, the reboot will be enough to keep this dark ride around in 24 years, but it is a long shot.
Finnegan's is one of the best places to eat and drink in USF and is unlikely to go anywhere. The Blues Brothers will definitely not be singing in the streets of New York by the time 2040 comes around, but Starbucks and Ben & Jerry's should still be serving people coffee and ice cream. Louie's Italian Restaurant should still be serving pizza and pasta at the 50th anniversary, unless the Godfather wants to shut it down. With the inclusion of Jimmy Fallon next year, it is doubtful that he will still be a popular late night talk show host by then, so his ride might not be around at the 50th anniversary.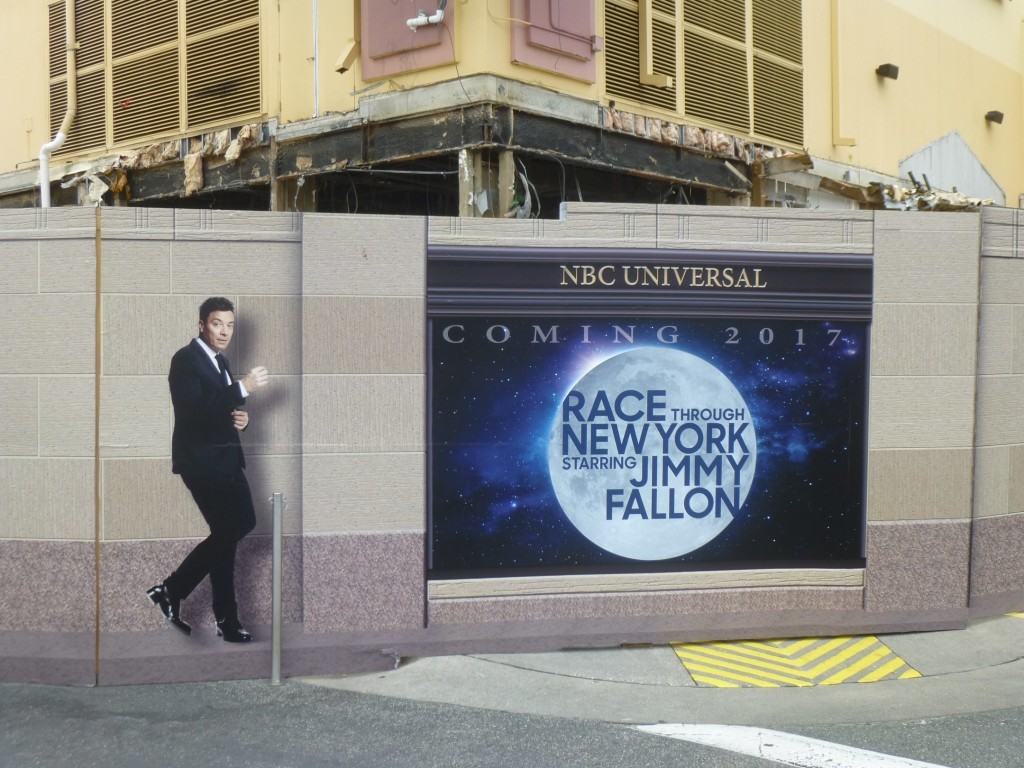 San Francisco at Universal Orlando in 25 years
There are currently no rides in the San Francisco section, but next year Supercharged will make its debut. The Fast & Furious franchise is working on their eighth movie and plan on going up to 10 movies and beyond. Even with these widely popular movies, it is unlikely that it will remain popular in 24 years and this ride probably won't be around anymore. Richter's Burger, Chez Alcatraz, Lombard's Seafood Grille, and San Francisco Pastry Company will of course have some adjustments to their menu items by 2040. One of these places may be re-themed around Fast & Furious when Supercharged opens and whatever follows it.
The Wizarding World of Harry Potter – Diagon Alley at Universal Orlando in 25 years
It is hard to think that Harry Potter may not be at Universal in the next 24 years, but with the highly convenient Hogwarts Express transporting guests to and from Islands of Adventure, it would be foolish for Universal to scrap the Wizarding World. With another book coming out in the Harry Potter universe as well as the Fantastic Beasts and Where to Find Them movie, it looks like J.K. Rowling still has some stories to tell. In fact, it is very likely that all eight Harry Potter movies could be remade with new actors within the next 24 years, keeping interest on the Harry Potter universe. Besides refurbishments and new live performances, Diagon Alley is here to stay.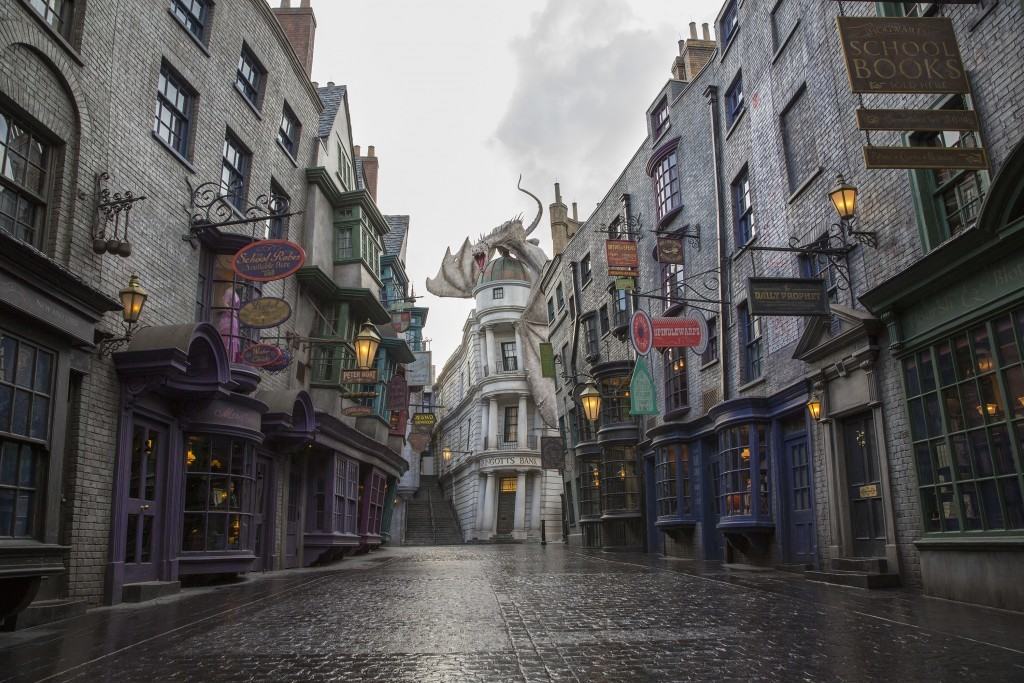 World Expo at Universal Orlando in 25 years
The Simpsons just completed their 27th season on television in May. It looks like these yellow characters will be sticking around for quite some time. As long as the Simpsons is still on TV, there is no reason for Universal to get rid of Springfield. Fear Factor Live and Men in Black Alien Attack, on the other hand, are going to vamoose sometime soon. Fear Factor is not on TV anymore and Men in Black is becoming more dated each and every day. These two will not see what Universal is like in 2040.
Hollywood at Universal Orlando in 25 years
Terminator 2: 3-D has been around since 1996 and is outdated. If this sticks around for more than three years it would be shocking. Universal Orlando's Horror Make-Up Show is a great show to sit down at, relax, and laugh. It is uncertain how long this show will remain but as stated above, again, it seems like Universal is going back to its roots of horror flicks and this show gives guests a taste of how certain effects are done in horror movies. Cafe La Bamba and Beverley Hills Boulangerie don't seem to be going anywhere and hopefully Mel's Drive-In will be serving burgers and milkshakes on the 50th anniversary of Universal Studios Florida, just like it did the day the park opened.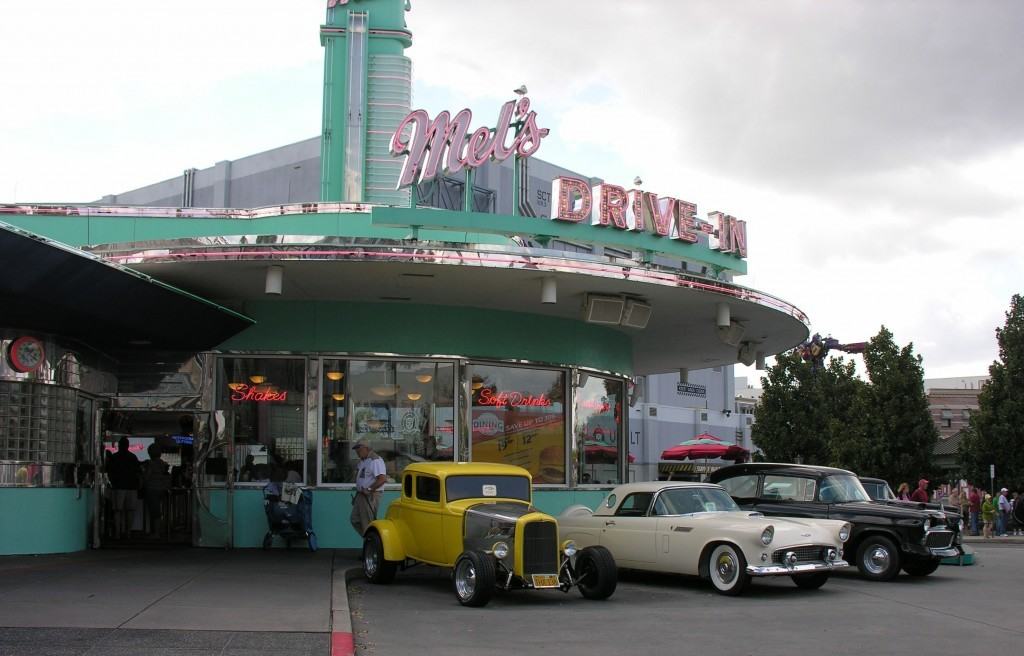 Park Wide Entertainment at Universal Orlando in 25 years
Cinematic Spectacular: 100 Years of Movie Memories should be getting a retheming sometime soon considering the 100 year anniversary was four years ago. Also, the Superstar Parade should be seeing some adjustments to its characters and such in the near future. Who knows what characters and floats will be causing road blocks by then?
Woody Woodpecker's Kidzone at Universal Orlando in 25 years
Finally, and with the hardest of hearts, one day Woody Woodpecker's Kidzone will be demolished to make room for something new; this most likely being home to Nintendo Land. No more Fievel's Playland, no more Woody Woodpecker's Nuthouse Coaster, no more Spongebob Storepants, no more Barney, no more Curious George, and no more Animal Actors.
Yes, I realize I forgot something. The last remnant of the original Universal Studios Florida, E.T. Adventure, may suffer the same terrible fate Jaws, Back to the Future, Kongfrontation, and others faced. Maybe, just maybe, though, Universal will keep E.T. and build around it.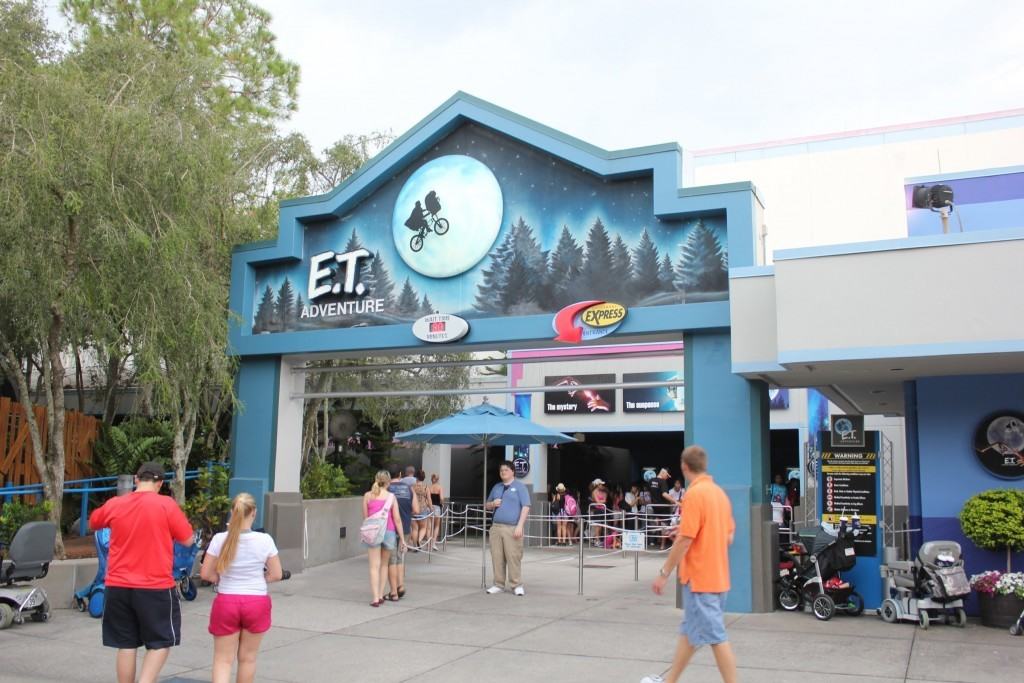 What would you like to see added and stick around Universal Studios Florida? Comment below!