It's official – Shrek 4-D is ogre, and the Minions are taking over. Whaaaaaaatt!?
Illumination's Villain-con Minion Blast is arriving at Universal Studios Florida in Summer 2023. The former location of Monsters Cafe is also being taken over by our favorite, goggled workers and becoming Minion Cafe. This takeover has assisted in the transition of Production Central becoming Illumination Ave in an officially declared Minion Land.
The announcement of this replacement is representative of a larger, culturally-wide battle the two production studios (DreamWorks Animation and Illumination Entertainment) have been fighting. Over the years, the two studios have competed for both at the box office and in the cultural zeitgeist to be the distant second behind Disney's Pixar Animation Studios, the indisputable titan of children's contemporary animated films. Shrek (DreamWorks) won an Oscar in the category of Best Animated Feature Film in 2001, and the attraction was installed at Universal Studios Florida two years later. Like Despicable Me, Shrek expanded into a number of films – Shrek 2 (2004, which also received an Oscar nod), Shrek the Third (2007), Shrek Forever After (2010), and Puss in Boots (2011) were all theatrical releases that performed at the box office. Two holiday short films were also released and received general approval and reinforced the cult following of the franchise. Despite the critical and commercial success of the Ogre, a new good bad guy emerged with immediate and enduring success in 2010.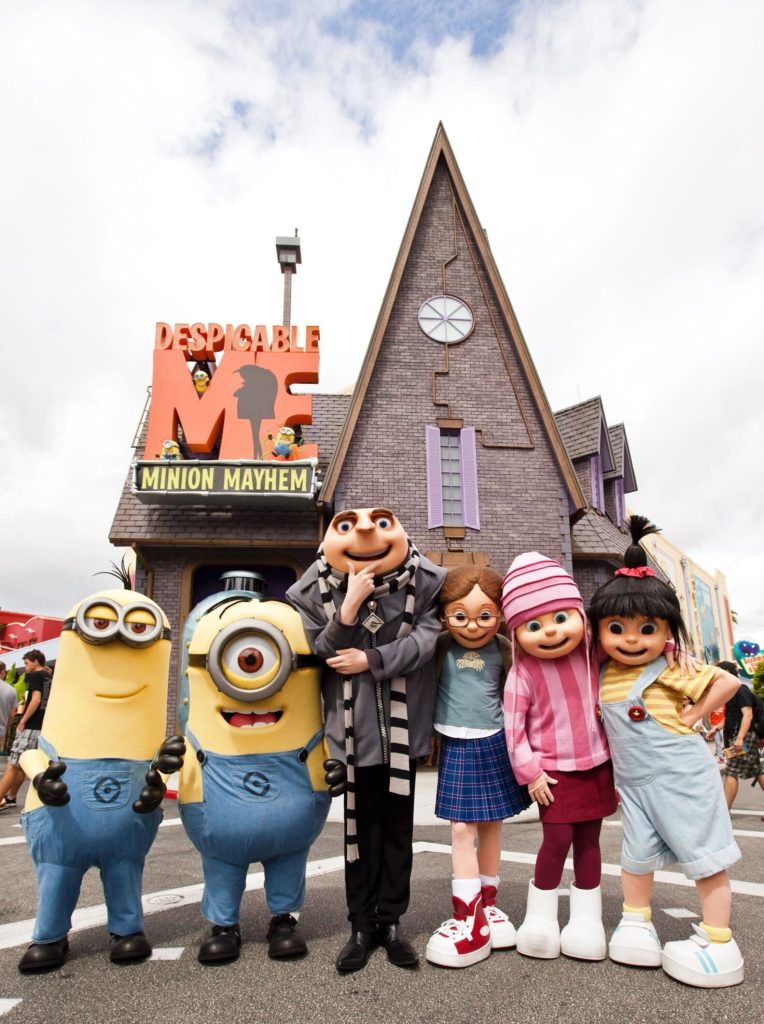 Despicable Me (2010) was an instant-classic. At its core, the film is a classic hero story overlaid with a unique premise: a washed-up villain (Felonious Gru) adopts three young girls (Margo, Edith, and Agnes) to steal a weapon from the new kid on the block (Vector) and regain his dominance as the de-facto bad man on campus. (In these ways, the story parallels Shrek quite well: a grumpy, hardened hero must team up with heart-softening allies to go on a quest to reassert his dominance.) Of course, things go predictably wrong in all aspects of the story: Gru begins to care for the girls as if they were his own, causing him to re-evaluate his life as a villain and his larger priorities. They change his life for the better and he realizes that success comes in many forms. If you haven't seen it, I sincerely recommend a watch. It's leagues above the other Illumination Entertainment productions, not least because of the influence and work of the ensemble cast, which includes Steve Carell (Gru), Jason Segel (Vector), Miranda Cosgrove (Margo), and Russell Brand (Dr. Nefario) in main roles, with the support of Kristen Wiig and Julie Andrews in minor (but impactful) ones. Most importantly, it's a film that strikes the balance all the good "kid's movies" do – simultaneously appealing to children in its animation and voice acting while relating to adults through its thematic development and humor.
The success of Despicable Me was enough to turn the singular film into a franchise: Despicable Me 2 (2013), Minions (2015), Despicable Me 3 (2017), and a number of animated short films are all part of the Despicable Me universe. Another installment of the franchise, Minions: Rise of Gru (2022), was released earlier this year.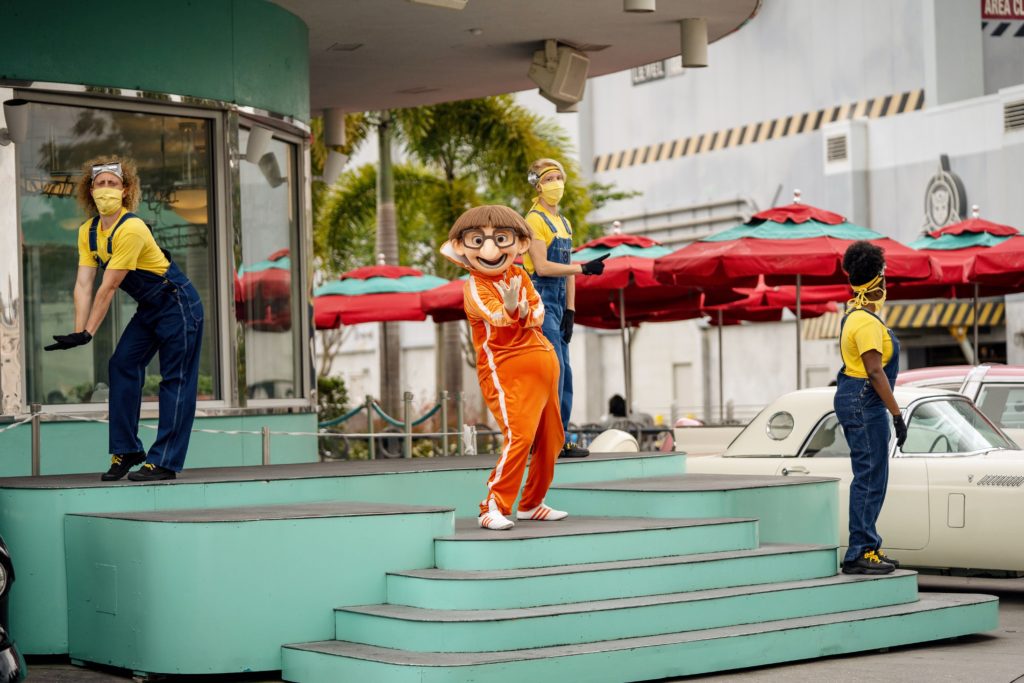 Out of all the memorable characters from Despicable Me, one group rises above the rest – the Minions. The word "minion" comes from the Middle French word meaning "darling," which I bring up only because the etymology, combined with the modern meaning of the word, is the perfect embodiment of these signature characters. As a group, they are wholly loyal to Gru and his pursuits while serving as foils to his abrasive and calloused demeanor. They represent this by being near-literal balls of sunshine (I figure bright yellow cylindrical tubes come close enough) who communicate in a simplified yet unique language peppered with the hallmark phrase: "papoy." In perhaps their most endearing quality, many of the Minions all have extremely standard English names: including Kevin, Stuart, and Bob, to contrast with the unfamiliarity that personifies the rest of their character.
You might be asking yourself, "Isn't there already a Minions attraction at Universal?" In a word – yes. Despicable Me: Minion Mayhem replaced Jimmy Neutron's Nicktoon Blast in 2012, and the installation was so successful that Universal added it to Universal Studios Hollywood in 2014 and in Universal Studios Japan in 2017. If you're familiar with the parks, you'll know that the attraction consistently has a relatively high wait time, as its location near the entrance of the park and iconic facade draws families in to experience the simulator ride.
So, what's in store for the new ride? The setting of this new attraction will be Villain-Con. You will be put to the test to see what it takes to join the Vicious 6, a group of supervillains that Minion franchise fans will recognize from Minions: The Rise of Gru. With an interactive blaster, you and the minions will travel through various scenes on a "motion-based pathway," earning points for creating as much destruction as possible. It sounds like so much fun; it may just be a crime.
---
We can't wait to see what further details emerge about the new Minions ride. What do you think they will be? Be sure to follow Orlando Informer on Facebook, Twitter, and Instagram for the latest news, tips, and rumors at Universal Orlando, Walt Disney World, and other Orlando attractions.