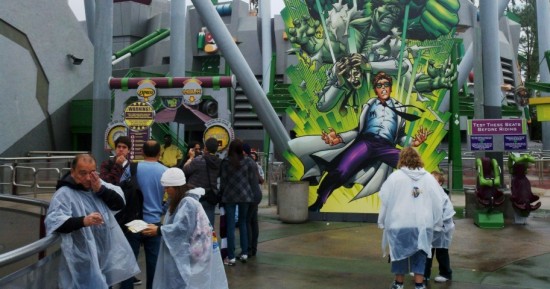 One of the many great things about Orlando is that there is plenty to do, even on rainy days. Don't let the rain spoil your fun! Here are some great ideas for rainy days around the International Drive area when the weather tries to soak your good mood:
Attractions
Explore a world of whacky fun at WonderWorks and Ripley's Believe it or Not! WonderWorks is an "amusement park for the mind!" You can have fun with over 100 interactive exhibits, including laying on a bed of nails, lazer tag (additional cost) and designing your own roller coaster. At Ripley's Believe it or Not you get to explore the world of the bizarre and weird showcased in variety of displays and galleries.
www.wonderworksonline.com/orlando
For the thrill seekers there is iFlyOrlando, where you can experience the sensation of sky diving indoors!
www.iflyorlando.com/ifly-indoor-skydiving
Take a trip back in time at Titanic the Experience. Updated in January of 2012, Titanic the Experience features over 400 pieces of memorabilia and 100 artifacts recovered from the wreck site of Titanic. Some of these items include personal belongings from the Titanic's passengers and crew as well as a 3-ton portion of the ship's hull!
You will be guided through this experience by storytellers in period costumes.
NEW! CSI: The Experience gives you the chance to test your investigative skills and crack the case.
orlando.csiexhibit.com/index.html
Recreation
If you're looking for a place to have the kids burn off some energy stop by Monkey Joe's. They'll be able to bounce, slide and have tons of fun at this indoor playground
Stop by the World Bowling Center for some family fun or a day of friendly competition with friends. This state of the art bowling center has 32 lanes, touch screens, a snack bar and full beer and liquor bar.
Dave & Buster's is a great place to grab a bite to eat and enjoy some of the latest and greatest video and interactive games. See the OI review or visit their site:
Shopping
The outlet malls on International Drive are one of its most popular destinations. With hundreds of shops, tons of discounts, and an almost endless amount of retail shopping choices for everyone in the family, at least one stop should be on your itinerary regardless of the weather.
Orlando Premium Outlets International Drive (closer to Universal):
www.premiumoutlets.com/outlets/outlet.asp?id=96 – or see the OI review
Orlando Premium Outlets Vineland Ave (closer to Disney World):
www.premiumoutlets.com/outlets/outlet.asp?id=17 – or see the OI review
Another shopping destination is Pointe Orlando, near the Orlando Convention Center. While it does not offer quite the array of shopping available at the outlet malls, the complex does have a fabulous movie theater and many superb restaurants, so shopping is only part of the only reason to visit:
www.pointeorlando.com – or see the OI review
It is important to note that the options above are "outdoor" malls, meaning that you will have to walk outside to get from one shop to the next. If you want a traditional "indoor" mall setting, you have three choices…
Festival Bay Mall features a collection of specialty stores like the Bass Pro Shop Outdoor World, Ron Jon Surf Shop and Sheplers Western Wear to name a few. However, it is worth noting that the mall is in the process of switching owners, and there are many empty retail spaces in it.
Don't miss the Putting Edge for an indoor glow in the dark mini golf experience — check out the OI review.
Festival Bay Mall also houses a movie theater and a variety of eateries including Fuddruckers, Asian Café, ChurroMania (one of my favorites) and more.
www.shopfestivalbaymall.com
For people who want to purchase upscale merchandise — or just browse through it — Mall at Millenia will be your destination. Featuring big name fashion and homewares in a sublime shopping environment, this complex is an ideal retreat from the rain. However, do note that Mall at Millenia is a few miles north of International Drive.
Movie Theaters
Catching a movie is always a great way to spend a rainy day. There are several movie theaters in the area.
Cinemark at the Festival Bay Mall
Regal Cinemas at Pointe Orlando — they've got a fantastic IMAX screen
AMC Universal Cineplex 20 with IMAX at Universal City Walk – Don't forget about the Meal & Movie deal when at CityWalk!
Dinner Shows
Dinner Shows are great for a rainy day and add fun entertainment to your dinning experience. International drive has a variety of options for you to pick from.
Pirate's Dinner Adventure: Live your night as a Pirate at this interactive dinner show. Enjoy a musical comedy theatre, full of action and adventure! And a Caribbean Pirate's feast. The best part is all of the action takes place on a replica 18th century Spanish Galleon.
www.piratesdinneradventure.com
Sleuths Mystery Dinner Theater: At the Sleuths Mystery Dinner you're the detective! Enjoy a delicious dinner (you will have a menu to select from a variety of options.) All meals are served with unlimited beer, wine and soft drinks. Visitor's will be a part of the action and mingle with characters to help solve the crime!
Titanic Dinner Event (at Titanic the Experience): Relive one of the most famous dinner parties in history. You'll recreate the Widener Party, celebrating the retirement of Captain Smith.
www.titanictheexperience.com/titanic-dinner-event/
Outta Control Magic Comedy Dinner Show (at Wonderworks): Be entertained by comical magic while enjoy a variety of unlimited pizza, salad, popcorn, beer, wine, soda and desserts.
www.wonderworksonline.com/…/outta-control-magic-comedy-dinner-show/ – Or see the OI review
Nightlife
Ice Bar Orlando: At the Ice Bar you'll be transported to an icy wonderland. 50 tons of ice creates this winter wonderland. You'll be given a warm thermal cape and gloves to keep you warm during your experience (and returned upon exit.) Enjoy adult beverages and a visit to the Fire Lounge to warm up after your chilly adventure.
Howl at the Moon: This dueling piano bar is one of International Drive's most popular nightlife spots. Stop in for drinks and high energy piano dueling.
www.howlatthemoon.com/locations/location-orlando
Along with these two fun places, Pointe Orlando is full of a variety of restaurants and nightlife entertainment as well.
How do I get there?
All of the places mentioned above can be reached by the I-Ride Trolley. You can visit their website for route information, pricing and more. OI subscribers, view our I-Ride Trolley guide.
How do I save money?
You will almost always pay the highest price right at the door for any attraction or show. (After all, you're standing right there, waiting to get in.) So, to save money, be sure to check the websites we've provided — many offer discounts for online or advance purchases.
For more information about the International Drive area, check all of our blog posts filed under International Drive or visit InternationalDriveOrlando.com.
[sws_author_bio user="jewels" size="105″ authorposts="More OI posts by Julie" name_format="About the author"] [/sws_author_bio]