The thrills are alive and well in Orlando. SkyPlex and its towering SkyScaper roller coaster have been approved for development. SeaWorld will debut Mako, the longest, fastest, yadda yadda coaster in Orlando. But of course, Universal Orlando still reigns supreme with its impressive collection of various thrill rides.
The day I became an annual passholder I did it out of a bet. You see, I am a big thrill ride whimp. Not ashamed to say so, I wear it proudly. I have been an Universal Orlando Annual Passholder for three years now, so you may be wondering why someone who is not a fan of thrill rides would shell out money for an annual pass to one of the most thrilling destinations on Earth. For those fellow thrill ride whimps out there, I'd like to share how you can enjoy Universal Orlando when thrill rides are not your forte.
Restaurants and bars
In recent years Universal Orlando has really stepped up its food and beverage game. There are plenty of restaurants, bars, and other great places to grab something to eat or drink that are a destination unto themselves. While thrill seekers may consider the exciting rides their main reason for visiting Universal Orlando, chill seekers have lots of way to sit back and savor something delicious.
First, there are a variety of outdoor bars throughout Universal property beckoning you to sit down, grab a drink, and enjoy the view, as well as people watch (Backwater Bar is a superb spot for this). Second, the specialty food and beverage offered at both Hogsmeade Village and Diagon Alley is so good you could almost spend an entire day touring through these two areas just trying all the different spellbinding tastes.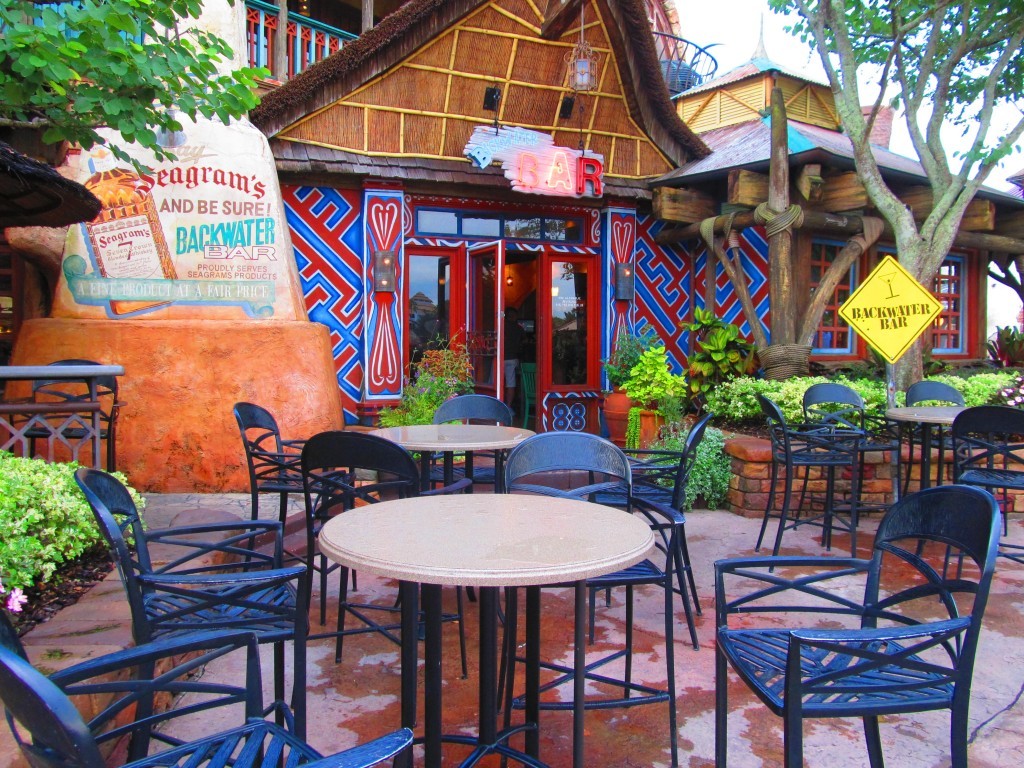 Perfect for people watching – Backwater Bar at Islands of Adventure.
Third, though I wish more full service restaurants resided inside the theme park gates, Mythos at Islands of Adventure and Finnegan's at Universal Studios Florida are great dining experiences that make a visit to these two parks even more special. Finally, Universal's CityWalk has become a dynamic dining destination. Over the past year we've seen restaurant after restaurant open at CityWalk, each one being well received and appealing to its own specific demographic. The original establishments like Emeril's Orlando and Jimmy Buffett's Margaritaville Cafe continue their tradition while conducting regular updates to stay relevant.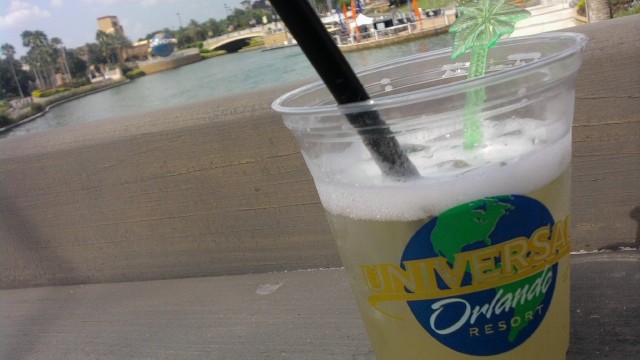 Grab a margarita at Margaritaville at Universal Orlando Resort and relax.
Live entertainment and shows
It's true, when you think of Universal Orlando chances are the first thing that pops into your mind is not their live shows. And yet, Universal has a history of producing some pretty solid live entertainment. And certainly in recent years, even in recent months, lots of new live performances have been added (especially in Universal Studios Florida). Whether I am in the mood to just take it easy or if I step up my courage, try a mild thrill ride, and then need a break, I can always find live entertainment of some kind to enjoy.
Universal also isn't known for holding onto old attractions or experiences for too long. And yet, one of the longest lasting offerings at Universal Studios Florida is the Blues Brothers Show. It is darn near impossible to resist clapping and dancing along to this soulful, light hearted musical performance in the streets of New York.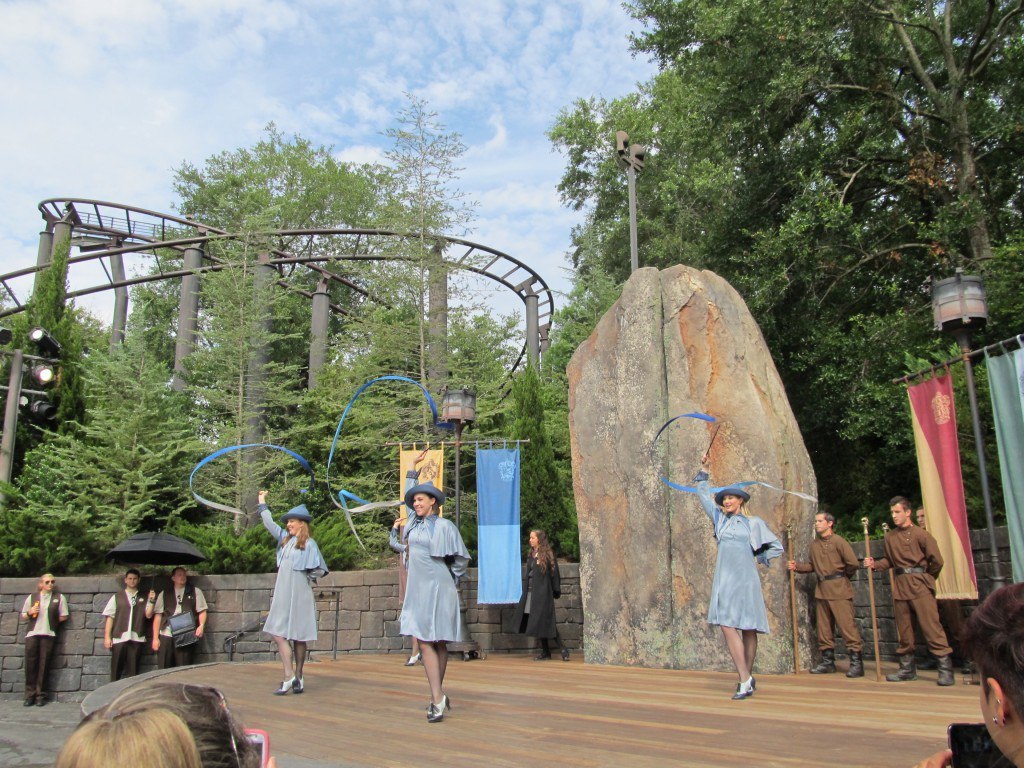 Triwizard Spirit Rally at Hogsmeade Village at Universal Orlando Resort.
Another elevated experience comes to us from Diagon Alley. Both live shows, Celestina Warbeck and the Banshees as well as the Wizarding Academy of the Dramatic Arts, have earned a special place in the hearts of many. Even stopping by for just a few minutes with a Butterbeer or Dragon Scale brew in hand is a nice treat. The live entertainment over at Hogsmeade Village is not as refined, but it too also adds magic and depth to the bustling, snow covered village.
Enjoying the queues
While Disney may have opted to make their queues more about interactive games and such, Universal has stuck with the mindset that the queue should set the tone and build the story. I remember the days of being a child walking through the Kongfrontation queue. It was themed like a city subway or transit station, complete with dark and dank concrete walls and graffiti. TV monitors showed "live news reports" of the destruction that King Kong was causing through the streets of New York City. This scared the you-know-what-out of me as a kid.
This tradition of building the story line continues through practically every single ride at Universal Orlando. Even the more simple attractions like Despicable Me Minion Mayhem have pretty well developed environments that act as a preface and set the tone. At The Simpsons Ride (which I will finally go on very soon) there are plenty of gags and jabs at the world of theme parks that make this queue and preshow worth a visit. Men In Black – Alien Attack (which makes me dizzy, but I still push through and enjoy it) recreates so many scenes from the movie, it's so fun! And of couse E.T. Adventure is one of the best ride queues in all of Orlando. Ugh there's just so many, check out this list of a few of the great queues.
And yet again the Wizarding World of Harry Potter tops them all with the incredible Hogwarts Castle queue for Harry Potter and the Forbidden Journey as well as the astounding Gringott's Bank queue for Harry Potter and the Escape from Gringotts. And let's not forget that although the Dragon Challenge queue is just the reversed exit of the former Dueling Dragons, it still sets up the excitement of the Triwizard Tournament.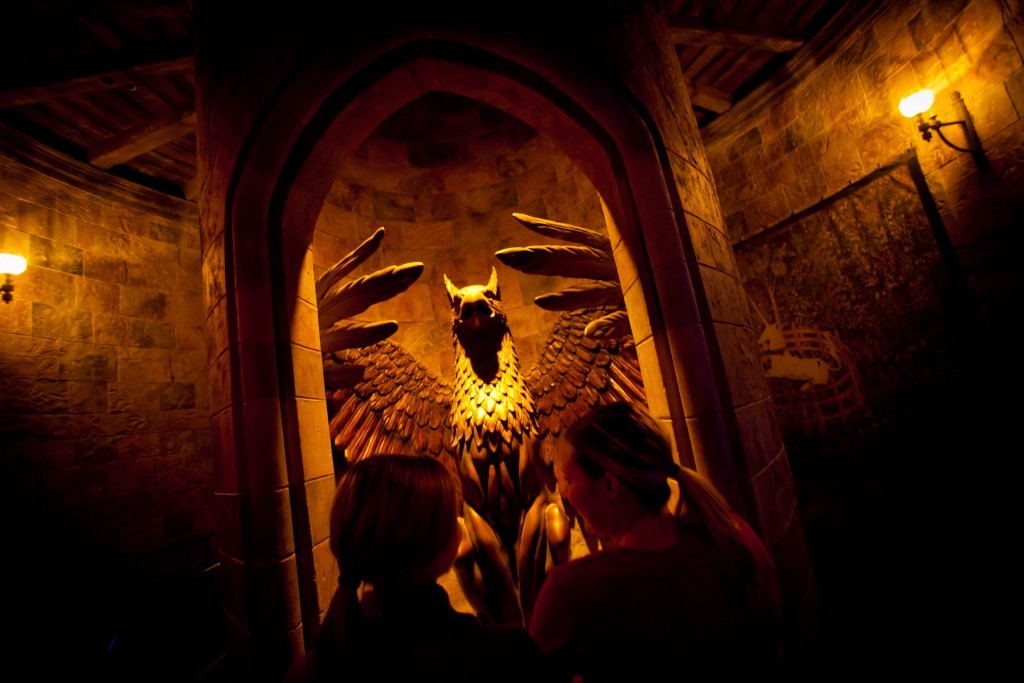 Even the queues have photo opportunities! (Forbidden Journey)
Even if I am going to chicken out of a ride, I'll still gladly walk along with those braver than me and enjoy the experience of walking through the queue. I highly recommend that if you don't want to go on a ride still take the time to go through the queue and enjoy the setting.
Seasonal events
Three times a year Universal Orlando becomes even more exciting with additional entertainment and an elevated atmosphere. Halloween Horror Nights, Mardi Gras, and Holidays at Universal Orlando resort make up the three seasonal events that can be enjoyed here. Ok, so perhaps HHN is not really an option for many whimps, myself included until this year when I actually went to HHN for the first time! But, without a doubt Mardi Gras and Holidays at Universal are such fun events they are almost worth the price of admission on their own.
I may not ride half the attractions in Universal's theme parks, but the seasonal events help me feel like I am getting my money's worth when I renew my annual pass each year.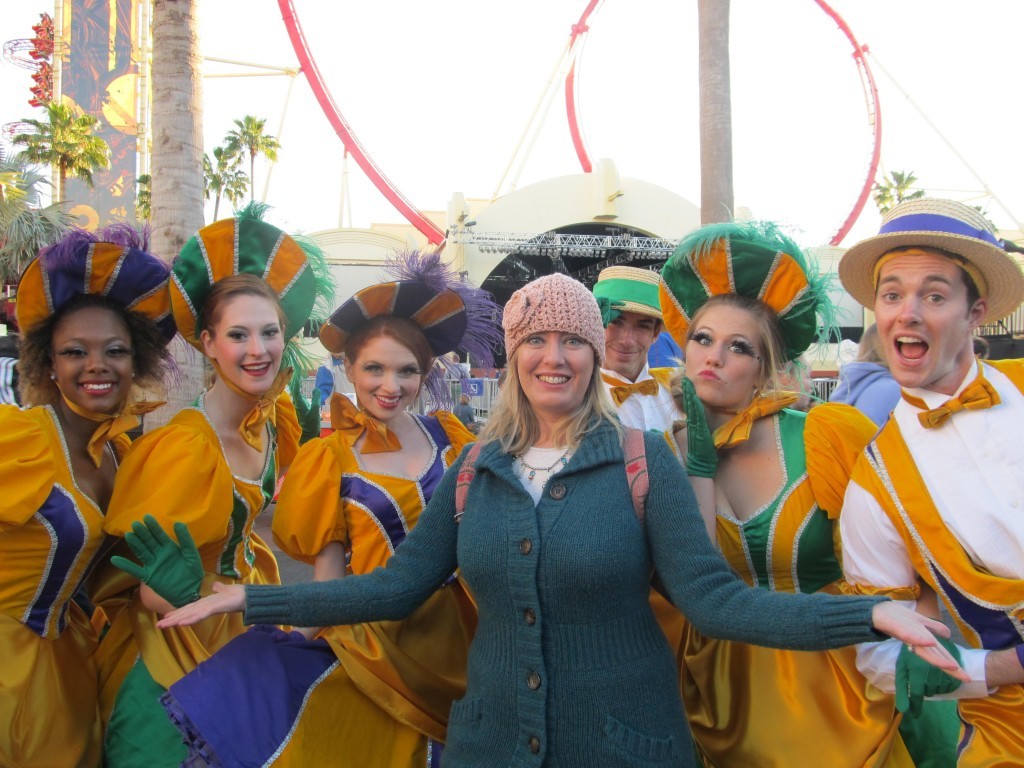 Having a blast at Universal Orlando Resort's Mardi Gras.
Atmosphere and details
Perhaps the biggest draw of all are the incredible details, in depth theming, and overall atmosphere. I may not be one of those people that enjoys an adrenaline rush (I am working towards adjusting this as best I can), but I do get gleeful when I feel enveloped and transformed inside a theme park. There are many spaces inside both parks at Universal that feel transformative.
If you simply take the time to slow down, you can find all kinds of details, and you'll discover even more treasures if you open your ears, too! One of my favorite ways to pass the time while the rest of my party goes on something too extreme for me is to take a leisurely stroll and soak in the details. The New York backlot at Universal Studios and Port of Entry at Islands of Adventure are two of my favorite areas with loads of details, but even the San Francisco area (what's left of it) has some cool details too. Be sure to check out History of the New York backlot at Universal Studios Florida.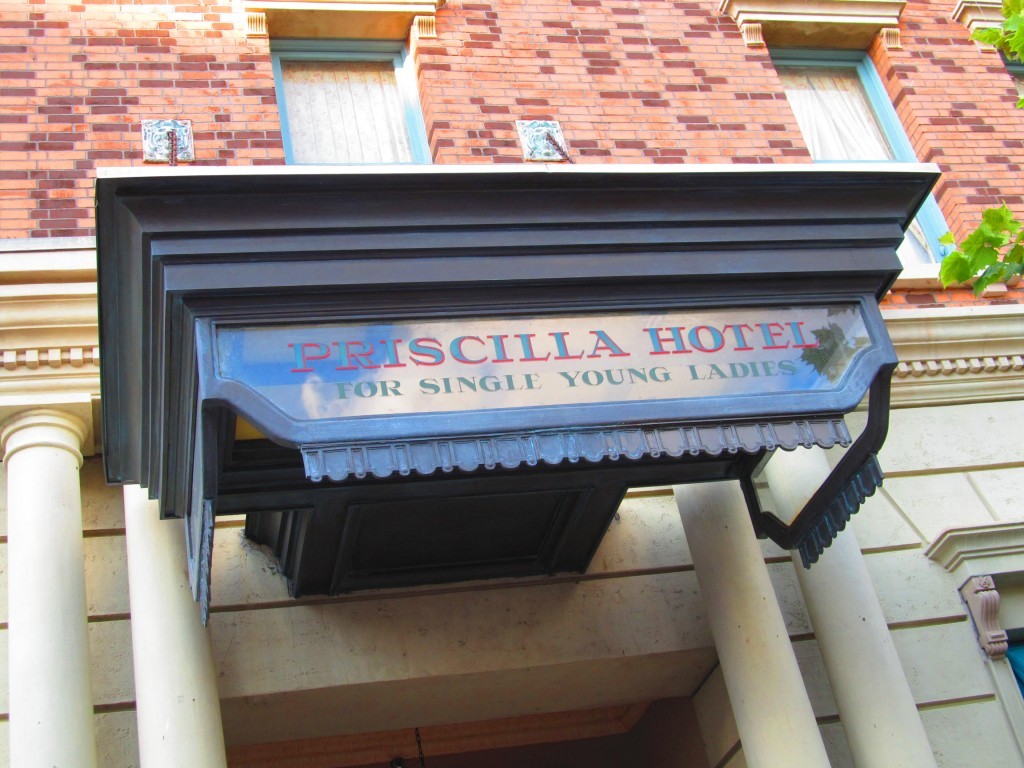 New York Backlot – This fictional hotel is from a movie, book, and musical called Thoroughly Modern Millie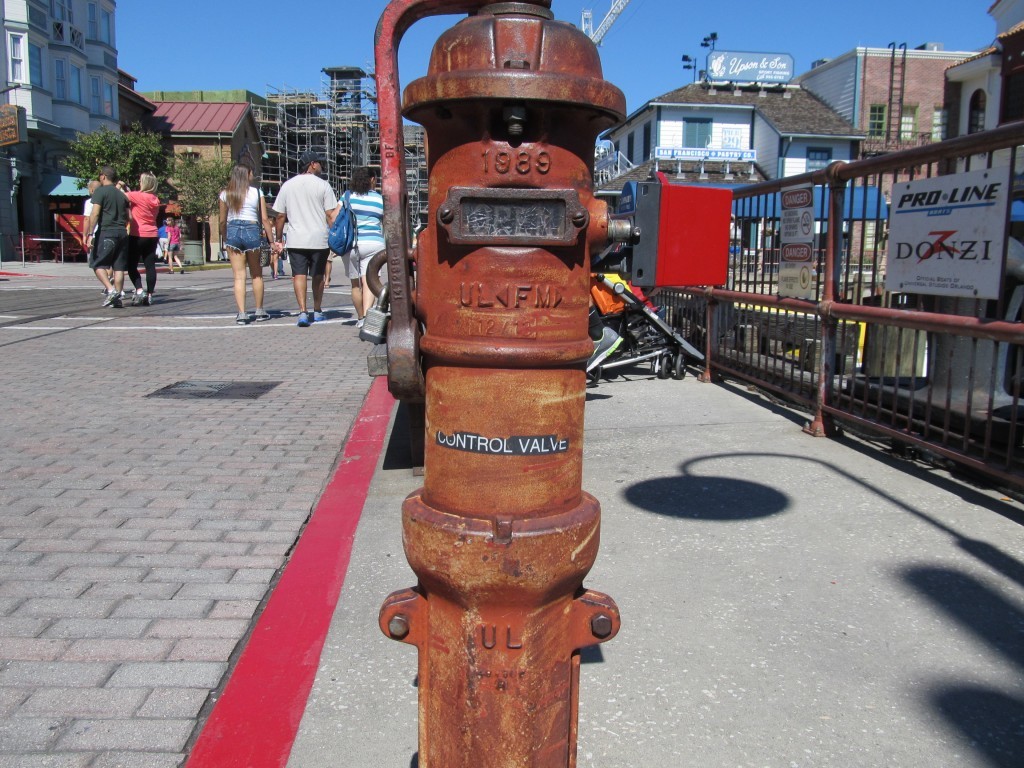 Valve found in San Francisco area shows the year USF was built (NOT a Taylor Swift reference)
While it's true I  may be working to overcome some of my whimpiness, I know I'll never be the type to go on the really extreme stuff. And I know there are others out there that prefer to be a chill seeker, rather than a thrill seeker. If you've ever questioned if Universal Orlando is worth a visit despite your lack of interest in the thrilling stuff, I hope I've helped you see all that there is to enjoy. Universal Orlando is one of the most exciting destinations in Orlando, even if you choose to keep your feet firmly on the ground.