Time is precious, and vacation time is even more so. Orlando's theme parks have made strides to help their guests save time, and both Walt Disney World and Universal Orlando Resorts have a great tool to do so when it comes to eating: mobile ordering. In fact, Disney pioneered this experience and has lead the way on its innovation.
Let's review how to use Disney's mobile order and see how it can save you time. (Want to read more about Universal's version of ordering on-the-go? You can do so here.)
How to order food through Disney's mobile order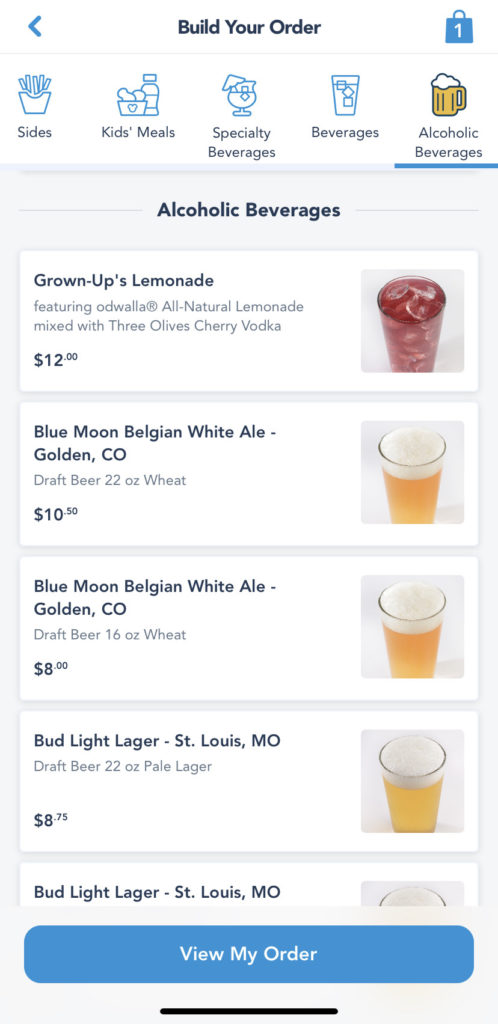 First things first: you will need to download and sign into My Disney Experience. This smartphone app is a necessary tool to help you plan your Disney World vacation, including making FastPass+ selections and viewing wait times. Once you have the app open, select the plus sign (+) at the bottom of the screen, then choose "order food."
Once you do, the long list of locations with mobile-order access will appear. Currently, there is not a way to filter this list, so you will need to scroll through the whole thing – but it is organized by location, with Magic Kingdom coming first, followed by the rest of the theme parks, then Disney Springs, and, lastly, the on-site hotels. Select your desired restaurant, then tap "order food." If you're not sure where you want to eat, you can use the app to view the menus, but only once the restaurant is open for business.
As you browse a menu, you can use the icons along the top to view individual options, or you can just scroll down to view all of the offerings. When you click on an item, it will give you a photo of it, along with a brief description. Tap "add" to add the dish to your order.
(Important note: while the entire menu is generally represented on the mobile app, sometimes an item may not actually be available because it's not being currently served at the restaurant – or vice verse. These occasions are pretty rare, however.)
Once you have selected all of your choices, touch the bag in the top-right corner to complete your order. You will need to have a form of payment on file in the app in order to finalize it; credit cards and Disney gift cards are acceptable forms of payment – Disney Visa Rewards are not.
How to pick up your food from Disney's mobile order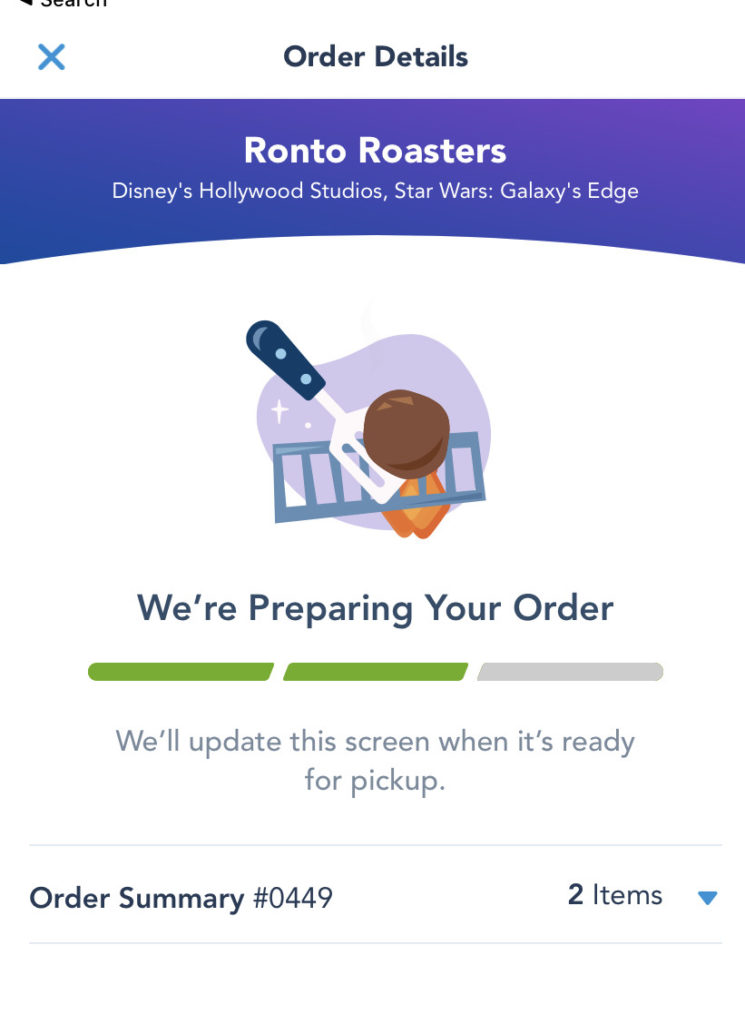 Whenever you're ready for your food, open My Disney Experience and head to the location where you placed your order. Inside the app, select the lines in the bottom-right corner of the screen, which will open up your profile and menu. Tap "mobile food orders," then "I'm here" (even if you're not directly at the restaurant, you can tell them that you're there). Generally, the food is ready within five minutes of you notifying them.
Once you've alerted the location that you are there and ready for your food, the app will update to show that they are preparing your order. Head to the mobile order pick-up window, which is generally all the way to the right or to the left, depending on the restaurant; you'll see a black-and-white mobile order pick-up icon at the designated spot.
When your order is ready, your phone will let you know, and, generally, the cast member at the window will also call out your name or your order number.
How to save time with Disney's mobile order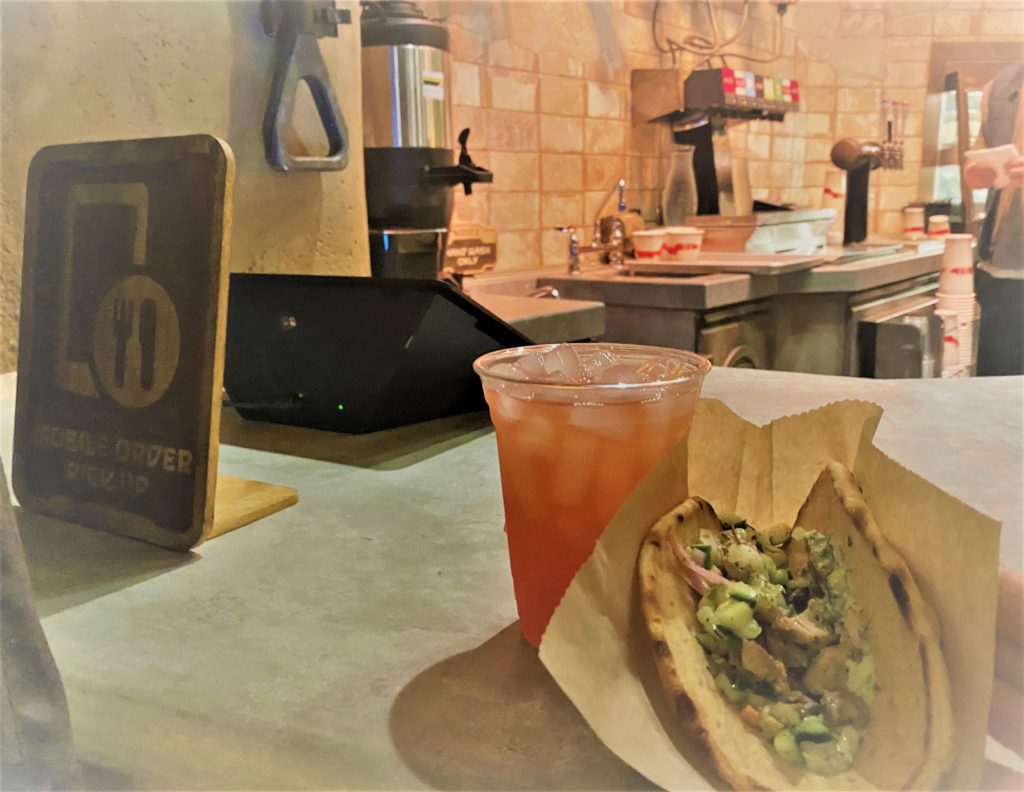 I use Disney's mobile order nearly every time I am in the theme parks. My strategy is to browse the menu and place the order while I am waiting in line for an attraction, for bag check, or at the park entrance. Then, once I'm ready to eat, I immediately open My Disney Experience as I walk toward the restaurant – once I'm within a few steps of the venue, I "check in" in the app, letting them know I'm there. By doing all this, I've essentially filled up vacant time that's otherwise spent just waiting – and I've avoided doing some extra waiting at the eatery, too.
You can even order your food before you arrive in the park – you do not need to physically be on Disney property to place a mobile order. The restaurant simply needs to be open for business at the time of your order, and open for the specific meal period you desire; for example, you generally cannot order something off the lunch or dinner menu while the location is serving breakfast.
All of Disney's hotels also have mobile ordering available at their counter-service venues. This is great because you can place your order while you're at the pool, in your room, or, even, when you're on the way back to your resort after a fun day in the parks.
Finally, I've used My Disney Experience in last-minute situations, as well – an impulsive snack, for example, or when there's a line at the restaurant and I don't feel like waiting in it. The different ways – and the amount of time – you can save are pretty vast!
–
What are your thoughts on Disney's mobile order? And what's your favorite place to use it at Walt Disney World? Tell thousands of other Disney fans in our OI Community Facebook group.
And don't forget to follow Orlando Informer on Facebook, Twitter, and Instagram for the latest news and tips at Universal Orlando, Walt Disney World, and other Orlando experiences.