It's the homecoming that we never thought we'd see: Rob Zombie is returning to Halloween Horror Nights, along with his signature creation, House of a 1,000 Corpses.
We say "returning" because – well, it's a long, wild story. You better sit back and strap yourself in.
With Horror Nights really starting to take off at Universal Studios Florida throughout the 1990s, the company tried to transplant it back over to the West Coast, where the event had originated, towards the end of the decade. (After a quick one-year stint in 1986, Universal tried to get HHN up and running at Universal Studios Hollywood again in 1992, to no avail.) 1997's proceedings were a decent start, but for '98's, the company opted to try a new strategy, reaching out to horror legend Clive Barker to create an all-new, all-original haunted house to headline the event. The result was Clive Barker's Freakz Maze, and it was successful enough for Universal to try and emulate the formula in '99 with another icon of the industry, Rob Zombie.
Zombie spent 13 years as the co-founder and front man of the heavy-metal group White Zombie before striking out on a solo career in 1998, releasing the popular Hellbilly Deluxe: 13 Tales of Cadaverous Cavorting inside the Spookshow International (does that name ring a bell? It should). The horror-infused album, along with Rob's carefully-cultivated creepy image, made him a big get for Universal, and the results spoke for themselves: that year's haunt, The Thrilling, Chilling World of Rob Zombie (which was based largely off of his recent musical release), was hugely successful, prompting not only Universal Parks and Resorts to ask him back to do a follow-up maze for the next Halloween Horror Nights, but also leading Universal Pictures to try and collaborate with the music-video director on a movie project.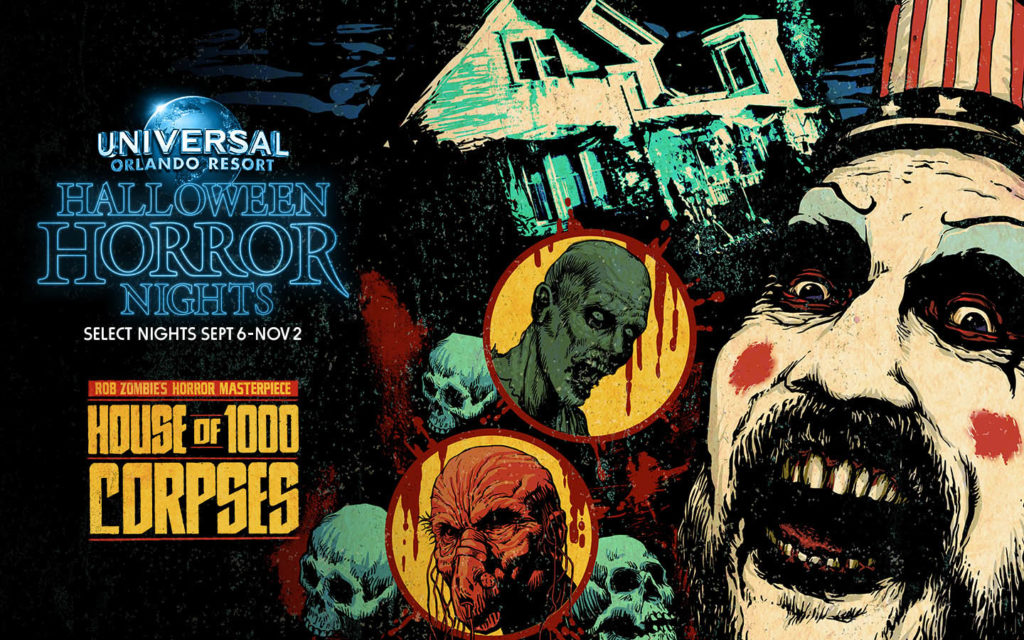 Both of these tracks, interestingly enough, would intersect almost immediately. Zombie first submitted The House of 1,000 Corpses Maze as his sophomore HHN entry, and then, when asked by a film executive to pitch a story for the big screen, he used the characters and scenarios created for the house as the basis for his would-be script. Both got greenlit almost simultaneously, and the movie version was put on the fast track – the musician-turned-screenwriter would have only two months to pen the script, and by the time that Horror Nights rolled around that October, The House of 1,000 Corpses was already announced by Universal Pictures; ironically enough, the haunt would end up being advertised as being based on the upcoming film.
Let's compound that irony even more: ultimately, while 1,000 Corpses would get released theatrically, it wouldn't be through Universal, who proved to be uneasy about releasing a potentially NC-17-rated picture; Rob Zombie purchased the rights to his movie back, shopped it around town, and eventually found a buyer in Lionsgate, who released it in 2003 and, thus, made it part of its "torture porn" trilogy that (re)birthed the sub-genre: The House of 1,000 Corpses in '03, Saw in '04, and Hostel in '06. (The studio also asked Zombie for a sequel, The Devil's Rejects, which arrived in '05 – and is now followed this September by the third entry in the series, 3 from Hell.)
But Universal wasn't done with the property – or with Zombie. In 2010, the company had the maze come back as Rob Zombie's House of 1,000 Corpses in Zombievision 3D, now truly based off of the film and, of course, employing 3D effects throughout. It was so successful, guests voted it the number-one haunted house in that year's lineup, which behooved Universal to bring it back for '11's event, as well.
And, now, it's coming back yet again: House of 1,000 Corpses was announced today by Universal as being the final house at Universal Orlando's Halloween Horror Nights. The company promises that the maze will start at the "offbeat" roadside tourist attraction Captain Spaulding's Museum of Monsters and Madmen (where guests will get to meet its newest addition, Fish Boy) before proceeding to the home of the Firefly family (the anti-heroes of Zombie's trilogy) and finishing at a subterrean network of tunnels, where the (even more) over-the-top Doctor Satan resides.
Interestingly enough, this marks not the third haunt iteration of the property, but the fourth – once bitten by the haunted-house bug, Rob entered into the production of his own experience, Rob Zombie's Great American Nightmare, which started up in Pomona, California in 2013 before spending the next two years touring around the country, including Scottsdale, Arizona and Villa Park, Illinois. One of the several mazes involved in the combo haunt/music fest was, but of course, Haunt of 1,000 Corpses, which Zombie himself described thusly:
This terrifying attraction pays homage to the 10-year anniversary of the exploitation horror film House of 1,000 Corpses, directed by Rob Zombie. This extreme traditional haunted house will take visitors on a walking journey through a recreation of the film's Museum of Monsters and Madmen, along with an expanded Murder Ride, confronting notorious serial killers along the way. This high-impact, highly-detailed attraction will use state-of-the-art animatronics, video effects, costuming, sound, scents, and lights.
If this doesn't get you ready for HHN's version, we don't know what will – besides the news that Rob Zombie's Hellbilly Deluxe will also be arriving at this year's Horror Nights as a scare zone, which was just announced a few days ago. You can get the full scoop on that here.
Orlando Informer Podcast: be sure to listen to this week's episode of the OI Podcast to hear even more of our thoughts on the last haunted house of 2019. You can subscribe to the podcast on iTunes or give a listen here.
House of 1,000 Corpses will join Stranger Things, Nightingales: Blood Pit, Universal Monsters, Depths of Fear, Yeti: Terror of the Yukon, Ghostbusters, Killer Klowns from Outer Space, Us, Graveyard Games, five scare zones, and two shows at Universal Orlando's Halloween Horror Nights, which runs for a record-breaking 41 select nights, from Friday, September 6 to Saturday, November 2.
–
Find out everything you ever wanted to know about HHN – plus more! – in our insider's guide. And then discuss it all with 80,000 other Halloween die-hard fans in our OI Community Facebook group.
And be sure to follow Orlando Informer on Facebook, Twitter, and Instagram for the latest news and tips at Universal Orlando, Walt Disney World, and other Orlando experiences.