Blumhouse Productions, the tiny production company that has since gone on to conquer nearly all of the entertainment world, has had an involved relationship with Universal for the past four years, encapsulating both Hollywood (a first-look deal with Universal Pictures that runs until 2024) and, of course, the theme parks (multiple haunted houses and scare zones at Universal Parks and Resorts's annual Halloween Horror Nights).
It should come as no surprise, then, that the studio will be making its fourth appearance at Horror Nights, arriving as The Horrors of Blumhouse for the second year in a row. Don't let the name fool you, though – although the premise of taking multiple Blumhouse properties and smashing them together in a type of greatest-hits haunt remains the same, the number and identity of those franchises are completely different.
First up on the horror docket is Happy Death Day, a 2017 film that has been famously described as "Groundhog Day meets Scream" – college student Tree Gelbman keeps reliving her birthday, over and over again in a seemingly-endless time loop, as she struggles to come to terms with the despicable person she's become and to discover the identity of the masked killer who keeps stalking and murdering her. (It turns out that the Scream comparison is actually somewhat apt, as the designer of that famous series's iconic mask also did the honors for Blumhouse's light-hearted horror film.) And its partner in crime is none other than the still-in-theaters The First Purge, the fourth movie in that overarching franchise but its very first installment, chronologically speaking; the premise here is to show how the annual tradition of creating a crime-free zone for 12 hours across the entire country (in order to allow citizens the chance to "purge" themselves of their basest instincts, thereby increasing their social happiness and economic output) got its somewhat-rocky start.
(HHN buffs will note that this year's Horrors of Blumhouse maze only consists of two intellectual properties, which has been slimmed down from 2017's three. This is, perhaps, an acknowledgement that last year's version felt a tad on the cramped side, with its first two subjects [Sinister and The Purge] only getting a few rooms each while the final entry [Insidious] dominated the rest of the experience, most likely in an effort to fashion a "living trailer" for its fourth upcoming chapter, which landed in theaters just two months after Halloween Horror Nights 2017 ended. Here's hoping that both Happy Death Day and The First Purge get equal scare time, in more ways than one.)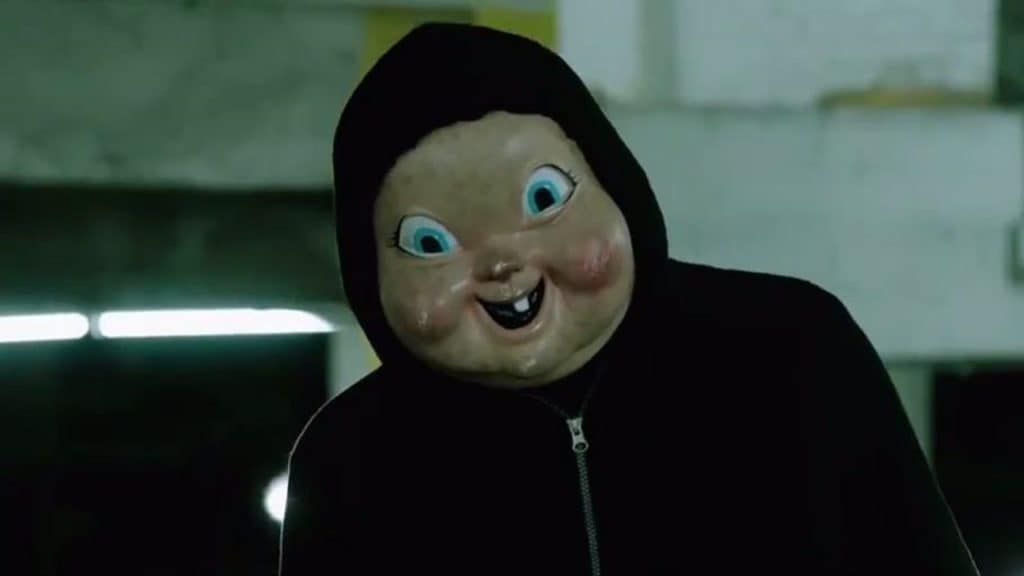 Although Death Day, with its humorous tone and only occasional scares, might not seem like the most natural fit for a haunt, it's actually been realized at Horror Nights before – it was part of Universal Studios Hollywood's version of The Horrors of Blumhouse last year, taking the place of Insidious (which was spun off into its own house) even though Happy Death Day wouldn't see release until the very end of the event's run. Scenes realized for that truncated appearance included the infamous dorm room that Tree wakes up in every single morning, the hospital (where she's forced to wield a giant fire axe against her masked assailant), the dark tunnel with its flashing construction lights and creepy music box, and, most humorously, elements of the frat boy's "Pleasure Dome," giving Orlando's designers more than enough to work with in order to make attendees "encounter the déjà vu scenario" and forcing them "to relive the last day of [their] lives over and over again, trying to escape a mysterious masked killer."
The Purge's haunt bonafides are both numerous and obvious, with the franchise having been featured at previous HHNs as both a scare zone (in 2014 and '17) and maze (a standalone one in '15 and, of course, as part of The Horrors of Blumhouse in '17). Despite the well-trodden feel of the franchise, however, The First Purge does present a swath of interesting material for Universal's designers to specially utilize for this go-round; the glowing contact lenses that double as video recording devices are sufficiently eerie – not unlike the blacklight-powered vampire contacts employed in last year's Hive house – and the booby-trapped stuffed animals and Purge block-parties-turned-bloodbaths all make this latest movie feel as if it were created especially to be translated into a maze.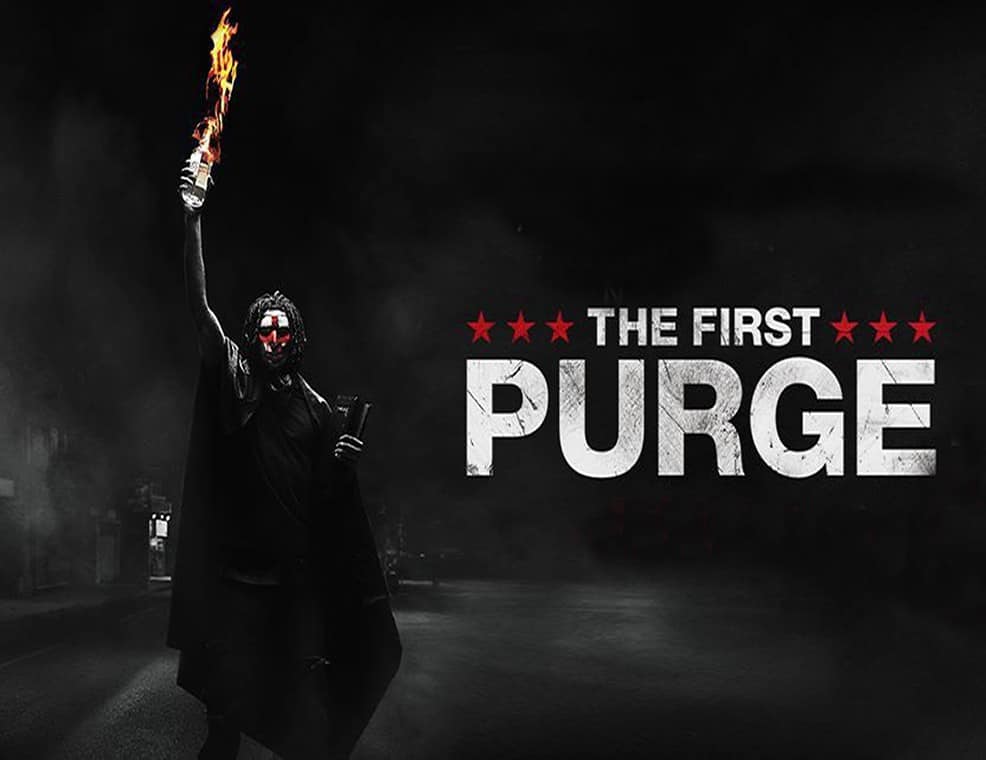 (We would be remiss if we didn't also point out that Purge has been an even bigger mainstay over at Universal Studios Hollywood, having popped up for each of the six years that the IP has existed. You can read a brief rundown of that history in our complete write-up over at our sister site, California Informer.)
There is likely more at work here than just novelty and tradition, respectively, in the selection of these two franchises for HHN – both entities will be receiving new installments in the very near future, with the Purge television series premiering on (the NBCUniversal-owned) USA Network on September 4 (continuing The First Purge's prequel explorations) and Happy Death Day 2 currently in production for a release sometime in 2019. It's not hard to see how these follow-ups might possibly furnish the contents of next year's iteration of The Horrors of Blumhouse (if, indeed, there is one), making them a whole different type of "living trailer."
But as exciting as all that may be, there is already one downside to this final licensed haunted house: it breaks Halloween Horror Nights 2018's overarching '80s theme. While, yes, it's true that Trick 'r Treat also has absolutely nothing to do with that delectable decade, it seems to nonetheless fit the retro vibe, perhaps due to its reliance on the season's timeless iconography and lack of modern references (a number of readers and podcast listeners have actually remarked that they genuinely believed the film was released in the '80s). HHN attendees, then, will simply have to give Blumhouse a pass and allow a (potentially) scary haunt experience to trump any thematic concerns.
What – are you craving even more info on the titular production company? You can find a brief-but-substantive overview of Blumhouse Productions, its filmmaking philosophy, and the formula to its nearly-unprecedented success in our original article from last year. (And then you can follow that up with even more horror goodness in our complete guide to Halloween Horror Nights 2018!)
The Horrors of Blumhouse will join Stranger Things, Dead Exposure: Patient Zero, Trick 'r Treat, Slaughter Sinema, Carnival Graveyard: Rust in Pieces, Seeds of Extinction, Poltergeist, and Halloween 4: The Return of Michael Myers at Universal Orlando's Halloween Horror Nights, which runs for a record-breaking 34 select nights, from Friday, September 14 to Saturday, November 3.
–
Find out (part of) Halloween Horror Nights's backstory for this year in our complete write-up. Is the event not your bag? See why you should still check it out, anyway, in our HHN guide for non-horror fans.
And be sure to follow Orlando Informer on Facebook, Twitter, and Instagram for the latest news and tips at Universal Orlando, Walt Disney World, and other Orlando experiences.