When Universal first announced back in April that its perennially-popular Wizarding World of Harry Potter was, at long last, getting the holiday treatment, we knew that it would be comprised of four different elements, and we knew the first of these was a series of elaborate Christmas decorations.
What we didn't know – what we couldn't until just today – was how unbelievably beautiful they would be.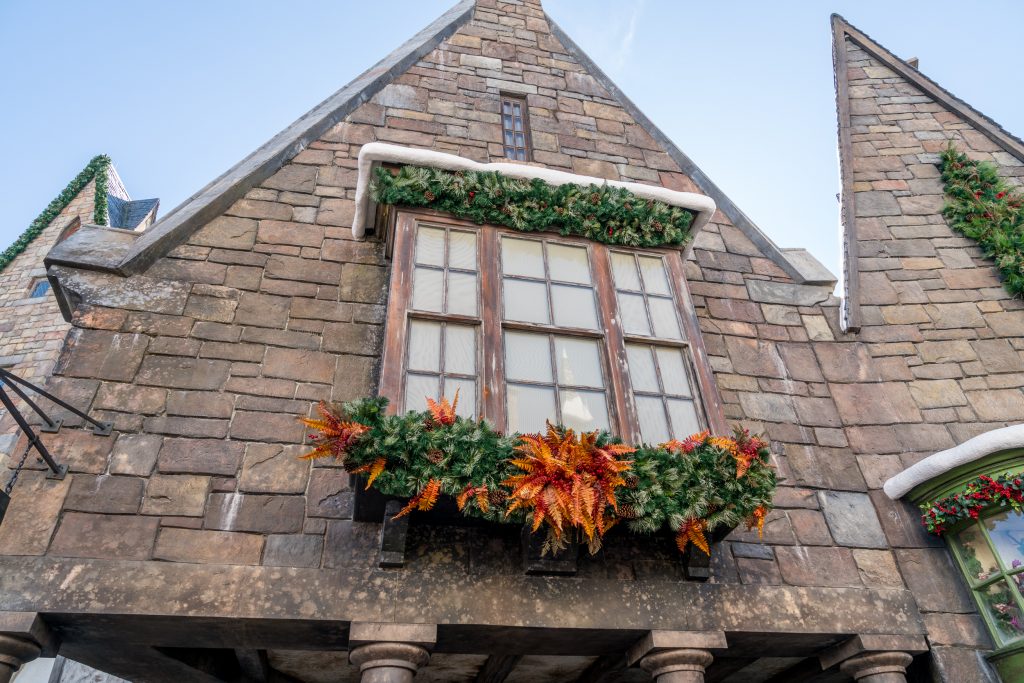 Universal has brought Christmas in The Wizarding World of Harry Potter to Hogsmeade early, as it pulled a fast one on us all and put up the decor last night, some two weeks early (Halloween Horror Nights isn't even over yet, Uni!). Not that we're complaining, though – it allows us to soak in all the gorgeous ambiance even more, appreciating just how much more magical the Wizarding World has become literally overnight.
Each location within Hogsmeade has its own particular festive accoutrement, and each is mesmerizing in its own right. But we found ourselves most lingering in three specific spots, which we're going to walk you through right now to help whet your appetite for the holiday feast (both figurative and literal) that is shortly to come. But do keep in mind that we're not sure if every last thing is in place yet – we didn't spot anything in front of either Harry Potter and the Forbidden Journey or Flight of the Hippogriff, although that could be intentional. (And also keep in mind that, in order to fully appreciate the winter wonderland splendor, you'll truly need to see it for yourself.)
3. The Three Broomsticks/Hog's Head Pub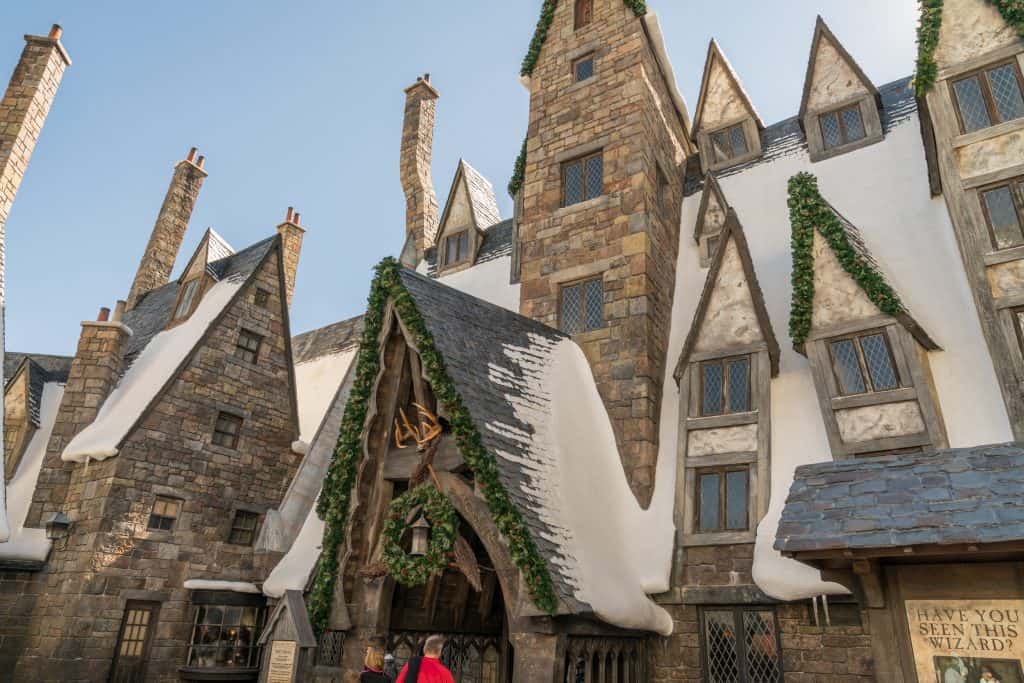 The Three Broomsticks is already an immaculately-detailed restaurant, so highlighting its pre-existing beauty, you would think, wouldn't be that difficult.
You'd be right – Broomsticks is even more stunning during Christmas, with decorations tucked away everywhere you look, from the wreath hanging above the front door to the garland streaming up the faux staircases. The eatery feels much warmer than what you get during any other time of the year – and that's even before you sip on that seasonal hot Butterbeer!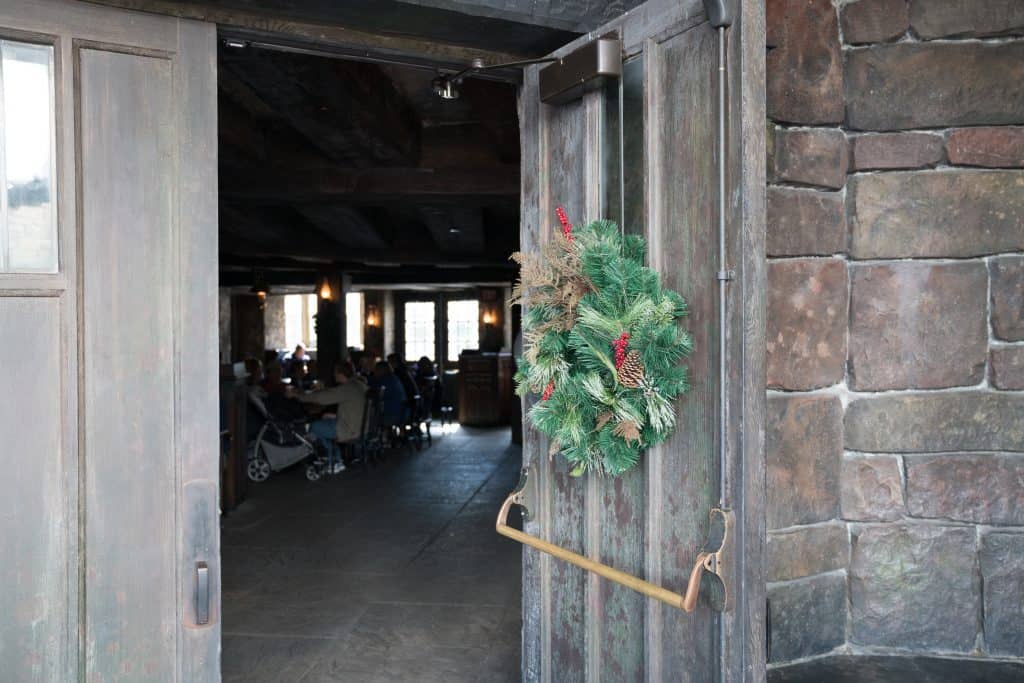 And the next-door Hog's Head Pub also gets in on the action, as well, with Christmas trees lined up outside and a wreath affixed to its permanently-open door, welcoming guests in (perhaps to enjoy that warm drink). This is one section of the Wizarding World that absolutely warrants a second look in every nook and cranny – particularly above you.
2. The Owlery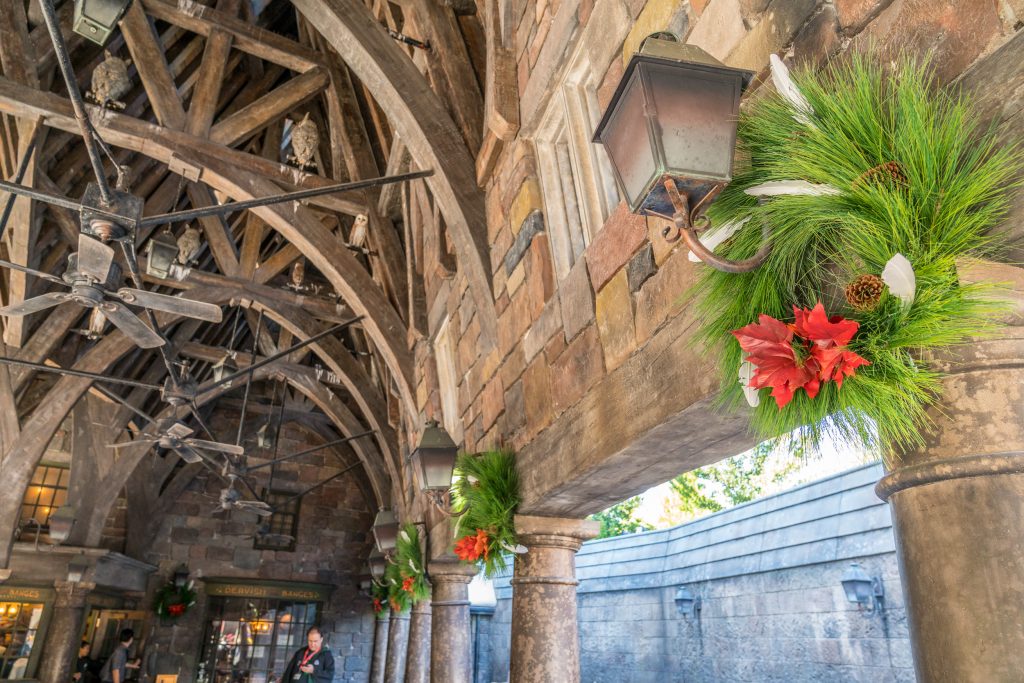 The Owlery, located next to the Dervish and Banges shop (where you can purchase your wand after having it pick you in Ollivander's), is an area that most visitors probably only ever truly notice when they stop for a quick rest on its benches in the blessed shade.
That's going to change during the holidays.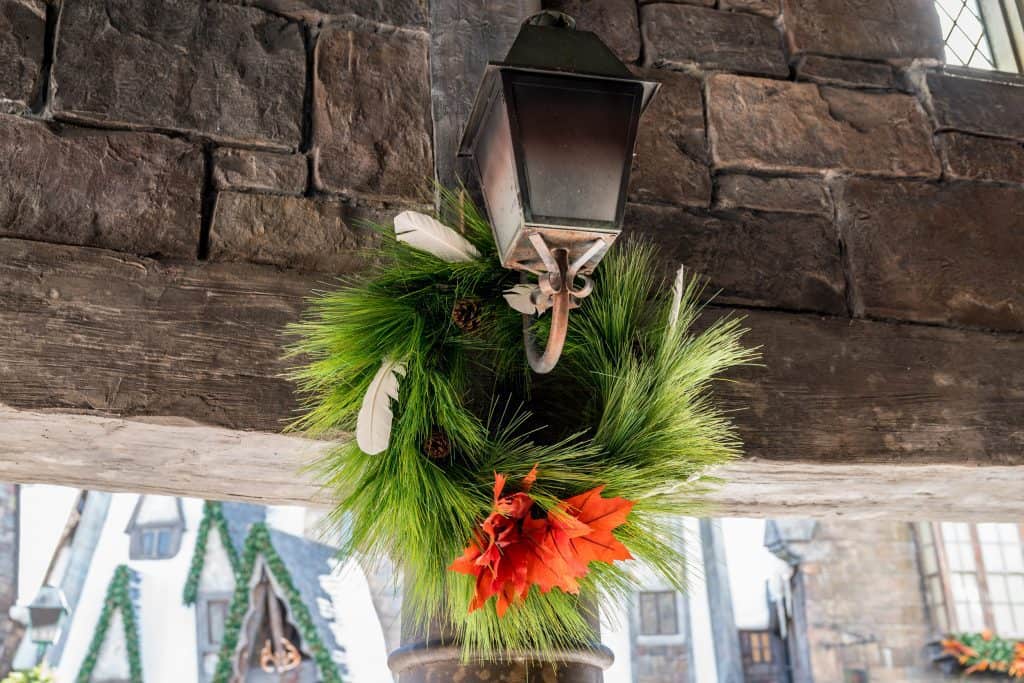 The Owlery now is nothing short of show-stopping. Although there's essentially only one piece of Yuletide décor woven throughout the area – a series of wreaths hung on each lamp under the perched owls – it's beautifully designed. White feathers are worked into the wreaths, as are splashes of red leaves, which provide a nice contrast unto themselves but also with a theme park land that is dominated by browns and whites.
It's not an exaggeration to say that the Owlery's decorations are like Hogsmeade itself: intricately detailed. You'll find yourself staying on those benches for far longer now.
1. Honeydukes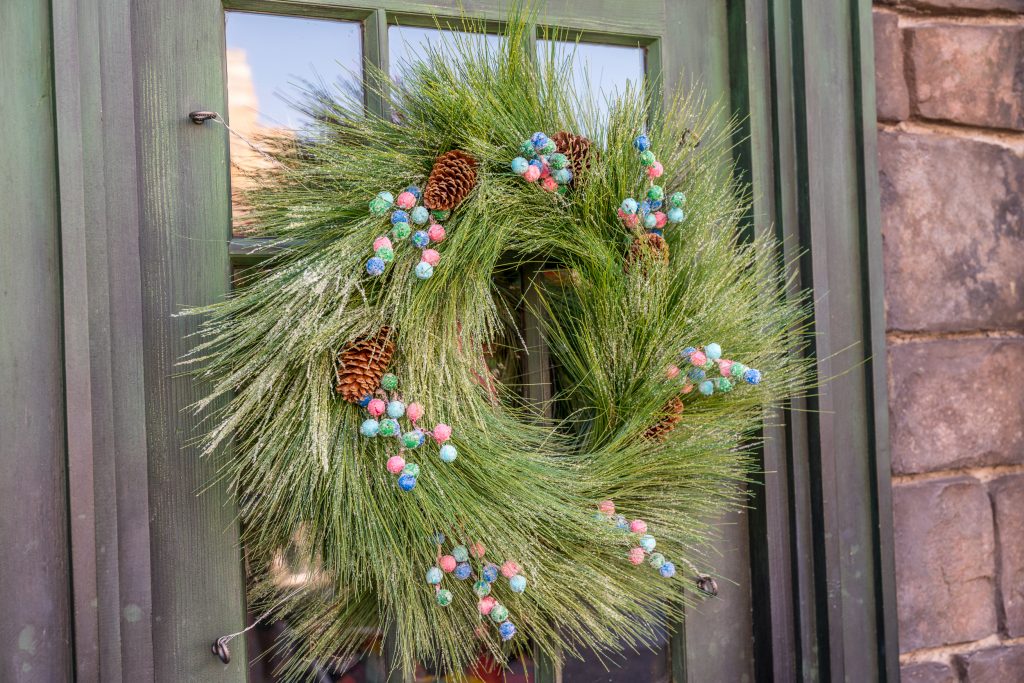 We have absolutely saved the best for last.
Much like the Owlery and its feathers, the candy majesty that is Honeydukes is worked sublimely into the store's Yuletide flourishes – yes, acorns may still be clustered in the garland that works its way up the staircase, and, yes, pink bows may still crown bushes of mistletoe on the store's lights, but the telltale presence of pink and blue gumballs is also worked in everywhere. It not only matches Honeyduke's color scheme perfectly, it also somehow manages to transform the Christmas décor, making it more whimsical and also quintessentially Harry Potter.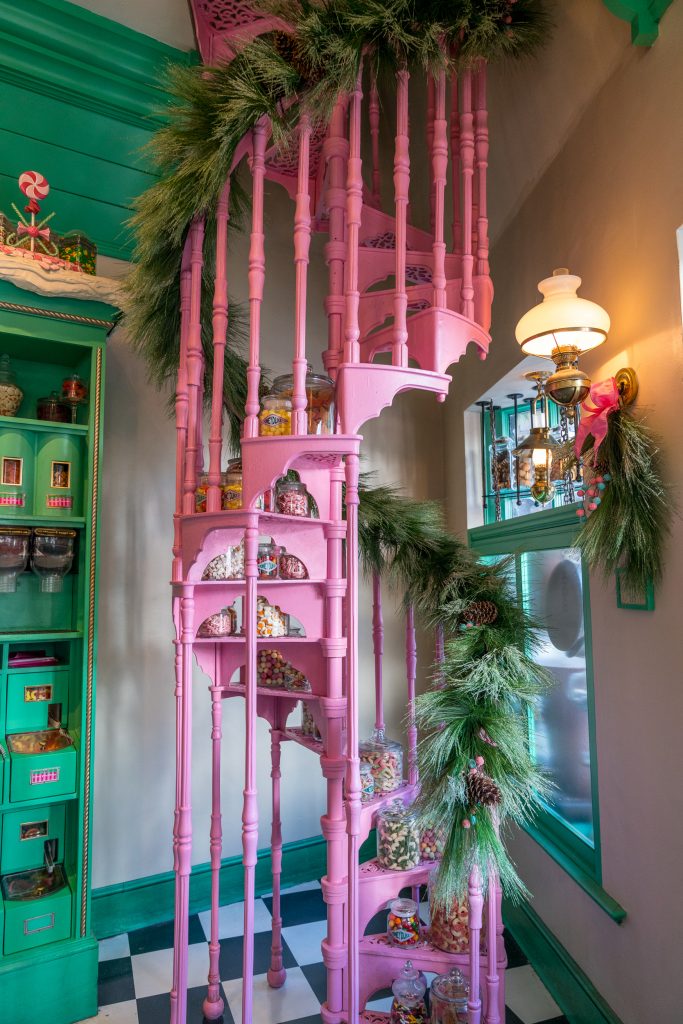 Members of our Facebook community recently voted Hogsmeade's sugar Mecca as one of the very best shops in all of The Wizarding World of Harry Potter. We have a feeling its ranking may now shoot to the very top.
–
With all of this Yuletide beauty in mind, we just can't wait until we get to experience all the rest of what Christmas in The Wizarding World has in store for us. Thankfully, Saturday, November 18 is just around the corner.
Find out everything you ever wanted to know about the new holiday tradition in our complete guide.
And be sure to follow Orlando Informer on Facebook, Twitter, and Instagram for the latest news, tips, and rumors at Universal Orlando, Walt Disney World, and other Orlando attractions.