When one speaks about the history of Halloween Horror Nights at Universal Orlando Resort, it's hard not to mention Jack "The Clown" Schmidt. His connection with the event often resurfaces within both the lore and scenery. This year's icon is no different as he's directly associated with the Clown King of Halloween. No, we aren't talking about his chainsaw-wielding brother, Eddie. We're speaking about Jack's ringmaster predecessor, Dr. Rich Oddfellow.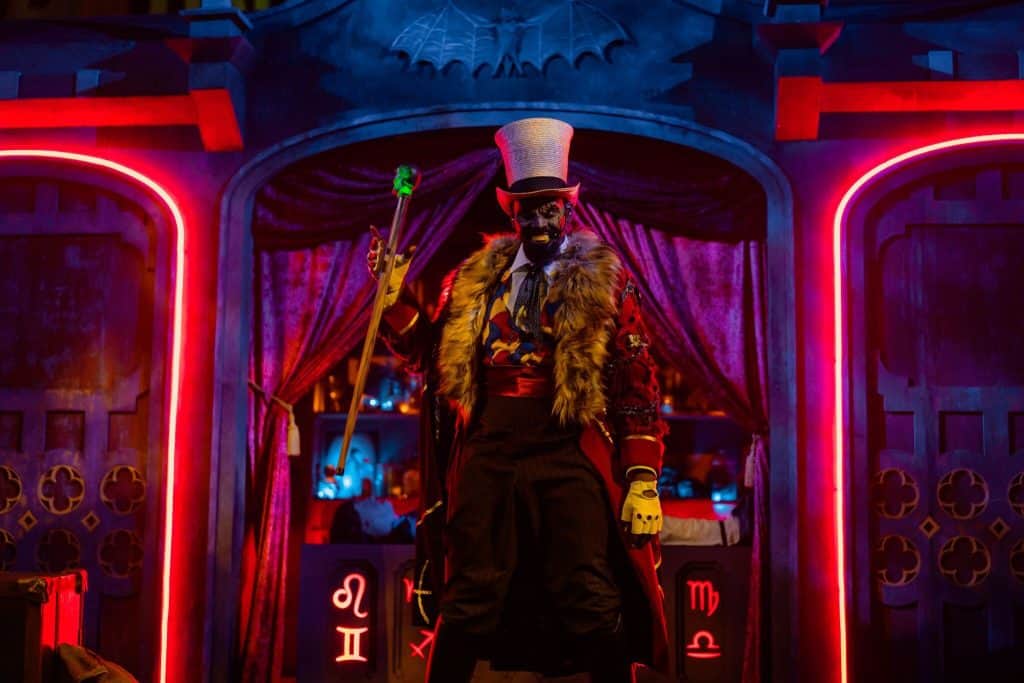 Dr. Oddfellow is Halloween Horror Nights' event icon for their 32nd year. For those unfamiliar with him, Oddfellow has a direct tie-in with the event's ongoing lore via Jack the Clown. Oddfellow has made some appearances over the years, with the most recent taking place during Halloween Horror Nights X. This year, Halloween Horror Nights attendees can now get the backstory behind Dr. Oddfellow through each of the event's Scare Zones and a dedicated house.
In the pursuit of knowledge and preparation for the 2023 event, we scoured and pieced together everything there is to know about Dr. Rich Oddfellow. As it turns out, the dark doctor is much more than a second banana to Jack's story.
Dr. Oddfellow's Pursuit for Power and Immortality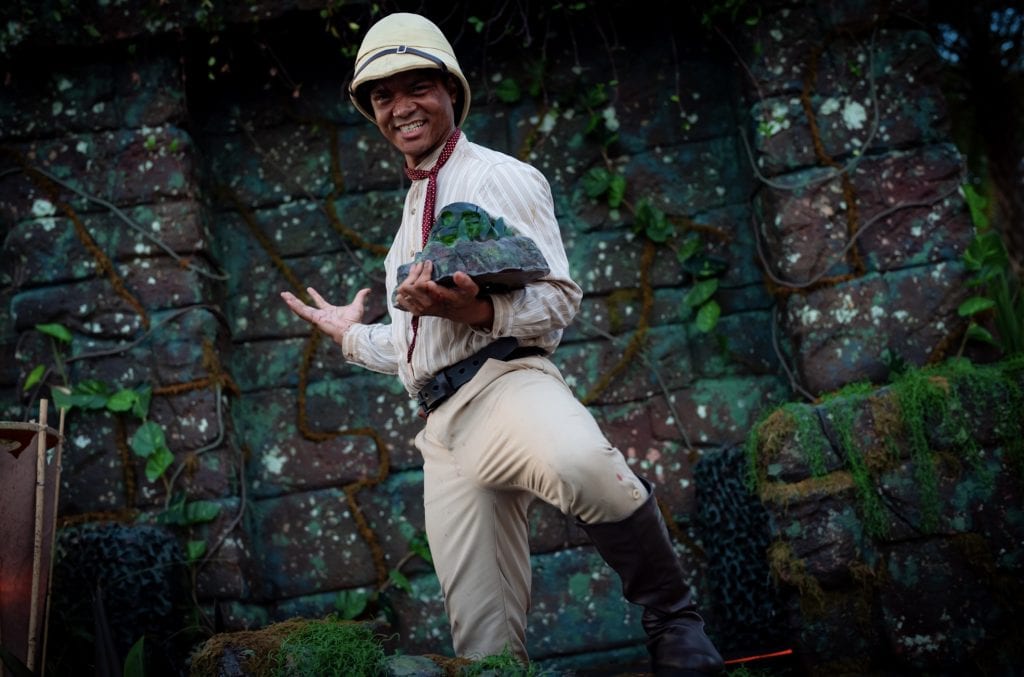 Dr. Oddfellow's story begins in the early 1920s and takes place within the ruins of an ancient jungle temple. Rich Oddfellow was essentially a low-level conman who held a deadly interest in the mysticism of the Zodiac, believing that it could grant him vast power and immortality. In his pursuit of this, he was known to perform sacrificial rituals, drawing Zodiac symbols on himself and the faces of his many victims.
Through extensive research, he learned about a fabled crystal skull that was said to reside in the jungle. He followed this tale to its purported coordinates, and after finally securing the relic, began experimenting with its mystic capabilities. This resulted in a transformation of the surrounding flora and fauna into monsters willing to do his bidding. They tortured and even killed many of the locals and any expeditionists who may have stumbled onto the ruins where he'd set up camp. Over time, he'd even use the crystal skull to construct his Cane of Souls, the tool that he used to absorb the essence of his victims, furthering his grasp on the Zodiac's magic.
Dr. Oddfellow Brings His Horrors Home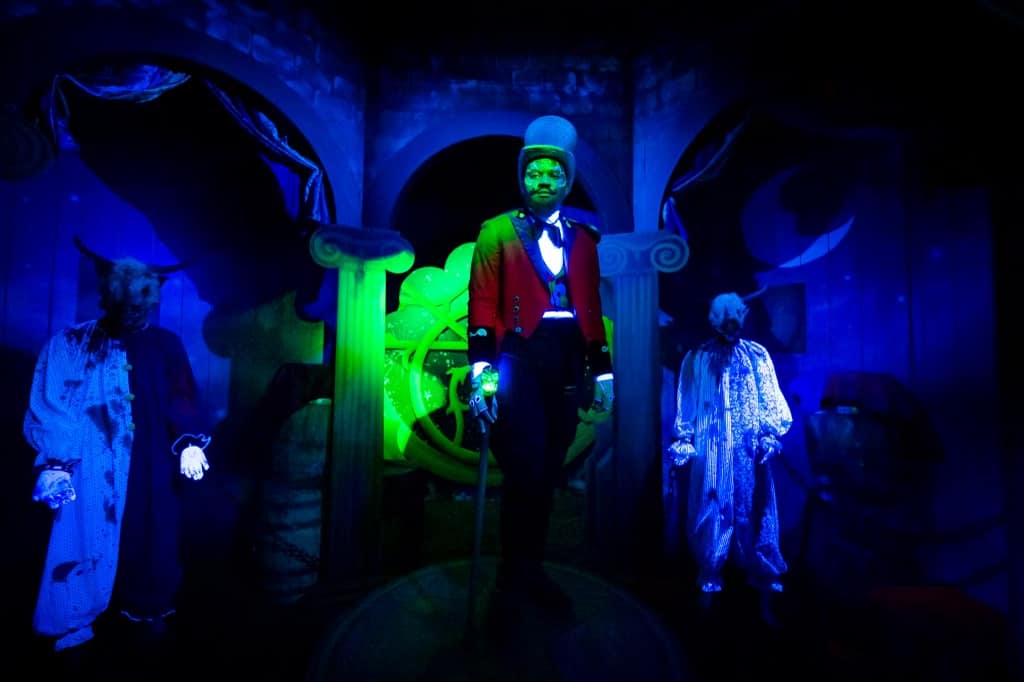 Not one to pass up the opportunity to profit off the fruits of his labor, Oddfellow returned to the States with his jungle creations, touring in what would become his Carnival of Thrills and showcasing his living work. However, given the feral nature of his monsters and the need to satiate the cost of the mystical skull's power, this didn't happen without the occasional "accident."
During his travels with the Carnival of Thrills, he crossed paths with Jack Schmidt, a young runaway who wanted to join the circus and escape his abusive home. Seeing Jack's passion and love for performance and the circus lifestyle, Oddfellow recognized a kindred spirit within him. Over the years to follow, Dr. Oddfellow took Jack in, and the two grew close as Jack would become his best performer and bring the Carnival of Thrills great success.
In the 1930s, Oddfellow organized an event in the Midwest that would serve as a mass sacrifice in the name of the Zodiac, coaxing patrons in with a unique proposition – they could enter in exchange for their souls. Most may have brushed it off as a cheeky gimmick, but the circus master couldn't have been more genuine in his ways. Oddfellow captured and tortured a number of victims, forcing them to participate in the carnival to lure more poor souls in. At the gruesome conclusion of the evening, Oddfellow arranged the sacrifices of his victims in the form of each mystic symbol, thus increasing his power greatly. As bountiful as the event was, Oddfellow couldn't have planned for the dark secrets that lay within his own sideshow.
Dr. Oddfellow's Murder of Jack Schmidt
While the ringmaster relished in his accomplishments, he was unaware that Jack was struggling with his own dark urges the entire time. Although Schmidt had managed to keep them a secret, the resulting body count had become too great. He'd caught the interest of the local and federal authorities who were on the trail of missing children, the patterns of which had led them to Oddfellow's Carnival of Thrills. Facing this, a panicked Jack confided in Dr. Oddfellow, hoping he could help Schmidt evade the police. Taking in what Jack told him, Oddfellow knew that so much of this kind of attention clearly conflicted with his plans, especially considering that he had a warrant of his own to be concerned with.
Irate over what'd transpired right under his nose, Oddfellow berated Schmidt and demanded to know where he kept the remains of the murdered children. Desperate for help, Jack brought the circus master to his coach, where he revealed several small chests containing 13 rotting bodies. After processing the predicament he'd found himself in, Dr. Oddfellow knew he had to sever any connection to Jack, so he murdered his best clown.
To hide the evidence of both the murder and Jack's crimes, he hid the corpses of Jack and the children within the sideshow's House of Horrors exhibit. Dr. Oddfellow then disbursed and sold off the Carnival of Thrills and its numerous attractions, which allowed them to change ownership several times. Over the course of the next 60 years, Oddfellow and Jack's stories were seemingly forgotten to the annals of history.
Dr. Oddfellow escapes to the Dark Dimension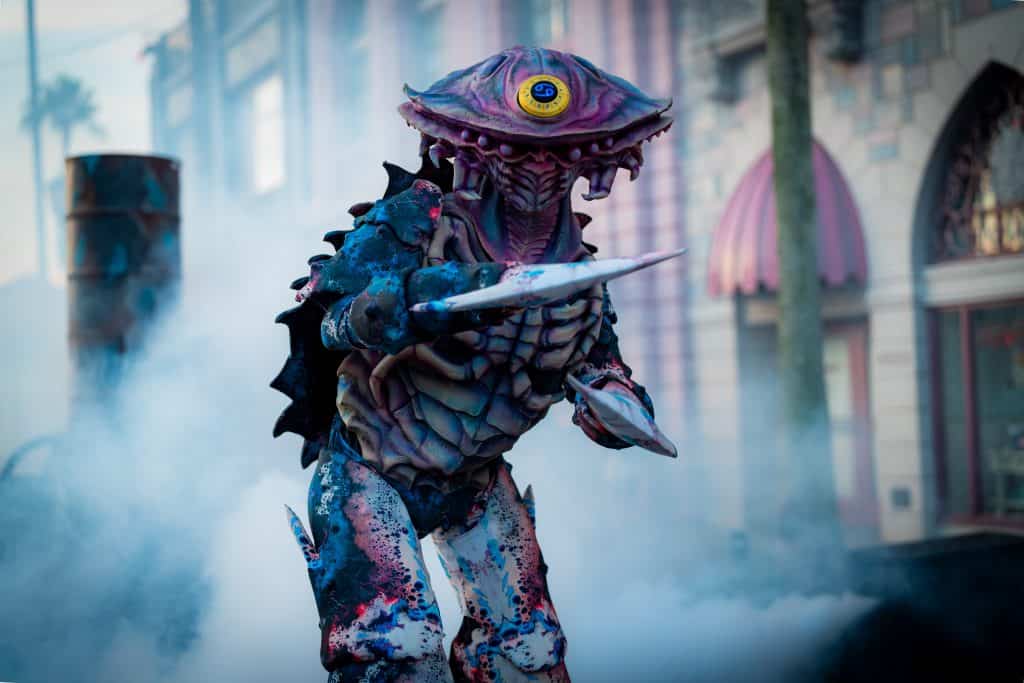 After burning down any trace of both his ritual and his carnival within the small town he'd performed in, Oddfellow noticed Jack managed to claw a large scar onto his face during their fight. Knowing that such a sight would garner the unwanted eyes of the authorities, Dr. Oddfellow used his mystical abilities to escape into the Dark Dimension.
Oddfellow inevitably established his rule over the Zodiac realm, distorting it and its inhabitants into horrific monstrosities. As time went on, he'd found that he was becoming vastly more powerful and developing new abilities, namely, shapeshifting – the perfect power to keep his identity and that tattling tell-tale scar hidden. To his dismay, Dr. Oddfellow couldn't conceal the mark of Jack Schmidt's murder no matter how precise his skill or the form he took.
The Immortal Dr. Oddfellow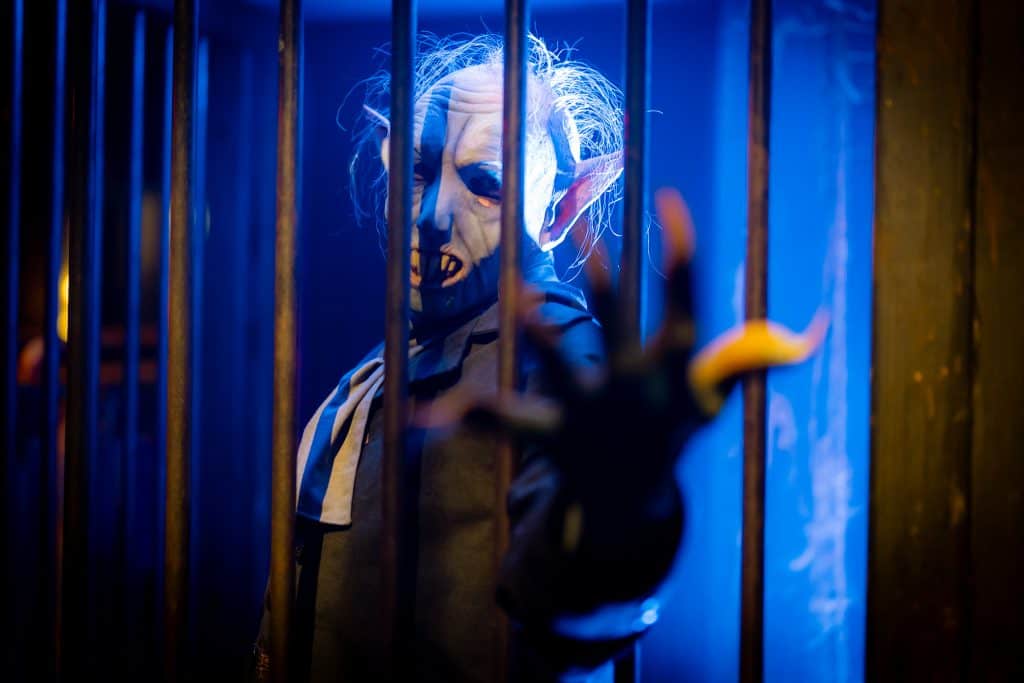 It's ultimately unclear as to when Oddfellow had obtained his immortality. Some account it to his time in the Zodiac realm. Others accredit it to the mass sacrifice in the Dust Bowl Era prior to killing Jack. Either way, the now-eternal Oddfellow found himself in our world, traveling the country again in the 1940s. Having never stopped his dedication to studying the Zodiac's mysticism, Oddfellow had begun storing the resulting cryptids in a private warehouse on Shipyard 32 in San Francisco, California. Once again, his creations managed to break free, mauling the dock workers and any passers-by. Rather than trying to contain the breakout, Oddfellow began relishing in it. Leaning into the ensuing, unhinged chaos, Oddfellow shapeshifted into various forms of his monsters. Reluctantly, his scar remained the only giveaway to his identity and power that grew with the absorption of each perished soul.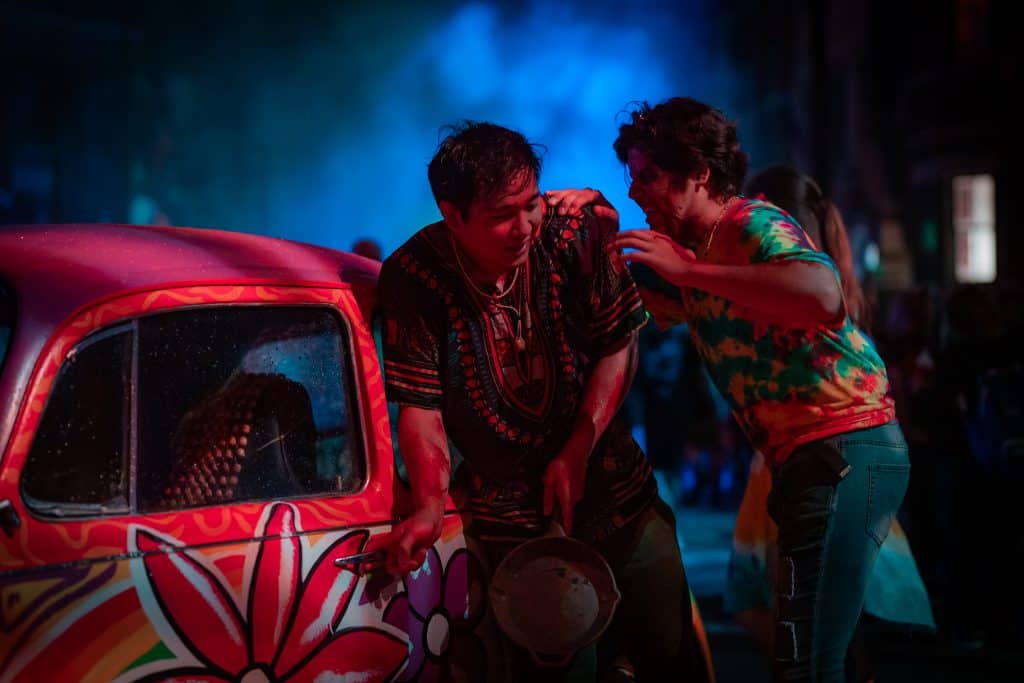 As Dr. Oddfellow's knowledge of mysticism and the supernatural deepened, he learned of an underground sect of vampires in the 1960s. Desiring to add them to his nightmarish army, he used his demonic powers to take on the guise of Earlowe Wolfe. Infiltrating the group's council, he explained that he was a mortal circus worker who'd been turned into a vampire thirty years prior during a violent feeding frenzy.
After convincing the group of his backstory, Wolfe became a member of their council and climbed his way through its ranks while convincing them that these vampires should simply treat mortals like cattle. He argued that they were superior to them and should be feasting openly and proudly. While some had supported him, his main adversary was a vampire named Olatto, an elder council member who preferred to feed in the shadows as their ancient kind had always done.
Eventually, Oddfellow had gotten wind of a music festival taking place in upstate New York, which would be ripe with souls for the reaping. Hungry for increased power and caught in a debate with Olatto, Oddfellow stood up to him and pleaded with the council to allow him to sneak the group into the festival as it would be a bountiful feeding for them. The council eventually abided and allowed Oddfellow and the Blood Slayers, a horde of vampire bikers, to descend upon the festival in the Summer of 1969. Interestingly, there's no record of Olatto after this event aside from hearsay and anecdotes. Most tales, however, point to Oddfellow sacrificing Olatto's life and drinking the Elder's blood, which increased not only Oddfellow's overall power but also his hold over the vampires.
The Demise of Dr. Rich Oddfellow
Following Dr. Oddfellow's takeover of the vampiric council, he returned to the road again as he resumed his never-ending quest for power. He traversed the nation with his new show, Dr. Oddfellow's Dark Carnival and Emporium, providing him with a way to obtain souls of the unfortunate with no one the wiser – or so he thought!
While Oddfellow was on his journey, Jack had found his own path in resurrection, the dark arts, and immortality, the roads of which led him back home to Shady Brook. In 2007, Schmidt discovered records of his former boss and murderer. After inspiring a riot and overtaking his asylum residence, Jack learned that Oddfellow had also spent some time in Jack's old stomping grounds and, most interestingly, was still alive and touring!
With this knowledge, Jack set out to track down Dr. Oddfellow and made his way to the ringmaster's Dark Carnival. He hid among the shadows of the lantern-lit tents and extracted his revenge on his former mentor by stealing his Cane of Souls. Taking control of the primary source of Dr. Oddfellow's power, Jack transformed the Dark Carnival into his Carnival of Carnage while basking in his victory. Unfortunately for Jack, he failed to realize that his attack on Dr. Oddfellow never actually killed him. Instead, he had sent him back to the Zodiac Dimension, where he remained for 16 years.
The Return of Dr. Oddfellow and Halloween Horror Nights 32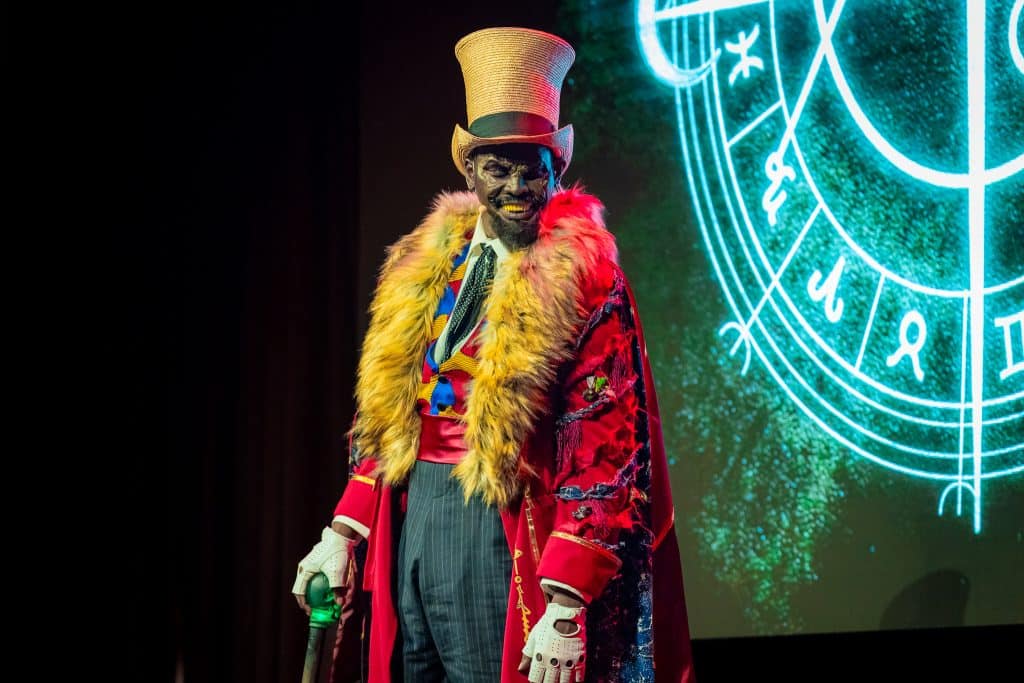 Once he returned to our realm, Dr. Oddfellow learned not only of Jack's immortality but also of the magic music box that he was recently forced back into. This allowed him to reclaim his Cane of Souls, and thus, his extraordinary powers. It's unknown exactly how the demented doctor escaped the Dark Dimension beforehand. Most attribute it to his consumption of Olatto's soul and incredible power; Others contend that it was an agreement with Fear itself, Adaru, and claim that many of the creatures at Halloween Horror Nights are direct products of Oddfellow's experiments.
If it was a transaction with Adaru, one must wonder: When did Oddfellow return to our world? Has he been lurking in the shadows of the event year after year? Does his power derive from the Zodiac, or is there a deeper connection between his magic and the God of Fear? Perhaps his sinister secrets will be among the nightmarish wonders promised to attendees of Halloween Horror Nights 32. Word has it that he's even back to offering immortality to whomever so desires. The cost is simply severing your connection with the mortal realm by way of mindbreaking horrific images – or possibly even your soul!
---
Discover everything you ever wanted to know about HHN – plus more! – in our insider's guide. And then discuss it all with 160,000+ other Universal die-hard fans in our Orlando Informer Community on Facebook. And be sure to follow Orlando Informer on TikTok, Threads, Facebook, Twitter, and Instagram for the latest news, tips, and more at Universal Orlando, Walt Disney World, and other Orlando attractions.