Historic Downtown Kissimmee's City Centre: Four venues offer a mix of drinks and dining
Historic Downtown Kissimee's City Centre, located on the corner of Broadway and Dakin, offers four unique venues for drinks and dining. In an area of town that has seen better days, these establishments are awake and ready to impress with just the right mix of rural sophistication.
3 Sisters Speakeasy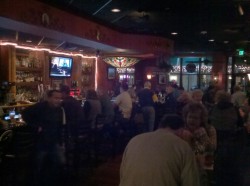 3 Sisters Speakeasy, a moderately upscale bar located in the heart of historic downtown Kissimmee, serves as an anchor for the venues at the town's City Centre.  It shares its space and menu with the adjacent Sushi by Chef Ha.
We came in on a Friday evening and were delighted by what we found.  A lot of downtown Kissimmee is rundown, so we were concerned that we'd be walking into a discouraging situation.  But instead we found a classy-casual atmosphere, well detailed furniture and decor, and the "speakeasy" even comes complete with its own back-story.  Service was fast and friendly, drinks were cold, and they have a good size menu.
We are also sushi fans, so for us it is a big plus that 3 Sisters Speakeasy shares its space and menu with Sushi by Chef Ha (see below).  We ordered the 3 Sisters roll and loved it.
For downtown Kissimmee nightlife, this is as good as it gets.  We will definitely be back.
Official website: http://www.3sistersspeakeasy.com
Sushi by Chef Ha
This tiny sushi bar is one of four venues in Kissimmee's City Centre.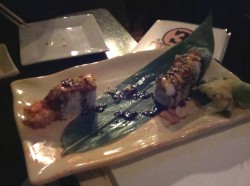 We actually didn't sit down inside Chef Ha's.  Instead, we were at a table just inside 3 Sisters Speakeasy.  However, given the layout, we really felt like we were guests of both establishments.  We ordered the 3 Sisters roll (crispy tempura battered shrimp accompanied by a refreshing cucumber topped with slices of steamed shrimp), and we really loved it.
All in all, I would definitely recommend this sushi bar.  I'm excited to return and try some of their other offerings.  And when we are ready to sample other fare, we have a regular bar to one side and a wine bar on the other!
Official website and menu: http://www.3sistersspeakeasy.com/sushi-bar.html
Vintage Vino
Vintage Vino, a wine bar located in historic Downtown Kissimmee, is one of four venues in the town's City Centre.
Our visit to this wine bar was a really positive experience.  It is small–very small–but what it lacks in size it makes up for in atmosphere, presentation, and great wine at a good price.  We were told that they have 50 beers available by the glass, 50 wines available by the glass, and 150 wines available by the bottle.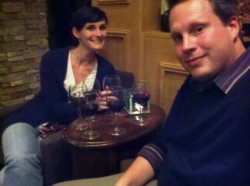 I ordered a flight of Shiraz/Syrah wines and my wife had a flight of Merlot wines.  These flights are not on the regular menu, but someone in a review online mentioned that we should ask, and so we did.  John, the owner, was very happy to accommodate our request.  After selecting three wines for each of our two flights, he took a fair amount of time explaining his decision process and each wine's characteristics.  Since I know next to nothing about wine, I usually find this process to be a bit uncomfortable.  However, I didn't feel like that here.
When John was done we sat back and enjoyed our three glasses, which were really good.  Although I don't know much about this stuff, I feel like John did a great job choosing wines that contrasted with each other to create a balanced presentation.  It was a very relaxing, educational, and enjoyable occasion.
And the total price for our two wine flights with tax?  $21.
Overall, our time at Vintage Vino was a charming and rewarding experience.  I am extremely glad I came across this place, and even happier that we actually went.  Bravo to the owners.  (You can see a few more pictures of Vintage Vino on its  solo post.)
Official website: http://www.vintagevino.com
Chef John's Dockside Inn
Chef John's Dockside Inn is the last of four venues located in downtown Kissimmee's City Centre.
As the name suggests, seafood is the focus of the menu, although there are a variety of other selections as well.  Here's a little bit about Chef John from the restaurant website:
With over 30 years of cooking experience, Chef John has a solid reputation for providing the best seafood in the Metro-Orlando area. Chef John has served as executive chef for some of Orlando's and Winter Park's finest restaurants — Blackfin, Maison Des Crepes, Pebbles and Freddie's Steakhouse. His excellent attention to flavor, plate presentation and Caribbean style helped him win the coveted "Foodie Awards (Critics Choice and People's Choice) in 2004 while serving as executive chef at Blackfin Restaurant.
If you're not quite ready for the bars, and sushi isn't sounding too palatable, everyone will find something to enjoy at Chef John's.  My recommendation: get the gumbo.
Official website: http://www.chefjohnsdocksideinn.com
Bonus (of sorts): The Wicked Stepsister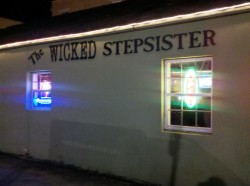 This venue is located across the street from the City Center, and the name says it Its a dive bar with a jukebox, a few of pool tables, and an attitude.
As a stand-alone property I'd say you needn't bother.  However, as an adjunct to the four venues at City Centre, it really fills its role well.  You definitely get the sense that the location, and its patrons, were rejected by the we're-too-good-for-you crowd across the street.  Although I may never go in here again, I am pretty impressed by the story.
Official website: http://www.3sistersspeakeasy.com/the-wicked-stepsister.html