Walt Disney World released a litany of new details on their immersive hotel experience, Star Wars: Galactic Starcruiser. As an extension of Galaxy's Edge, this first-of-a-kind stay will put guests completely in the world of the newest Star Wars film trilogy.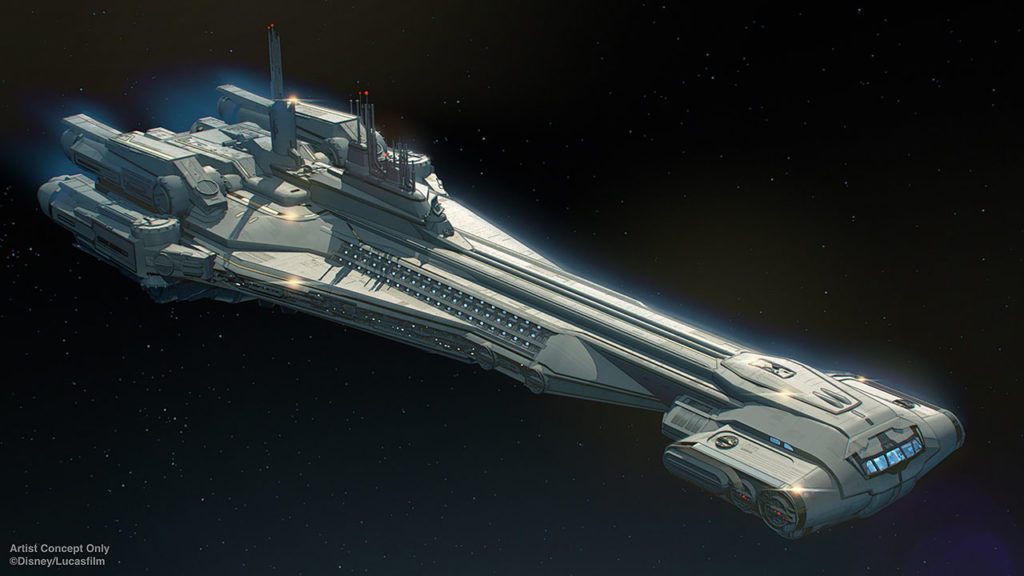 When will this voyage launch?
An official start date hasn't been released yet, but estimated pricing for weeknights between August 20 and September 17 of next year is available.
How much will this voyage cost?
Although voyage rates will depend on your itinerary, time of year, and the number of people in your party, Disney has released a series of example price points for guests to begin planning their excursions.
Two Guests Per Cabin
$1,209 per guest per night or $4,809 per voyage
Three Guests Per Cabin (two adults, one child)
$889 per guest per night or $5,299 per voyage
Four Guests Per Cabin (three adults, one child)
$749 per guest per night or $5,999 per voyage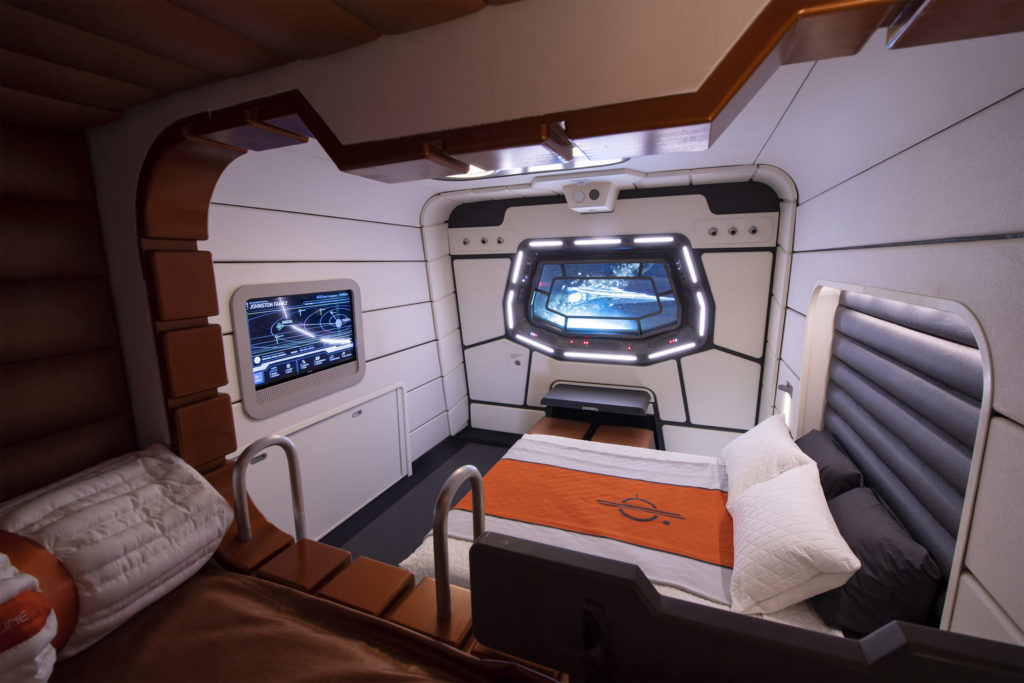 What will guests do?
In keeping with the complete and full immersion of this experience, guests will be given an itinerary for their voyage. Of course, it's a stressful time in the Outer Rim – just five months after the battle of Crait, the Resistance has been all but annihilated. So while you might have everything planned out on paper, be prepared for exciting "Story Moments" or interactions with Characters that take your unique journey in an unexpected direction. Since guests are obviously traveling, no two voyages can be exactly the same, and specific experiences will be determined by what happens around you and the choices you consequently make. That being said, Disney has already released a sample itinerary. Does anyone else have a bad feeling about this?

Day one:
Guests will arrive at the terminal to board the ship at 1:00 PM on the first day of their voyage. Here, visitors will load into a launch pod that blasts them into hyperspace. Once aboard the Halcyon, guests will enter the hotel lobby and be greeted by the starcruiser's crew. After that, guests will have a couple hours to become oriented with the ship and enjoy refreshments. Sabacc lessons will be held from 3:30 PM – 4:00 PM, concluding just before voyagers gather at their muster stations and receive the captain. Dinner will be held in the Corellia Dining Room between 5:30 PM – 7:00 PM, and then guests can enjoy the Outer Rim Regalia until 7:30 PM.
Sounds like a nice day, doesn't it? Just as you are wrapping up your night and enjoying the scenic views of the galaxy, something goes awry, and you are catapulted into your first "Story Moment." Here, guests have a choice to make: do you join a smuggling ring, or help the Resistance? You have until 8:00 PM to decide! After that, there is time for some Bridge Training and entertainment in the Atrium before calling it a night around 8:45 PM.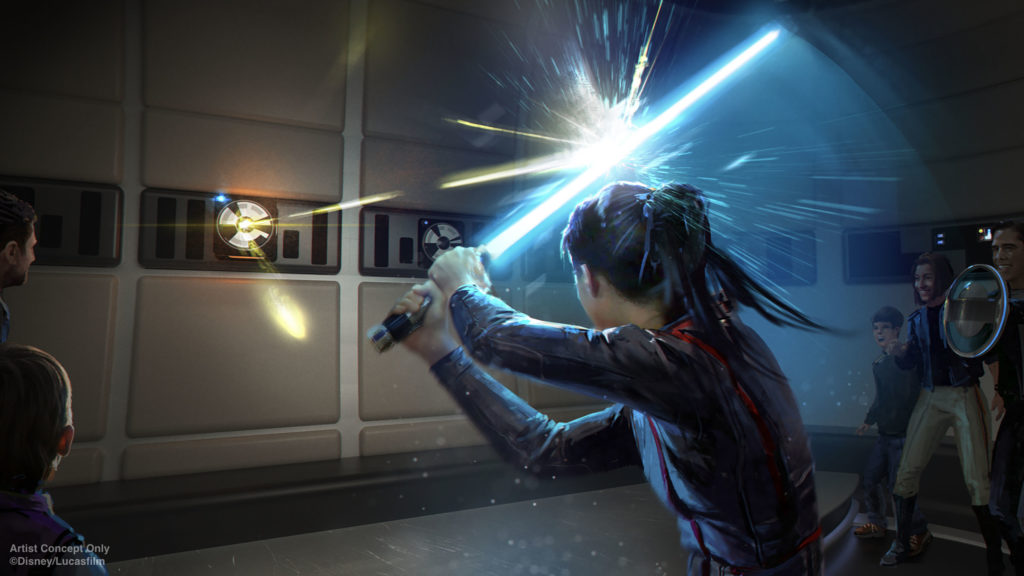 Day two:
Hope you got some good rest, because this is your only full day aboard the Halcyon, and there's a lot of ground to cover. Breakfast will be served from 7:00 AM – 8:00 AM, and will feature both unfamiliar and familiar foods (along with blue milk, of course). Catch the shuttle to Batuu between 8:15 AM – 8:25 AM and hop on board Star Wars: Rise of the Resistance. After you disembark, you come across another "Story Moment." Okay, do you: broker a deal, or steal a ship? You need to decide by 9:50 AM so that you can experience Millennium Falcon: Smugglers Run between 10:00 AM – 10:30 AM.
Phew! All that works up an appetite. You can spend the next hour or so enjoying lunch at Docking Bay 7 Food and Cargo, or go back on board the Halcyon to eat small plates in the dining room. But eat fast! Lightsaber training is from 1:00 PM – 1:30 PM and is followed by a Droid Racing competition that concludes just before 3:00 PM, when you'll have to dart over to build a model ship. At 4:00 PM, you can show off your lessons from the previous day and enter in a Sabacc Tournament, which concludes at 5:00 PM so everyone can go get cocktails and other beverages at the family-friendly Sublight Lounge.
Enter into your evening with a "Taste Around the Galaxy" dinner from 5:30 PM – 7:00 PM, where you can sample some of the most recognizable dishes from iconic places in the galaxy. After you've enjoyed this unique dining experience, it's time for your final "Story Moment." It's time to either put your heist plan in action or house your stolen ship. The story will conclude by 8:45 PM – we hope your mission (whichever you chose) was successful! After the excitement from the day settles a little, families can gather together at 10:00 PM for a finale show.
Day three:
All good things must come to an end. On day three, guests will wake up and enjoy breakfast one more time in the dining room. After getting their last glasses of blue milk, guests will board the launch pod to return to the terminal at 9:30 AM. Guests can resume their day in Galaxy's Edge by 10:00 AM. Although the trip may be over, the adventure is just beginning!
---
What do you think of these updates? Let us – and thousands of other Disney fans – know in ourOrlando Informer Community on Facebook.
And then be sure to follow Orlando Informer on Facebook, Twitter, and Instagram for the latest news, tips, and more at Universal Orlando, Walt Disney World, and other Orlando attractions.