If you're a fan of Halloween Horror Nights and you aren't watching Netflix's new horror show, The Haunting of Hill House, you should be. Not only is the series a fantastic addition to the horror genre, in general, its plot and production value lend themselves to the creation of a great new HHN haunted house.
Knowing Netflix already has a working relationship with Universal (the inclusion of the Stranger Things haunt was one of the biggest selling points of this year's Horror Nights), it is no big stretch to believe that Universal's Art and Design team may already be considering creating a maze based on Hill House for 2019 – or, at least, we hope so! For fans of the event, this should be an exciting prospect.
Here are three reasons why.
1. It's a show everyone should be watching
It's difficult to discuss the impact of The Haunting of Hill House without going into spoiler-y plot details; suffice it to say, however, that the show deserves your attention – even if horror isn't usually something you like to watch. While it does have its fair share of jump scares – every episode has at least two – the beauty of the series lies in the story being told and the way in which it is portrayed across the screen. Hill House, at its core, is a story about a broken family – fractured due to a common experience in Hill House – and what it means to navigate familial relationships complicated by things like mental illness. Not only is the acting superb across the board, including from young child performers, but the use of long, continuous shots makes the viewer feel like she is in the titular house herself already.
Then there's this: Hill House, which is based on the 1959 novel by Shirley Jackson, falls more into the Gothic horror subgenre and less into the shock/value subcategory, which has recently been prevalent in the horror industry. While the show is only loosely based on the book, both pieces of media focus more on the psychology of the scare, and how everyday stresses can be just as frightening as ghosts and demons. It's a chilling look at society and how humans interact with one another, which makes it the perfect candidate for binge watching and being turned into a Horror Nights maze both.
Speaking of which…
2. It's already designed like an HHN house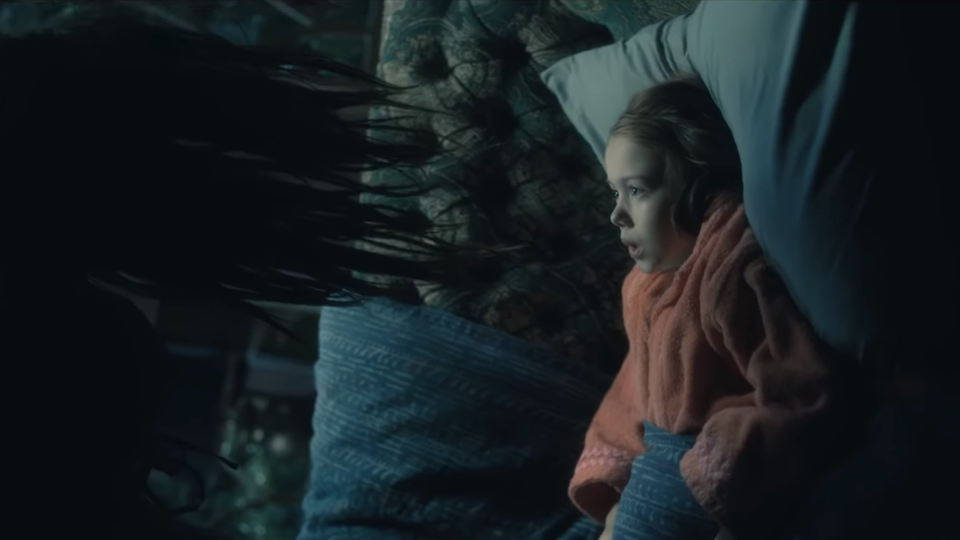 There is definitely a lot that goes into the design and creation of Halloween Horror Nights's haunted houses, but every complicated decision can eventually be whittled down to one recurring consideration: how can the event simultaneously scare the pants off its guests while also ensuring that the queues inside the mazes keep moving? It is a fine line to tread – making sure attendees feel like they are getting their money's worth but also aren't falling to the floor in the middle of a house, refusing to move because they are so frightened. It takes a nuanced knowledge of the psychology of the scare to maintain this balance.
Think about what frightens you: darkness, insects, clowns, small spaces. And then think about how those things can become scary with large groups of people around you. It's difficult, as one is less likely to be frightened of the dark if he has people with him. But Universal's Art and Design team has learned how to manipulate the guest experience to feel like attendees are isolated or alone, even though they aren't, through techniques such as misdirection, sound cues, and creating a perceived separation.
This use of psychological understanding to create the most effective scares is also employed by Mike Flanagan, the showrunner and director of The Haunting of Hill House. Through the use of long camera shots that don't contain anything supernatural, even though most horror films or series would, to the inclusion of ghosts or demons in the background in the oddest of places, to the choice to forgo background music in a lot of key scenes, Flanagan shows a masterful understanding of how to creatively immerse someone in an experience, even through a television screen.
With the effectiveness of the series, just imagine how it would feel recreated as a haunted house!
3. It's beautiful
The Haunting of Hill House also lends itself to being a great candidate for inclusion in Halloween Horror Nights because the show itself is just so beautiful. There is one shot of the gates of the house, in episode 105, that immediately invoked the facades of such great past haunts as 2017's Dead Waters or 2012's Gothic – an absolutely gorgeous image that could easily be translated into a soundstage.
Additionally, Hill House itself offers a large variety of striking, detailed sets that would make any set designer happy to be able to create, including a beautiful two-story entrance hall, a chilling basement, and a labyrinth of rooms (whose existence is finally explained in the season's last episode). There is also the stunning 17-minute continuous shot that opens ep 106 that involved a complicated set construction. In a genre that usually relies heavily on CGI, it is refreshing to see so many practical effects and set pieces, which seem tailor-made to be translated into a haunted house.
In short, there are few pieces of cinematic horror that are more perfectly primed for inclusion in HHN.
BONUS: A ready-made Easter egg
Oh, and one final thing – Henry Thomas (yes, that Henry Thomas, who played Elliot in Steven Spielberg's E.T.) portrays the young father in the show. So The Haunting of Hill House already has a Universal connection! (We're already imagining the merchandising possibilities.)
–
Are you watching Netflix's The Haunting of Hill House? Compare your thoughts on its possible HHN-ness with 50,000 other theme-park fans in our Universal Community Facebook group.
And then be sure to follow Orlando Informer on Facebook, Twitter, and Instagram for the latest news and tips at Universal Orlando, Walt Disney World, and other Orlando destinations.