You are reading an article tagged as a rumor. Read our note from the editor to learn about rumors shared on Orlando Informer.
Over the past few years, a number of new developments – both rumored and officially acknowledged – have been streaming out of Universal Orlando Resort, painting a rather rosy picture of what the near-future holds: Skull Island: Reign of Kong, the Volcano Bay water park, Fast & Furious: Supercharged, Nintendo Land. Amazingly enough, however, none of these new projects have the magic words "Harry Potter" anywhere in them; the Boy Wizard that helped save Universal Orlando from stagnation and delivered it to the current path of rapid-fire expansion is, it would seem, no longer necessary for the resort's future prosperity.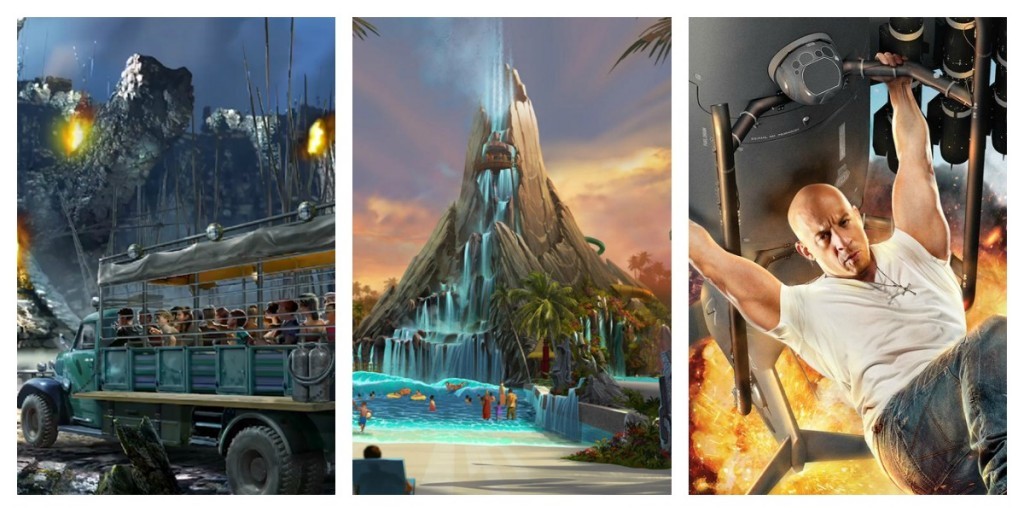 Skull Island, Volcano Bay, and Fast & Furious – coming soon to a theme park near you
Or is he? Word leaked long ago that a key component of author J.K. Rowling's contract with Universal is in a multi-year, multi-phase commitment to the property. The first follow-up was, of course, The Wizarding World of Harry Potter – Diagon Alley, and rumors from before that land's opening had it that at least two more phases were on the drawing board.
Just what these might entail? And are they absolutely vital to Universal's future (continued) success? Let's see if we can't find out.
Whatever happened to the Ministry of Magic?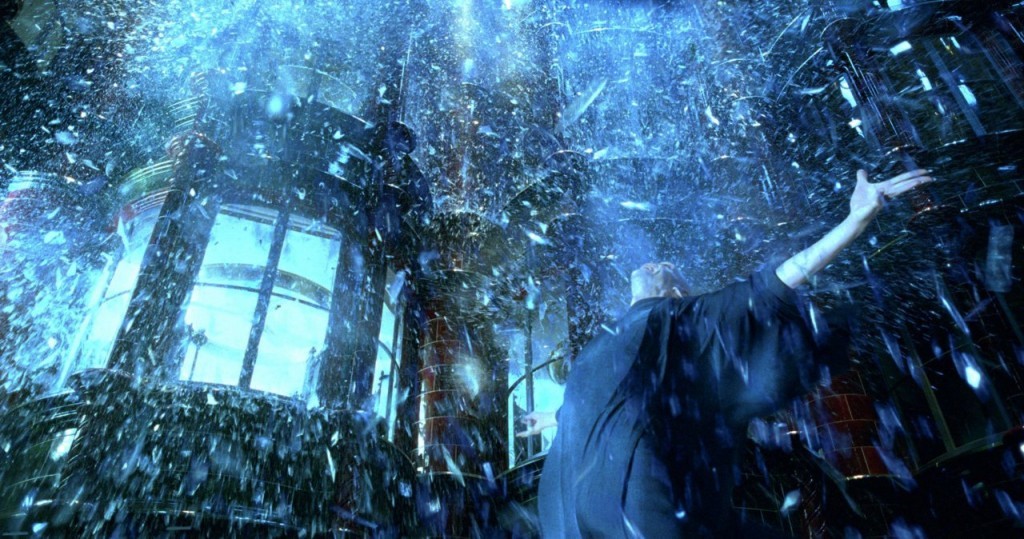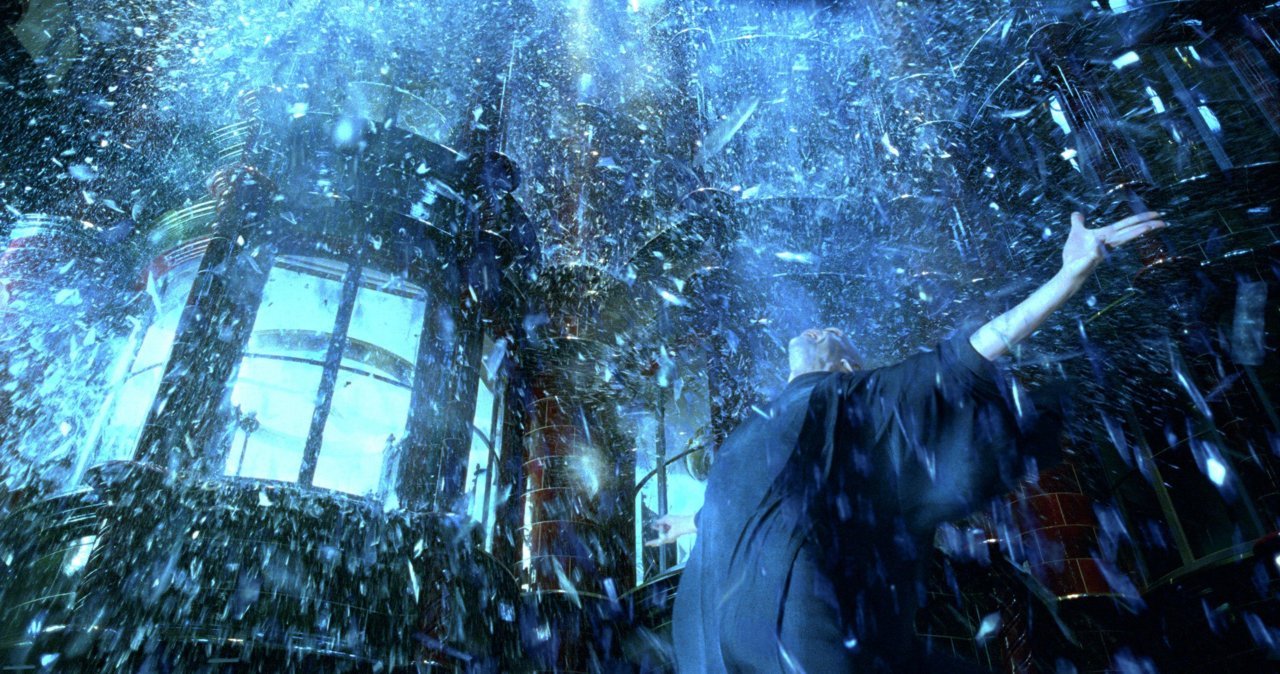 Voldemort bringing down the house at the Ministry of Magic
A brief recap of what we think we know about the Ministry of Magic, which has largely been dubbed "phase three" of the Wizarding World: Fear Factor Live, the largest stage venue on-site, is rumored to be demolished and replaced with an extension of next-door London, which will secretly house the center of the British magical community's government. This would act more as an expansion of Diagon Alley rather than as a third Wizarding World proper, but it would still consist of at least one new attraction and, more than likely, multiple shops and eateries – in other words, a worthwhile new environment to explore.
But where are the signs of its eventual arrival? If Universal were repeating the construction schedule that it had followed with Diagon Alley, Fear Factor's closure would've been announced last month and construction walls would've gone up already for an expected opening date of June or July 2018. Instead, we keep hearing of the company's plans of upgrading the attraction's light and sound package – not the most auspicious of portents.
Then again, demolishing the former Amity area and transforming it into Diagon Alley – a 20-acre plot of land, replete with multiple buildings and backstage infrastructure – is considerably different than razing and replacing one structure. Additionally, with the closure of the nearby Disaster, which is already in the process of becoming Fast & Furious, it could be that Universal doesn't want to have an alley of construction walls like it did for so long after Jaws's closure.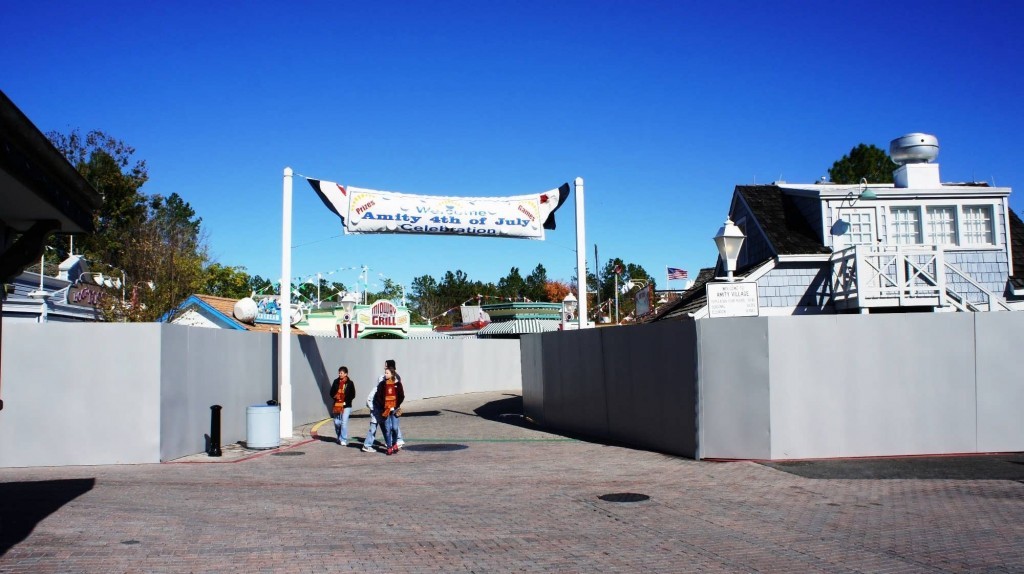 The day after Amity closed
When should we expect to see movement at long last on this front? By the end of this year, at the very latest. If we don't, then the Ministry of Magic's opening has been pushed back to 2019 – or later.
(Care to see what we think absolutely needs to be part of the Ministry? Be sure to check out our in-depth feature.)
"Phase Four"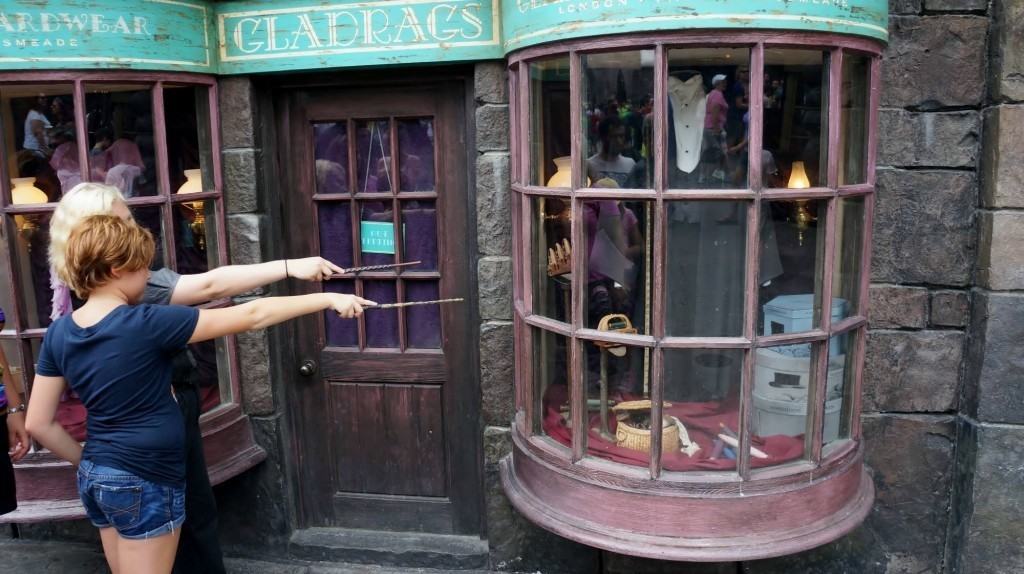 More of these? Yes, please
One of the more interesting components of the Wizarding World has been both Universal and Warner Bros.'s (that's the rights holder to the filmic version of Harry Potter) commitment to updating the previous lands. Since Hogsmeade first opened in the summer of 2010, guests have seen Honeydukes expanded, the various fake storefronts switched out (to be more thematically consistent with Diagon Alley) and upgraded (with interactive wand experiences added), a stage being installed for the Frog Choir/Triwizard Rally show, the Hogwarts Express's Hogsmeade Station being added, and – or so we hear – Harry Potter and the Forbidden Journey soon getting the 3D treatment. And even though Diagon Alley is only a year-and-a-half old, it's already started to see its own adjustments in the form of Shutterbutton's Photography Studio being moved from the land's exit to its main drag, and Sugarplum's Sweets Shop possibly replacing its old digs.
If old rumors are to be believed, we should fully expect to see this trend continue, and in some possibly (and comparatively) major ways. Brand-new interactive wand experiences have supposedly already been designed and are just waiting to be installed, which would strategically renew interest in both of the pre-existent Wizarding Worlds, and there's even some space surrounding Diagon Alley to allow for, theoretically, one or two additional stores – or, just maybe, an extra attraction while walking over to the Ministry of Magic. We can lump all these various developments together under the moniker of Phase Four, and we can see expect to see more traction in this regard presumably a little before or a little after the Ministry opens for muggle visitors.
What about The Lost Continent?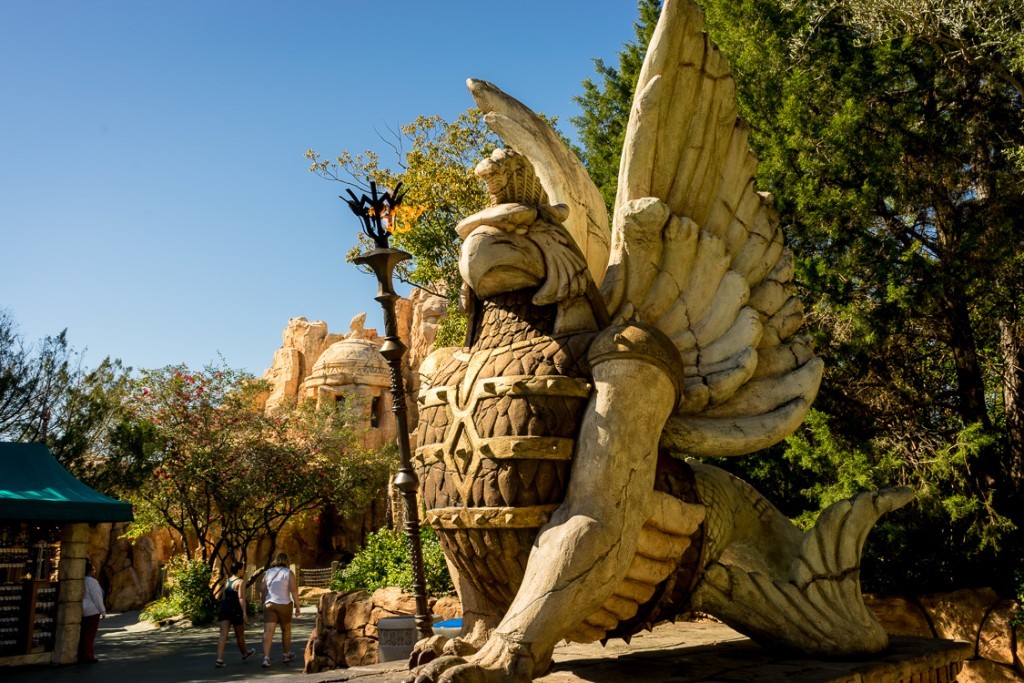 The view of The Lost Continent today
What was originally Islands of Adventure's most lavishly detailed land has, over the course of the past five-and-a-half years, been systematically stripped of its real estate, attractions, and restaurants. Today, The Lost Continent stands as a shell of its former self, left with only a restaurant as its sole E-ticket destination.
Perhaps because of this – and because Lost Continent was the original area Universal Creative had in mind when initially designing Diagon Alley – many in the themed community have long expected Harry Potter to finish the job it started and consume all of the island. What, exactly, would land here is unknown, but the idea of making it the Forbidden Forest, replete with a Shrieking Shack walk-through attraction (goodbye, Poseidon's Fury!), was constantly floated – before the brand-new Harry Potter spinoff film trilogy, Fantastic Beasts and Where to Find Them, was announced by Warners (the first installment is due to hit theaters on November 18, for all those playing along at home), prompting a new slew of fan hypotheses.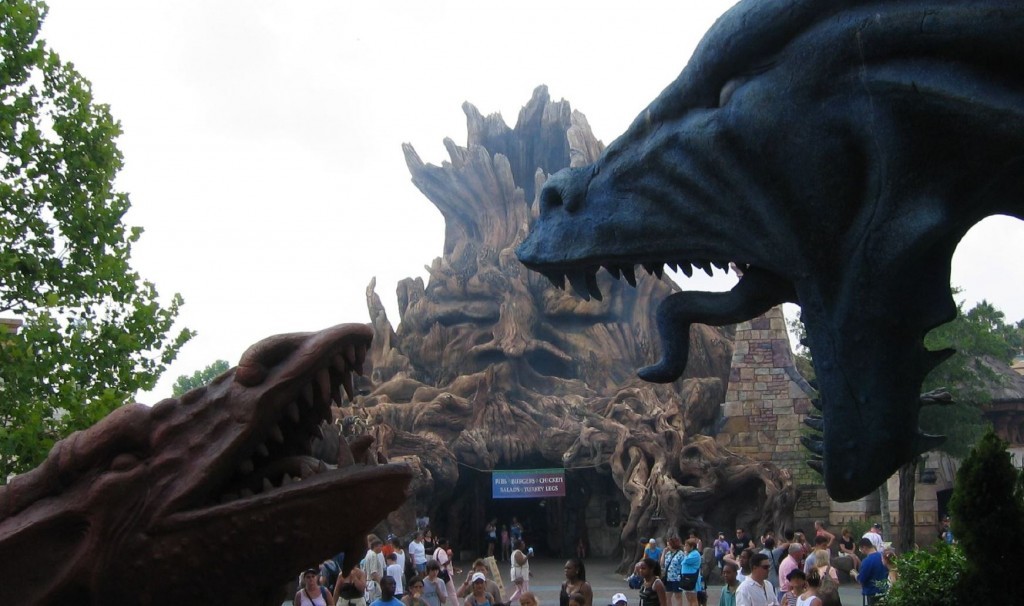 The view of The Lost Continent 17 years ago. Care to guess what restaurant that is now?
Does this make Lost Continent's days well and truly numbered? And, indeed, is the neighboring island the best recipient of the next Harry Potter land?
Well, in a word, no – and here's why.
The third gate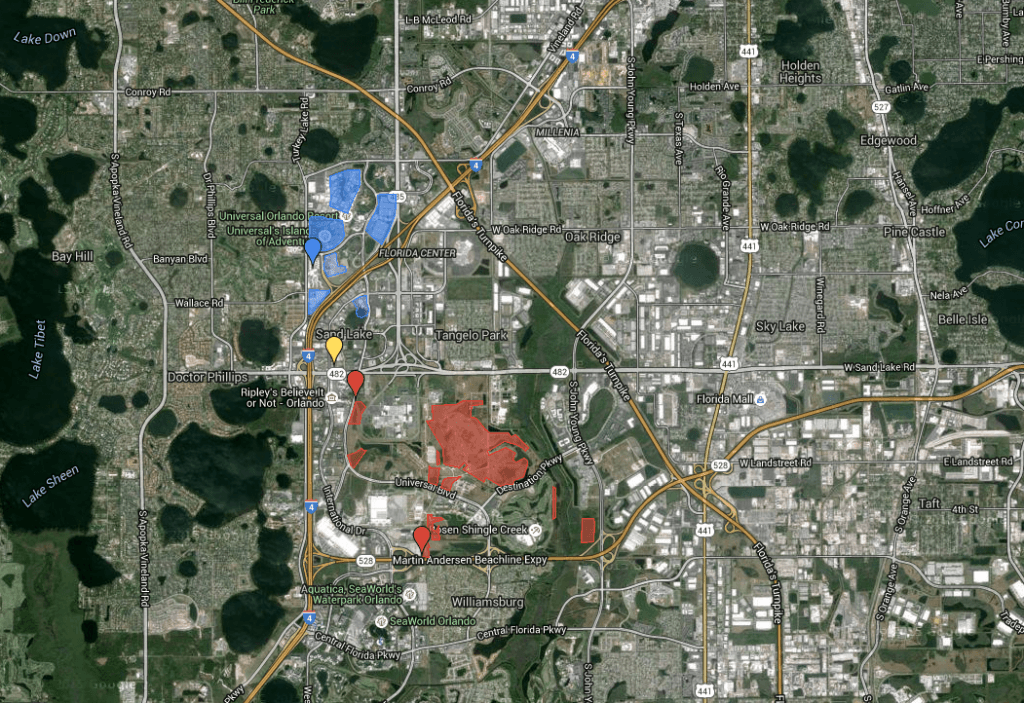 The blue areas are the current Universal Orlando Resort. The red are the newly-purchased parcels of land
In case you haven't heard (and, if not, where have you been?), Universal has just recently purchased a whole expanse of land down International Drive a ways – a little over 450 acres in total, which, at roughly half the size of Universal Orlando, is more than enough to create a second CityWalk area, a slew of new hotels, and, of course, a third theme park. Given the nature of prepping an entirely new (mini) resort and the lack of juicy gossip on this front, it's currently believed that Site B won't be ready to welcome guests until the early 2020s, at the very soonest.
The news is certainly exciting all on its own, but it does bring up an interesting point (one briefly discussed in this week's episode of the Orlando Informer Podcast): the last time the company added on a new gate – Islands of Adventure, back in 1999 – it expected the development to double people's stays on-property. It didn't in the slightest, becoming something of a spectacular disaster until a decade later, when the first Wizarding World of Harry Potter debuted and made Universal Orlando a must-do stop for nearly all vacationers.
It's a problem that could easily repeat itself with a third park – especially one located roughly 25 minutes away! – and which could also easily be remedied with the same antidote. A third Harry Potter land would guarantee that all Universal guests would make the perilous trek down I-Drive, particularly if the company were to somehow institute a program that would track a muggle's adventures across all three locations.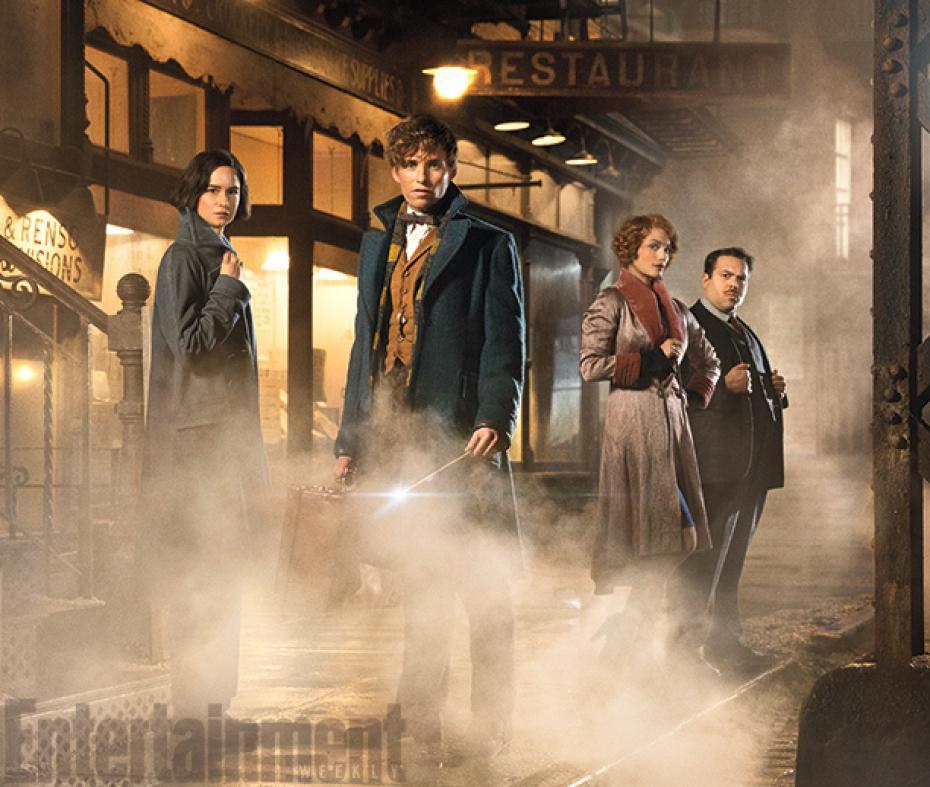 Our first look at Fantastic Beats, courtesy of Entertainment Weekly
What to use as a third spot's theme, given that Hogwarts Castle, Diagon Alley, and the Ministry of Magic have all already been taken? Easy – 1920s New York, where wizards are being actively hunted by the descendants of the Salem Witch Trial perpetrators and where a young Newt Scamander has accidentally let lose his giant magical menagerie of rare and exotic beasts. This, of course, is the setting and premise of the first Fantastic Beasts, and not only is it worthy of a whole new theme park undertaking, it would be the perfect fit for the giant geographical leap, as well – I-Drive would essentially act like the Atlantic Ocean, and team members could treat it as such.
With such a concept, such a location, and such a potential follow-up (two additional films can provide a lot of new material to mine), the sky's well and truly the limit, securing Site B's future as a world-class entertainment destination.