Wizarding World of Harry Potter trip report – June 2011
Update 6/4/11
I've been told that Universal recently added four new character wands at the Wizarding World of Harry Potter: Credric Diggory, Fleur Delacour, Luna Lovegood, and Viktor Krum. You can view my photos of the new wands on the OI Facebook page or at the end of the photo gallery at the bottom of this post.
Original post
I headed out to Universal Orlando's Wizarding World of Harry Potter this morning to check out the June 2011 crowds. I have to say it was busier than I expected, although not too terribly crowded.
You can click on any image to view it full-screen. You can also view and share these photos on the OI Facebook page. Scroll to the bottom of the post for the complete 48-image photo gallery.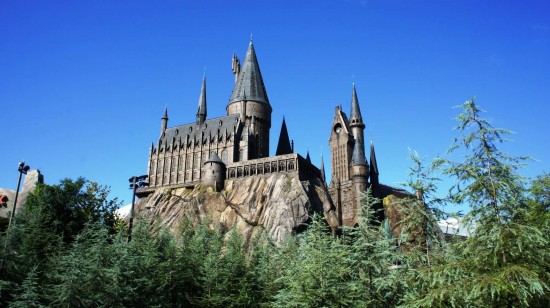 Everything looked as normal around town. Because of that I shouldn't be surprised that almost a year after the attraction open, most guests still don't know about the Forbidden Journey locker line, and how they can so easily skip it if they just didn't bring bags. (Is this news to you? Better read Harry Potter and the Forbidden Journey: The Ultimate Unofficial Guide.)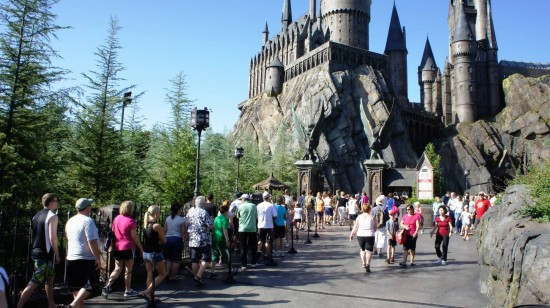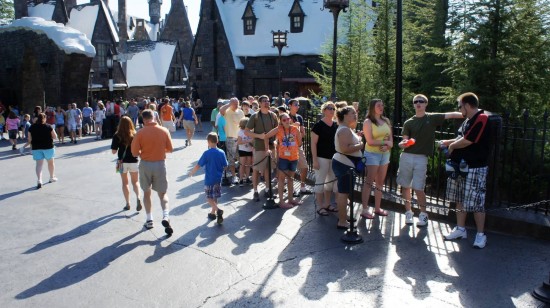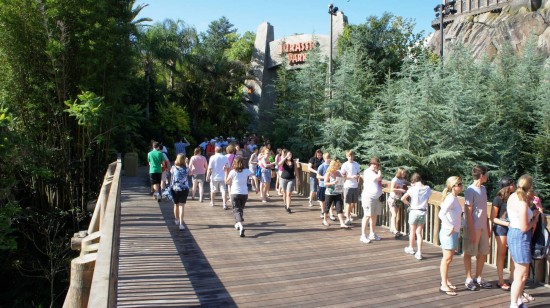 I wanted to yell: "Why didn't you visit OrlandoInformer.com before you visited the Wizarding World of Harry Potter?? Why didn't you come here with the OI Wizarding World of Harry Potter Touring Plan?"
But I didn't yell. I just had to watch as guests without bags stood in the long line for no reason. (Okay, truth be told, I do usually help two or three parties out each time I visit the Forbidden Journey line. But there's just no way to help everyone.)
Ollivander's was busy as usually too.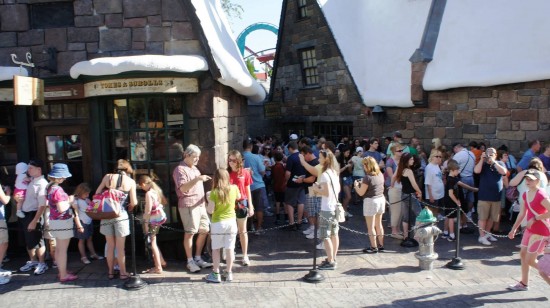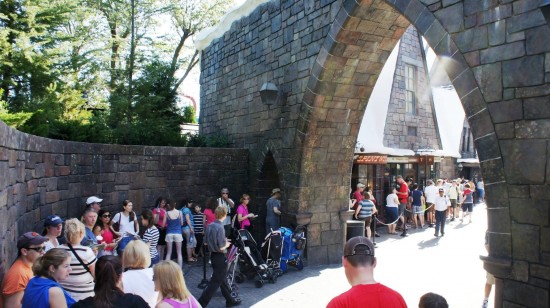 The Universal team member stationed at the end of the line said it was a 35 minute wait. I'd say that's more like 60 minutes.
Otherwise, like I said, it was business as usual at Hogwarts and Hogsmeade Village. You can full the 48-image photo gallery below.
Oh yeah, I almost forgot. I've been getting quite a few questions about stroller parking for Forbidden Journey. So, I finally took a couple pictures of the area: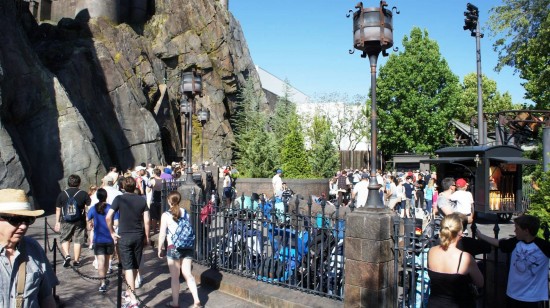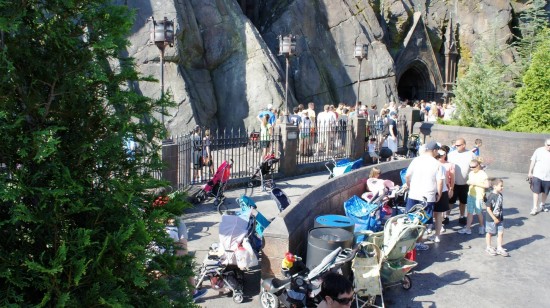 This spot serves as the strolling parking area for Forbidden Journey as well as Flight of the Hippogriff. In Hogsmeade Village there's a small area underneath the archway by Ollivander's for strollers, and one more parking spot by Dragon Challenge.
Wizarding World of Harry Potter trip report – photo gallery