Universal and parent company Comcast may have been getting a lot of attention for their aggressive, new-attraction-every-year plan here at Universal Orlando Resort, but it turns out that a lot of their ground-breaking projects and technologies are first being debuted over in Universal Studios Japan, the park that the two companies only purchased in full this past February (previously, Universal held a minority stake and received licensing fees).
The Asian version of The Wizarding World of Harry Potter has been the hub of most of this activity, with the land receiving a special Death Eaters Attack mini-show last Halloween, a follow-up Christmas celebration immediately afterwards, and a Dementor projection-mapping production (which even incorporated live actors, puppets, and drones!) in April of this year. Moving beyond the confines of Harry's wondrous world, the first-ever land devoted to the Minions sub-franchise, Minion Park, also opened in April, and coming up next is the mother of all themed exclusives, Super Nintendo World, which will debut in the summer of 2020. That's not too shabby for a mere two-year period (the two years that Universal/Comcast bought a majority stake in Universal Studios Japan, before deciding to own it outright).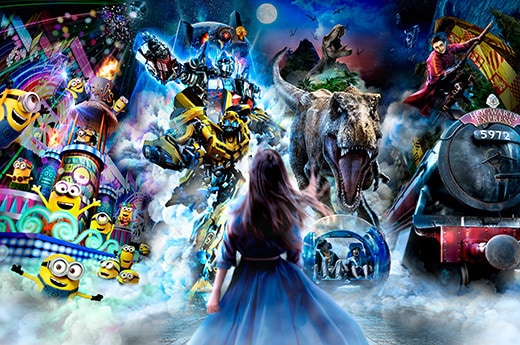 This trend will only intensify next year, when the companies debut "the world's first next-generation parade," called Universal Spectacle Night Parade – Best of Hollywood. The nightly production will utilize something called Show Orchestration, an in-house technology developed specifically by Universal Creative that synchronizes several different projectors in order to unfurl projection-mapping to a degree never before seen – all of the parade's floats and their surroundings will be fully swathed in moving imagery. When combined with the floats' "dynamic movements," live actor performances, and the accompanying lighting package and soundtrack, Universal is promising a continually-changing and totally immersive experience.
But best of all is what content this new technology will be enveloping guests within. Four of the biggest Hollywood "fan favorite" franchises will comprise Universal Spectacle Night Parade: Harry Potter, Jurassic World, Transformers, and, but of course, Minions. Although Universal isn't yet talking about how, exactly, these intellectual properties will be incorporated, one only has to look to the upcoming Christmas in The Wizarding World projection-mapping show in order to get an idea of the possibilities.
Given that many of these Japan-only features have eventually made their way over to Universal Orlando – our wizarding Christmas is a direct combination of Osaka's holiday celebration and Dementor show – we fully expect this next-gen parade to similarly make the international sojourn, particularly given the continued importance all four movie series have with Universal Parks and Resorts. Indeed, this might very well be the first Jurassic World attraction to pop up Stateside – might we end up seeing an Americanized version of Universal Spectacle Night Parade in time for Jurassic World 2: Fallen Kingdom's June 22, 2018 release?
–
Follow Orlando Informer on Facebook, Twitter, and Instagram for the latest news, tips, and more at Universal Orlando, Walt Disney World, and other Orlando attractions.