We've known for some time now that Dragon Challenge, the dueling coasters in The Wizarding World of Harry Potter – Hogsmeade, may very well be on the chopping block and may, in fact, be shutting down for good later this year. What's remained unknown is what, exactly, would replace it.
It just so happens that the Orlando Business Journal might have found out. The site is reporting on a pair of patents that Universal has recently filed, with both containing far-reaching implications for theme park design and the first being particularly primed for a potential wizarding roll-out.
A Floo Network ride?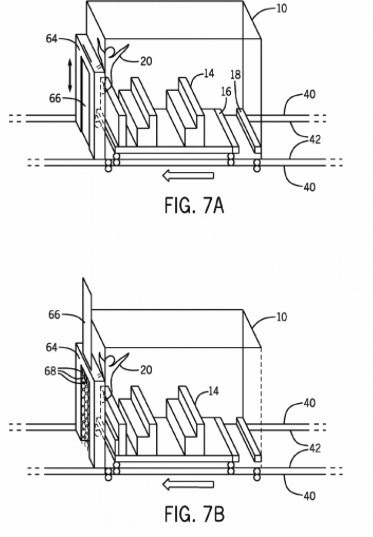 This first patent, entitled "vehicle transportation room system and method," revolves around a "launch room" that the attraction's ride vehicle is situated in. Once the vehicle takes off, the room would move along with it on the track, ensuring that passengers would always be in a manufactured environment even if they're actually moving through physical space. Even better is what would be placed inside this launch room – the paperwork makes mention of audio-animatronic figures, video projections, fog machines, and strobe lights, all able to be used in tandem to create and sustain a particular narrative or atmosphere.
By way of example, the documentation includes illustrations of how all this might work. One of the launch room's walls is made up to be a giant fireplace, with an animatronic character stationed in front of it. Both of them move out of the way – the fireplace wall, it turns out, is retractable – and the guests are plunged into the ride proper. If this screams the Floo Network from the Harry Potter mythos, it gets even better – the patent makes mention that the audio-animatronic figure, who may "represent a monster [or] wizard," could "cast a spell upon the ride vehicle," giving the impression that he is making the passengers move through his magical domain.
More than just a pretty nifty way to kick off the ride, there's actually a far more important benefit to having this room move along in tandem with riders: the ability to hide the layout of the attraction's track, preventing any upcoming twists, turns, or drops from being seen or otherwise anticipated. The result would be a potentially (and incredibly) wild and crazy experience – the absolutely perfect way to capture the tone from the Potter films (and a far better way to experience the Floo Network than what is presented in Harry Potter and the Forbidden Journey).
We should take a moment to pause here, however, and offer up a word of caution regarding reading too deeply into patents. Two words, actually: firstly, just because Universal files such paperwork doesn't mean that the company is actively in development with a corresponding attraction; it simply means that it wanted to legally protect its invention in the event that it ever does want to begin actual construction. And secondly, even though a fireplace may be depicted in a picture or a wizard be specifically referenced in the text, that still offers no guarantee of a particular subject matter – even if this ride does arrive at Universal Orlando at some point in the future, it could just as easily be with a Minions or a Mummy theme.
A new kind of theater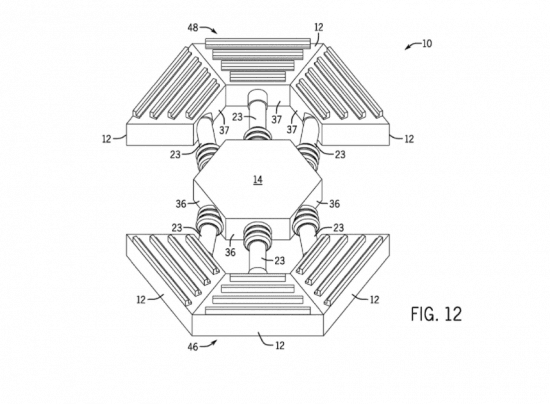 The second patent that OBJ uncovered is equally intriguing, if not as (potentially) smacking of Harry Potter.
Put simply, the "system and method for a moving puzzle theater" concept presented in Universal's paperwork revolves around a traditional theater-in-the-round (in which the stage is totally surrounded by the audience) that would actually consist of several different seating sections that could separate from one another and move into an entirely different arrangement – say, move in closer to the stage, or spread further out from one another, or, even, move upwards and be stacked atop one another. This could occur either without viewers' knowledge (when the lights come up, guests will realize that they're in a new location) or in deliberate collusion with the action on-stage (a performer could, say, cast a spell to make different sections levitate).
Where this scenario really starts to take off is when audience participation factors into the equation. The documentation suggests that a trophy or some other sort of "virtual prize" could be projected somewhere up within the show building, and the different audience sections would have to be piloted by their "passengers" in order to nab them in some type of contest or race. This not only introduces an element of control, it also transforms the experience into something of a traditional dark ride as opposed to having it remain a standard stage show.
While there are certainly some Potter applications that could be at work here – such as, say, a flagship attraction for that long-rumored Ministry of Magic add-on to The Wizarding World of Harry Potter – Diagon Alley, which is said to take the place of the Fear Factor Live auditorium – this is something, for our money, that would be a suitable replacement for the long-lasting and -suffering Poseidon's Fury. Imagine how much more fulfilling – and thrilling – the final battle between Poseidon and Lord Darkenon would be with the extra level of theatrics involved.
–
Be sure to follow Orlando Informer on Facebook, Twitter, and Instagram for the latest news, tips, and more at Universal Orlando, Walt Disney World, and other Orlando attractions.