Universal Orlando officials have blown the lid off Halloween Horror Nights 26, sharing the details of this year's original content that includes three original houses, five original scare zones, and two shows!
Before we dive into the details of the horror, a forewarning: Now that the majority of the details of HHN 26 are revealed and August is going by quickly, on-site hotels will begin to sell out. If you're looking to attend this year's festivities and stay on-site at Universal, now would be the time to book. Plus, you can take advantage of advance pricing for tickets, which will likely increase in the coming weeks. If you need help planning your trip, take a look at our Insider's Guide to Halloween Horror Nights. Want one-on-one help booking your Halloween Horror Nights visit? Contact Orlando Informer Travel.
Now on to the horror that awaits…
Original Houses at Halloween Horror Nights 26
Lunatics Playground 3D: You Won't Stand a Chance
Ready to come face-to-face with Chance herself? Here's your chance. This house displays Chance's two states of mind: the sinister 3D theatre side and the reality of her incarceration. It will be located near the Men in Black ride, where the Insidious house was last year. This will be this year's 3D house and it picks up right where last year's Carnage Returns show ended. Eventually you'll see Chance break out of the insane asylum she's in, which leads directly to her scare zone.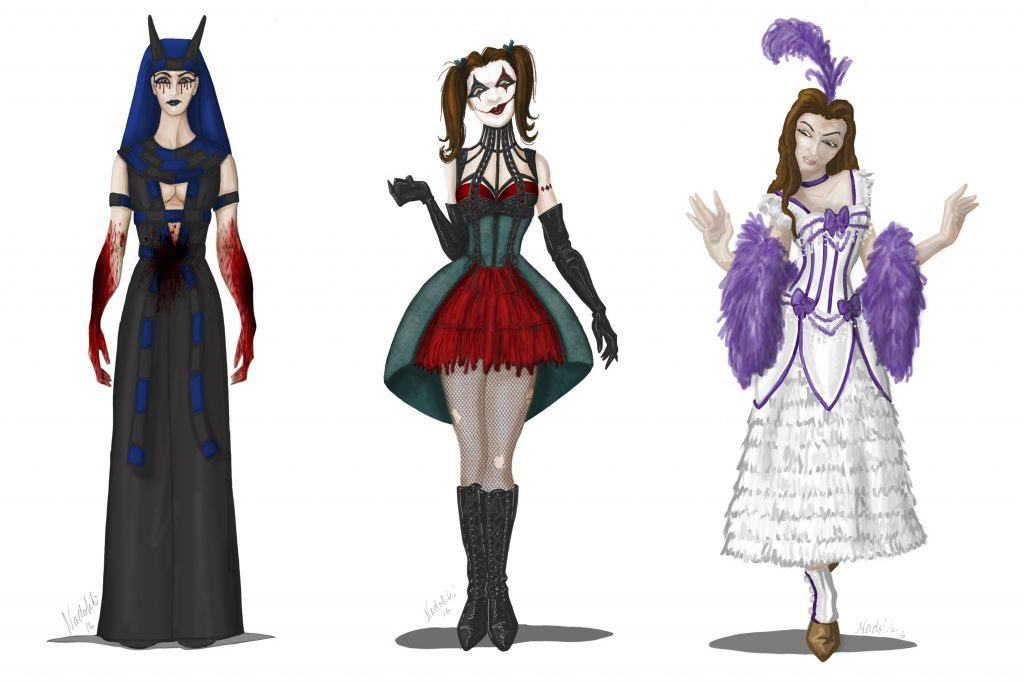 Ghost Town: The Curse of Lightning Gulch
It's time to return to Ghost Town. First featured at Halloween Horror Nights in 2004, this original storyline is making a return for Halloween Horror Nights 26. Lightning Gulch is a wild west, gold rush settlement that disappeared in the midst of a thunderstorm. Now, with thunder and lightning surrounding you, you're revisiting the cursed town and doomed souls that still inhabit it. You'll see authentic storefronts and even a dilapidated piano bar.
Ghost Town will be located towards the front of the park, near the Revenge of the Mummy attraction.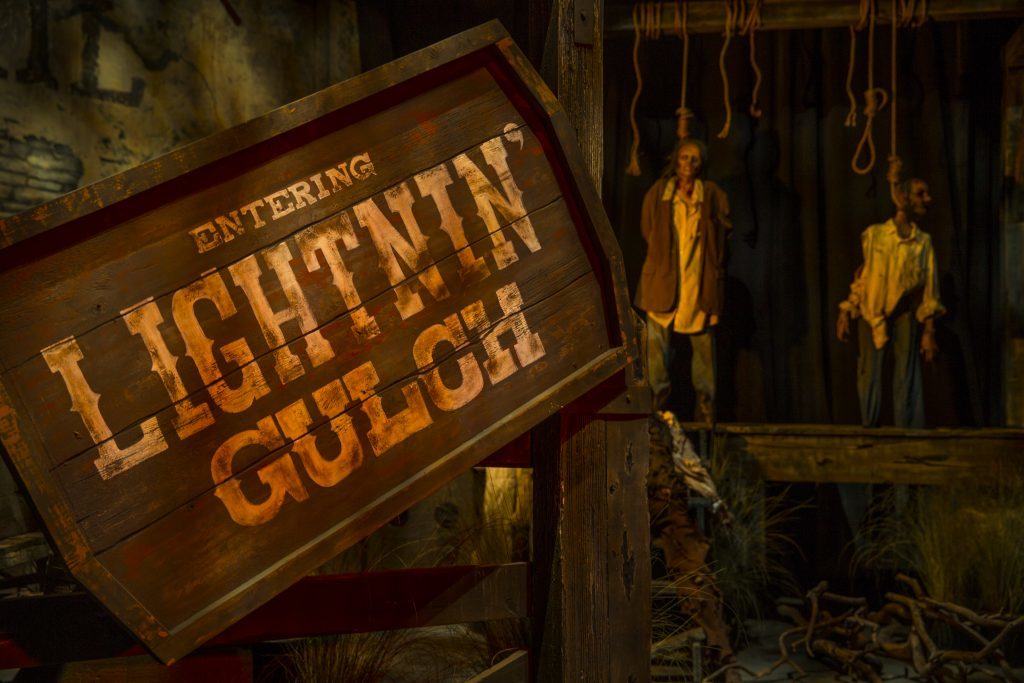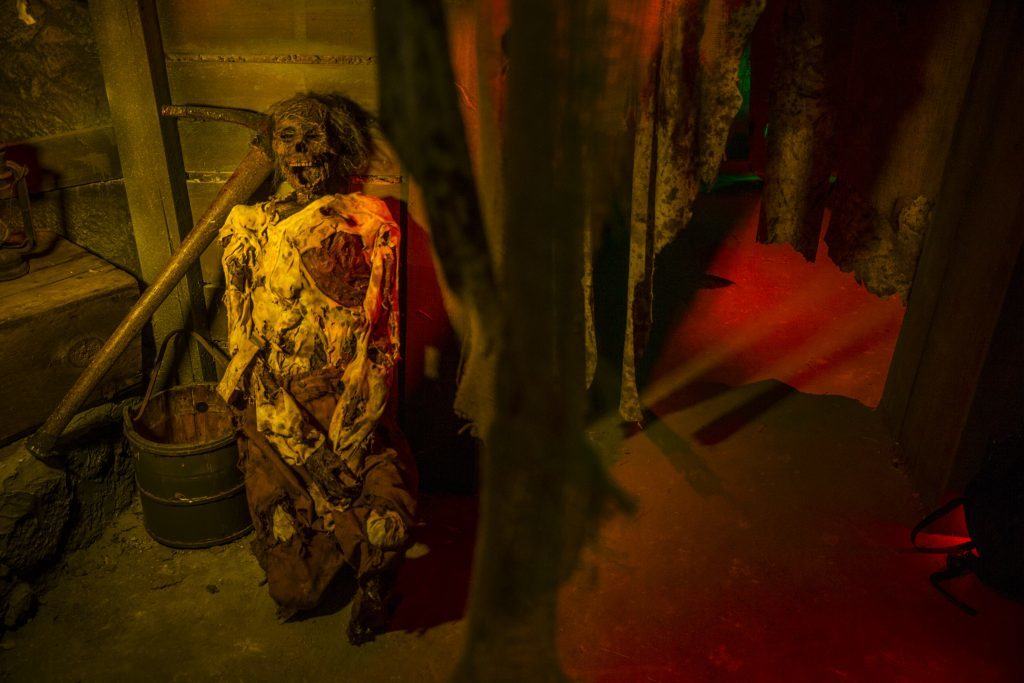 Tomb of the Ancients
This house has easily been the most teased, as we reported last week. You'll navigate claustrophobic-inducing sets that feature elements from South American, Asian, and Egyptian cultures. These creatures are from the pits of hell, like Amut which has the face of a crocodile but the mane and front paws of a lion.
Tomb of the Ancients will be located in the back of the park, near the E.T. ride.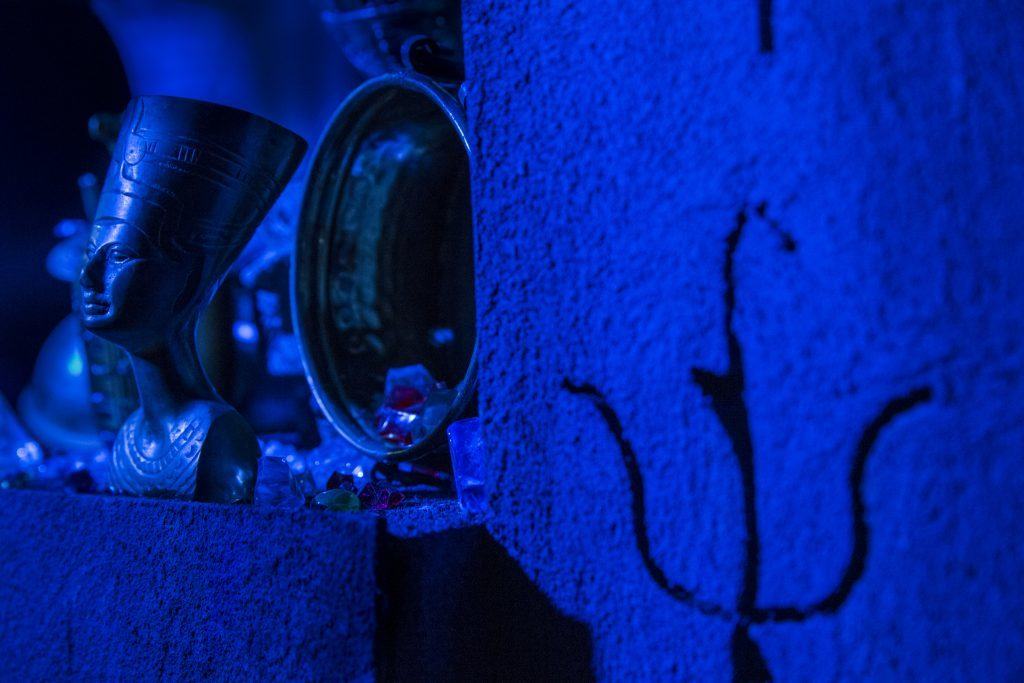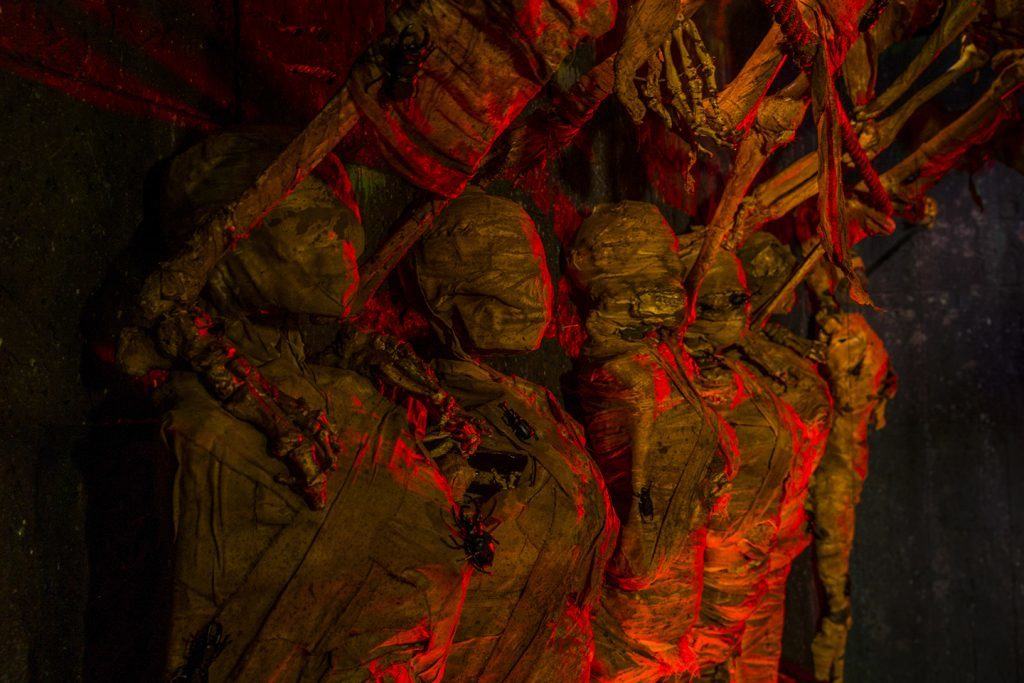 The original houses at Halloween Horror Nights 26 join the already announce lineup of houses that include Texas Chain Saw Massacre, The Exorcist, The Walking Dead, Halloween II, and Krampus. One house has yet to be announced.
Original Scare Zones at Halloween Horror Nights 26
A Chance In Hell
Just as Chance's house picks up where last year left off, this zone picks up where this year's house ends. Chance will break out of incarceration and the chaos that assumes will be found in this zone. Characters in this zone will be Chance's fellow inmates and will have attempted to imitate her however possible.
A Chance In Hell will be located in Avenue of the Stars, near the entrance to the park.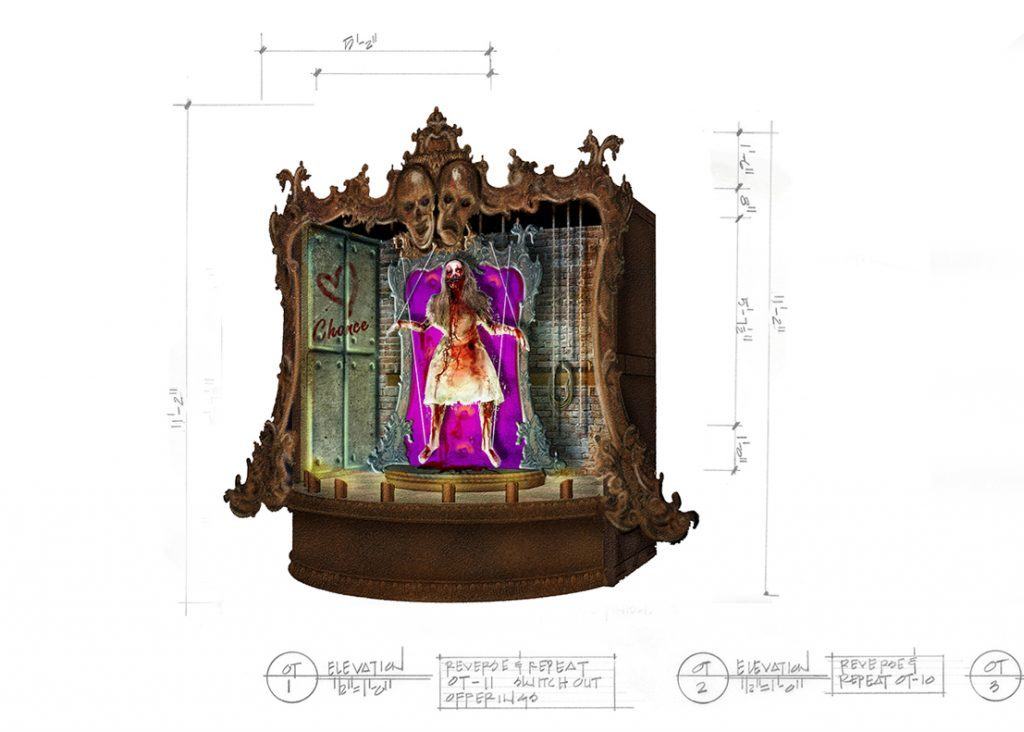 Dead Man's Wharf
In this original story, a fishing vessel named Annabel Lee was lost at sea. As a memorial, the wharf was left untouched for many years. However, at Halloween Horror Nights 26, this zone will come alive with the fishermen's spirits that are angry at the town who left them. If the name Annabel Lee sounds familiar, it should. It's a nod to Edgar Allan Poe's final complete poem, Annabel Lee.
For the moon never beams, without bringing me dreams
Of the beautiful Annabel Lee;
And the stars never rise, but I feel the bright eyes
Of the beautiful Annabel Lee;
And so, all the night-tide, I lie down by the side
Of my darling—my darling—my life and my bride,
In her sepulchre there by the sea—
In her tomb by the sounding sea.
Excerpt from Annabel Lee by Edgar Allan Poe
Dead Man's Wharf will be located in the San Francisco backlot.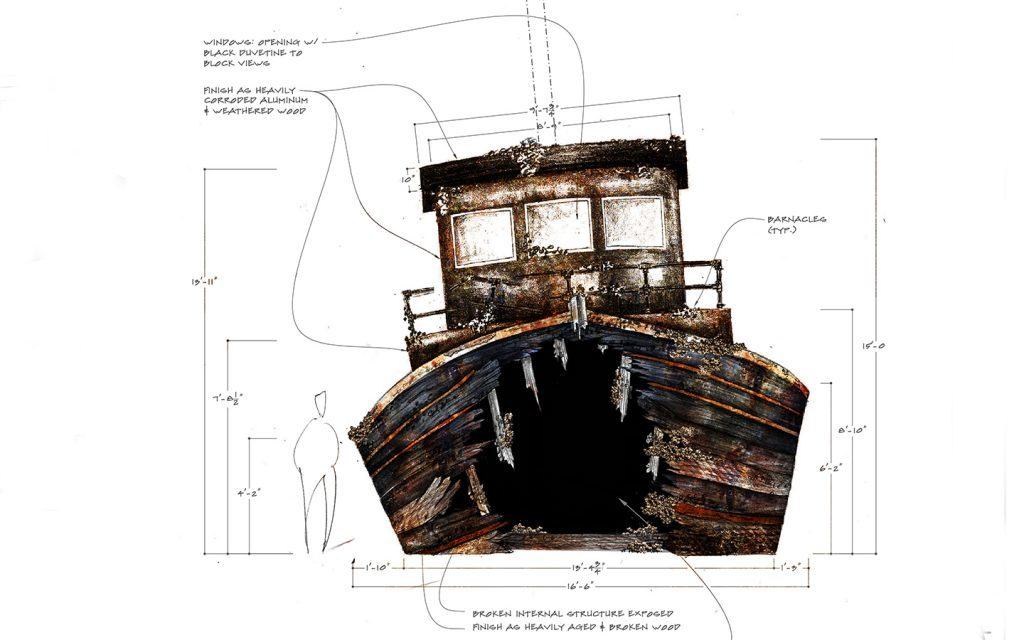 Vamp 1955
It's high school homecoming! Set in 1955, this zone will feature vampires galore. Designers for the zone have shared that the area will have "really cool 1950s music."
Vamp 1955 will be located in the Hollywood backlot.
Banshee's Lair
As typically is the case with the zone located in Central Park, Banshee's Lair is themed after a forest "where evil spirits and horrific creatures" roam. The zone is being dubbed a corrupted grave, very similar to Grown Evil (2011) and Evil's Roots (2016). According to designers, the zone has "that traditional Halloween feel with a Celtic influence."
Banshee's Lair will be located in Central Park, in between Hollywood and KidZone.
Survive or Die
The atmosphere of Earth is ruined. The catastrophe has created three groups of survivors. One group has obtained a machine that gives them clean air. The other two groups are looking to obtain the machine. This zone sounds like a mixture of concepts of past zones, including The Purge, Saws n' Steam, and Apocalypse: City of Cannibals.
Survive or Die will be located in the New York backlot.
Live Shows at Halloween Horror Nights 26
Academy of Villains: House of Fear
Academy of Villains, a "theatrical dance company known for story-telling, incredibly intense choreography, and jaw-dropping stunts", will be performing nightly in this stage show. Michael Aiello, Director of Creative Development for Entertainment at Universal Orlando, revealed on Twitter that this show will not feature Chance and will only have "slight textures of the overall theme."
The dance group were semi-finalists on Season 7 of America's Got Talent and have placed in every competition they have ever entered.
Bill & Ted's Excellent Halloween Adventure
The perennial fan-favorite duo, Bill & Ted, are back once again at Halloween Horror Nights 26. This show loosely based on the Bill & Ted movies will parody the popular culture of the past year.
There you have it, Halloween Horror Nights 26… What house and zone are you most excited for? Sound off in the comments below. Be sure to check out our complete guide to HHN. Need one-on-one help planning and booking your trip? Contact Orlando Informer Travel for help planning and booking at no additional cost to you.
More pictures from today's Halloween Horror Nights announcement