Halloween Horror Nights 2012: What's new and notable
Most of the details for Halloween Horror Nights 2012 have been released, and we have updated our site with all the info possible. We now have individual pages for our event overview & explanation, admission guide, scenes from HHN 2012, and all the haunted houses. While I wasn't too impressed with the rather uninspired method Universal used to make the reveal (just a bunch of posts on the HHN Facebook Page), the event itself should be a blast!
Let's take a quick look at the changes and other things that caught my eye.
Seven houses instead of eight
The haunted houses are the biggest feature of Halloween Horror Nights. While I do not necessarily consider myself an HHN historian, I believe Universal has had eight of them each year for quite some time. Not this year though. Here's what we got:
So why seven houses instead of eight? It seems like the overall thinking is that Universal had to payout quite a bit of extra cash for the licenses to use The Walking Dead, Silent Hill, and Penn & Teller. After those big names, there just wasn't enough leftover in the budget for one more house.
Another possibility? Without the infrastructure provided by the JAWS attraction, Universal decided it would be best to skip an eighth house that would normally be located there.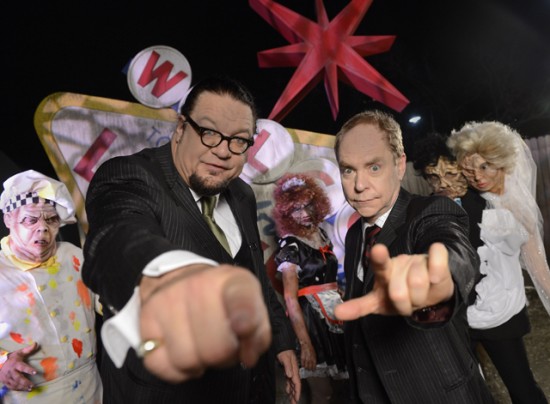 No icon or prevailing theme this year
I'm not sure if this is something yet to be revealed, but as of 3:00pm on Thursday, August 30, there is no clear icon or prevailing theme for Halloween Horror Nights 22. Last year's Lady Luck was a very strong icon, and the idea of luck played a role in most of the HNN 21 experiences. The year before that the icon was Fear himself. This year, it seems like there won't be anyone or anything tying it all together, except for the very loose concept that "there is no escape."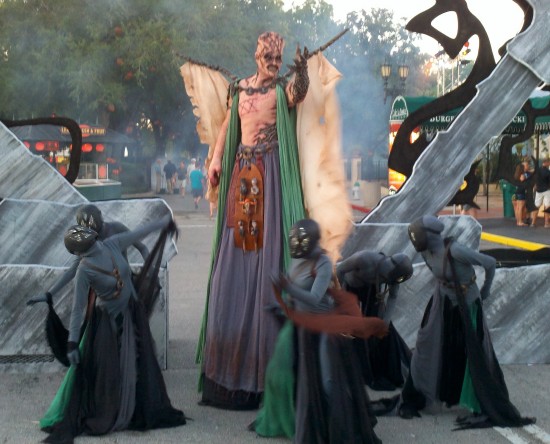 Scare zones replaced by a reinvented street experience
Last year, and in years past, Halloween Horror Nights was always made up of two major components: haunted houses and scare zones. This year Universal has gotten rid of individual scare zones and instead will have roaming bands of goons chasing down guests.
I can see the fun with this idea, and I'm sure it will definitely be amusing — or scary, if you're the sort of person who gets creeped out by scareactors. Yet, I can't help but see this as another cost cutting measure. With "legions of horrific creatures" walking all over, there's no need to build elaborate sets as homes. I'm sure Universal will have some props set out in the streets, but I'm not expecting anything like what we've seen in previous years' scare zones.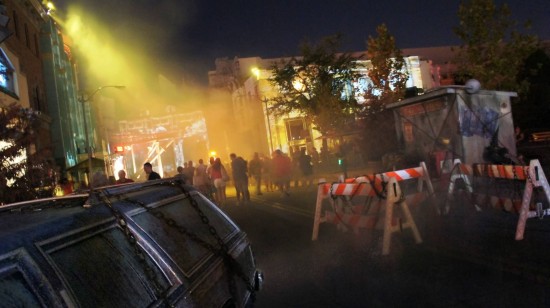 There may be another motive to this. Several of my subscribers have mentioned that the will not even go to Universal Studios Florida during the day around Halloween Horror Nights, because the HHN props — lifeless as they may be during the day — are still too much for them or their kids. With the new 2012 attractions at USF targeted for children, including Despicable Me and the Superstar Parade, it is quite possible that Universal thought it best to scale back on dressing up the park. Hence, no scare zones.
It will be interesting to see exactly how much the new breed characters really do roam and prey on victims. In the past, it was always quite easy to get more timid guests into HHN because one could always explain that, if someone gets too scared, it is easy to avoid the scare zones and skip the houses. But, without defined scare zones, guests on the fence about entering HHN may decline the invitation altogether.
Death Drums are banged out
I rather enjoyed last year's Death Drums street show. But, it didn't make it to a second year, and has been replaced by 20 Penny Circus. We'll have to see if our tastes are questionable enough for their form of entertainment.
[youtube_video]BpZWV6a7YSg[/youtube_video]
Want to learn more? Remember, we now have individual pages for the Halloween Horror Nights 2012 event overview & explanation, admission guide, scenes from HHN 2012, and all the haunted houses.
Feel like remincing about Halloween Horror Nights 2011? Check out the OI Universal Center archives.